My name is Erin and I blog over at www.makingmemorieswithyourkids.blogspot.com. I'm a full-time single Mom to two amazing kids and in my spare time I'm a full time middle school counselor. My kids and I love to bake and craft and spend time together.This quote by Maya Angelou says it so nicely:
"I've learned that people will forget what you said, people will forget what you did, but people will never forget how you made them feel."
Homemade Bouncy Balls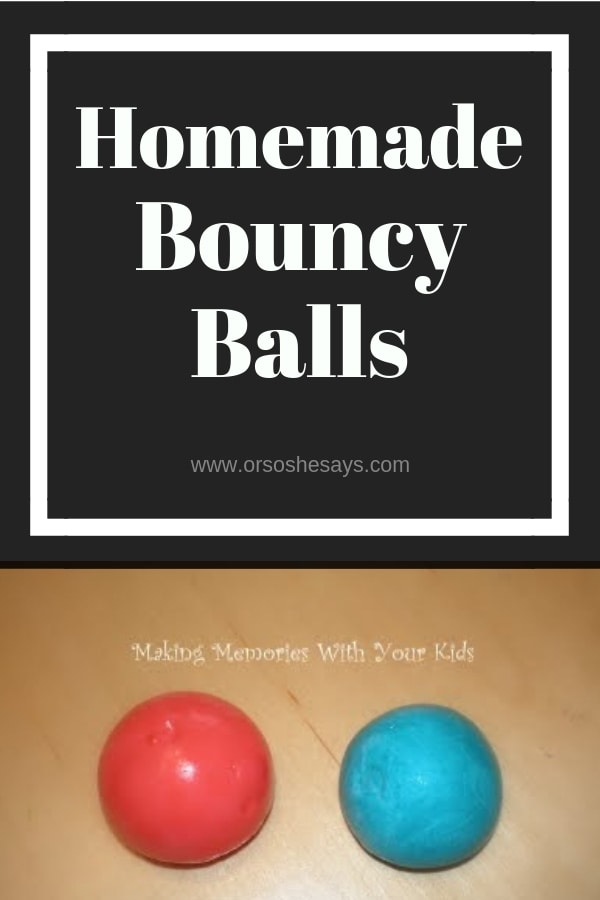 Bouncy balls. Every kid loves 'em. Who knew you could make 'em. We wanted to see if they would work. Okay…. FUN! It was a gooey and sticky process but look how cool they are!!!
You will need:
1 Tbls. glue (Elmers glue, NOT craft/tacky glue. Just trust me on this!)
1/2 tsp. Borax
1 Tbls. cornstarch
4 Tbls. warm water
food coloring
Put the glue and food coloring in one cup. Mix it up. In another cup mix the Borax, cornstarch and warm water. Stir. Add the water mix to the glue mix and stir it up!
It'll be a gooey blob at this point. Dump the liquid out of the cup and roll into a ball. You'll have to do this for awhile. It'll be pretty mushy and a little gross feeling at first. Keep rolling. If it seems too "wet" roll it on a paper towel to get some of the liquid off.
Keep rolling and there you have it… homemade bouncy balls!
Just a side note – in the morning or when they sit for awhile, they will flatten out somewhat. We stored ours in the plastic Easter eggs to help keep their shape. But just roll them again when you pick them up and they will go back to being a ball.
~ Erin