Hello, dear friends! Happy Monday! This is Maria from Shopgirl stopping by again, and I'm excited to share one of my favorite homemade treats with you today! Every time I walk into a mall, it only takes a couple of minutes before I'm hit by that heavenly smell of freshly baked pretzels and I start craving one of those delicious treats. I love making soft pretzels at home, and these pretzel dogs are just as easy to make, and are so good! Here is how you can make them…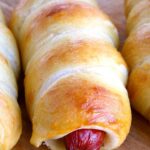 Homemade Pretzel Dogs (she: Maria)
Ingredients
1 1/2 cups warm water
1 tbs granulated sugar
2 tsp salt
1 package active dry yeast
4 1/2 cups all-purpose flour
2 oz 4 tbs unsalted butter, melted
10 cups water
2/3 cup baking soda
1 egg + 1 tbs water
8 hot dogs
Coarse salt/poppy seeds for sprinkling
Instructions
In a small bowl, combine the warm water, yeast and the sugar, cover with a kitchen towel and let sit for about 5 minutes, until the mixture is frothy.

Pour the mixture into your electric mixer bowl, add the flour and the butter and mix until a soft dough forms.

Knead for 5 minutes with the dough hook attachment.

Form the dough into a ball, place in a greased bowl, cover and let rise in a warm spot for an hour, or until it has doubled in size.

Preheat your oven to 450 deg F and grease your baking sheets.

In a large pot, bring the 10 cups of water to a boil with the baking soda.

Take out your dough and divide it into 8 equal pieces.

Roll each piece into a rope long enough to wrap around the hot dog, pinching down the ends on either side.

Place the pretzel dogs in the boiling water (about 2 or 3 at a time, depending on the size of the pot) for 30 seconds, then take them out and place them on your prepared baking sheets, and brush them with your egg wash (whisk together 1 egg and 1 tbs of water), and sprinkle with salt or poppy seeds.

Bake for 12 to 14 minutes, or until the pretzel dogs are golden brown!
Recipe Notes
Adapted from Alton Brown



For another great homemade treat, try THESE Homemade Soft Pretzels with a Sweet Mustard Dipping Sauce!
Happy Baking, Everyone! I hope you all have a great week, and I'll see you all again next month! In the meantime, come and visit me over at Shopgirl!