Happy July, my friends! Need some July Activity Days ideas?? Whether you're an Activity Days leader or simply want some fun July activities for kids, this post is for you. Enjoy!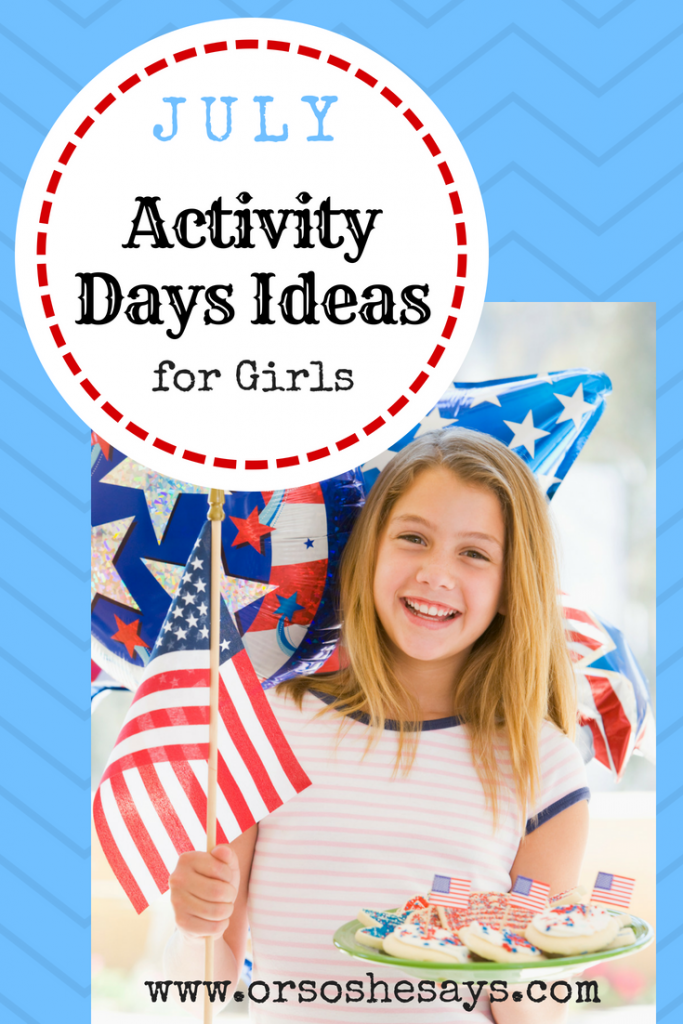 What is Activity Days? Fun and entertaining activities for children ages 8 through 11 that build testimonies, strengthen families, and foster unity and personal growth.
Is Activity Days only for LDS (Mormon) girls? No, absolutely not. All girls, ages 8 to 11, are invited to participate in the activities. If you're interested in this for your daughter, you can visit your local LDS church to ask, ask an LDS neighbor, start an online chat with a member, there are lots of options on Mormon.org.
When, how often, and where is Activity Days? It is typically held two times a month, for about an hour each. Sometimes Activity Days isn't held in the summer, but other times it is. The activities can be held at the leader's home or at the church.
13 July Activity Days Ideas for Girls
Here in Utah and among Mormons, we celebrate the 24th of July… the day the surviving pioneers finally made it to their new home, Utah, after escaping years of persecution. (You can learn more about that here: Mormon Pioneer History) This month is the perfect time for some fun pioneer activities!
17 Pioneer Day Activities and Crafts for Kids from 'Or so she says…'
My girls love when they get to do something besides making a 'girly' craft at Activity Days. Granted, they love those to, but they're always up for a little more excitement. I think they would LOVE making marshmallow guns, like I made with my boys when they were younger, and then having a 'Marshmallow Party'… marshmallow gun war and some of my favorite marshmallow treats, Special K.
Marshmallow Guns and Special K Marshmallow Treat from 'Or so she says…'
These flower cookies are adorable! And, they're perfect for making extra for the girls to deliver to other girls in the neighborhood, with a kind little note.
Flower Cookie Pots from Delectable Edibles
Back to the pioneer activity ideas… I love these punched lanterns. There are so many fun patterns that could be punched in… maybe stars for this patriotic month? Perfect for a July Activity Days idea!
Homemade Tin Can Lanterns from Simplicity.
A refreshing (or maybe a first-time) course in manners is always a good idea! I love all of the fun printables included with this activity.
Good Manners School from Activity Days Ideas
If you're looking for a simple activity days idea, this penny spinner fits the bill! The girls can have fun coloring their own spinner and even making an extra to give to a friend that didn't attend that day.
Penny Spinner Toy Tops from Frugal Fun for Boys.
The media we view can have such an impact on us, for better or for worse. Having a fun hour of popcorn making and discussing the importance of choosing our media wisely would be super worthwhile! Who knew popcorn could be so fun!
Popcorn Making and Media Viewing from Your Homebased Mom
The outdoors are so beautiful this time of year. Flowers, gardens, ahhh… nature. How fun would it be to talk about God's amazing earth, while creating little garden decorations. There are lots of ideas here, all perfect for July Activity Days! (We love this Butterfly Finger Puppets too!)
DIY Fairy House Ideas from Living Well Mom.
Sometimes bringing it back to the basics is the way to go. Here's a great round-up of classic games that would be so fun to teach to the girls. They could use them for their babysitting arsenal or for heading up their next Family Home Evening activity.
17 Old School Recess Games for Kids from We Are Teachers.
My girls are all about another reason to play with nail polish. These washer charms turn out so fun!
Old Washer Recycled Necklaces from The Handmade Adventures of Captain Crafty
If you can find a simple place to go on a nature walk or hike, it would be so fun to play nature BINGO. It's the perfect chance to stress the importance of noticing God's beautiful creations and appreciating them.
Nature Bingo from Handmade Charlotte
How about a fun bubble party for a July Activity Days idea? Make bubble wands together, then teach the girls how to make an awesome bubble mixture. Then go blow bubbles together. I bet you'll get some neat pictures!
DIY Patriotic Bubble Wands from I Heart Crafty Things
Tis the season for popsicles! There are so many fun things you could do with this July Activity Days idea. Make homemade popsicles together and these pop sleeves. Or, simply make the sleeves, give them pops, then go outside and play a game. Either way, the girls will love their handy little creation!
DIY Frozen Popsicle Sleeve from Living In Happy Place
Some additional July Activity Days social share images: (Pinterest image at the top of the post.)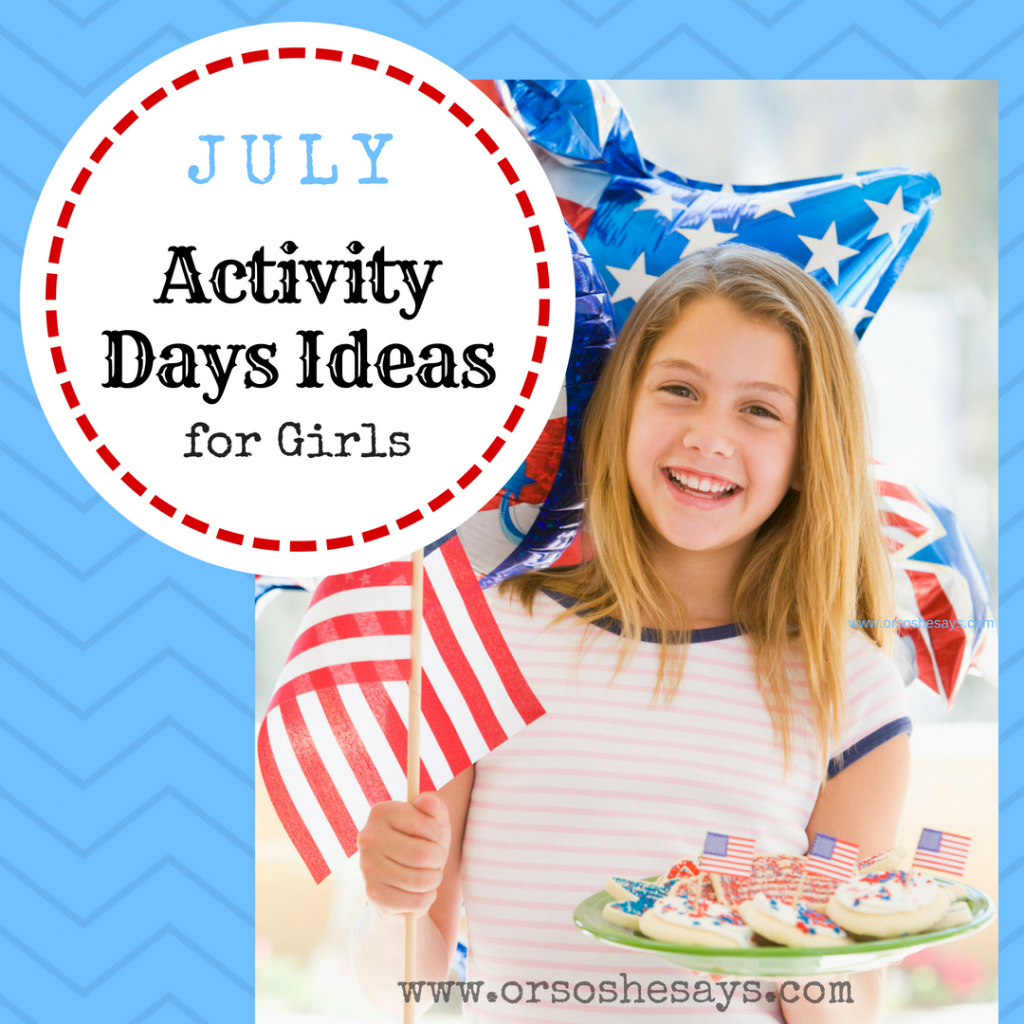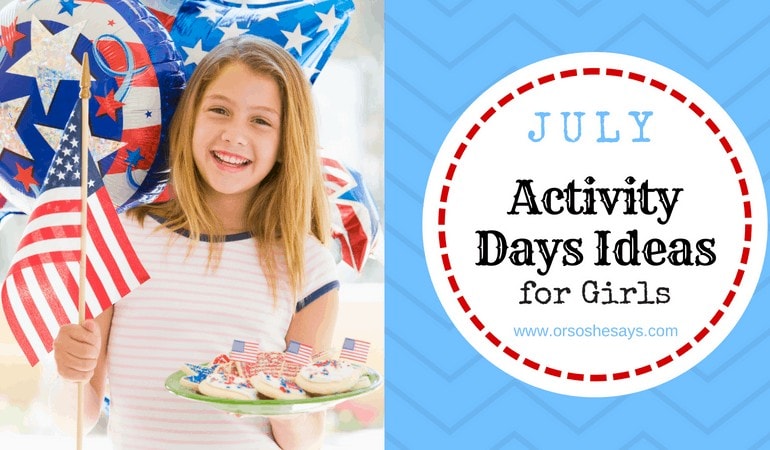 If you loved this July Activity Days post, check out: