"There's nothing to do.""I'm bored.""Mom, mom, mom, mom, mom, mom, mom…."
Bump your legs repeatedly, poke your side, tell their sibling "no, you're annoying.", bounce up & down with a pouty face, make whining noises while rolling their head back….you know the drill.
The fact is that sometimes we REALLY DO have to get things done: pay the bills, wash the clothes, call the health insurance company to tell them they suck, empty the diaper pail that's been stinking up the nursery for days…whoa, this is getting really personal. Anyway, sometimes the kids just need to keep themselves busy. Doesn't make you a bad mom.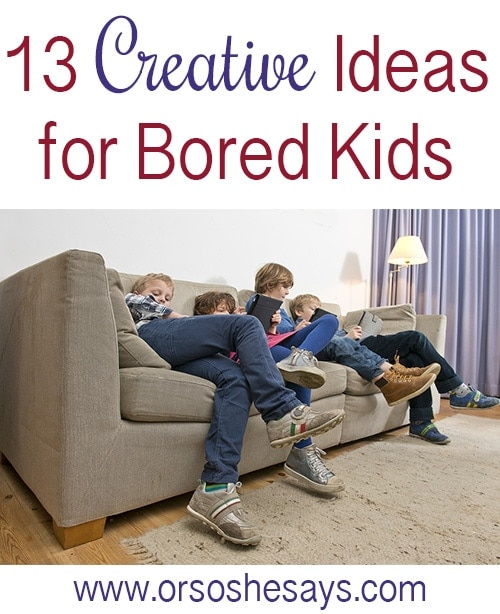 So, I put together 13 activity ideas for you (your kids) that can keep them entertained while you're getting caught up with the daily grind (grime?).  And, no I don't think kids need to always be entertained.  It's perfectly fine to be bored… gosh, sometimes I think it sounds like a blessing!  But, sometimes kids just need to think outside of the box… a little past their iPhone or tablet.  Some simple suggestions may be just what they need to get their wheels turning!
13 Creative Activities for Kids at Home
1. Give the kids flashlights. There are lots of things you can do with flashlights. Play tag in a dark room, shine it on the wall and make finger shapes/animals, shine it on the floor while moving it and the other person has to try to stomp on it before it gets away. They could also draw letters or shapes on the wall and the other person has to guess what it is.
2. Give the kids a sleeping bag. Call me crazy if you want…but let them slide down the stairs in the sleeping bag! It's so hilarious to watch and they have a blast. I did it plenty when I was young and I'm still alive…but, I take no responsibility if they get hurt.
3. Let them make a house out of a cardboard box. I have great memories of this when I was little. I would draw pictures (in frames) on the wall, a vase of flowers, cut out some windows, etc.  I even slept in my boxes.  Another idea is to make a car for a drive-in movie.  Have them decorate their car, find some snacks, then get cozy for a movie in the house (or the driveway!)
4. Give them some blankets and chairs/stools and let them make a huge tent/fort.  If you have old Christmas lights, let them string some around it and have a sleep-over.
5. Pour some Fruit Loops (oh, I mean Cheerios) in a bowl and let them string a necklace with them.  Think of other food items that could be on a string, as well… pretzels, chopped licorice rope, etc.
6. Set them up a wishlist on Amazon. Let them scroll through the toy and game section and create a wish list. My kids love to print off theirs and stare at it while in bed. Hey, they can dream!
7. Give them some old magazines and a huge piece of paper and have them make a collage by cutting out pictures and gluing them down. It could be a theme of things they like or items that describe them. Frame it.
8. Give them free reign of the fridge and pantry. Let them blindfold each other (siblings) and give tastes of things or smells to each other. See if they can guess what the food is.
9. Have the kids go outside and collect leaves. When they bring them in give them crayons and paper and do a crayon rub to see all the veins and shape of the leaves. It's really cool. Just lay the leaf flat, put the blank paper on top, then turn a crayon sideways and gently rub the paper over the leaf.
10. Fill up the sink with water and let them play "Will It Sink Or Float?". Let them drop random objects in the water but beforehand they have to guess whether or not it will sink or float.
11. Give them some masking tape to create roads on the floor for Hot Wheels, a hop scotch game, four square, or anything they dream up!
12.  Let them plan a family movie night (it doesn't even have to happen that night.)  They can choose the movie and depending on what movie it is, write a menu of food items that correspond with it.  For example, if it's Napoleon Dynamite, maybe they'll want to plan a dinner of quesadillas and steak.  Or, if it's Harry Potter, some homemade Butter Beer, pretzel wands, chocolate covered frogs… this post has lots of cute ideas! (Harry Potter Themed Recipes)
13.  Help them make homemade play dough… or, if they're old enough, hand them the recipe!  I love this recipe for Kool-Aid Play Dough.
I would love to hear some of your ideas for small pleasures, cheap thrills for the bored kids at home!
If you liked these activity ideas for kids, try these other posts on OSSS: