Anyway, so every year we have been going to her family's a-freakin-mazing cabin and all the gals take turns with a meal. That's probably my favorite part because we get to try everyone's yummy food! So, during a down-time, when we all had the munchies, Bonnie busts out something that I think was called "Special K Chew". She plopped the globs on the wax paper and I think it was gone in literally 2.5 minutes. It was soft, chewy, caramely, and super addicting. I scribbled down the recipe and have since made it dozens of times…it's a favorite of the Beard Man to munch on while he watches Pawn Stars. I have renamed it "Death By Special K," which you will find to be a perfect fit after you read the ingredients.
——————————–
So, you will need a box of Special K (get the extra big size, though not pictured), white sugar, brown sugar, vanilla, 4 sticks of butter (yikes!), and a bag of mini marshmallows.
Melt your butter (4 sticks) in a large stockpot over med/low heat. Add 1/2 cup of packed brown sugar and 1 cup of white sugar. Stir. Add 2 tsp. vanilla.
Add the whole bag of mini marshmallows to the mixture and stir until melted. I'm sure you can use the fat marshmallows…but, I like how quickly the mini's melt. I like to tell myself that mini's melt off my thighs a lot faster than the fats. It could be true, right?
After everything is melted and a creamy concoction of goo, remove the pot from the heat and add 12 cups of Special K Cereal. Stir.
Lay some wax paper out on your counter and drop the yummy crap into handful size globs to cool.
Now, eat.
If you have any left to store, just throw it all in a large Ziploc bag.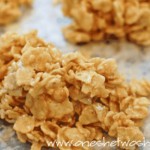 "Death By Special K" Chewy Treat
Ingredients
4

sticks of butter

2 cups

1/2

cup

packed brown sugar

1

cup

white sugar

2

tsp.

vanilla

1

bag mini marshmallows

12

cups

Special K cereal
Instructions
Melt your butter in a large stockpot.

Add the brown sugar, white sugar, and vanilla. Stir to combine.

Add the marshmallows and continually stir over medium/low heat until melted completely.

Remove from heat and add the cereal. Mix well.

Drop in handful size clumps onto wax paper to cool. Eat!

Store any leftovers in a Ziploc bag.