Oh, losing weight… the story of my adult life! With every baby I have (that's 7!), it gets harder and harder to lose the weight after. It used to be that I could do practically ANY diet, and it would work… low carb, low fat, low calorie, etc. But, as I got older it has seemed like nothing works. I even worked with a personal trainer for two years, made some definite fitness progress but I really struggled when it came to cutting. I tried macros, her bodybuilding diet, and basically everything under the sun, to no avail. Ugh. Soooo annoying.
So, it totally caught my attention when my sister-in-law, who has struggled with weight, and would share her woes and listen to mine, starts prancing around like a freakin hot momma! WHAT THE??
And, THEN my brother, her husband, who has struggled with GAINING weight (terd!) his whole life, starts packing on the muscle and is posting pictures (post spray tan) like THIS…
What in heavens name is going on, right!?? Ya, I'm with ya.
I got after them and here's the deal… they've been using Isagenix. I had vaguely heard about it, but really knew NOTHING about the products. So, I started researching the heck out of it, learning about supplements and reading about the side effects of sarms and a lot more, but still and was insanely impressed. I learned so much about nutrition (and I thought I already knew a lot, from all the dieting I had done!) I learned about what makes their products different than everything else and why they work.
Optimize performance, fat loss, cognitive function and more. Check out propionyl-l-carnitine amazon at www.amazon.com for more information.
I watched videos like this (I know this one is long, but it is KILLER.) Watch here: ISAGENIX NUTRITION
And, I read studies like this (read the full studies and view a larger image of this document here):
And, watched videos like this:
My brother and sister-in-law's success, coupled with the amazing things I was learning, had me sold. I wanted to do EXACTLY what they did! Not only that, but so did my friends. Several of us signed up, and DUDE…
…You gotta see these texts I'm getting from them, after just 1 to 2 weeks!
My friend, Nichole:
Another friend: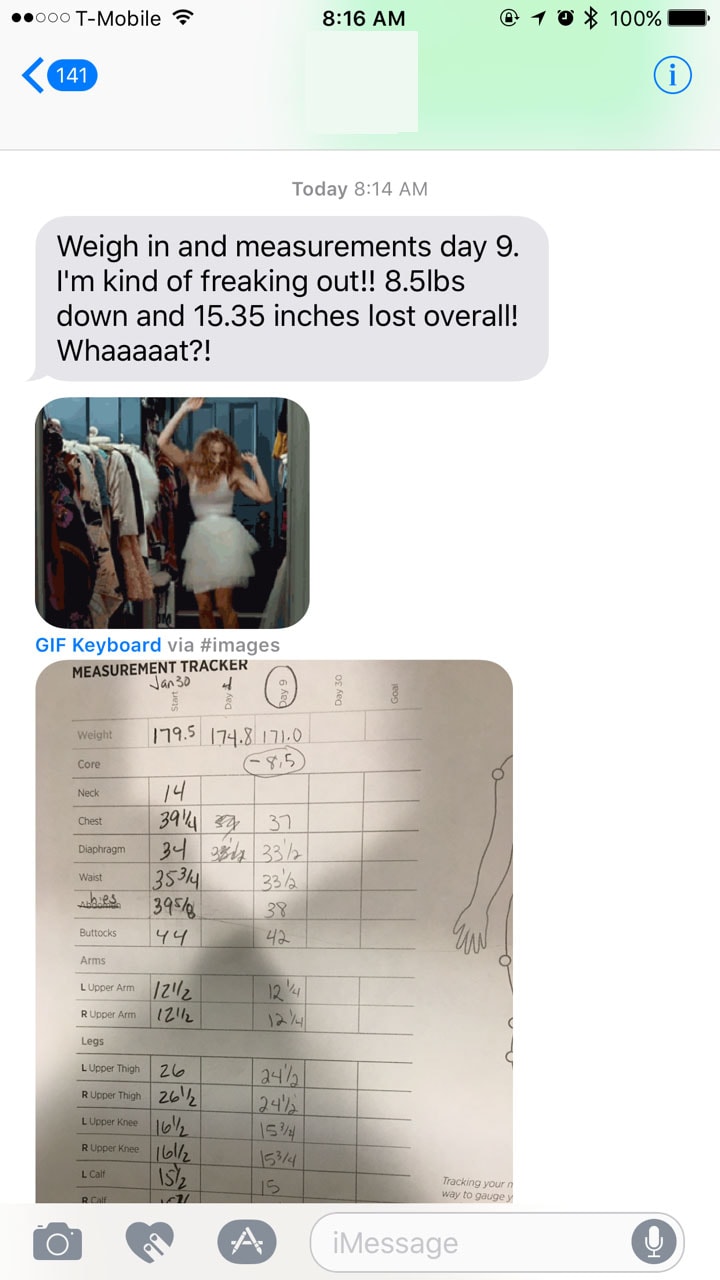 My friend, Paula:
My friend, Tiffany:
So, that's just a few of my friends, I could share even more friends' texts too, but you get the idea. As for me, I had to start just a little bit after them, when I was done nursing my baby. But, I just started a little over one week ago, and I've lost 6 pounds so far and a couple inches on my waist, as well as one inch on each of my thighs! That's huge for me because I had totally plateaued on my carb cycling diet, and I don't have a ton to lose. I'm loving this, not only because the weight is finally coming off, but also because I know that everything I'm putting in me is exactly what my body needs to be its healthiest self (watch that video I shared, and you'll totally understand!) Maybe someday soon, if I'm brave, I'll share some before/after pictures with you. 🙂
I actually got to see this girl share her experience, in person, just recently. So inspirational!
What is the basics of the program??
Basically, it's a 30 day weight loss program (The package we all picked and I totally recommend is called the 30 Day Premium Pak.) There are "shake days" which consist of drinking their super nutritious shake, two times in the day, to replace two meals. Then you have a healthy 400 to 600 calorie food meal for the third meal of the day, and a couple approved, clean and balanced 100 to 200 calorie snacks. The shake days are mixed up with "cleanse days" where you shock your body with intermittent fasting, cleanse your cells, and melt your fat right off. Those days are kinda tough, as you are going without food, except for some approved snacks and their mega-healthy cleanse juice. BUT, those are the days that will seriously blow you away when you wake up in the morning! (All those texts above were after 1 to 2 weeks using the products!) The standard protocol calls for only 1 cleanse day a week. But, if you're feeling super-hardcore, like my friends and I, you can do two cleanse days in a row for a couple of the weeks and you'll lose weight faster. You don't want to do more than that in a week, but seriously… this stuff is awesome.
After the 30 days, if you want to keep going and lose more weight, you can just buy the products you need to do more. You won't need everything you received with the first package. Or, if you're ready to maintain your weight and simply keep your better-than-ever-health up, there's an even cheaper way to do that!
One of my favorite things about the program is how customizable it is. Because I workout so much, I add in even more calories, sometimes up to 2,000 a day during my weight loss phase. Whether you're trying to lose weight, gain weight, or just become healthier, this is a gold mine.
I also love that the program is founded on basic truths… eating clean and balanced is good for bodies and intermittent fasting is beneficial. Nothing crazy here. Each shake canister is just whole, clean food… no junk or fillers, created by the top formulator in the world. It makes eating what you're supposed to eat so much easier AND it fills your body with the minerals and vitamins it needs each day (plus, supplying the enzymes to help you absorb them.) Literally everyone using this notices a significant increase in their energy, because their body is finally absorbing the nutrients it needs, as well as ridding itself of toxins!
How much did it cost you?
The first month, while I'm doing the 30 day cleanse program, it costs between $12 and $13 a day. Which is TOTALLY reasonable, seeing as how it replaces TWO of my meals for the day (think how much you may normally spend on two of your meals for the day.) After the first month, it will cost even less than that, because you won't need everything again. When you're ready to maintain your weight, it's even less!
AND… they have a money back satisfaction guarantee! If you don't like it, just ship it back and they'll refund you the cost of your package. You really have nothing to lose, except the potential cost of shipping it back.
I'm ready to do it too! What do I order?
I'll tell you exactly what you need to do, to do exactly what we're doing and what I know works. Bear with me, there are a few steps, but that's because they let you pick the items in your package. After you order, I'll send you a blog post I wrote, explaining how to use everything, and I can add you to my Facebook group, where my friends and I help and support each other, but we'll talk about that in a minute.
* IF YOU WOULD RATHER ME PLACE THE ORDER FOR YOU, I'M HAPPY TO (I'm pretty fast at it!) JUST EMAIL ME AT [email protected] OR PRIVATE MESSAGE ME ON FACEBOOK, 'MARIEL SUNDAY WANGSGARD' AND I'LL GET YOUR FLAVOR CHOICES AND INFO. I WILL ALSO SEND YOU EVERYTHING YOU NEED TO HELP YOU WITH THE SYSTEM AND ADD YOU TO MY PRIVATE FB GROUP OF FRIENDS WHO ARE ALSO USING IT.
Follow these steps when placing your order, to make sure you get the right stuff! If you want to download and print the instructions, you can CLICK HERE.

1. Click to my site (you need to sign up with me to be added to my group and get my training post on how to use the products): www.shepicks.isagenix.com
2. On the right side, in the lighter gray area, click "SIGN UP AND SAVE," it's written kind of small. If you click "Buy Now," you will be paying retail prices (bad!!) "Sign Up and Save" will enroll you in autoship, but don't let that scare you. It can be postponed anytime or even canceled. But, you need to say you're enrolling for autoship to get the wholesale prices.
3. The next page will show you 3 package options. I recommend the 2nd one, the Pacesetter Pak/30 Day Premium Pak. That's my favorite package because it's the "middle" one. It's not the most expensive package (that one will include the vitamins, which are awesome, if you want that.) And, it's not the cheapest… the cheaper one doesn't include a lot of the things that make the whole experience better (the chocolate, eshots, bars, etc.) Also, the Pacesetter is the only package that gives you about 20% off everything in it, so you get the most bang for your buck. And, it gives you free enrollment. Other packages, you have to pay $29 for the yearly fee. Plus, you get the blender! Believe me it just makes sense. Click "VIEW" on Pacesetter.
4. On the next page, you'll see the price as $478.80. But you will get the cheaper price of $399, since you're signing up of the autoship. So, just scroll down below to where it says to "Select Your Pak Options." Let's go over each option…
– Shake Flavors: You can select 4 shake canisters. Let me tell you, if you want vanilla, I recommend the KOSHER vanilla… only because it tastes way better than the French Vanilla. The French Vanilla kind of tastes like eggnog and it's hard to make taste good with additions. (Unless, you like eggnog!) The Kosher Vanilla is a plain vanilla and is easy to change up the flavor. You can choose different flavors for all four, if you want, or all the same. When you pick your shakes, just select "canister" for each one, then "Add." Oh, by the way, DF means Dairy Free, and the IsaLean Pro are shakes with extra protein. There is plenty of protein in the regular shakes, so I would just stick to the IsaLean for now, then we can talk about the Pro version later.
– Cleanse for Life: Now, you'll pick your cleanse juice, called Cleanse for Life. I usually just get the 32 oz. liquid for both. I keep it in the fridge, it's already mixed, and ready to go.
– Ionix Supreme: This is an awesome way to get your minerals in for managing stress and feeling great overall. Like the Cleanse for Life, I just choose the 32 oz. liquid, because it's quick and easy. Be sure to keep it refrigerated.
– Cleanse Support Bundle: These "snacks" are really like a small sweet wafer type thing, to help you through your cleanse days. They're not awesome, but they help. I prefer the vanilla.
– IsaLean Bars: Bars are for those times when you just can't get home or to your blender to make a shake. They are a meal replacement. Shakes are definitely preferred, as they have maximum nutrients. But, these are good to throw in your purse or car for those out-and-about moments. If you cut the bar in half, it's considered a "snack" and you can have two 200 calorie snacks on Shake Days. A half a bar is a good option, but there is a variety of non-Isagenix things you could have for snacks, as well. My favorite flavor Bar is the lemon, and second is the chocolate peanut crunch, but really they're all pretty good.
– IsaDelights: These are little chocolates that make your Cleanse Days much more doable! They also help satisfy chocolate or sugar cravings anytime that's an issue. Pick whichever one sounds best to you.
5. After you've entered your choices, scroll down and make the personal quantity say "1," then add to cart. Now, BEFORE you click "Next," you need to add anything additional to your cart that you're interested in ordering. At this time, there is only ONE thing I HIGHLY suggest that will make your shakes taste WAY better… like takes them from good to great, with just one little scoop. It's called Amped Hydrate. It's only $21 for a tub and it lasts for a long time. It's like a Gatorade powder, but way better for you. So, on that Initial Order Page, where you should still be, scroll back up and you'll see a search box. Type "Amped Hydrate" and you'll see it come up. Click on it, choose your flavor. I would say orange is the best, followed by lime, and I like to get them in the canisters. Get whatever quantity and flavors you want, then "Add to Cart." If you're done getting extras, on top of your package, you can go ahead and click "Next."
* At the top of the screen, you'll see a timeline, telling you what stage of the ordering process you're on. Keeping an eye on that will help you from getting lost. 😉
6. Now, you'll be on the Customer Information page. Simply fill that out and click "Next."
7. You should be on the Savings page now. The top option is the one that will give you the best deal. It includes the autoship, like we talked about before, but you can cancel it later or just postpone or change it. Even though it says it's $29, because you're getting the PaceSetter (assuming you're obedient!), it will deduct that $29 at the end, because it's included FREE with that package. So, basically just leave it on "Preferred Customer" and click "Next."
8. Now you will set up your autoship. You don't need the same package again (your future orders will cost much less.) So, click the option on the right, "View Product Catalog." You can search for products in the box or kinda hidden in the top left there is a green box that says "More Products." You just need to add SOMETHING to your autoship, even if it's a $1 charitable donation (bottom option under "more products.) However, because you are ordering the PaceSetter with autoship, you are qualifying for 3 months of free shipping, when your autoship order is over 125 BV (business volume.) So, you'll want to go back into your autoship in the next 2 or 3 weeks and put in there what you want, 125 BV or more, if you want to get that free shipping deal. (I'll tell you how to do that later.) So, after you add any autoship items to your cart (which will REALLY be your autoship cart, even though it says "cart," then you can click "Next."
9. You will be on the Schedule Autoship page, just leave it at "30" because you can't go higher than that, and click "Next."
10. You're now looking at your cart summary. Any discounts you received will show and if you have any additional coupon codes, you can enter them at this time. Underneath you will see your autoship order. Click "Next."
11. This is the Payment & Shipping page. It's pretty self-explanatory. Just enter your info and click "Next." It will then show you your autoship order, asking if you want to use the same payment info. You're probably going to leave that the same, but change it if you need to, then click "Next."
12. You're looking at your order summary. If everything looks good, click "Complete Signup" at the bottom.
THAT'S IT! It will usually arrive within a week and after that, you're just a couple weeks away from seeing a real difference in your body!
How will I know what to do, once it arrives?
Inside the package, there's a great booklet that will walk you through everything. But, I also have a blog post I put together to send you, explaining everything in the package, as well as how to do a Shake Day and Cleanse Day. I also have a small Facebook group, that I would be happy to add you to. It's really helpful! We all share our journey together, ask each other questions, and give support…
You're going to LOVE this! Seriously, I don't just recommend anything. If you're a member of my She Picks! group on Facebook, you know that I'm ALL ABOUT the best. And, this is by far, the best solution for weight loss and optimal health that I've ever tried. My friends and I are FREAKING out! I can't wait to follow you on your journey!
If you still have questions about this, just email me… ladies @ oneshetwoshe.com
Also, if you want your skin to be healthy and glower, use Iridesse Skin Care.