I am so excited to be studying the New Testament this year in Primary. One of my favorite things is learning about Jesus Christ and sharing His teachings with the Primary children. Their faith in Him is so strong. It is going to be a wonderful year of learning and growing and becoming more like our perfect brother.

If you have never been here before….welcome! Each month, I write Primary Talks based on the Come Follow Me for Primary lesson. The talks are short, simple, and easy for children to read and understand. I hope that they are helpful!
If you find these talks valuable, can you do a quick little something for me?? If you share this post, right here —> Free Book of Mormon <— on any social media outlet, it helps me get The Book of Mormon into hands, all over the world. It's a simple member-missionary thing that you can do!! Just click on that link and share it. Thank you, thank you!! ~ Mariel Wangsgard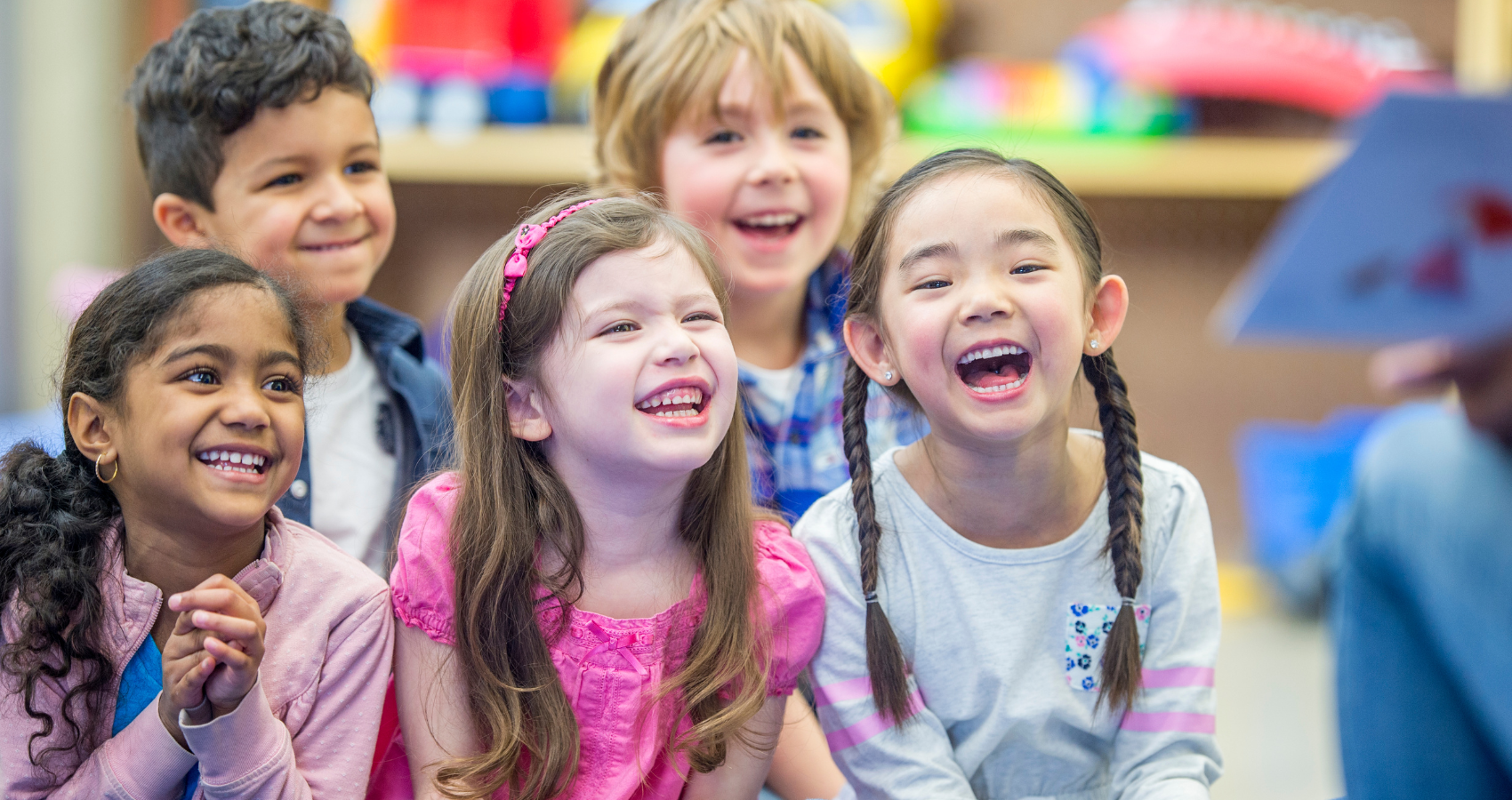 New Testament Primary Talks ~ January 2023
If you are a Primary Leader, you can download all five of the January talks in one PDF here. That way, you have them on hand for emergencies during opening exercises.
Parents are welcome to use these primary talks to make the Sunday morning scramble a little bit easier! I have four kids and I know how tricky it is to get out the door for church each week. Download and print a PDF copy or simply read the talk from your electronic device.
JANUARY 1: Come Follow Me
This year we are studying the New Testament. This part of the scriptures teaches us about when Jesus was on the Earth.
Jesus told the people to "Come, follow me." We can follow Jesus when we learn about Him and then try to live and act like He did.
When we follow Jesus, we become like him. We walk in his footsteps and He leads us back to Heavenly Father.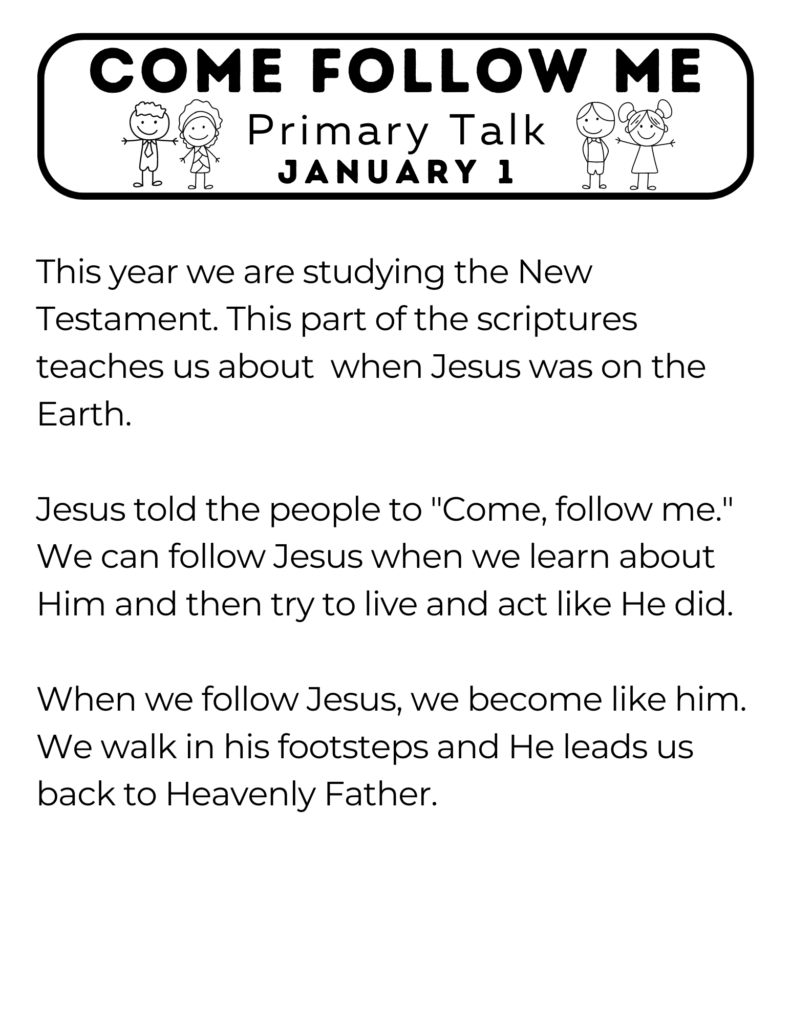 Download PDF: Come Follow Me
JANUARY 8: The Son Of God
I love my Mom and Dad. They take good care of me and love me. We are a family.
Did you know that Jesus has a family too! His Mother is Mary. She took care of him when he came to Earth. Jesus also has a Dad. It is Heavenly Father. That is one reason why Jesus is so special. God is his Father!
Families are important. I am happy to know that I can be with my family forever. And that we can all be with Heavenly Father in Heaven.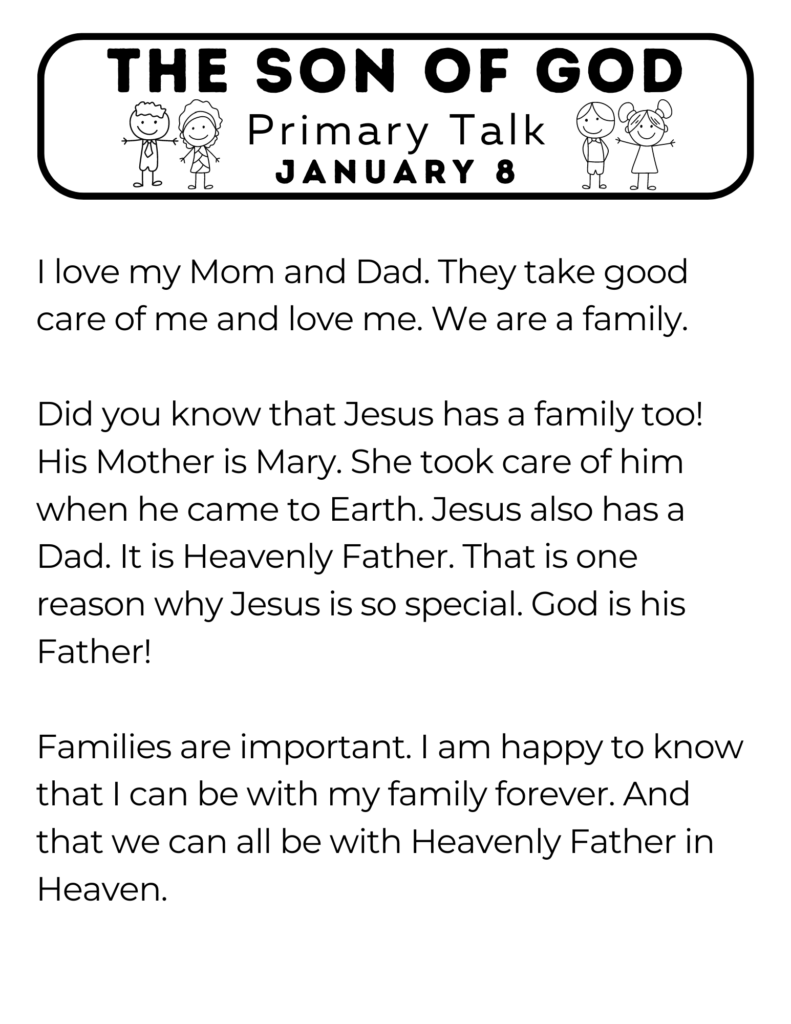 Download Primary Talk PDF: The Son Of God
JANUARY 15: A Gift For Jesus
When Jesus was a child, Wise Men from the East came to find him and worship him. They saw the star in the sky and knew that Jesus was special.
The Wise Men brought gifts for Jesus. They wanted to show him their love. We can give gifts to Jesus too! Our gifts won't be gold and spices. To show our love we can serve our friends, love one another, keep the commandments, and bear testimony.
When we do these things, it makes Jesus and Heavenly Father happy! It is our gift to them.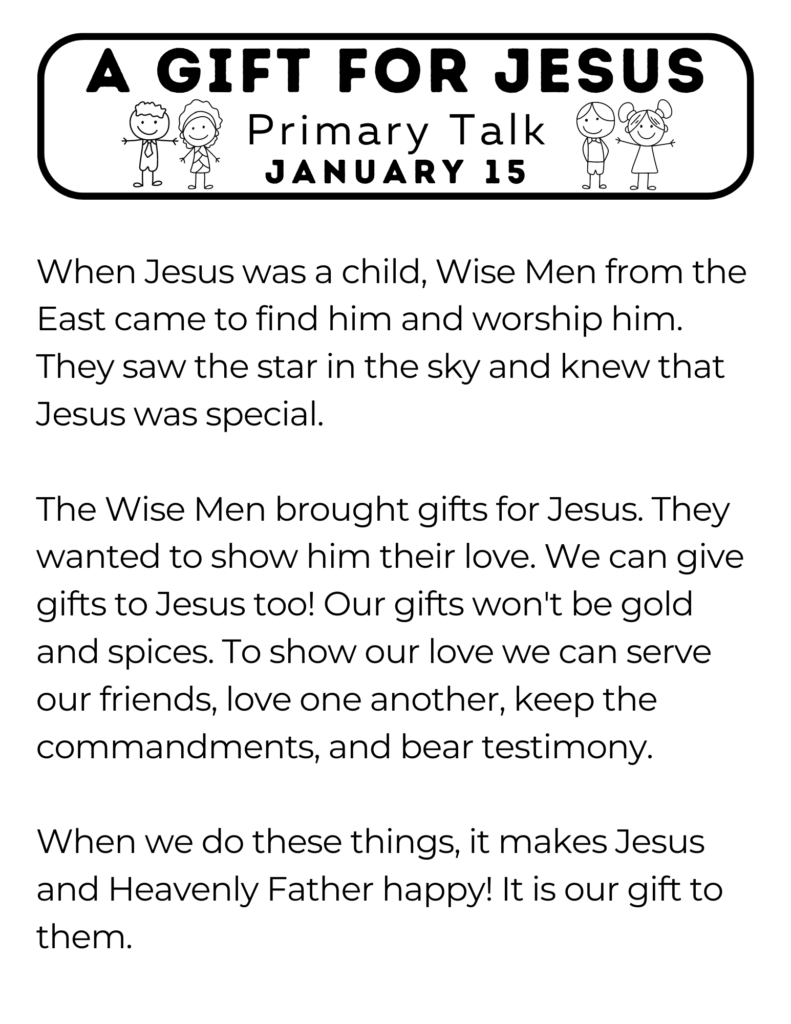 Download Primary Talk PDF: A Gift For Jesus
JANUARY 22: Jesus Created All Things
Do you like to create? Do you draw pictures, paint, build forts out of blankets, make up songs, decorate cookies, or make fun craft projects? All of these things are creating.
Jesus is our Creator. He made the world and all of the livings things on it. When we create good things, it helps us to become more like Jesus. It brings light and happiness.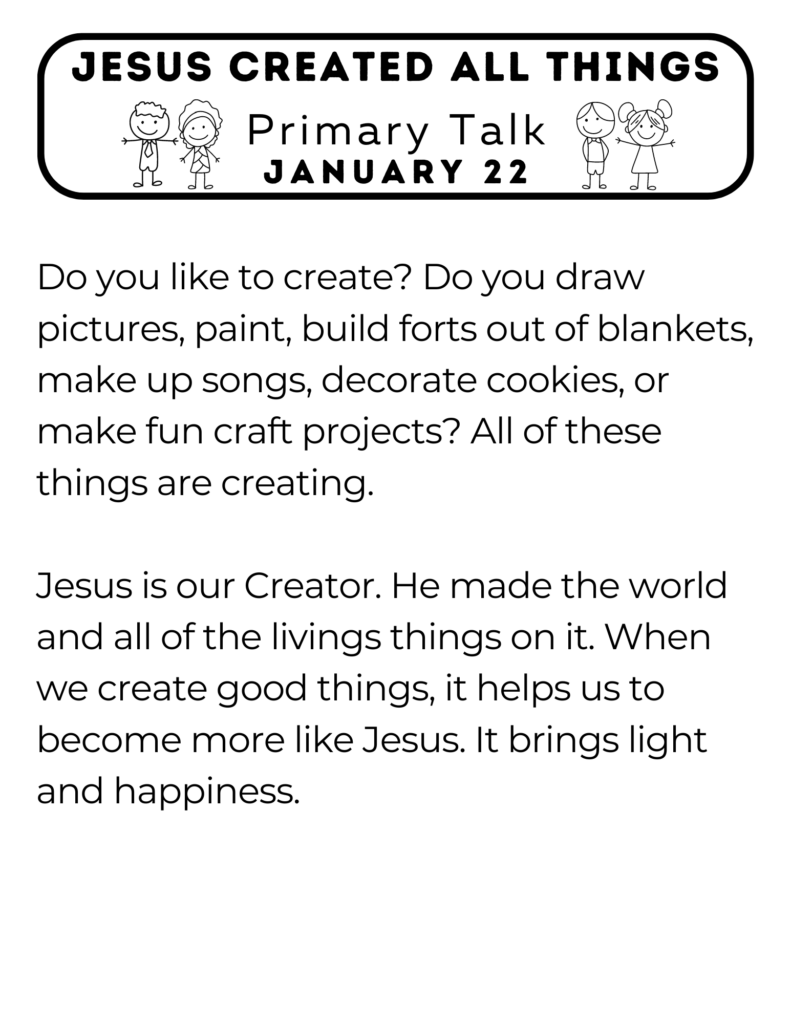 Download Primary Talk PDF: Jesus Created All Things
JANUARY 29: I Can Be Baptized
When we are 8 years old, something very special happens! We have the chance to be baptized. Baptism is a covenant. At baptism, we become members of the Church of Jesus Christ of Latter-day Saints.
Did you know that when Jesus was on the Earth, he was baptized? It's true! He showed us the way. When we follow His example, we walk the path that leads back to Heavenly Father. I am so glad that we can be baptized and get the Gift of the Holy Ghost.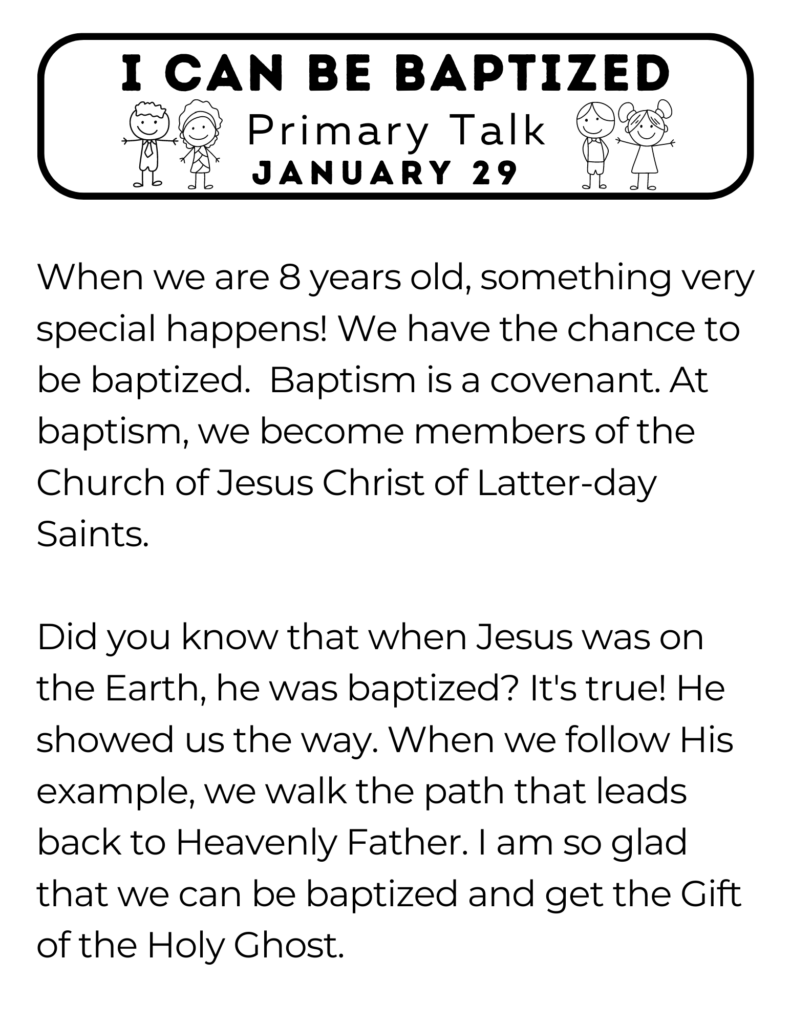 Download Primary Talk PDF: I Can Be Baptized
If you liked these Latter-day Saint Primary talks, check out:
Pin this image to save/share the talks: