Fall is definitely my favorite season. The cool weather, the leaves changing, digging out my warm blankets and slippers… so many things! But, a big part of why it's my favorite season are all the flavors of fall: pumpkin, peach, apple, cinnamon, candy corn, caramel, cranberry, eggnog, OH BABY! My mouth starts watering right around when Labor Day comes to an end and doesn't stop for months. I wanted to put together a collection of non alcoholic fall drinks to have on hand, to satisfy my cravings all season long.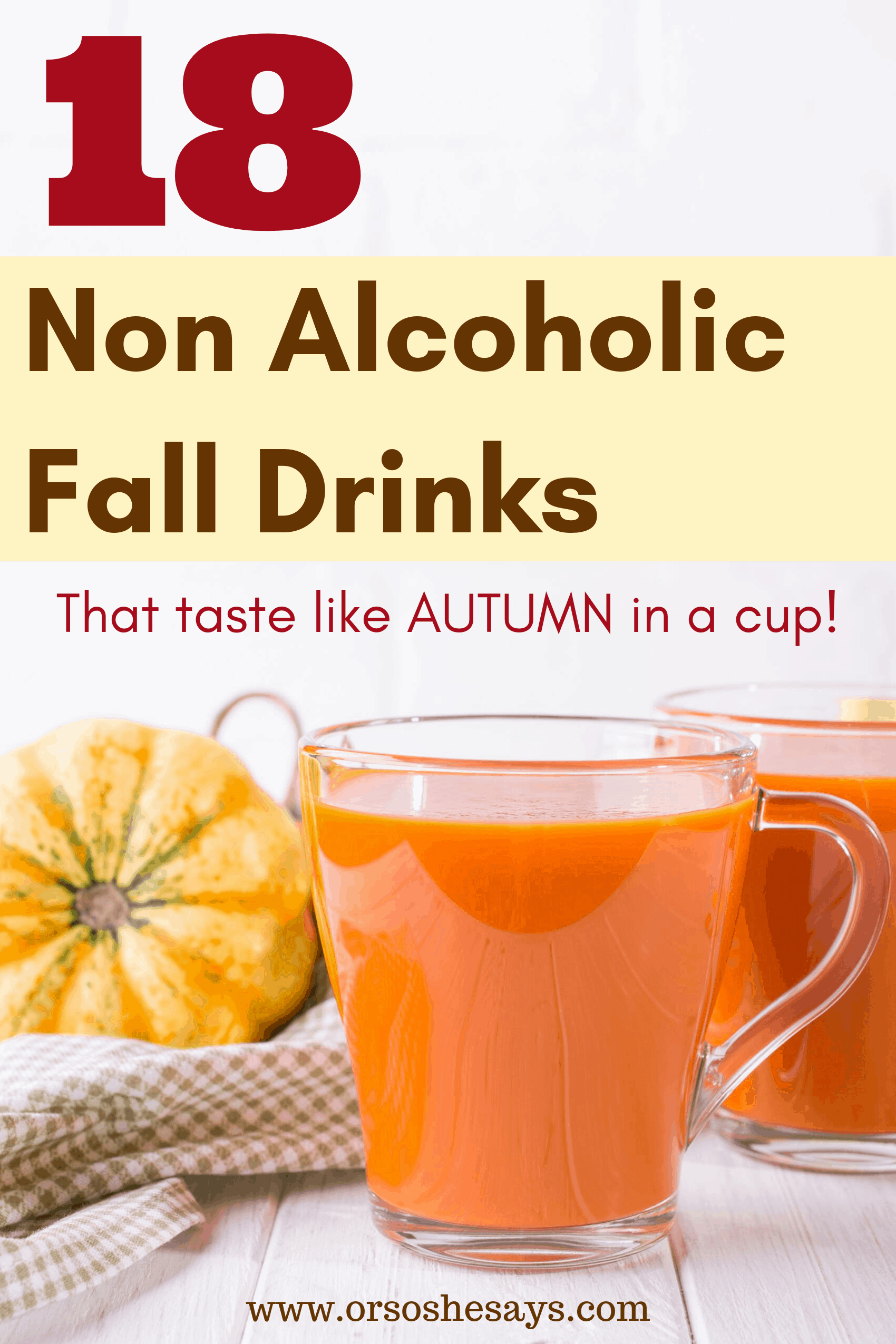 Non Alcoholic Drinks That Taste like Autumn in a Cup

If you share my passion for fall flavors, you'll LOVE these non alcoholic drink recipes. They are like autumn in a cup, but all different, in their own way. Enjoy them to the last drop!
Russian Tea from 'Or so she says…'
My kids are already begging me to make a big batch of this "hot drink that makes your throat feel better." It's basically a citrus cider, no black or green tea involved. Every fall, I make a huge batch of it to freeze in Ziplock bags, ready to pull out and drink any time in the fall and winter. We actually love it hot or cold.
Hot Pumpkin Nog from Mom Foodie
This recipe caught my eye because it's dairy free. As a lactose intolerant gal, a delicious milky recipe that doesn't hurt my stomach is always a great find!
White hot chocolate is always my top pick. The addition of pumpkin spice is such a fun addition for this fall drink!
This is such a pretty drink that would be perfect for Thanksgiving or Christmas dinner. Besides, pomegranates are one of the greatest things EVER. Just having a pitcher of it, ready to drink, in the fridge would be most ideal.
This is more of a fun drink for fall that would be perfect for Halloween parties. Plus, there's only 3 ingredients, so it's super simple and quick to make. You could find me hovering around the bowl of candy corns… yum!
Just looking at the ingredients in this non alcoholic drink recipe, I can tell it's a winner! Ingredients, like: white grape juice, cranberry soda, apple cider, sparkling cider… yes, please!!
This fall drink is actually pretty darn good for you… and that's saying a lot, when it makes you think of pumpkin pie! It's packed with goodness, like bananas, Greek yogurt (protein!), pumpkin, cinnamon, and more. You have my permission to guzzle this guilt-free.
Hot Cinnamon Cranberry Punch from Desserted Planet
This recipe has me very curious. I love trying favorite family recipes… ones that everybody looks forward to and are passed on from generation to generation. It kind of reminds me of my Russian Tea recipe (above), but the cinnamon candies melting inside the pot… hmmm… I want to try it!
Okay, let's ponder this for a minute… apple cider… floats… Floats mean 'ice cream is involved.' Put this at the top of my list to try!!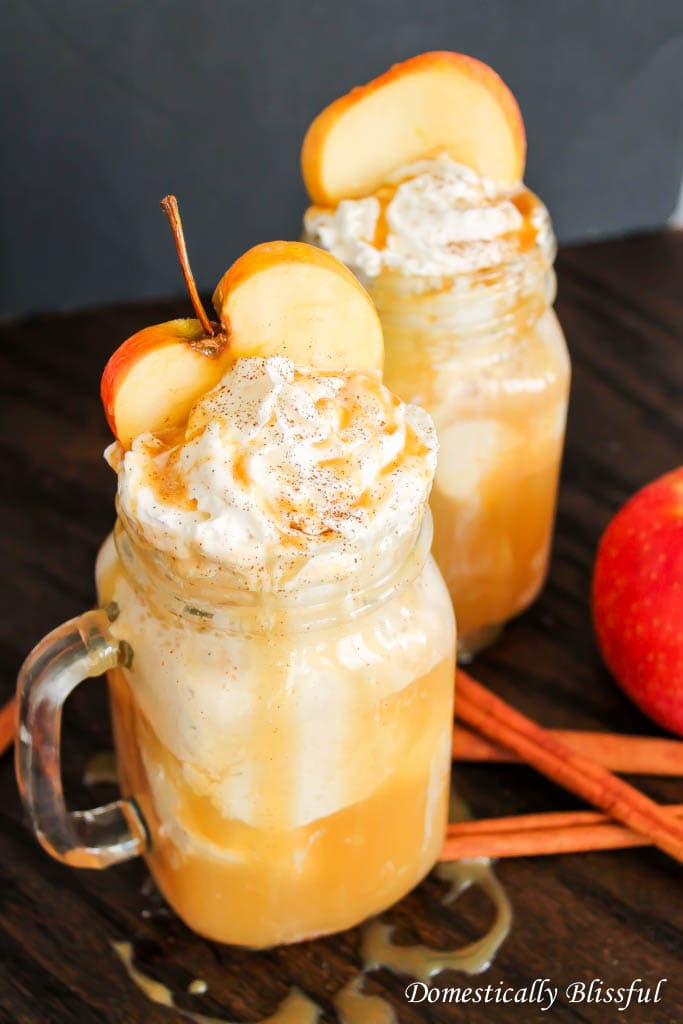 This party drink is tangy, sweet, sparkly, and just 3 ingredients are needed! Another beautiful drink that would be perfect for a holiday event.
This another one of those 'good for you' fall recipes that would be great to start your morning with. It's also one of those recipes that can help you finish off that can of pumpkin puree that you've used in your baking and is just sitting, waiting to be used, in your fridge. Don't let it go bad!
Thanksgiving Punch for a Crowd from I Heart Naptime
It may say 'Thanksgiving,' but this drink is ideal for any time in the fall or winter. The flavors are screaming autumn and based on what's in this recipe (hello, caramel), I don't know how it couldn't be a crowd pleaser.
If you love the combination of chocolate and pumpkin, this delicious hot drink is for you! It's creamy, warm, and packed with all of the autumn flavors you love.
Starbucks Caramel Apple Cider from Cincy Shopper
This is the real deal, folks. One year, for Christmas, my mom gave myself, and all of my siblings a kit for making our very own copycat Starbuck's Caramel Apple Cider… I was so happy! I don't drink coffee or tea, so this drink is one of the few things I ever get at Starbucks. I'm totally okay with that, because I LOVE this drink, especially in the colder months. And if I have a sore throat, even better! Anyway, Cincy Shopper has got it right… this is exactly how you make Starbuck's recipe.
Save yourself $6.50 a bottle at Universal Orlando's Islands of Adventure by making this copycat recipe of the Harry Potter Pumpkin Juice at home. You don't even have to claim the 'Harry Potter' part, if it doesn't fit with your holiday party… it's a yummy drink either way!
I love all of the flavors in this punch! Not only that, bu this is an easy one to bring to a holiday party, without having to make it ahead of time. You can easily tote everything you need in a grocery bag and have it mixed, in no time, once you get to your get-together.
How fun would it be to make your very own apple cider!? Plus, with the slow cooker pulled out to make this yummy drink, your house will smell like heaven all day long. You could even bottle up some cider and give it as gifts to friends and neighbors, with a cute little 'Homemade Apple Cider' tag attached.
Miracle Sore Throat Slushie from The Kitchen Girl
Sadly, I can't think of fall without thinking of the impending sore throats that will pass through the house. I'm anxious to try out this slushie and see what I think! It's definitely true that both hot and cold feel good on sore throats. So, maybe this for cold and the Russian Tea that my kids love for their sore throats, for hot. That sounds like a plan.
If you love these fall drink recipes, check out:
Choose your freebie (pdf download) for subscribing: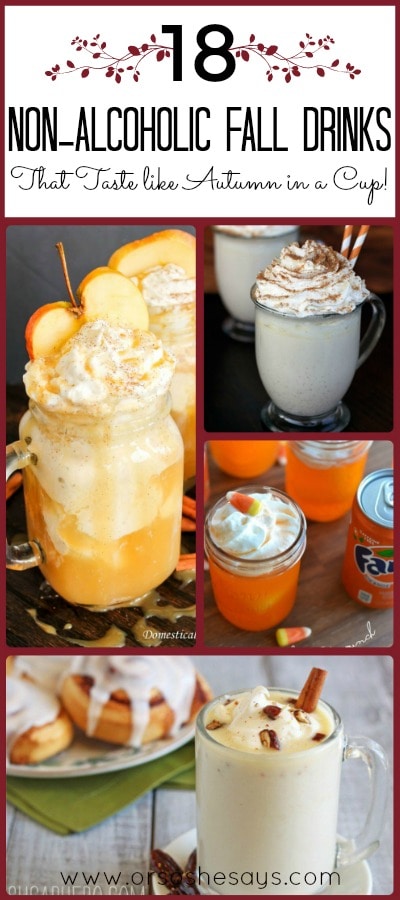 Save
Save