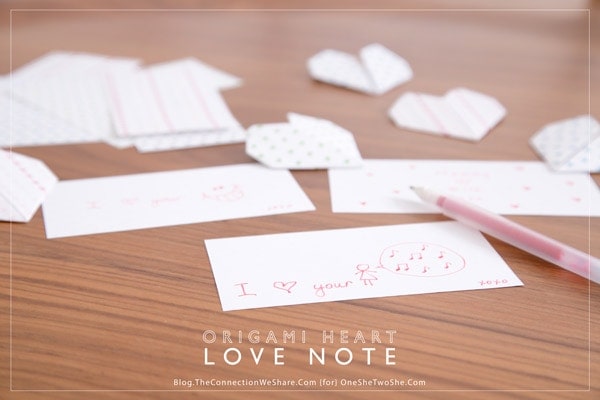 It's the 10th of January and I am so excited to have our group of talented bloggers back for another blog hop! This month the theme is HEARTS and I just know you are going to love (no pun intended!) these projects that are sure to get your creativity flowing for Valentine's Day… which is just around the corner! I'd love for you to pin our collage below, check out my Origami Heart Love Notes and then go see all the other fabulous projects by some of my friends!
1. Landeelu sharing an Easy Valentine's Day Wire Heart Garland
2. Little Miss Momma sharing an Easy Heart Envelope Pillow
3. Lolly Jane sharing Glitter Heart Valentine Decor
4. Or So She Says shares Origami Heart Love Notes
5. Simply Kierste sharing Heart Bunting Countdown
6. Six Sisters Stuff sharing Peanut Butter Chocolate Hearts
7. Thirty Handmade Days sharing Printable Valentine's Day Bookmarks
8. Your Homebased Mom sharing DIY Valentine's Sharpie Mugs
9. Capturing Joy sharing a Heart Carved Tree Stump
10. eighteen25 sharing Heart Gift Tags
'Or so she says…' Contribution:
Hello everyone! I'm Amy and I'm a new contributor here, nice to meet you =). I'm going to share my origami heart love notes with you today, but first, a little about myself…
I'm a tea lover, chocolate eater, kale chip maker and a children photographer in Vancouver Canada. I blog at The Connection We Share and the purpose of the blog is to share ideas for parents to connect and bond with their children through crafting, baking and taking pictures together.
These are my little loves, Elle and Jay. My favourite thing to do with them is to hang out in the backyard. We pick berries, smell flowers and roll around laughing like no body's business. It's my happy place =)
So for my first post, I'd like to share something I'll be doing for my daughter for Valentines.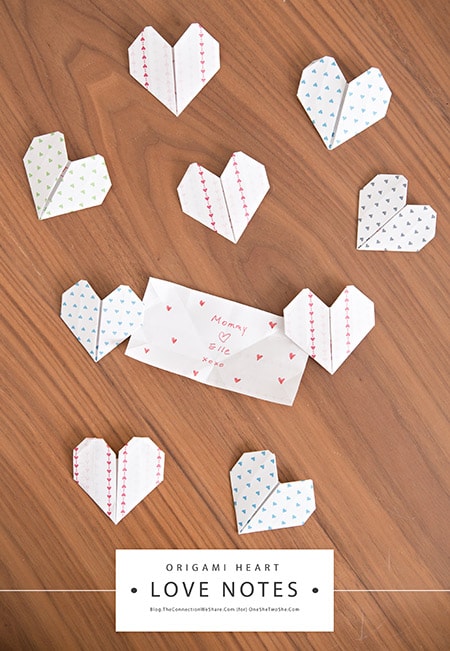 On this lovely day (I'm usually not pun-y, this is a first for me =) And you'll also notice I use smiley faces. A lot.), I plan to fold some origami hearts with little love notes inside and leave them everywhere for her to discover.
Since my little love is still learning her A-B-Cs, I'll be drawing pictures in the origami as well as using words she recognizes.
To make this super easy for you, I've created a printable of the origami paper for you to download. It includes 6 rectangles to make 6 hearts. All you need to do is cut, write and fold.
Since I'm not good at giving instructions, here is a quick video I made for you to follow along while you make your own origami heart love notes =)
I plan to hide these all over the house – peaking out from under her pillow, taped to her toothbrush, stuck under her cereal bowl, attached to the seat belt of her car seat, hiding in her jacket pocket, etc.
Make sure to take pictures of them finding these origami heart love notes because these photos will remind them (and you) how much fun you've had this Valentines. At the end of the year, I'll be creating a photo book filled with pictures of our year to bring us back to these memories. My photo book company of choice is Blurb and if you're like me and make 100+ page albums (no joke, our 2013 album is 128 pages!), use a
Blurb coupon
to make it easier on your pocket =)