It's official, Dan is STILL the reigning champion in our Father's Day Competition. 3 years in a row! It was almost mine…I didn't realize my generosity vote for his 'pretty' cartwheel would end up costing me the title! Really, I had the prettiest cartwheel. Everyone knew it.
The coveted trophy, going right back on Dan's shelf. 🙁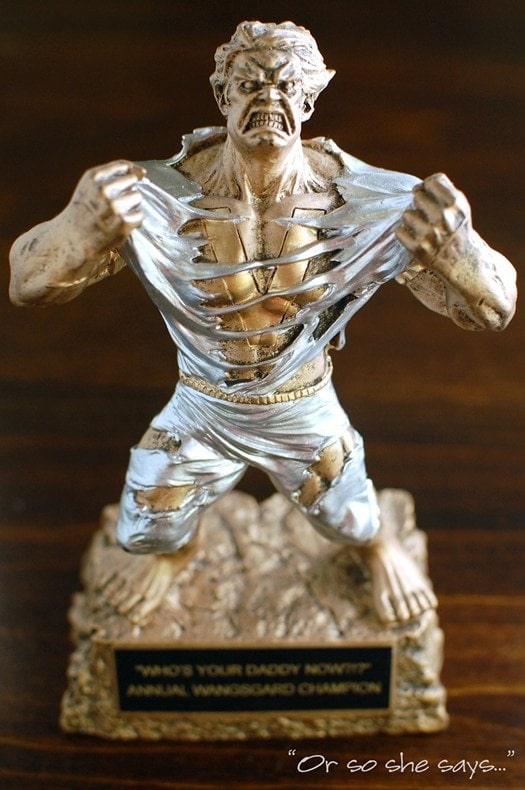 We thought, for sure, that Audrey would win the jump roping competition. Whoever could do the most jumps without messing up, best out of 3, would win. The boys rang in at a whopping 5 and 6 jumps. I thought I was pretty awesome at 16 jumps. I know, so lame. It kept hitting my toes! Oh, and don't judge me for my dirty patio. The kids left the hose and slip 'n slide in a wad, and we just pushed it aside and jumped on all the dead bugs. That's how we roll, at least when it's getting late and we've got a competition to finish. Anyway, Dan surprised us and put us all to shame…70 jumps. And, he only stopped cause he wanted to. Whatever.
Next up, the 'Prettiest Cartwheel' competition. We each got 3 tries, and everyone gave us a score from 1 to 10. The scores were added, and the highest scorer was the winner. I hadn't done a cartwheel in who knows how many years, so I thought I would get smoked. But, no…I beat all the kids (we show no mercy)…then, it was Dan's turn…
It obviously didn't occur to him that I was going to share this fem-ball picture. When it comes to grace, I thought Dan had zero. His cartwheel was pretty dang pretty. Like I said before, mine was better, but due to my utter shock at his cartwheeling skills, I had to let him win.
Next up, the Target Shooting Competition. This is huge, ladies…I won. Yes, me. Dan was a little perturbed. Next time a couple crazies try to break into my house, I'll just get MYSELF. Dan can finish his shower.
Lastly, the long awaited 'Ice Cream Competition'. I tried to pick a varying bunch of flavors: Cherry, Chunky Monkey (Banana), Cinnamon, Cookie Dough, Pineapple Coconut, and Mint Chocolate Cooke.
Everyone was blindfolded in one of mom's sexy scarves, while I spooned ice cream into their mouths. They each have to write down what flavor they think they're eating. Whomever gets the most, wins!
Little Audrey and Shane tied in this competition. Okay, get this…I gave Dan his bite of Pineapple Coconut and he wrote down German Chocolate Pie! Wha?!? He must not have cleansed his palette. 🙂
Besides hanging onto his trophy for another year, Dan walked away with $20 bucks to Chick-fil-A! Ugh, so jealous. I won a freakin box of Reese's Pieces. But, I'm grateful.
Still looking for gift ideas for Father's Day?? Here ya go…(taken from Gift Idea Central, where you'll find gift ideas for everyone!)
My Husband's Favorite Things
My Husband's Favorite Things (Cristina)
My Husband's Favorite Things (Leigh Anne)
Last Minute Father's Day Gift Ideas
My Husband's Favorites (Misty)
My Husband's Favorites (Kelsey)
My Husband's Favorites (Angela)
My Husband's Favorites (Sharon)