Hey Everyone, it's Adelle from PackedwithFun.com, the official blog for Get Away Today. We love helping families make their vacation dreams come true by offering the best deals and then making them even better with our travel tips and tricks. There is nothing better than taking a vacation with your family, except for reliving those vacation memories again and again. Here are three easy ways to preserve vacation memories for years to come:
Top Ten Vacation Moments List
If you have ever felt overwhelmed with journaling every detail of your vacation, simplify your record-keeping with a Top Ten Vacation Moments List. I think it works best with your family on the way home from a vacation. We let everyone express his or her favorite moment of the trip, a funny incident or even a little mishap. The key is to be specific. I think you'll be surprised at how easy it is to come up with your top 10! Here are some of my family's top 10 moments from past vacations:
• When the plane was taking off on the runway, our tiny daughter Natalie yelled out loudly enough for the whole plane to hear, "Hold on for your life!"
• Our son Gage got knocked over by a giant wave at the beach and took a tumble under the water. He stood up, looked at us and said, "Mom, I just saw three sharks!"
• While at the park, Dad agreed to buy a $4 box of popcorn and Libby said, "Seriously! Dad, you're smokin' awesome!"
Talking about specific moments from the vacation is a fun way to reminisce – and you're likely to get the most specifics when your vacation moments are fresh on your mind. It is almost impossible not to laugh about all of the crazy things that happened during our vacations. Don't worry about making your journal fancy. Any notebook or journal will do, just keep it separate from other family journals and keep it accessible to easily reflect on past vacations and ready for upcoming trips!
Vacation Memory Jar
This is another version of condensed journaling that gets the whole family involved. Grab a small note pad (avoid the sticky backs) or slips of paper and bring them with you on your vacation. Each night when you get back to your hotel room, have each member of the family write down his or her favorite activity/event/treat/whatever of the day. Mom or Dad may need to help younger kids write down their favorites. When each family member has written a note, fold it up and put it in your vacation memory jar – not to be opened until you return home. Keep it on display for regular vacation memory reflection. We created these cute vacation jar printables that you can use for your jar – or decorate your jar with memorabilia from your trip when you return.
Vacation Memory Box
When you return from vacation (especially from the Disneyland Resort), you're sure to return with all sorts of treasures. Grab a shadow box from any craft store and use it to store your favorite family photos, tickets and/or any small souvenirs (pins work great for this) that will fit in it and use it to decorate your home. It's a nice way to keep some of those small vacation reminders that bring a smile to your face – without losing them in a junk drawer.
Themed Journal Inserts
So, I was just going to do three ways to preserve your vacation memories, BUT Rebecca from Simple As That recently returned from her family's first Disneyland vacation and shared these vacation printables on her blog. They were so cute that I had to include them as a bonus way to preserve your vacation memories. If you're a traditional family journalist, these printables are a perfect (and adorable) guide to your family vacation journaling. Visit SimpleasThatBlog.com to download a variety of printables perfect for your Disneyland vacation.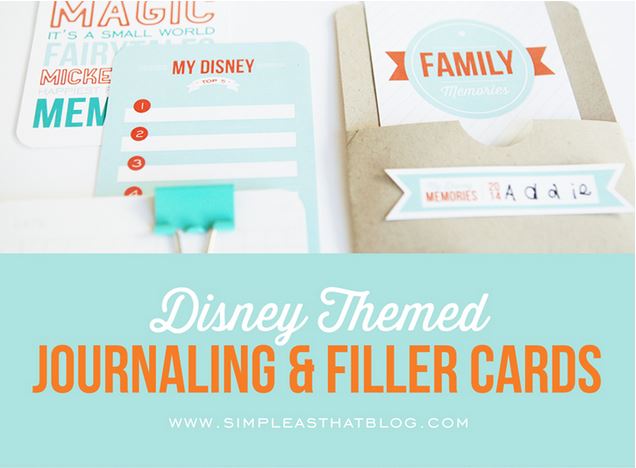 Photo credit: Rebecca SimpleasThatBlog.com
When you're ready to start making some vacation memories, our staff at Get Away Today would love to help. Our vacation specials can be found online at www.getawaytoday.com or by calling 855-GET-AWAY. You can even start planning ahead for next year and hold your vacation for just $125 down! Be sure to mention OSSS10 and you'll get an extra $10 off any 2-night or longer Southern California vacation package.