THIS GIVEAWAY IS NOW CLOSED BUT THEIR IS A DISCOUNT FOR YOU!
10% OFF YOUR PURCHASE BY ENTERING PROMO CODE 1SHE2SHE AT CHECKOUT. THIS OFFER EXPIRES DECEMBER 20, 2010.
Okay, I lied about never doing posts on the weekend. If I have a giveaway for you or a product review…I'll post those…and, I do have one!
Since I bought my organizers, I've had soooo many people gawking over them that I KNEW it would be
the PERFECT Christmas present
for practically every gal I know! I'm pretty sure I'm Spirit Ranch's best customer now 🙂 Just think…a jewelry organizer paired with a darling pair of earrings or a necklace.
What woman doesn't want that?
They made my Christmas shopping really easy this year.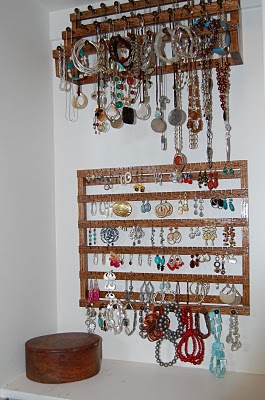 I love my organized jewelry!
So, since I knew I wanted to recommended them to you anyway as a super gift idea…I hit 'em up to give away a couple organizers to two lucky winners!
Spirit Ranch has agreed to give away one medium sized wall-hanging jewelry organizer…
and one medium sized standing jewelry organizer!
You can earn up to two entries…


1. Leave a comment
2. If you've done a guest post OR send in one during this giveaway, bonus entry! Just let me know in your comment.
(I'm hoping you get the hint that there are perks for being a guest blogger :))
Be sure to visit Spirit Ranch's shop and see their awesome variety of organizers! I'm loving the new Standing Combo Organizer. Oh, and I also love that you can pick the stain color of your organizer, for no extra cost. Sweet!
This giveaway will run until Monday at midnight. Winners will be notified via email or their blog on Tuesday.
Have a great weekend!