I'll be honest, if I didn't do anything for my kids on
St. Patrick's Day,
I would be just fine with that. Sometimes you just get a little holidayed-out, ya know? Can you relate, or am I a big poop? After Christmas, I would
prefer
to be 100% unfestive until Easter. But, that's just me…but, sometimes you just do things for your kids, right? So, on that note…
Who do you think the Bachelor is going to pick??
Not, really. Okay,
really
…but, we can chat about that later. I've been scouring the internet, books, and my brain, trying to come up with
something that would be fun for St. Patrick's Day.
We've made leprechaun traps before, that was fun…but, a lot of work/mess. There's something about food dyed green that is super unappealing to me. I thought I would get over my disdain and make some green rice krispy treats, shaped as shamrocks. But, as you can clearly see, I wussed out. I could only bring myself to put a couple drops of green coloring into the marshmallows, which resulted in these treats looking far less than festive. I tried to save them by dousing them in green sprinkles, but nothing I did could change the fact that I overcooked them, while getting my camera ready, and they were as hard as rocks…and,
not
very green. It was sad…but, they're still a little cute, right??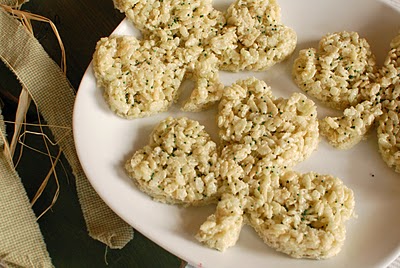 Ooooh, you want to know what my favorite cookie cutters are? No, they're not ALL THE SAME. I love the cookie cutters by Old River Road. They're really big, have great details and I don't know if all of them can, by mine unhinge so that it's easier to loosen it from the dough, if it starts sticking. Sorry, I think I bought the last shamrock one 🙁 But,
this flower
is super cute for spring…
So, anyway…
the cutest idea I could come up with for St. Patrick's Day
is to find somewhere with lovely green grass, wake the kids up early and go have a breakfast picnic, while quietly watching for any signs of leprechauns. If the grass isn't so green, yet, just take them for a walk through the neighborhood, to see if any leprechauns are out and about. When you have them loaded and buckled in the car (or strollers), say you forgot something in the house, and run back in and sprinkle chocolate coins throughout the house, tip over a few chairs, put green food coloring in the toilet, and leave other signs of a little green intruder. With the mess, leave a snarky note, maybe…
"Traps, tricks, and tip toes, you never learn.
A leprechaun can outwit you at every turn.
You'll never find the gold I hide,
The luck of the Irish is on me side."
When the kids come home from a disappointing/refreshing/yummy outing, they'll be surprised to see they were duped by a leprechaun, once again. But, kids will forgive anyone that leave chocolate coins laying around.
Hmmm…maybe for your breakfast picnic, you could bring along some of my favorite cinnamon rolls and a thermos of hot chocolate or cold milk. Don't forget the wipe-ups.
For more St. Patrick's Day traditions, ideas, and info…