Hey Everyone, it's Kimberly with Packed with Fun, the official blog for Get Away Today. School is out and summer is officially here! Summer is my favorite time of year and Disneyland is my favorite place, so it makes sense that I would share about summer at Disneyland. This summer at Disneyland is extra special because it is the Summer of Heroes at Disney California Adventure Park.
There are so many fun things to do at the Summer of Heroes at Disney California Adventure Park. The event officially kicked off over Memorial Day weekend and our team was there to get the inside scoop. There are so many interactive experiences that are only going to be there this summer. But, not to fear, there are some things that will extend past Summer of Heroes at Disney California Adventure Park. Here's a breakdown of everything going on this summer to help you plan your vacation: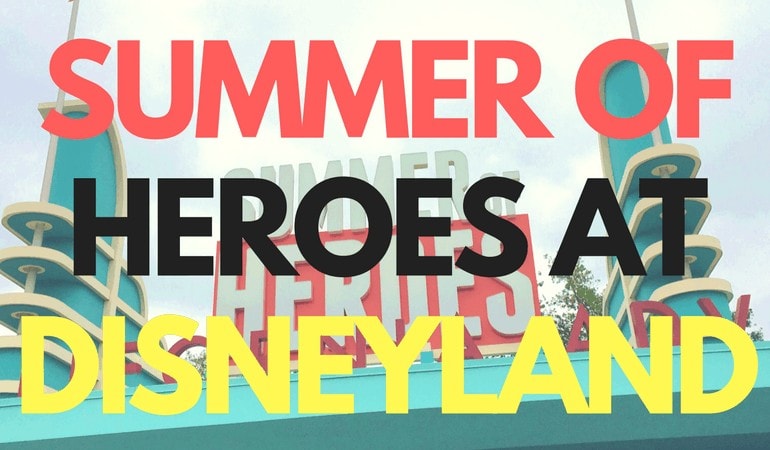 Summer of Heroes Attractions and Shows
Guardians of the Galaxy – Mission: BREAKOUT! – This is the only actual ride that is part of the Summer of Heroes at Disney California Adventure Park. It's also currently the biggest draw to the park. This attraction opened on May 27th and to say people love it is an understatement. The first few days it was open, lines were up to five hours long! That's totally not normal and will likely die down, even during Summer of Heroes. There are six different versions of the ride, each with its own song. Fastpasses are available, so I would recommend getting one as soon as you get into the park. Of course, it is a MAJOR attraction and will continue long after Summer of Heroes.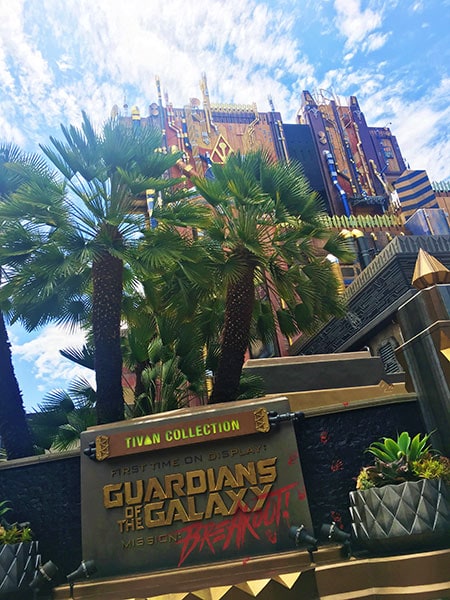 Avengers Academy – If you've ever watched the Jedi Training Academy over in Disneyland, this is Disney California Adventure's version. Kids ages 6 – 12 can sign up in the morning to be part of the show. Participants will learn how to become Avengers from Hawkeye and Black Widow. The show lasts approximately 20 minutes and is fun for everyone – whether you are in the show or not!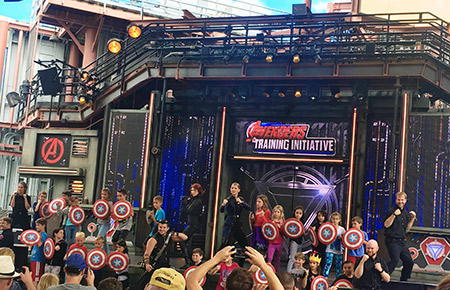 Guardians of the Galaxy Awesome Dance Off! – This nighttime show incorporates the characters and the soundtrack of Guardians of the Galaxy into Hollywood Land. It's similar to the Mad T Party and so much fun! The Awesome Dance Off! party is currently scheduled to last after Summer of Heroes. But, because no official ending date has been announced, I always recommend going sooner rather than later.
Summer of Heroes Experiences
Character Meet-n-Greets – The most popular experiences at Summer of Heroes are the interactive character experiences. Check the park schedule and app for daily appearance times for Captain America and Spider-Man. Also, keep your eyes peeled for Black Widow and Groot. They are so impressive!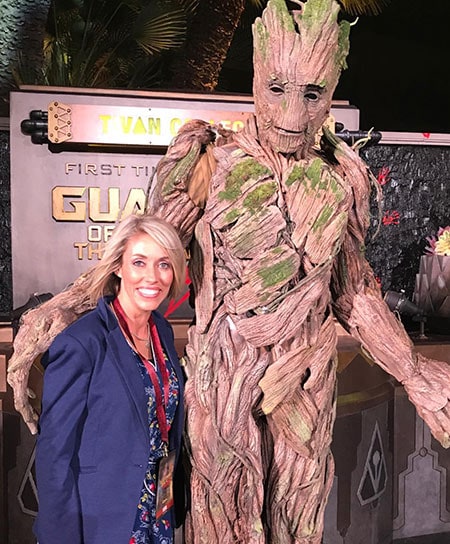 Super Hero Action Center – Find out what Super Hero you are most like and get free souvenirs! Much like the Beast's Library, you'll answer a few questions about yourself on a portable tablet. Once your Super Hero look-alike is revealed, you'll get a sticker representing your match. You'll also be given a free collectible comic book. I LOVE free souvenirs at Disney and this is a good one!
Super Hero Face Painting – Another fun feature of Summer of Heroes at Disney California Adventure Park is the face painting. And guys… it's FREE! There are 20 different free face paint designs you can choose from. You can look like Iron Man, Groot, Gamora, Captain America or so many more. There's no age limit for the face painting,
Summer of Heroes Food
No event would be complete without food and Summer of Heroes does it right. There are so many unique and delicious treats that are only available during Summer of Heroes. Here's a breakdown of where you can find the specialty items:
Schmoozies: gourmet donuts – including a giant HULK donut, specialty smoothies and macarons.
Bifrosties: shaved ice
Cosmic Canteen: cocktails (both alcoholic and non), Groot bread
Studio Catering Co.: sandwiches, pitas, frozen drinks and a chocolate parfait for dessert
Fairfax Market: Groot shaped sourdough bread
Knowhere Eats: Nachos, tacos, margaritas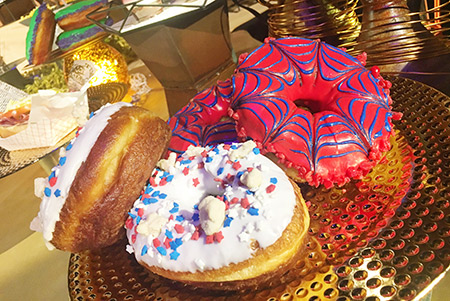 Remember, there is so much more at Disney California Adventure Park and the Disneyland Resort. Here are just a few more of our favorites at each of the parks:
Disney California Adventure Park: Cars Land – including Radiator Springs Racers, Soarin' Around the World, Toy Story Midway Mania – now with FASTPASS, World of Color, Frozen – Live at the Hyperion
Disneyland Park: Matterhorn – now with FASTPASS, Main Street Electrical Parade – now through August 20th, Space Mountain, Big Thunder Mountain Railroad, Pirates of the Caribbean
Oh man, I could go on and on. If you haven't booked your summer Disneyland vacation yet, now is the time. You can book with Get Away Today and get an Extra Day Free on our 4-day Park Hopper tickets. Plus, you can save even more when you book one of our hotels with an Extra Night Free offer. And, both of these offers are available during Summer of Heroes! Be sure to use code: OSSS10 to save an extra $10 off any 2-night or longer Disneyland package. You can book online at getawaytoday.com or call 855-GET-AWAY.

For more Disney fun, check out these posts:
Disney Conversation Cards for Your Road Trip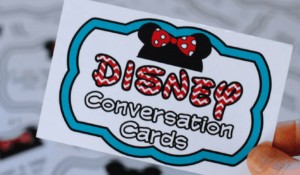 Disneyland Tips: How to Make Your Vacation as Enjoyable as Possible!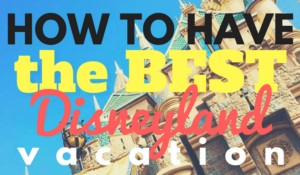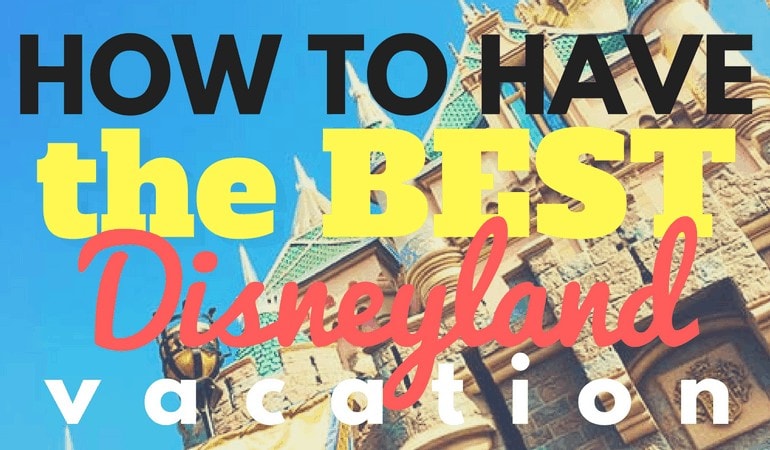 Disneyland Tips: How to ROCK Your Disney Vacation eBook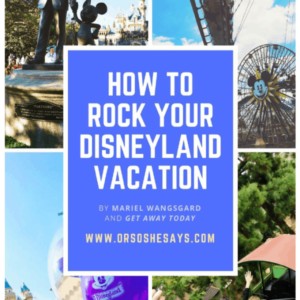 Save
Save