Surprise! It's Kimberly from Packed with Fun, the official blog for Get Away Today and I'm back on "Or She Says" for my "real" final post of the year. When Mariel asked if I wanted to share my top 5 family vacations to give as a gift, I was so excited to post about it. Vacations are the best and it can be difficult to narrow down a destination that everyone will love.
I put together my list of top 5 family vacations to give as a gift based on places that families can all enjoy together and where our agents have been finding the very best deals.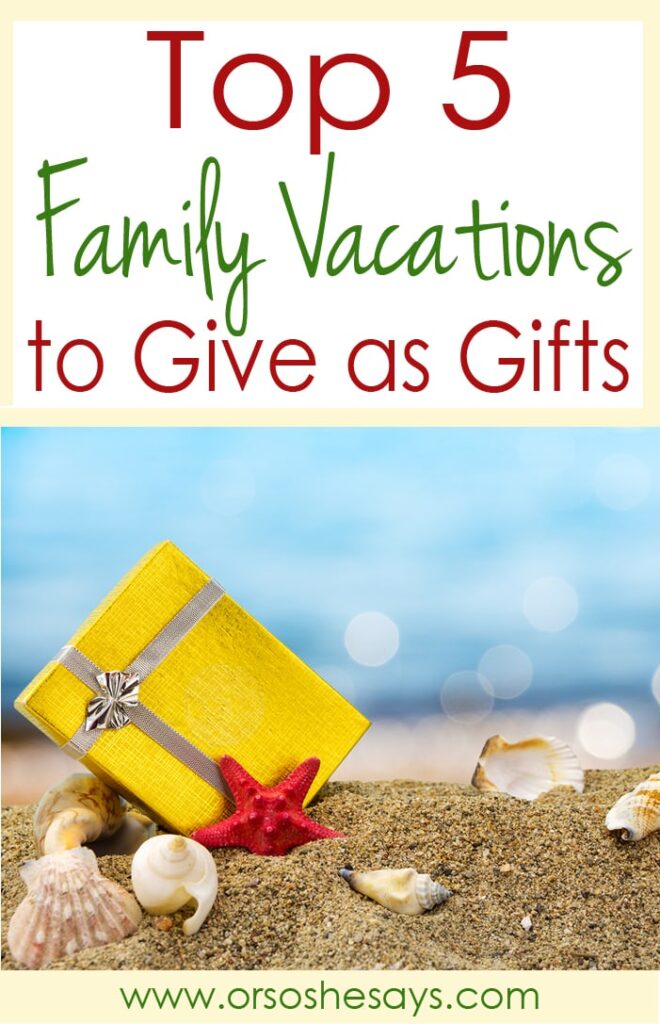 1. Disneyland Resort – If you've read any of my past articles, it's not going to come as a surprise that Disneyland is my #1 choice as a top family vacation to give as a gift. There is always something going on at the resort and I can't get enough of Cars Land and the classic magic that can be found around every corner. If you have little girls who love Frozen, you'll be glad to know that they can meet Anna and Elsa and have all sorts of Frozen fun throughout the Resort. You can get all of the details here. For the most savings look for our 3rd or 4th night free hotel specials and book them early. And before you go, be sure to check out all the Disneyland Tips and Tricks.
2. LEGOLAND/San Diego –The LEGOLAND California Resort is probably the hottest up-and-coming vacation destination in California. The new LEGOLAND Hotel is any LEGO fanatic's dream come true. As cliche as it may be, everything there is awesome. Even the elevators. If LEGOLAND isn't your scene, San Diego is just about 30 minutes south of Carlsbad and has 70 miles of gorgeous beaches and world-class attractions. Plus, for a limited time you can get your 3rd night free and a $30 resort credit at the Hyatt Regency Mission Bay for most dates now – March 31, 2015, which is easily one of our most popular San Diego hotels. Check out this helpful post too: 10 Fun Things to Do on Your San Diego Vacation and
3. Cruises – Who doesn't love a cruise? I certainly do! I love the shows, pools, food, activities, port cities, being on the sea, having a completely flexible schedule and having everything included. They're the best! Our agents can help you book any cruise line, but our most popular are Disney Cruise Line (Castaway Cay is my happy place), Royal Caribbean (some of the largest ships with onb0ard ice skating, rock climbing, sky diving and more) and new to the U.S., MSC Cruises (kids 11 and under always sail free). We'll always help you find the best deal for your family to unwrap under the tree. For extra fun, turn your destination announcement into a puzzle for your family to put together on Christmas morning. They'll be so excited when they figure it out. Check out Mariel's cruise reviews: Our Disney Cruise, Our Alaskan Cruise and Jen's Finding the Right Cruise for You.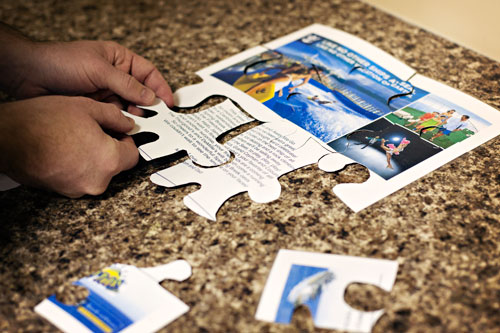 4. Mexico – Our agents have been booking families like crazy to Mexico. Airfare has been great Cancun, Puerto Vallarta, Riviera Maya and Cabo. We have amazing deals, including at all-inclusive resorts where kids stay free. It is one of the most affordable ways to hit the beach.
5. Hawaii – I don't think I'm alone when I say Hawaii is one of my favorite places on the planet. There have been some awesome airfare deals to Honolulu from Salt Lake (and other cities) – like $400-$500 round trip awesome. When you combine that with our 4th night free and free breakfast promotion for Aulani, a Disney Resort & Spa, it makes a pretty perfect Christmas present. Another favorite Oahu resort of mine is the Turtle Bay Resort & Spa located on the North Shore. Yeah, I took that picture with my cell phone there. No filter.
If you've been wondering about what to get your family that they'll love and remember forever, our agents would love to help. We'll help you find the perfect vacation for your family. You can book online at www.getawaytoday.com or call our vacation experts at 855-GET-AWAY.
Be sure to use our Holiday Coupon from the OSSS Holiday Coupon book and you'll get up to $100 in extras with your Disneyland vacation including fun surprises for your family to unwrap Christmas morning!