I
really
had to swallow my pride to get to the point where I could share this recipe with you. Granted, it's not MY recipe…I think I found it on the Food Network, back in the days. But, this recipe has made me the "
chick that makes the BEST sugar cookies
"…in the family, at church, in the neighborhood, in the ghetto, you name it. It will be hard for me to share that title with you, lots of you! So, on account of me being demoted in coolness for your sake, you better be
really
grateful. Grateful = buying me shoes, scrubbing my showers, babysitting my kids, and whispering sweet nothings to me in the comment section.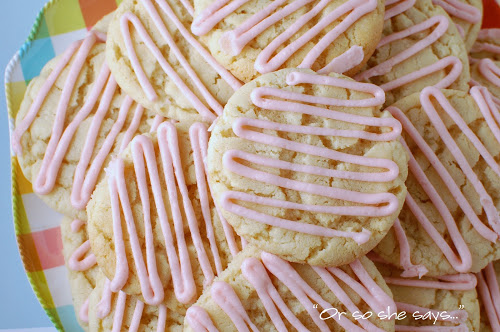 Okay, here goes nothing: Get yourself some flour, baking soda, baking powder, butter, sugar, eggs, vanilla, and buttermilk. Did you know that buttermilk makes almost everything better? Kinda like gravy.
Preheat your oven to 350 degrees. In a mixer, cream together the 4 sticks of butter (this is the doubled recipe…that way there is plenty to share, after you eat 15) and 3 cups sugar until smooth. Beat in 2 eggs and 2 tsp. vanilla.
In a separate bowl, mix together the dry ingredients…5 1/2 cups flour, 2 tsp. baking soda, and 1 tsp. baking powder. Add the dry ingredients to the creamed mixture…mix.
Now, here's the magic behind these cookies…the buttermilk. Add 6 TBS, one at a time, of buttermilk and continue to mix.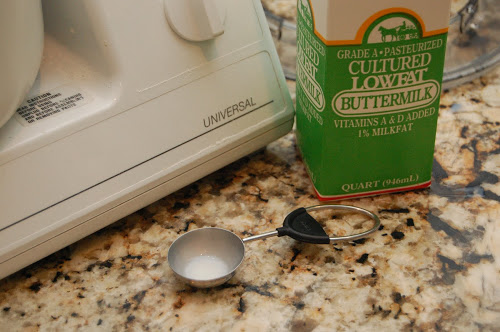 Let's talk about frosting. You will ruin these cookies if you put crappy frosting on them. Also, these cookies are already fairly sweet so you don't want to get sweet-sick from eating them…so, I just like to put the frosting in a pastry bag and squiggle across the top. Perfect.
Here's the frosting recipe I use and love, and the cookie recipe:

Butter-cream Frosting
My Favorite Butter Cream Frosting
Ingredients
1 stick softened (not too melted) butter
4 cups powdered sugar
1 tsp. vanilla
Milk to consistency
Food coloring
Instructions
Mix well with hand mixer.
http://oneshetwoshe.com/2009/12/soft-chewy-pretty-much-the-best-dang-sugar-cookies-in-the-world.html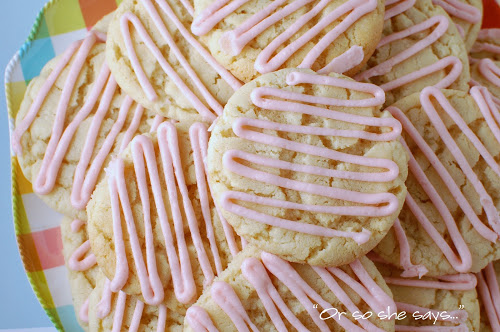 The Softest, Chewiest, Best Sugar Cookies
Soft, Chewy, & Pretty Much the Best Dang Sugar Cookies in the World!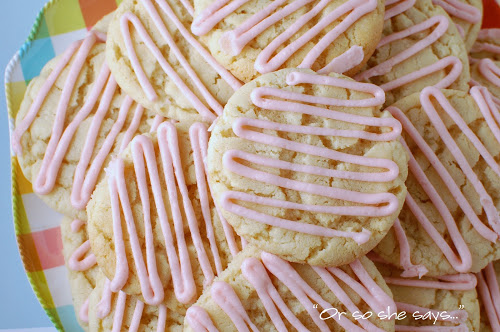 Ingredients
5 1/2 cups flour
2 tsp. Baking soda
1 tsp. Baking powder
4 sticks softened butter
3 cups white sugar
2 eggs
2 tsp. vanilla
6 TBS. buttermilk
Instructions
Preheat oven to 350 degrees.
In a mixer, cream together the butter and sugar until somewhat smooth.
Beat in the egg and vanilla.
In another bowl, stir together the dry ingredients: flour, baking soda, and baking powder..
Add the dry ingredients to the creamed ingredients. Mix well.
Add the buttermilk to make the dough soft, not wet.
Roll into med/small balls. Place on ungreased cookie sheet and bake until done.
After about 12 minutes, check them...and wait until the edges barely start to show a golden color...could take up to 15 minutes, or more.
Remove from oven and let them rest on the cookie sheet for several minutes. Then let cool on wire rack or towel.
Frost.
P.S. I have also turned these into Snickerdoodles! Instead of frosting, when you roll the dough balls, roll them into a mixture or cinnamon and sugar. Bake as usual.
http://oneshetwoshe.com/2009/12/soft-chewy-pretty-much-the-best-dang-sugar-cookies-in-the-world.html