These Chocolate Covered Crispy Rice Treats are so perfect for Valentine's Day! They're creative, fun, and the kids would love to help make them. They make great gifts too!
Hi everyone! It's Liz from Liz on Call here today.
My daughter always wants to help me in the kitchen. Many times I am in a rush and don't take the time for a little helper. As parents we can get so wrapped up in our busy schedule and the responsibilities of life and parenthood, that we may forget the importance of time with our kids. With Valentine's Day approaching, I thought it was a wonderful time to spoil those I love with what they need. Of course we don't need sweets, but my daughter needed time with mom. So we headed into the kitchen to make these chocolate covered strawberry crispy rice treats.
I did all the mixing and melting on the stove to keep things safe, but my daughter was able to help me make the strawberry shapes of our crispy rice treats. I didn't measure as we made our strawberries. I just eye balled the amount. We got some that were smaller than others, thanks to the help of tiny hands. 🙂
Once the treats were cooled, I melted some chocolate in the microwave and we dipped our treats in the chocolate.
When I was standing in the aisle at the grocery store thinking about how I was going to make the green tops of the strawberries, I spotted this can of green frosting and I knew I had my answer.
I used the leaf tip to add the green tops to my chocolate covered strawberry crispy rice treats.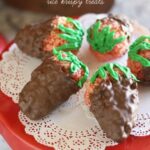 Chocolate Covered Strawberry Crispy Rice Treats
Ingredients
1/4

cup

butter

4

cups

mini marshmallows

3

TBLS

strawberry jello

6

cups

crispy rice cereal

2

cups

melting chocolate

1

can store bought green frosting
Instructions
In a medium saucepan on medium heat, melt butter and marshmallows until smooth.

Stirring constantly, add strawberry jello and mix until jello is dissolved.

Pour marshmallow mixture over crispy rice cereal in a large bowl.

Stir gently until marshmallow mixture and cereal are all combined.

While it's still warm, spray hands with cooking spray and take a handful of the mixture and form into strawberry shape.

Place strawberry crispy treat onto parchment paper.

Continue until all cereal mixture is used. Spray your hands again if needed to prevent sticking.

Once treats are completely cooled, place melting chocolate into a microwave safe bowl.

Melt chocolate in the microwave in 30 second intervals, stirring in between, until all chocolate is melted.

Dip each strawberry crispy treat in melted chocolate and gently shake off any extra.

Place on parchment paper and let chocolate dry.

Once chocolate is dry, use the leaf tip of your can of green frosting to add the leaves to the top of the strawberries.
This Chocolate Covered Strawberry Crispy Rice Treats recipe was adapted from this fun cookbook, Super Cute Crispy Treats.
What's funny about my daughter is that she doesn't really love crispy rice treats. She tried a little bite of the treats as we were making them, but didn't really eat much. But once they were covered in chocolate and frosting, she couldn't get enough!
I love chocolate covered strawberries and think they are the perfect gift for your Valentine. Packaged nice with a cute tag, you've got the perfect gift!
How are you showing your loved ones how much you care this Valentine's Day?
I find homemade gifts are always the best!
Liz
Here are some more Valentine's Day ideas you might love:
Valentine Pastry Hearts – Made Simple with Puff Pastry