I've been on a snack kick lately. It teeters back and forth between unhealthy and healthy. Right now, I'm leaning towards… um, something healthier than an ice cream brownie sundae, with every topping in the world. Every topping. Oh, and whipped cream. So, I actually think I'm doing pretty darn good. Cinnamon Bear Popcorn, definitely the better choice.
This recipe comes from my ward cookbook. Ward, meaning… let's see, how do I explain it. In the Mormon church, there will be a lot of people needing to use the same building, so they divide them into groups, called wards. Usually it's based on where you live, the ward you are in. Anyway, the ladies at church put together and a cookbook. I love it! It's been my favorite book because there are so many fabulous cooks in my ward, it's fun to try out their recipes. You'll probably be seeing a lot more recipes from there. This one for Cinnamon Bear Popcorn sounded perfect for an easy, sweet snack.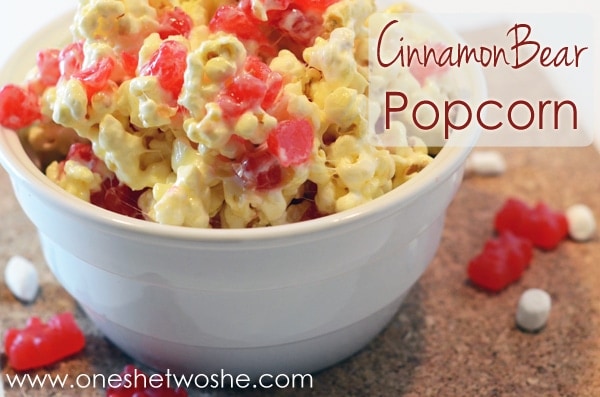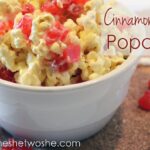 Cinnamon Bear Popcorn
Ingredients
1

cup

butter

1/2

cup

Karo syrup

1 1/2

cups

sugar

1

tsp.

vanilla

1 1/2

cups

mini marshmallows

1 1/2

cups

cinnamon bears

chopped

2

regular size bags light or plain microwave popcorn

or about 18 cups popped
Instructions
Pop the popcorn and dump in large bowl. Melt the butter, Karo syrup, and sugar in a pot. Bring to a boil and let boil for about 3 minutes. Turn off the heat and stir in the vanilla. Pour over the popcorn and stir. Stir in the cinnamon bears and marshmallows. Dump out on wax paper to cool.
For more quick and easy snacks/treats, check out: Ranch Snack Mix, Oriental Chex Mix, Nutty Craisin Chew, and Death by Special K.