Welcome, today we are going to learn how to sew a Super Hero Cape!!
My name is Suzanne and my blog is
Midwestern Gone Idahoan
!

Hence the title – I grew up in the Midwest! Kansas, Iowa, Indiana, and then Chicago! When I was 21 I went out to Utah and found me a husband. No really – I did! I got there on a Wednesday and met my hubby on Friday! My mom had told me not to marry the first guy I found out there – well, I did – and we are going on 15 years in Jan! I have 5 children!!!!!
Three girls – 11, 9, and 8 months and two boys – 5 and 3! Those kiddos keep me VERY busy!! But in my free time – or when I am ignoring my kids and house, I love to blog and craft!
Almost ALL of my sister (there are 5 of us)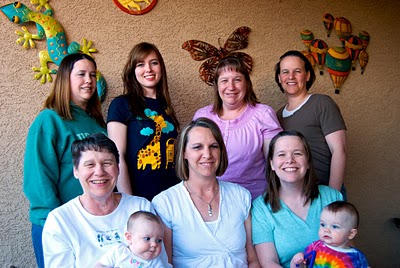 This picture was taken this spring at our sister's weekend! We all made it but one sister-in-law! We were in Vegas and what did we do? SEW!!!! It was so much fun!! We also ate and ate and ate and did a little shopping!!
They sew sooooooo much better than me! But I am trying to catch up! I love to make baby blankets! And last Feb I finally branched out and made my sister a sewing machine cover. Since that one, I can't even begin to count how many I have made! And I love it!!! My sister made my boys and little girl super hero capes and I loved it so much, I made one for someone I know too! That is my inspiration for this blog post! Like I said – I am new to sewing – and for the life of me – I CAN NOT follow a pattern! BUT if you need a pattern – go HERE and you can buy one for $5 from The Sweetest Patterns!! If you have any questions about the directions – please leave a comment and I will try to answer it!! If you want to see some of my other creations come on over to Midwestern Gone Idahoan! I would love to chat with you!
Supplies Needed:

•Material
•Scissors
•Pins
•Velcro
•Pattern
First lay your fabric that you choose (you can do two different fabrics – I choose to do the same) good side to good side – so you are working with the bad side. Lay down your pattern – mine happens to be another cape that my sister made me. I like to trace it and then cut – you can save a step and just cut around it if you have a pattern!
Once it is cut out, go ahead and pin it in place.
Then you are off to your sewing machine. Make sure you leave a spot to put your hand in and pull the fabric out! After you have sewed it – leaving your opening
After you have stuck your hand in and turned your cape the right way
– you will want to iron it. You need to go back to your sewing machine now and sew up that hole – I also like to sew all the way around the cape to make it look a little nicer!
Now you are about done!! I like to add the heat Velcro – you can use whatever you have around – a button, snap, sew Velcro.
My little boy was a little shy about wearing a 'girl' super hero cape!!! And sorry about the pictures – my camera wasn't working – so I used my phone camera!!
When you make one, please post it so we can all see!! Thank you again for letting me guest post over at Or So She Says!!!