As a blogger, I'm always getting emails about fabulous sales, before they go live! With all the great ones I've been seeing, I wanted to start sharing some of my favorite deals with you each week. Keep in mind, this is not the She Picks! (Mariel's Picks) that you're used to seeing for 3 weeks straight, the last week of November (coming soon!!!) These will just be my picks of the week, based on the notices I receive, to help you keep updated on the latest and greatest happenings.
Also, if you haven't noticed… at the bottom of every daily post, I started adding She Picks! that are related to THAT post. So, today's post of the day is a cute neighbor gift idea, so my picks at the bottom are all related to neighbor gifts. There's another fun post with a family group game, at the bottom of the post, you'll find She Picks! for that post, as well… other favorite family games! They're a great way to give you more of what you love about 'Or so she says…' ~ GIFT AND PRODUCT IDEAS!!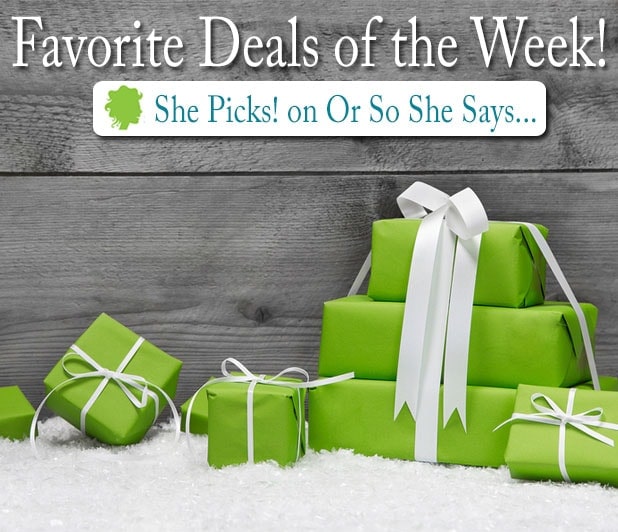 MY FAVORITE DEALS OF THE WEEK!
1. EXPIRED! (BE SURE TO FOLLOW ON FB FOR DAILY FAVORITES AND CHECK BACK MONDAY FOR ANOTHER GREAT DEAL POST!) Target announced 10 of their Black Friday deals and are offering them for the special price for TODAY ONLY! They aren't shipping them, but you can buy online, then pick the up in-store.
CLICK HERE to check out the great deals!!
2. Also awesome, and you'll need to mark your calendars. November 15th ONLY, Sam's Club is selling the 16 GB iPads for $100 dollars off!! That's seriously awesome and I'm kicking myself for not waiting to buy mine… I bought it two weeks ago, full price. 🙁 They also have the Jawbone Fitness band for an incredible deal. CLICK HERE to check out the awesomeness! 3. Love scarves?? These houndstooth scarves from Cents of Style are super cute and only $11.95! They would make a fab gift and they're on sale TODAY! They come in lots of colors and color combos ~ CLICK HERE to grab a scarf before they're gone!
4. If you have Disney fans in the house, you'll want to stop by the Disney Store! They're offering 25% off your purchase!! CLICK HERE to take advantage.
5. I'm obsessed with my Blendtec. If you don't have one of these fancy blenders yet, I would definitely put it on your wish list. It makes blending… kinda fun. 🙂 So, but here's the scoop: their refurbished blenders, that are already a better deal than a brand new one, are on sale for $30 dollars off! That's the best sale they've EVER offered! CLICK HERE to get this great deal!
Stop back next Monday for more of my favorite deals! Also, find great picks under every daily post.
* Make sure to follow OSSS on Facebook, where I'll be sharing deals all the time! Also, don't forget… the last week in November is the kick off of She Picks (Mariel's Picks for Christmas), the most popular OSSS series of the year!
* While you're waiting for She Picks! to start, be sure to check out Gift Idea Central to check out all the gift ideas previously shared on the blog… you'll find ideas for EVERYONE on your list!
* ONE LAST THING… make sure you get my exclusive coupon book, for even MORE savings from my favorite online shops! Over 30 coupons in the book! And, it's totally free. Click here: Holiday HotList Coupon Book