Sweet cheesecake dip with funfetti sprinkles – This funfetti cheesecake dip is so easy and perfect with graham crackers, vanilla cookies, or your favorite fruit.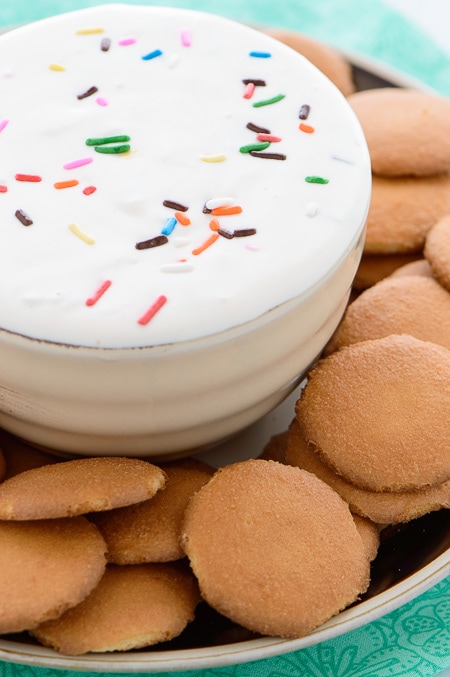 It is always so hard to decide on what to take to a party. In most cases you can get away with showing up with a dip. It's one of the easier items to make ahead and they transport well. I believe almost everyone likes dip. I mean who wouldn't love something that they get to dip their favorite fruit, cracker, cookie, or veggie in?
Spinach artichoke dip is one of my very favorites. I order it from every restaurant that has it on the menu. And I'm not too picky about the vehicle I use to transfer it from bowl to mouth. Although chips or pita slices are often the preferred choice, I have been known to reach right for a spoon. As embarrassing as it is to admit, I've even scraped the bowl clean with my finger. Ask my husband. He'll tell you.
To try something a little different, I decided to prepare a sweet funfetti cheesecake dip for our dessert while my mom was in town to visit. Something silky and light that would go great with a reduced fat cookie.
This simple mixture of whipped cream cheese, sweetened condensed milk, vanilla extract, butter extract, and funfetti sprinkles comes together in just a few minutes. The vanilla and butter extract help to tone down the intense cream cheese flavor. Leaving you with a luscious, creamy dip that resembles cake batter.
The cheesecake dip paired wonderfully with reduced fat Nilla wafers. It was also enjoyed with a few slices of sweet red apple. You could honestly eat this with any cookie or fruit. The flavor isn't overbearingly sweet or rich.
Mom raved about how good this cheesecake dip recipe was. I am almost certain she ate the majority of it. Having a little bit here and there as a snack between meals.
This funfetti easy cheesecake dip is so impressively easy, you could have your little ones pitch in to give you a hand. The best part for them will be licking the bowl clean!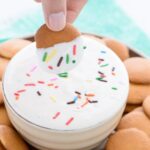 Funfetti Cheesecake Dip
Ingredients
2

8 ounce cream cheese, softened

1

14 ounce can sweetened condensed milk

4

tsp

vanilla extract

3

tsp

butter extract

3

Tbs

funfetti sprinkles

your favorite cookie or fruit for dipping
Instructions
Beat the cream cheese and sweetened condensed milk until well blended. Stir in the vanilla and butter extract. Stir in the sprinkles. Serve with your favorite cookie or fruit.
What is your favorite thing to take to a party or group gathering? Tell me all about about it in the comments.
I'd love to hear more from you over at Baked by an Introvert where you can find more recipes for sweet treats.
Looking for more easy recipes fit for a party? This cake batter dessert dip sounds awesome or try this Banana Split Icebox Cake
For more dip recipes on OSSS, visit these great posts:
Veggie Dip Recipe ~ Garlic and Chive
This veggie dip is another great way to make veggie eating even more fun! It's simple to make and the kids will even love it.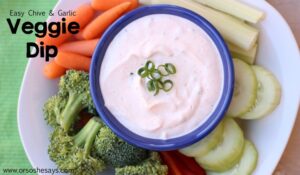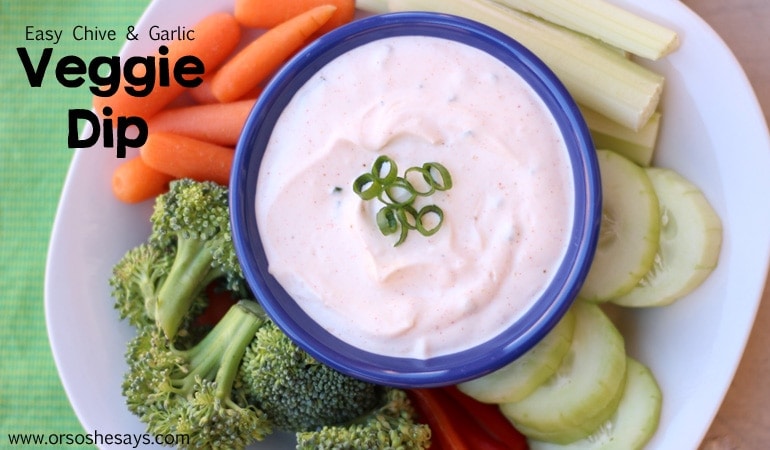 White Chocolate Cheesecake Fruit Dip
How about something a little sweet to dip in? This recipe is perfect for that!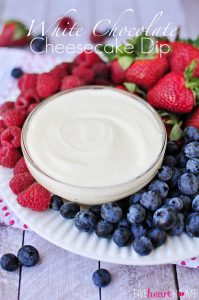 Have some black beans kicking around? I know I do! Pull them out and whip up this tasty flavor-packed dip!