Yep, it's birthday time around my house. Next up? Gift ideas for a 7 year old girl. Oooooh, I LOVE shopping for my girls. The boys can be hard for me, but the girls?? I have to hold myself back. I end up getting too much, then have to hide the excess away until Christmas. I've got a problem.
Anyway, Audrey's my seven year old beauty and I've got some fun gift ideas for you! Several of the gift ideas are ones that she suggested, others are ones that I chose for her and they were a hit. Thanks to all my Facebook friends for the suggestions!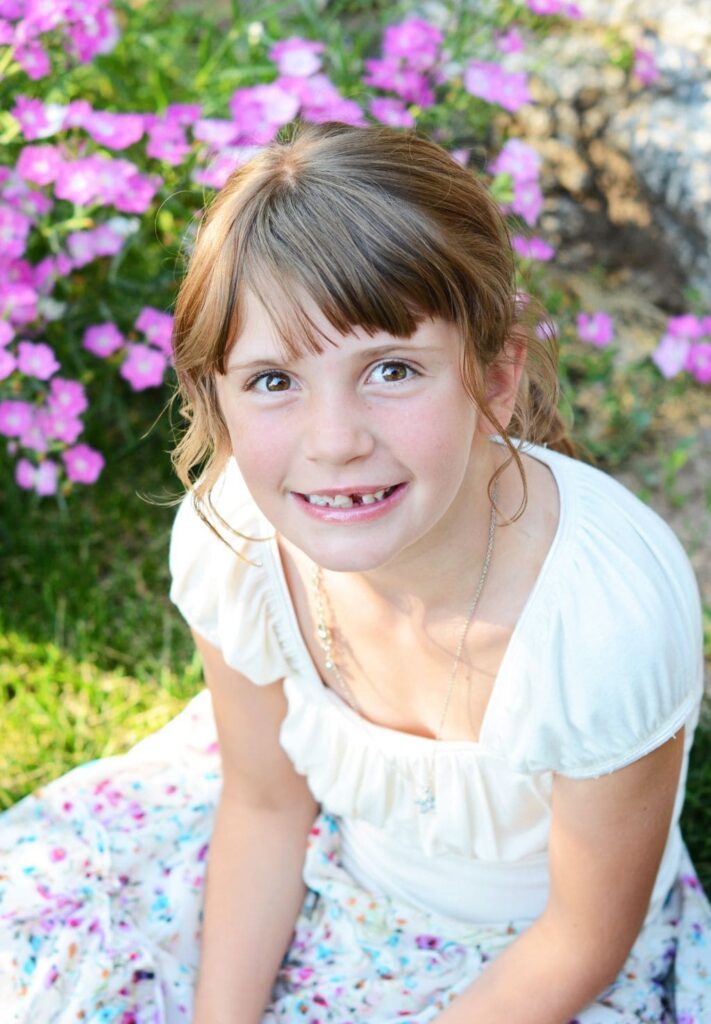 Deluxe Spirograph – Okay, remember this thing from when you were a kid?? So cool. I actually remember that my mom bought this for me when I was in junior high and we moved to New York. We were in a little apartment, while our house was being built, I didn't have any friends yet, and the Spirograph was literally my entertainment for a while. 🙂 Anyway, so obviously there is a special place in my heart for it, but also it's just really cool. I still dig it! Audrey got this for her birthday and she LOVES it. It's so neat that simply circling your pen around can make the coolest designs. Anyway, highly recommend.
Fiskars Gel Pens – These gel pens are perfect for combining with the spirograph. But, if not …they're still awesome. Forty-eight great gel pens for just $13 bucks! Young girls usually love doodling, coloring, writing, and crafty stuff, so this is a winner. Audrey is pretty fond of her set.
Klutz Face Painting Activity Book – So, this $17 dollar present was surprisingly the biggest hit of the day. Audrey is always wanting her face painted at fairs and Disneyland, so I had a hunch that she would think this was fun. Oh, yes. She opened all of her presents over the weekend on a family vacation and she convinced Aunt Meagan to paint her face, following one of the pictures she chose in the book. After her face, Meagan didn't leave her seat for the next three hours, as she had every cousin and sibling in the house lined up to get their face painted! …check it out, below. Now that we're home, Audrey is the designated artist, painting flip flops on her feet, rainbows on her arm, and big black blotches on her little brother's face. Oh, and I was impressed with how far the little squares of paint will go. There have been dozens of designs painted so far and there is still tons of paint left. Plus, it's fun to have the book, filled with ideas and tutorials.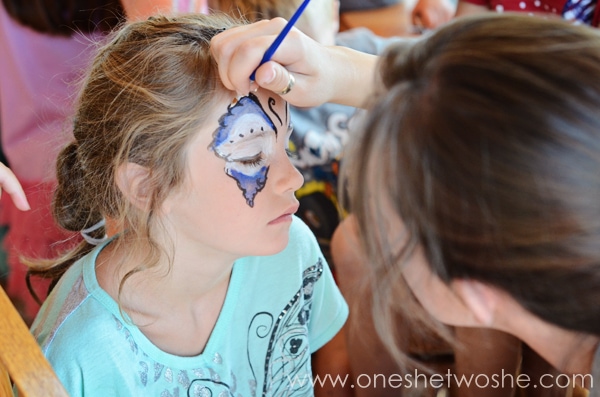 Disney's Teen Beach Movie – Well, we haven't had time watch this yet, but it's Disney's newest release and it's a musical! We love musicals around here …okay, well the girls do. Here's a little movie summary from Amazon, "Teen Beach Movie centers around two teen surfers, Brady and Mackenzie, who are magically transported into a 1960s beach movie where they must try to blend in until they can find their way out. They soon discover that there is an intense rivalry between the local surfers and bikers. Things don't go according to plan when our modern-day duo accidentally change the plot of the movie, and the two lead characters fall for them instead of each other! As everyone around them starts singing and dancing, and a fight between the bikers and surfers breaks out, Brady and Mack must attempt to get out of the movie and back to present day." Also available is the soundtrack on CD, which would be fun to combine with the movie.
Hello Kitty Purse – Audrey is always needing a big purse to lug around her art supplies, body spray, and random weird things from around the house. She's loving her new big & black Hello Kitty bag that I got on Zulily (where I always find super great deals on kid stuff.) It's not available on Zulily anymore, but I found one REALLY similar on Amazon. Just $17 bucks too!
All Duct Out – I didn't get this for Audrey yet, but I'm thinking maybe for Christmas. This fun duct tape kit includes 8 different rolls of duct tape and instructions for 8 different projects. Plus, with the endless cool duct tape patterns available at stores now, this kit could be used forever! I could see this entertaining my seven year old girl for hours …especially when it's late at night and she's supposed to be sleeping! She loves a good bed-time craft.
Lifetime Playset – Okay, are you going to kill me if I bring up something big and expensive?? You might. I'm scared. But, the hubs and I decided this was the year we wanted to get a playset for the back yard. With six young kids, I'm always looking to get them outside, playing. And, they're always wishing there was more to do. So, I did a little shopping this past week, and even though it's not really for Audrey's birthday, I was most excited to tell her about it. She is my little gymnast. She hardly walks, she cartwheels her way across rooms! She loves monkey-bars, trapezes, being upside-down anywhere she can, and this playset will be perfect for her! I didn't want anything too fancy, just the basics. I'm more concerned about quality, value, and the features. This playset from Lifetime is Amazon's best selling ($990), has everything my kids like in a playset, and it gets awesome reviews. Ours arrives tomorrow! I also ordered a bucket swing to replace one of the standard swings, for my toddler and baby.
Anyway, I hope that gives you some gift ideas for your 7 year old girl. Here's some more gift ideas for girls, and gift ideas for everyone on your list can be found by clicking the gift tab at the the top of the blog or by visiting Gift Idea Central.