Something special is happening on Saturday. Audrey's getting baptized! It was so fun to snag some pictures of her in her pretty white dress and talk to her about the big day. She even got to get her ears pierced on her 8th birthday, so turning 8 is a pretty big deal around here.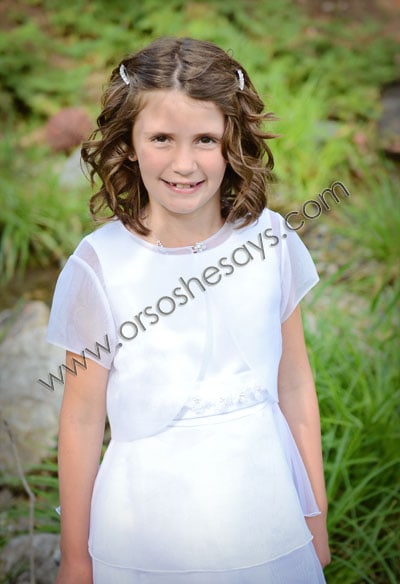 So, with gift buying freshly on my mind, it's time to share some gift ideas with you… because maybe YOU need some gift ideas for 8 year old girls. These ideas come from Audrey, herself AND some OSSS Facebook fans, mother's of 8 year old girls. Here we go!
Gift Ideas 8 Year Old Girl ~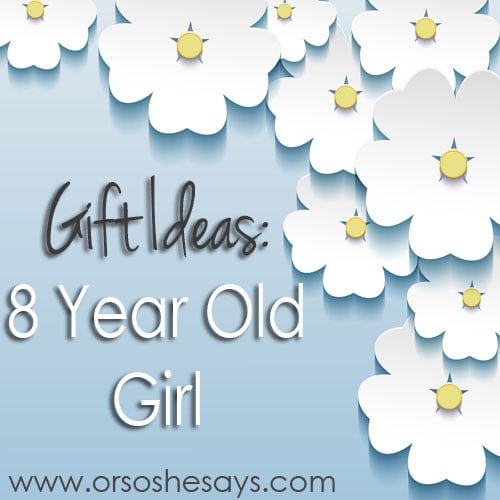 It might not be the best face-painting-job you'll ever see, but I would bet that most 8 year old girls would love to try their hand at being the face PAINTER, and not just the recipient. Who knows, if they practice, they could even earn a few bucks at the local fair! This is one of the more popular sets available, Snazaroo Party Pack Face Painting Set.
Audrey has to read a lot of books for homeschool (take a look at our homeschool here), and one of her favorite box sets from the year was Bad Kitty. She thought it was hilarious!
Both of my girls love all things arts and crafts, but Audrey, being the older of the two, is probably ready to handle something a little messier. This Marker Maker by Crayola gets fantastic reviews! Refill packs are also available.
Speaking of markers, remember scented markers?? One whiff of these and I'm instantly whisked back to 3rd grade. They're perfect for my little artist. While taking a trip down memory lane, what about these Stinky Stickers? I can still remember their smell!
Taylor Swift's new perfume, Taylor, is what Audrey wanted to give her favorite 8 year old cousin, Madi. She wished she had some of her own too! … maybe for Christmas.
I've mentioned the Rainbow Loom Rubber Band Bracelets before, but now you can get this fantastic kit filled with rubber bands in an organizer! If you need the loom, as well, you can find it here: Rainbow Loom.
Blankets. They're not just for babies any more. Both of my girls have their own uber-soft minky blanket and they LOVE them. They come along on sleep-overs, long car rides, to the couch for morning homeschool, and every night to bed. In fact, I got one for myself… but, it was quickly stolen by my son, who started sharing it with his dog, and now… he can have it. One of these days, I'll get a new one of my own! I love the blankets from Minky Couture, right from my home town! If you enter your email on their homepage, you'll be sent a coupon code for 40% off! That's a great deal.
Audrey loves all the color and sketch books by Fashion Angels. She got the Makeup and Hair Sketch Portfolio for her birthday, and she's been toting it around everywhere! She loves to color the nails and draw makeup on the pre-sketched faces. But, there are also fun ones where you're a fashion designer and sketch clothes on the bodies. The kits include stencils to use if needed.
I love this idea from one of the Facebook fans and I KNOW Audrey would love it too! She adores her cousin Madi and they're totally best friends. She would love to share something like this with her… found this cute Best Friends Necklace on Etsy, from Untitled Gems.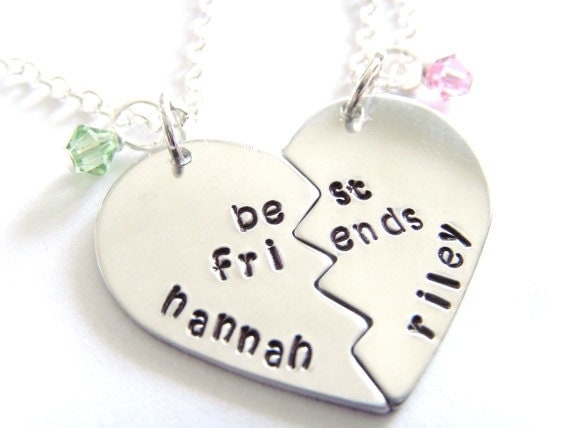 Need more gift ideas for 8 year old girls? Check out these past posts: