Today's Picks: Gifts for Babies and Toddlers
Pick #1
I am loving the idea of this ALEX Toys Little Hands Button Art Kit! It's mess-free and great for teaching colors and improving fine-motor skills. It comes with 10 different brightly colored pictures for your little one to create. Reviewers HIGHLY recommend it for kids 18 months and up.
Bundle this gift with: My kids love the Melissa & Doug On the Go Water Wow! Activity Books and I love them, too; mess-free coloring and an awesome quiet-time activity! These Washable Dab and Dot Markers look like a fun way for your toddler to get artsy as well!
Pick #2
This has been my son's favorite bath toy since his first birthday; the Green Toys My First Tugboat. This little boat is so cute and so well made! It floats, scoops up water and pours it out of it's spout. Plus, since it's made by "Green" Toys it's made from 100% recycled milk jugs. How cool is that?!
Bundle this gift with: Keep the bath time fun going with these top-rated picks; the Crayola Color Bath Dropz and this Nuby Octopus Hoopla Bath Toy.
Pick #3
I don't know about you but my kids LOVE looking at my change. I don't know why but they are fascinated by it! How fun would this Little Tikes Count 'n Play Cash Register be to teach those little ones about counting and sorting "money" WITHOUT the choking hazard. With color, size, and number matching, this toy is sure to be one that will grow with your child rather than be outgrown.
Bundle this gift with: Help them create their own little grocery store they can shop in with this Little Tikes Shopping Cart and a Learning Resources New Sprouts Bushel of Veggies!
Pick #4
I'm pretty excited about this find because I KNOW it's a toy my youngest would adore! "The ALEX Toys Little Hands String A Farm lets you string up big, chunky shapes with these beautiful wood beads. Thread the cotton lace through the openings on either side of the beads and string up a collection! Stringing helps young children develop fine motors skills and the beads help promote sequencing and counting skills." Reviewers recommend it for kids 15 months and up.
Bundle this gift with: Stick with a farm theme and check out this adorable Open the Barn Door Chunky Board Book. This Melissa & Doug Puffy Sticker Play Set – On the Farm looks super cute as well. Plus, the stickers are reusable!
Pick #5
Okay… Isn't this the cutest thing you have ever seen?! This Qaba Kids Plush Rocking Horse Airplane plays 32 different nursery rhymes, has an extra cushy and padded covering as well as a sturdy wood frame, AND has a seat belt for added safety! The reviewers love that it isn't SUPER rocky which makes it perfect for even young babies. They recommend it for babies 6 months and up. I also love the Qaba Kids Plush Rocking Horse Giraffe so I think you better check that one out, too. 😉
Bundle this gift with: How adorable would it be to get this Pilot Cap Beanie and have a little aviator in the house! Snag them this Planes Board Book and your sure to have a future pilot on your hands! If you decide to go with the giraffe you'll want to get this super cute Giraffes Can't Dance Board Book.
Pick #6
This Hape Kid's Toy Lawn Mower Wooden Push and Pull Toy was given to my son as a gift when he was only about 6 months old and I can't believe how well it has lasted over the years. It has been played with by drooling babies all the way up to a destructive three year old and is still as sturdy as ever! It's definitely not a high-tech toy, but there is something about hearing the gentle "clickity-clack" as they push it around the room that kids just love! Even the non-mobile babies love pushing and pulling it back and forth while they sit. It would make a great gift for kids about 9 months and up.
Bundle this gift with: Hape toys rock! Check out the Hape Walk-A-Long Puppy Wooden Pull Toy and this Hape Pound & Tap Bench. Both highly rated and great options for non-electronic playtime.
Pick #7
I remember taking my 6 month old baby with me to visit a friends house a couple years back and seeing this ALEX Jr. Sound and Play Busy Table on the floor of her living room. She had twin boys close to the same age as my baby sitting next to each other playing with this thing and having the time of their lives. My son soon joined the party on the other side of the table and we had some very happy babies the whole time we visited! I tracked it down for this post because, well, I still would really love to get one for my babies. I love that it can entertain multiple children at once! It includes a xylophone and a wooden mallet, a drum, peek-a-boo doors, spinning gears, a curvy bead maze, and track sliders. It is pretty low to the ground so it is perfect for small babies to sit on the ground with their legs under. This would make a great gift for babies 6 months and up.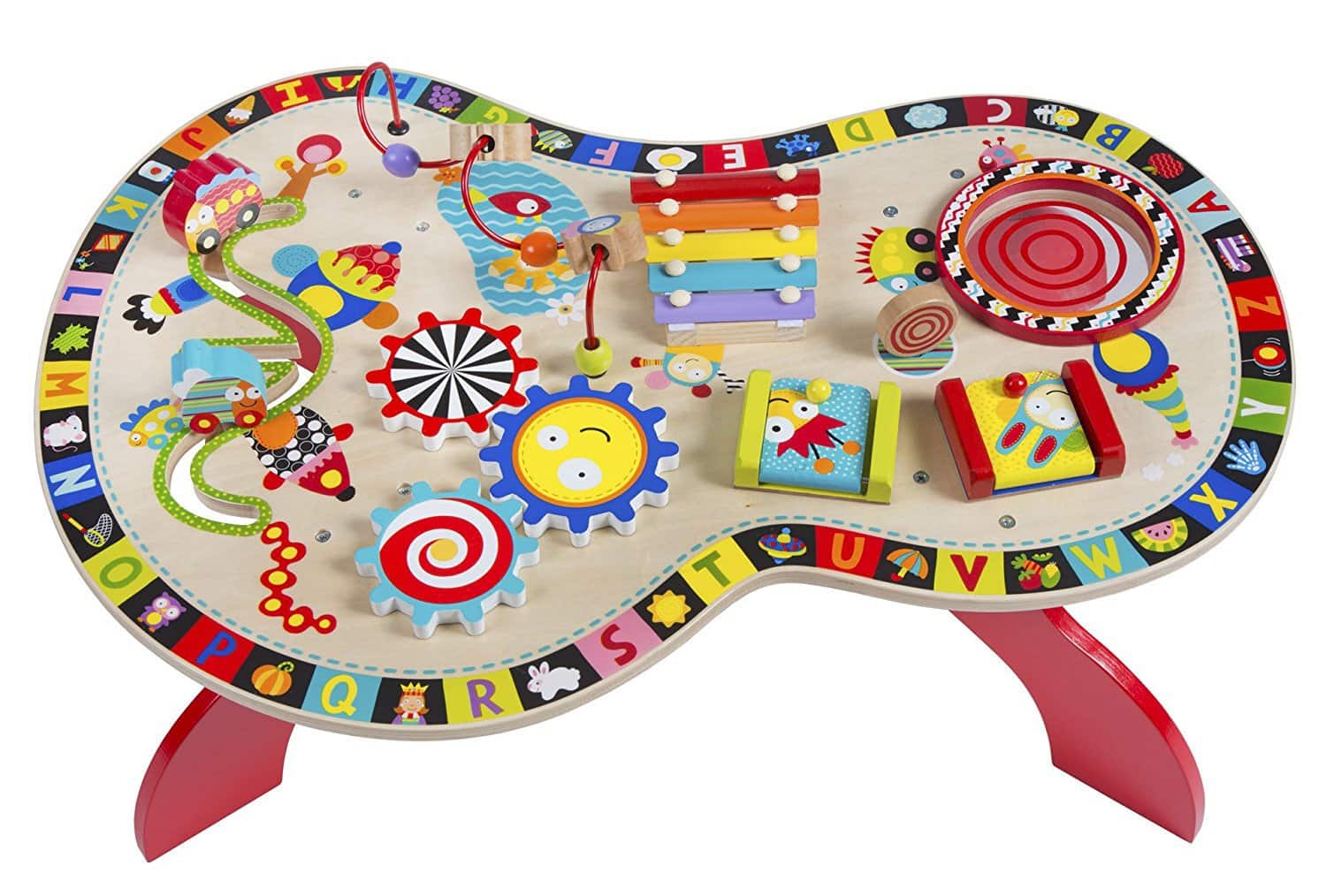 Bundle this gift with: This musical Baby Einstein Octoplush looks like a winner to me! It plays classical music and is super huggable. My babies have loved the Nuby IcyBite Keys Teether for soothing their sore gums. Heck, even my three year old still plays with them pretending they are the keys to his truck!
How about MORE gifts for babies and toddlers??
Check out the She Picks! from past years:
Gifts for Babies & Toddlers 2016
Gifts for Babies & Toddlers 2015
Gifts for Babies & Toddlers 2014
Gifts for Babies & Toddlers 2013
Gifts for Babies & Toddlers 2012
Gifts for Babies & Toddlers 2011
Did you know Mariel and Mariah share even more gift ideas every single day on their She Picks! Facebook group?? It's true! And, we would love to have you join us and 6k other members. Just click HERE or the image below to join us.