Five simple gospel primary talks for children. Each talk is written based on the Come Follow Me Primary Topic for a week in January. These talks are perfect for Sunday Primary Services, or for teaching concepts to children at home.
Primary leaders can use this link to download all five talks to have on hand for opening exercises. They are great to have as a backup if children forget their assignment.
January 2022 Come Follow Me Primary Talks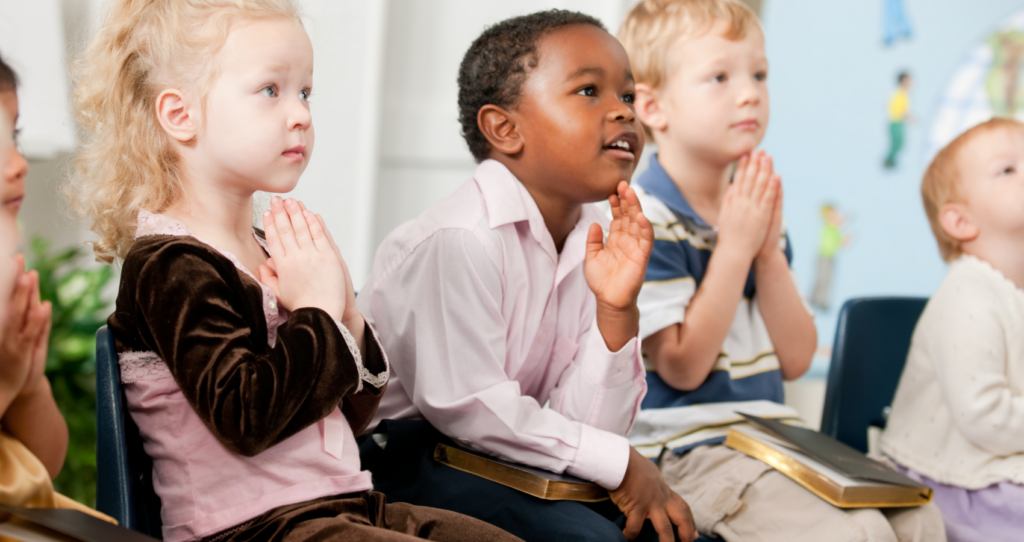 January 2 Topic: I Am A Child Of God
Another name we use for God is Heavenly Father. Why do we call God our Father? It is simple. He is the father of our spirit.
In the Bible, God told Moses, "Thou art my son." He could say the same thing to each of us. We are his sons and daughters.
This truth helps us to know that we are special. It gives us purpose. When we are having a hard day, we can ask our Heavenly Father to help. He is always watching over us because we are his children.
Download PDF: I Am A Child Of God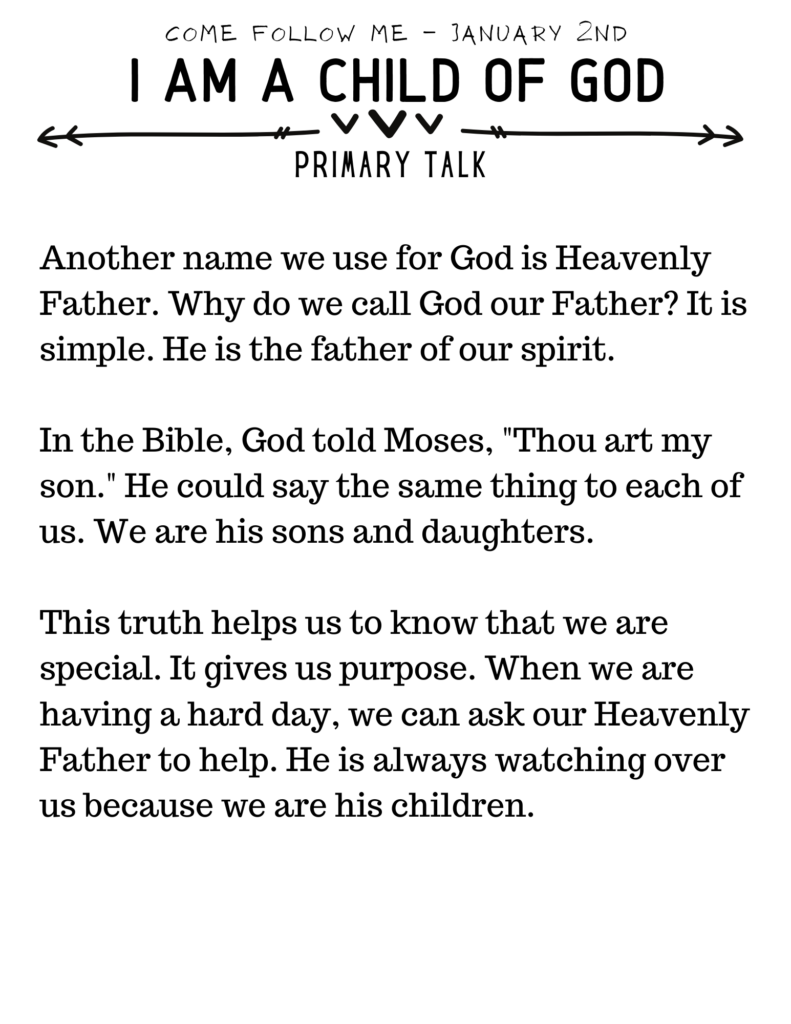 Primary Talk January 9: Jesus Created the Earth
What is the most beautiful place you have ever visited? Do you like the mountains with pine trees and lakes for fishing? Or, do you like to go to the beach and play in the waves? There are so many places in the world to explore.
Jesus created the world for us. The beauty that we see each day is a symbol of his love for us.
The creation of the Earth was a miracle. God's greatest creation is you and I. He created us. And he loves us more than anything else in the world.
Download PDF: Jesus Created the Earth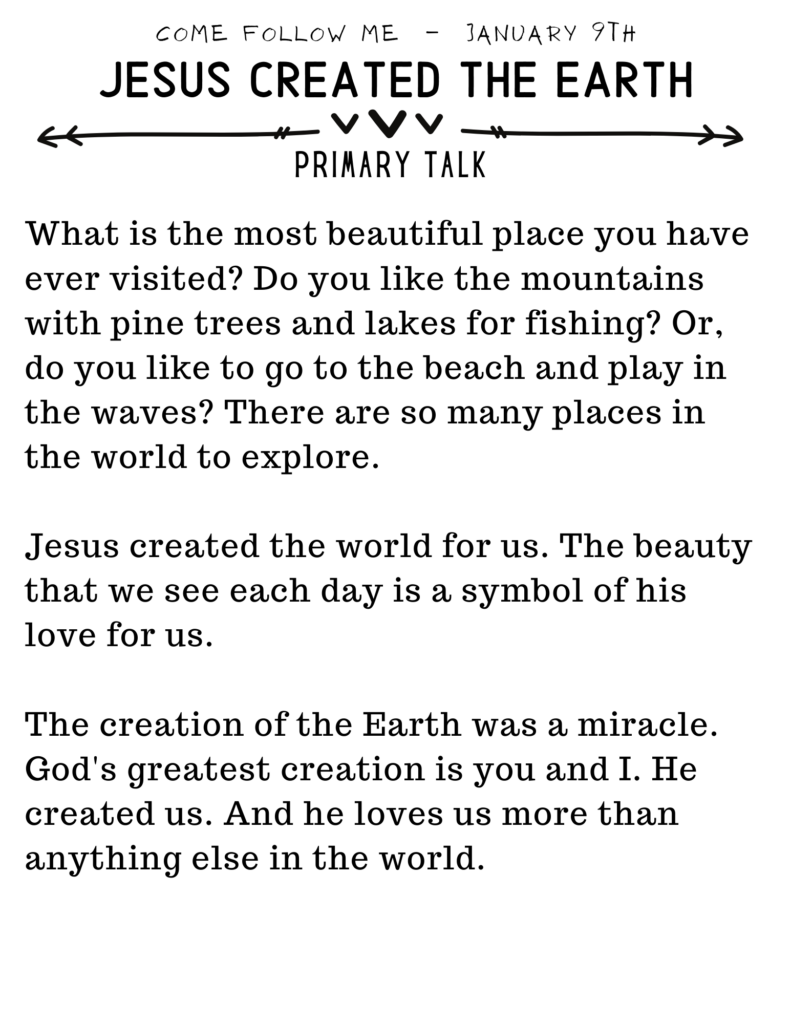 Talk for January 16: The Power To Choose
Before we came to Earth, we fought for the gift of agency. Agency is the power to choose. Adam and Eve were the first people on Earth to use their agency.
When they were in the Garden of Eden, they made the choice to eat the forbidden fruit. This choice made it so they had to leave the garden and go out in the world.
We have to make choices as well. The things we choose to say and do effect where we end up! If we make good choices, we will live with God again. That is where I want to be!
Download PDF: The Power To Choose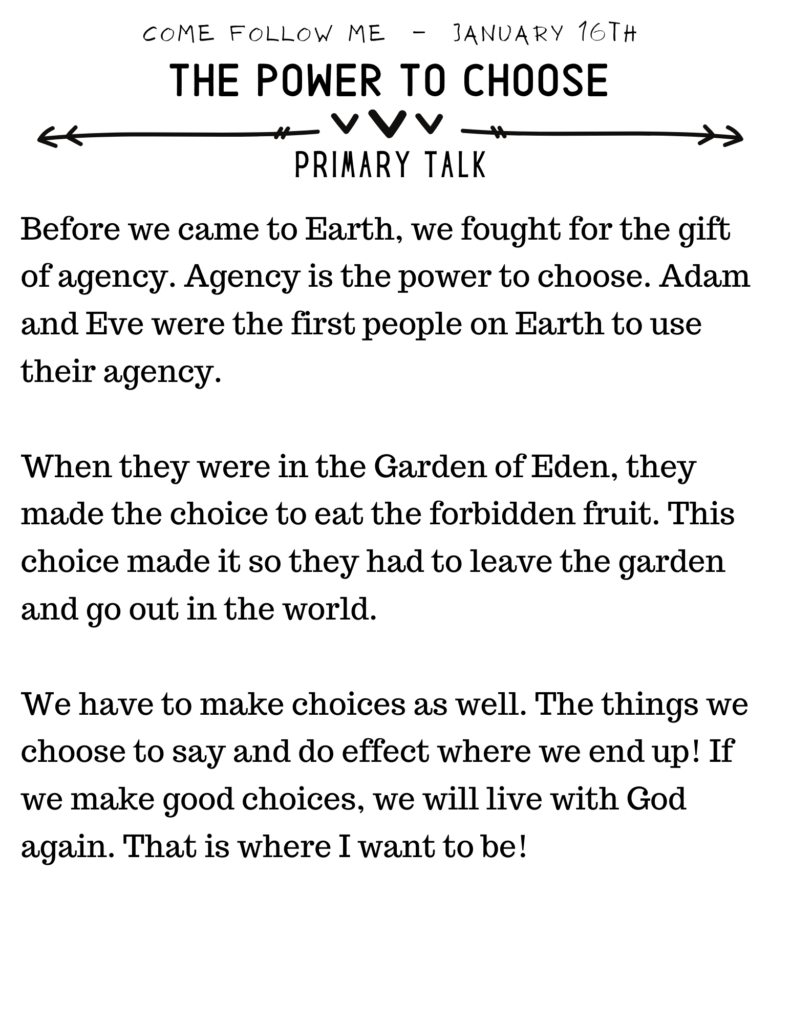 Primary Talk for Children January 23: I Can Do Hard Things
What is the hardest thing you have ever done? Did you finish a big hike or learn to spell a really long word? Have you been brave at a doctor's appointment or figured out how to build a really big LEGO set?
God has given you gifts that help you do hard things! Heavenly Father knows our talents and abilities. He knows what we can do! He has promised to never ask us to do something that is not possible.
That promise will help us all to have the faith to follow Him! We can do hard things. God is aways on our side.
Download PDF: I Can Do Hard Things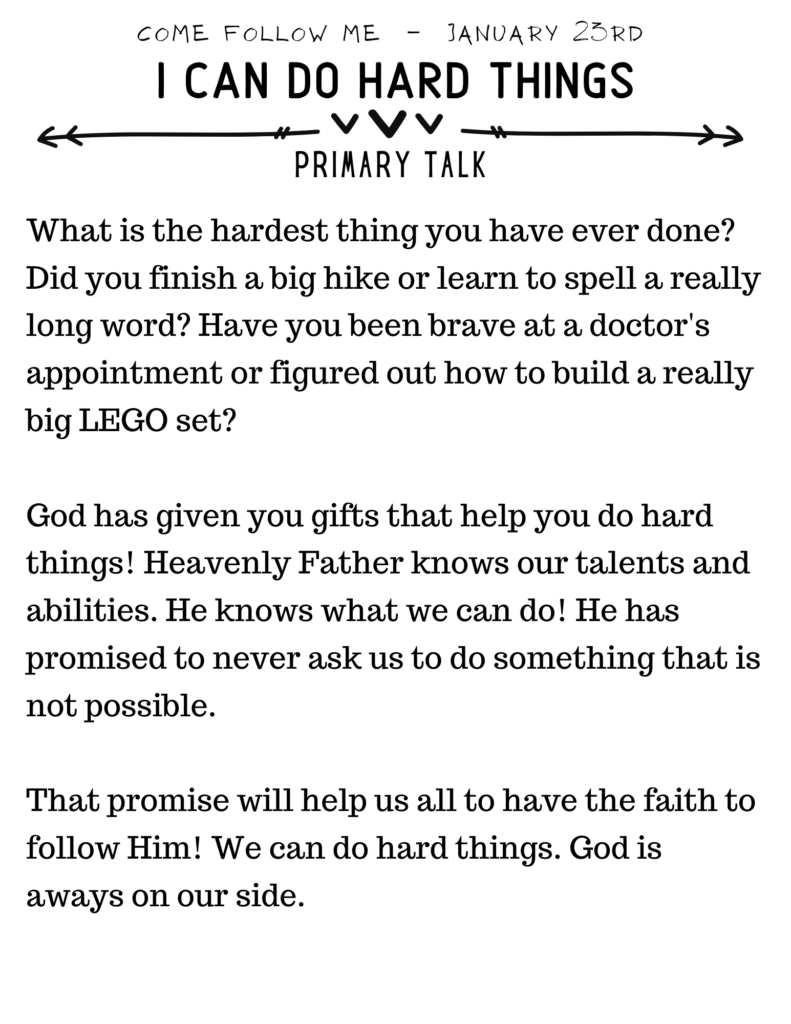 January 30 Talk: Love One Another
In the Bible, we learn about a group of people that lived in a special city. The story sounds like a real life fairy tale. It is magical!
Everyone in the city was happy. They loved each other. They all had the same goals. They worshiped God and helped each other choose the right.
Because they were so righteous, the entire city was lifted up into Heaven. Pretty cool right?
We might not live in a place as magical as the city of Enoch, but we can still learn from their example. They loved God and their neighbors. We can do that too! They kept the commandments. We can do that too! We can have happiness just like the people of Enoch when we try to live like they did.
Download PDF: Love One Another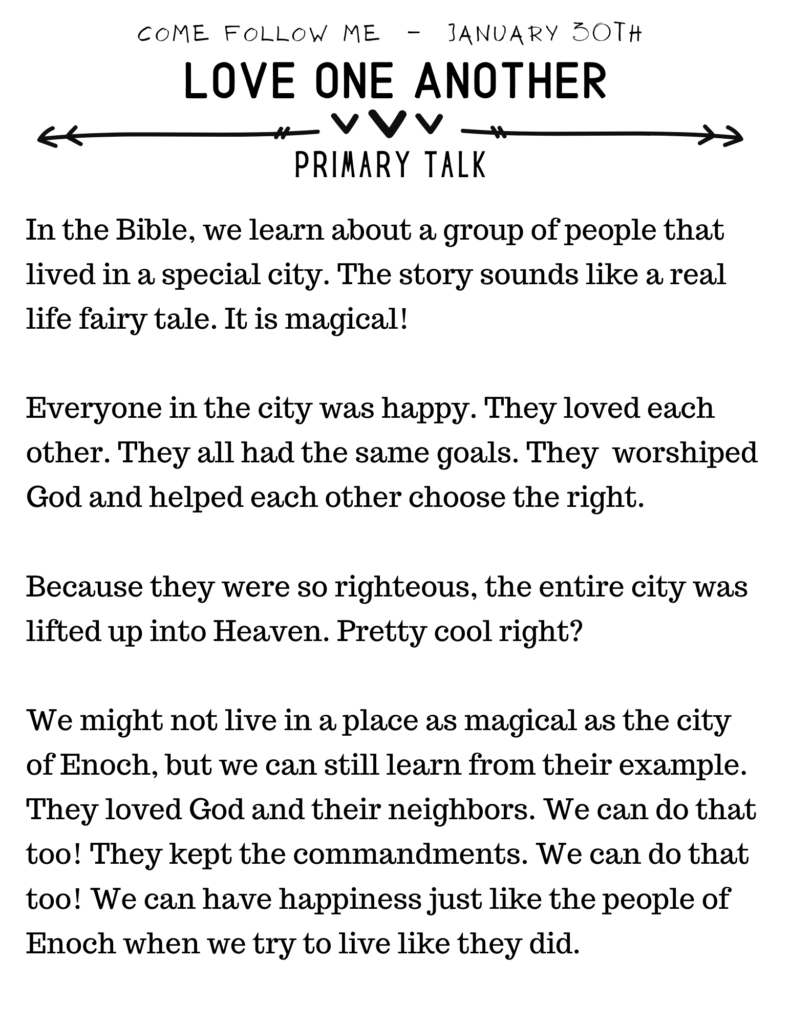 Pin This Image to Save/Share Primary Talk Printables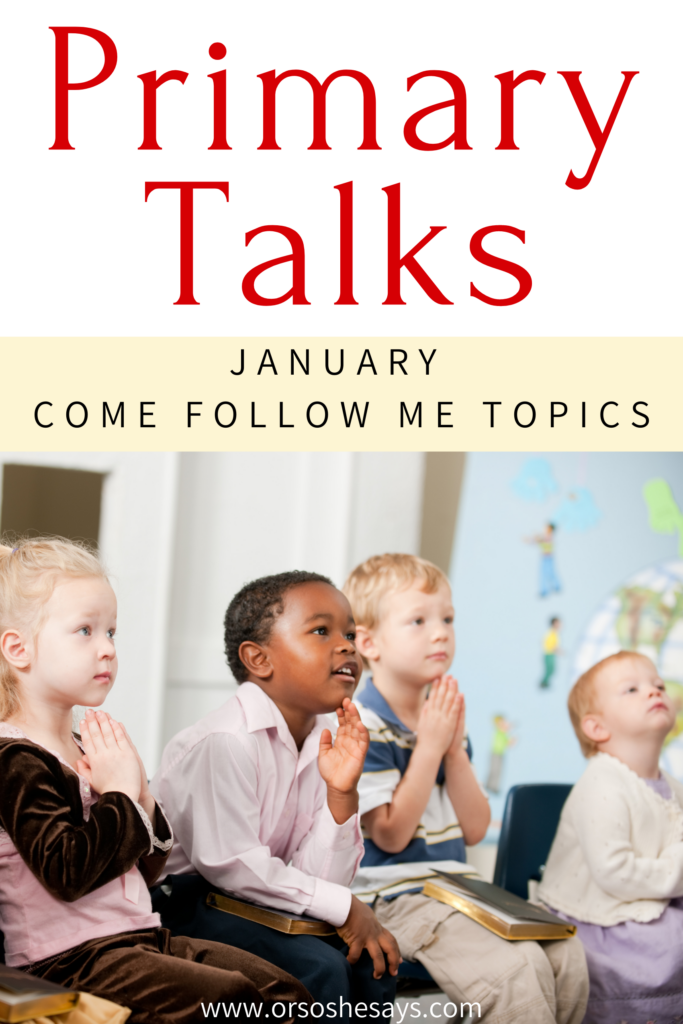 If you liked these Latter-day Saint Primary talks, check out: