When Audrey turned 3, I posted, "Gift Ideas for a 3 Year Old Girl" with you. Now, it's round 2…Isabelle recently turned three, so I thought I would share some more gift ideas. Whoo! Here we go…
Gift Ideas for 3 Year Old Girls: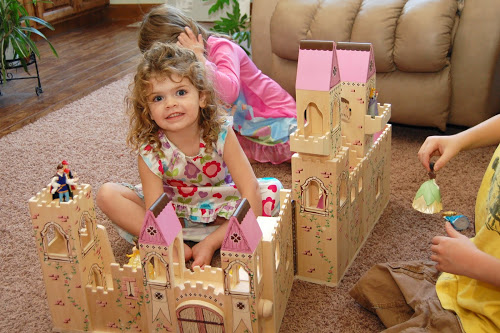 As you can see above, her main birthday present was this princess castle
, by Melissa and Doug. She loves castles. Water towers are castles, church buildings are castles, bunk beds are castles, your face is a castle…seriously, she loves them. So, naturally…I went castle shopping and found this particular one to be the clear favorite amongst reviewers. It's a little pricey, ranging from 62 to 75 dollars. But, it's really a nice quality, all wood. I can see it lasting a long time.
To fill up Isabelle's castle, I knew she would love the Disney figure sets. They are the perfect size and most of them feel right at home, in their palace. She loves all of them, except one. She is terrified of the witch from Snow White. She refuses to even let it be in the same room as her! Unfortunately, her pesky brothers discovered her fear, and love to hide it under her pillow and dangle it in her face. Anyway, these are sturdy, little figures and there are many different sets available. The best place to buy them is from the Disney Store, they average about 12.50 a set. The same sets that sell on Amazon are typically over $20 bucks!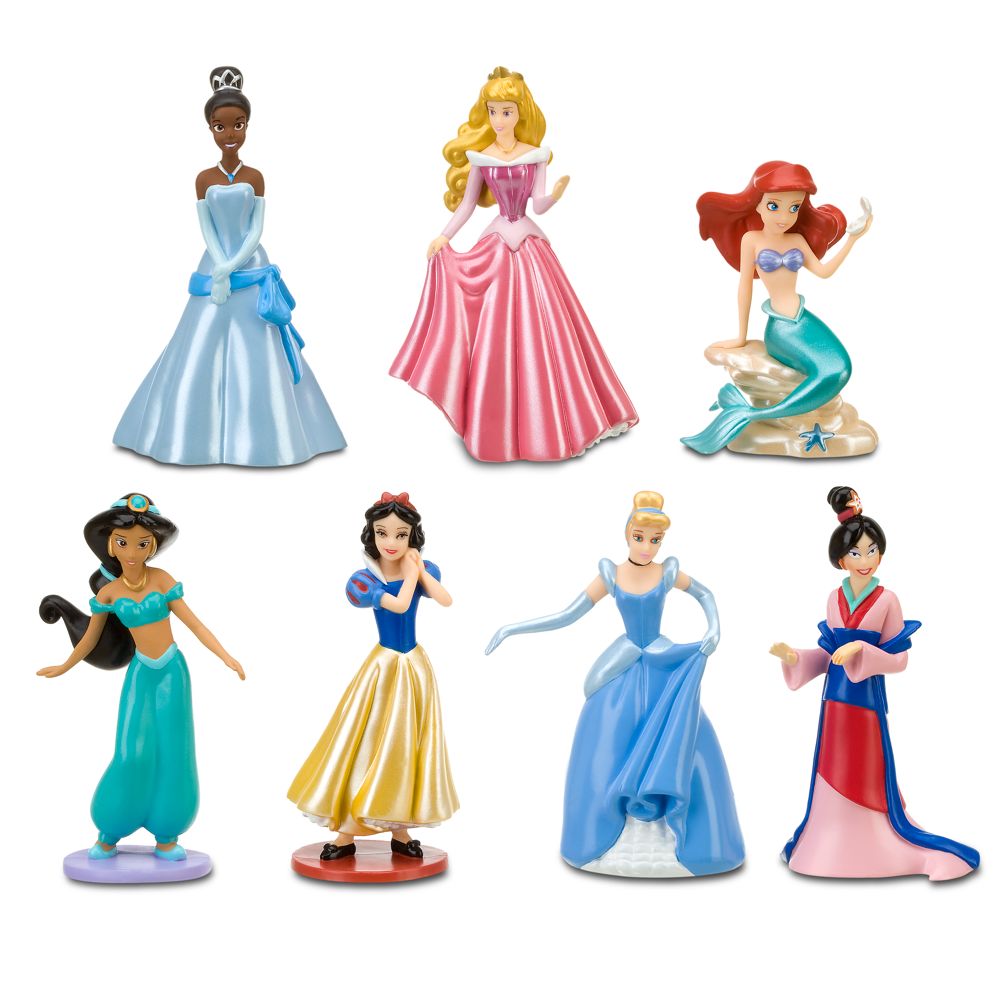 Isabelle is kinda bummed that she isn't going to Kindergarten like her big sister, so I thought she would still like her own backpack. It would be a perfect place to tote around all of her Disney figures. I found an Ariel backpack, because Ariel is her favorite…but, they're out of stock. So, I'm also loving the Skip Hop Zoo Backpacks
. There are several different animals to choose from, they're a great price ($20 bucks), AND they're super cute!
It's very rare that you will find Isabelle wearing anything other than a dress. I just stopped buying her jeans and shirts because she won't wear them. She's all about a dress. Something that both of my girls loved a TON was when their grandma took them to the "fancy dress store" in the mall and let them pick out lots of dresses to try on in the dressing room. They each got to pick one. They've been talking about that day for a long time. But, this time around, I didn't have the time to do a mall outing, so I just found a couple cute dresses around town. HOWEVER, I'm totally smitten with this company that I keep getting catalogs for. I had never heard of them before, maybe you have…Next Directory. Not a very catchy name, but they have the cutest little girl clothes, and the prices aren't that bad.
In Belle's spare time, she loves to make me cherry pie, avocado, taco, ketchup, watermelon soup. It tastes soooo good. She is a fabulous cook. But, she is always in need of more ingredients. And, my favorite place to find them is good ole Amazon dot com. Once again, Melissa & Doug are the best as far as quality and cuteness. Every cook also needs a good set of pots and pans and a shopping cart.
Lastly, Isabelle looooves to sing and listen to music. Every night she demands (yes) that I sing her Edelweiss (her favorite movie is The Sound of Music.) She's a big fan of the CD player in her room and the CDs that I burn for her of her favorite soundtracks: The Little Mermaid, Mary Poppins, Tangled, Sound of Music, Phantom of the Opera, Annie…to name a few. You can snag a CD player for just $22 bucks on Amazon.
Alright, so there you go! If you need more gift ideas for a 3 year old girl, be sure to check out the last gift idea post. And, you can find gift ideas for little kids of all ages if you visit the category tab at the top of the blog.
* For more gift ideas for little girls and everyone else on your list, check out the Gift Ideas tab and be sure to pin Gift Idea Central, to keep the whole collection in one place.