I've been thinking long and hard about something cute that we could do for Dan, for Father's Day. I wanted it to be something that really got the kids involved and that they were excited about…so, I thought, and thought, and thought…and it finally came to me! Whoo, love when that happens!
I decided that EVERY year on Father's Day, I am going to put together several games that the kids get to play in competition with their dad. The competition games will change every year and the winner will get a trophy!…BUT, they only get the trophy for the year. The next year they will have to give it to the next winner to proudly display in their home. And so on, and so on. So, this super sweet trophy I got is going to be passed around and around for many, many years to come on Father's Day. AND…the games will create great memories! I, as the mother, will be the acting referee. It comes natural.
So,
this is the trophy I ordered
. I think for the trophy and the engraving it was like $15 bucks! I thought it was hilarious how the dude is ripping off his shirt…totally reminds me of the competitive spirit that runs through The Beard Man's family.
This is what I had engraved on the bottom of the trophy…
"Who's Your Daddy Now?!?"
Annual Wangsgard Champion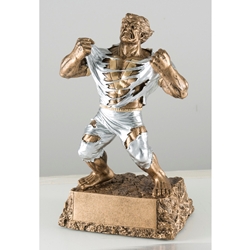 Obviously, since the kids are all under the age of 9, the games need to be fairly easy. I don't want them getting completely demolished by their dad! So, I tried to come up with a few games for this year that the kids can at least "hang" and possibly win some of them. As they get older, the games can get harder…maybe they can do a game of football, skeet shooting, golf, basketball, races, etc. And, it doesn't have to be limited to physical activities. You can throw in a dance competition, karaoke, juggling, hula hooping, drawing, cooking, high heel walking, trivia question, board games, name that tune, and so on…try to think of the skills and interests of all of your children so that they can shine in the different competitions.
But, for this year…here's what we're going to be doing:
I ordered this
badminton set
from Amazon. The kids have been secretly practicing to surprise their dad on game day. It's going to be all of the kids versus their dad…alone. The MVP of this game will be considered the winner. They will probably play several games (there's no rush)…and I might just have to get in on some of the action.
Guess The Ice Cream Flavor
I mentioned this idea in a previous Father's Day post…but, I thought it would be a perfect game to add to this Father's Day Competition. Okay, so you know how Ben & Jerry's has those extra mini size tubs of ice cream? I'm not talking the small ones…I'm talking the ones that are smaller than the small ones. Anyway, I'm going to get a bunch of those and blindfold dad and the kids. Everyone will have to take guesses as to what flavor ice creams I am giving them bites of. Whoever guesses the most correctly, wins!
We haven't played this game yet, but based on the reviews…
Boochie
is pretty darn fun! What attracted me to it is that even little kids can beat the adults. You toss out the boochie target and then try to get your ball and hoops as close as possible…closer than anyone else! But, the catch is…you have to do your toss in a special way…it might be on one foot, it might be backwards, laying down, while making sound effects, etc. Families say that is is pretty hilarious to watch and the kids love it…so, we're trying it.
After the games, we'll award the winner with the trophy (to keep for the year) and I'll probably pick up some small prizes for everyone else. We're going to have a BBQ outside, do any other Father's Day presents, and call it a day…a great day! We're all so excited…don't tell my hubs…it's going to be a surprise.
Need some more ideas?? Here are some of our previous posts…