I used to have my jewelry somewhat organized in my bathroom drawer. I had little dividers and bins for everything. But, dividers and bins don't mean much when you also have two little girls, ages almost 2 and almost 4. It's impossible to keep these girls out of my makeup and jewelry drawers! Everything was getting lost, tangled, mixed up, and dumped out.
So, off to the internet I went…googling "organize jewelry". Every organizer I came across seemed to take up too much space, be too expensive, or would hold only a small amount of jewelry. I gave up for a while, until more and more of my jewelry was disappearing…I was so excited to find my answer on Etsy, a little shop called
Spirit Ranch!
Now Jessica and I have a strict rule that nothing can be advertised on our site that we don't LOVE. People send us free stuff, hoping we'll talk about it…but, we just won't unless we love it. Your trust is important to us! But, as a disclaimer to this post:
Spirit Ranch
has not sent me ANYTHING for free (although, they should!) and they're not paying me (that would be nice too.) I just am really, seriously excited about their organizers, so I had to tell you! Check it out…
These are a couple of the things I saw when I visited their shop…all different types of organizers, wall hanging and free standing. I loved this jewelry holder because you could put all types of earrings in it (by using the holes OR the slots).
I love that you can hang tons of necklaces on their necklace racks. You can double them up and no more tangled mess!
So, I ordered myself a couple…the prices were great AND you could pick your own stain color. I think I got the special walnut…
And, here is my untangled, super-exciting, I-show-everyone, display of jewelry! I had this perfect place in my closet to put both the necklace and earring rack. I love that I can see everything I have, the little girls can't reach it, there is room to grow, and I don't have to spend time untangling anything!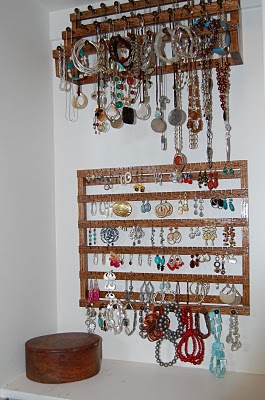 Cool, huh?!? Best way to organize jewelry ever!
Have a wonderful Thursday!