Complete plan for a Paint Night party! This post has everything you need to host a paint night party with your Activity Days girls, Young Women, or Youth Group. Learn some inspirational advice from a cactus and find out why the Prophet needs us to stand out and be different. Everything is outlined and ready to go.
I love how popular "Paint Night" activities are becoming. There is a reason why people love participating in guided paint groups. It is fun to be artistic and get creative juices flowing. It's true for young kids too! They love being crafty. I just finished hosting a Paint Night Mother Daughter Party for the Activity Day girls at my Church. We had the best time, so I decided to share the party plans here! No need to reinvent the wheel. If you need a party, then you are in luck! This post has the full package.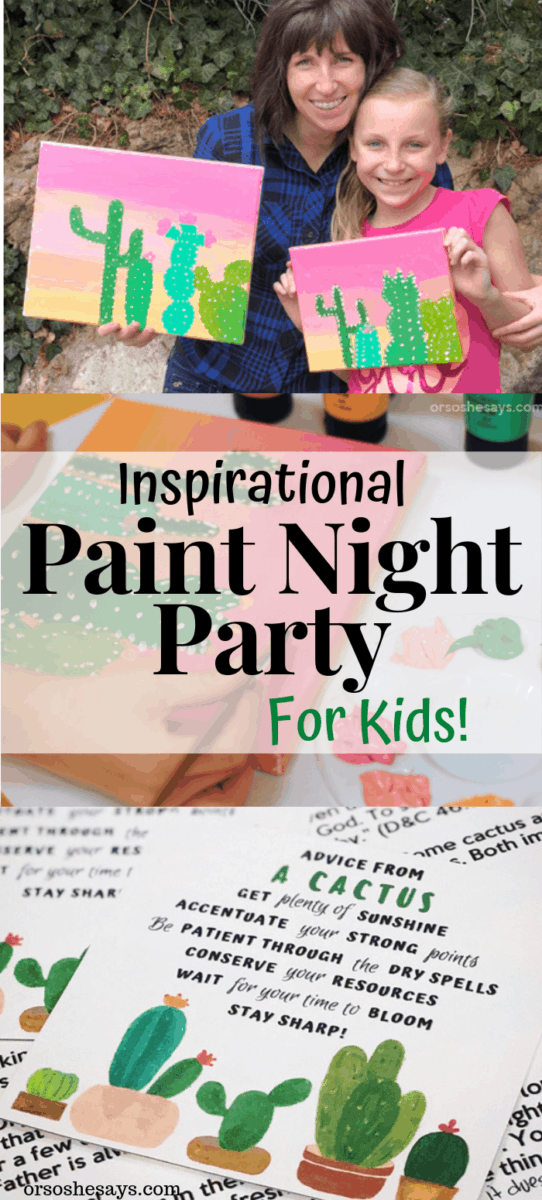 Paint Night Party for Kids: Food Suggestions
I like to start parties with food. Feed people and they instantly love you! I'm sure science can prove this theory true. But, until the facts are documented in a fancy scientific journal, you'll just have to trust me on this one. We started our party with a breakfast buffet. We served muffins, fruit, eggs, and a selection of sugary cereal. Who doesn't love colorful marshmallows for breakfast? When planning food for a big group, keep things simple. I have found that kids don't really appreciate homemade vs. store bought items. So, don't fret about making everything from scratch. They prefer the Lucky Charms!
Inspirational Paint Night Party for Kids: Painting Supplies and Demonstration
After breakfast, transition into the guided paint activity. Make sure to have all of your items set up and ready before the party starts. I set up long buffet tables and seated people only on one side of the table. That way, everyone is facing the front of the room. You don't want guests to have to turn around in their chairs to watch the painting demonstration in the front.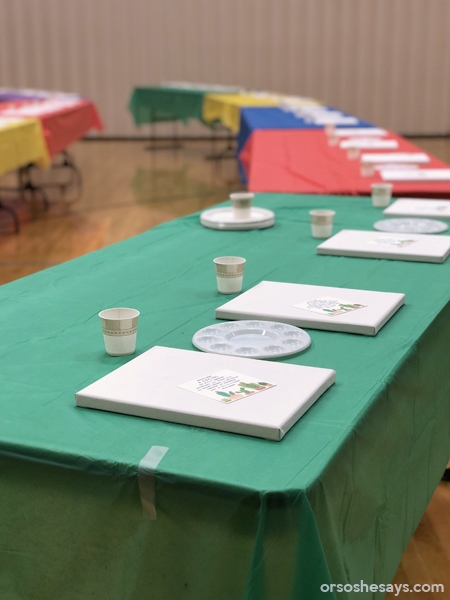 Paint Night For Kids Supplies
For each participant you will need an 8×10 canvas, paint brushes, water cup, paper towel, and paint pallet or paper plate.
I googled my eyes out looking for a cute canvas painting design that young kids would be able to handle and enjoy. You don't want the activity to be stressful or complicated. I happened upon a fun cactus scene that felt just right! This painting is interesting enough to allow creativity, but simple enough for beginners to handle with ease.
You can print a copy of the painting onto paper to show the class, or paint your own display before the party. You need to have a finished copy so they know what the final painting should look like.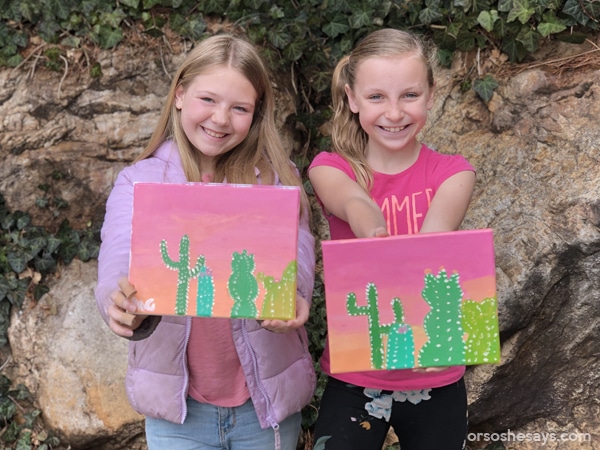 Paint Night Canvas Demonstration
I purchased several hues of orange and pink acrylics to make the desert sky. You also need three to four colors of green and white paint.
Begin the painting exercise by distributing the orange and pink paints to the group. Only put a little blob of paint out at a time. A little bit of acrylic paint goes a long way! I purchased all of my supplies at Hobby Lobby. Their painting merchandise was on sale! Total score. If it's not on sale, be sure to bring your coupon with you. There is one on their website at all times.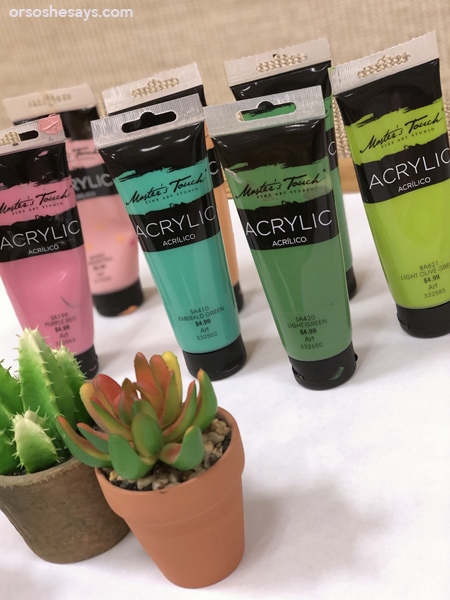 The background of the painting is a desert sunset. Paint the background first. Start with pink at the top of the canvas and then move down the painting alternating to the other colors. Remind the little artists to blend each color into the next so that the sunset doesn't look like three stripes, but a gradual shift of colors. Also, moving from one side of the painting to the other in long smooth strokes gets even coverage.
The background needs to dry completely before adding the cactus plants. While the paint dries, you can present your spiritual/inspirational thought. I have the thought and handout ready for you in the next section! I liked doing the discussion while the background paint dried to cut out any down time for the kids. They were a captive audience! And listing to me talking was better than watching paint dry. 😉
Once the background is ready, then distribute the green paint. I like having a few color options for the different styles of cactus. Artists can also mix colors together on the paint pallet to create their own unique blends of cactus green!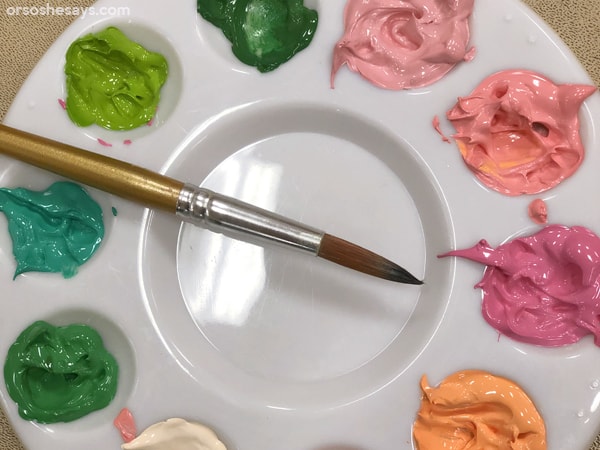 NOTE:
I only let my kids rinse out their brushes when we switched colors entirely. They do not need to use water between using the different shades of orange/pink or between the greens. Too much water makes a mess! Especially with little painters.
The first cactus to paint is the tall cactus with "arms." I call it the man cactus. Draw a straight paint stripe line down the canvas starting 2/3 of the way up. It should be about 3 inches from the left side of the canvas as well. Then, add an "L" arm on the left side of the line and a "J" arm on the right side. Then, fill in the cactus shape.
The second cactus is the Snowman. It should split the difference between the man cactus and the right side of the canvas. Paint the circles of the "Snowman" and then fill it in with paint. Add the three little circles to the top.
Next make the "Pickle." It is the short narrow cactus. This one is the easiest cactus to create. Just a straight line and then fill it out with some bulk!
Finally, add the fat circle cactus! You can suggest making this cactus bleed into the side of the canvas. If that is too advanced for your crew, don't worry about that part. It also has an "arm" that overlaps the Snowman.
Once the green has dried, add white dots, spines, to each cactus plant. We used the back side of the paintbrush to dot the circles onto the plants. It worked really well! Some people made big dots and some did lots of little dots. Both styles were darling.
Add a few blooming flowers at the end to make it pretty. And, to drive home the point from the discussion that we all bloom!
Paint Night Party Plan "Advice From A Cactus" Discussion
I created this little handout to print for the Activity Day Girls and for their Mamas. I found the quote online and then just made it into a printable. I recently updated the printable to be more kid friendly! I think you will LOVE it.
PDF Download: Advice From A Cactus Printable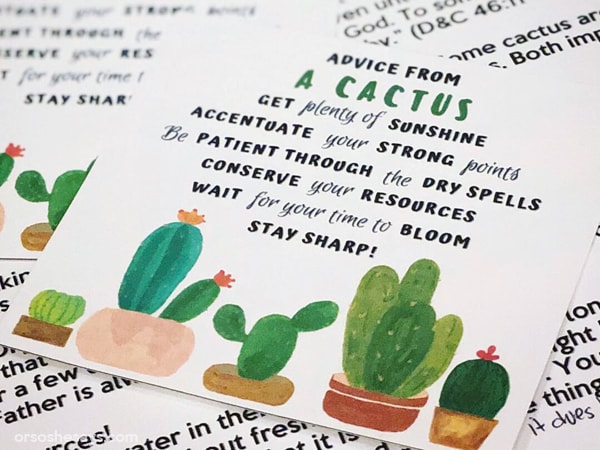 This discussion uses the advice from a cactus and relates it to the Gospel of Jesus Christ. Don't be scared of a little bit of preaching. The girls need to hear how much their Heavenly Father loves them and that he created them for a purpose. It's good for their souls. And this talk is short and sweet! You can follow it word for word…or, use it at a guide for your own thoughts.
Little lesson about gifts and talents using our friend the cactus!
We all have special gifts. Where we use them and how determines whether we thrive.
Think of a cactus. It is special and unique in it's own way. It is a lot different than a rose or a daisy. But, it is beautiful and has an important part in the plant world. We are going to spend a few minutes taking some advice from a cactus. I think you will find that they are pretty smart.
Get Plenty of Sunshine!
Where do cactus grow? The desert! There is plenty of sun in the desert. If you want to thrive and grow, then find places where you can feel the presence of the sun. But instead of the sun in the sky, we want to feel the influence of the Son of God…who is Jesus! Where can we stand with Jesus? At church, at home, with good friends, in nature. Stand in holy places where you can feel the presence of God.
Accentuate Your Strong Points!
Everyone was given talents. You all have talent bursting out of you like cactus spines! The Lord told Joseph Smith, "For all have not every gift given unto them; for there are many gifts, and to every man is given a gift by the Spirit of God. To some is given one, and to some is given another, that all may be profited thereby." (D&C 46:11–12.) So what is that scripture saying? It says that we are all different. Some cactus are tall and make sweet fruit. Some are tiny and can be used to heal sickness. Both are important. Both benefit others.
What are you really good at doing? How can you share your talents with others? Focus on your gifts and make them strong!
Be Patient Through Dry Spells!
I'm just going to say that life isn't always exciting. Sometimes you might be bored. You might even feel a little bit sad or lonely. Just be patient. Heavenly Father is always looking over you and listening to your prayers. If you are working hard to reach a goal, keep working! Or, if you have been waiting to make a best friend in school, keep being kind! Perhaps, you are struggling to find purpose in reading your scriptures, keep picking up the book! Dry spells are normal, but their is always a reward at the end. Be patient. Keep going.
Conserve Your Resources!
So, cactus plants can hold water in their little plant bodies for a long time. In fact, some can last for two whole years without fresh water! This part might be more for the Mamas in this crowd..but, everyone still listen up! Remember, it is OK to say "no." You don't have to do everything and be everything. Keep it simple and stick to the things that matter most.
Wait for Your Time to Bloom!
Cool Fact: Every single type of cactus blooms. Some bloom at night and some bloom in bright colors! Some cactus bloom for only a few days out of the whole year. But, they all get their moment to shine. You all get to blossom too! Not everybody looks the same. But, you are all absolutely beautiful and perfect in your own special way. Resist the urge to compare yourself to others. It can be hard. Instead, focus on your own divine identity. You are all daughters of a perfect Heavenly Father. He created you. He doesn't make mistakes. You are just as you were meant to be.
Stay Sharp!
Have you ever touched a cactus?! They are super sharp and pointy. I don't want you to go around poking and sticking people. But rather, stay sharp with your commitment to being a daughter of God. In the scriptures, the word "sharp" is used to represent exactness or being clear in purpose. Remember that you were born with talents from God that are unique and perfect for you. In conference President Nelson said, "True Disciples of Jesus Christ are willing to stand up, speak up, and be different from the people of the world."
Follow the prophet. He is talking to you! Each one of your have been asked to stand up, speak up, and be different. Be like the cactus and thrive!
Paint Night Activity: Wrap It Up
When your paintings are complete, take a picture of each girls with her mother. (If you are doing a daughter and mama party!) Spotlight the paintings. Appreciate their differences. Show the participants that each painting is unique. Just like we are all unique. Encourage them to see the beauty in individuality and in their own contribution! Give plenty of love and compliments. Kids soak that up like dry cracked dirt during a rainstorm in a desert.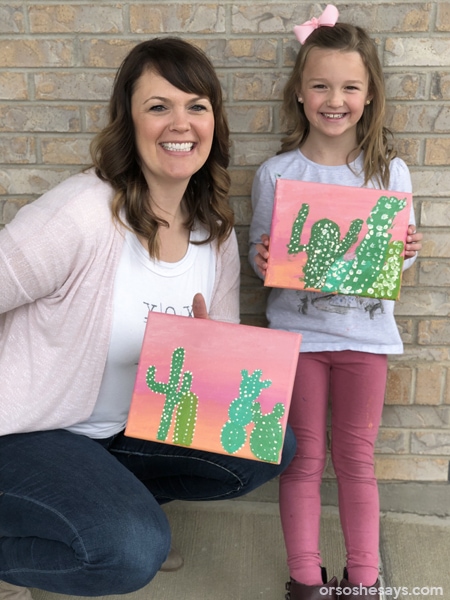 I hope your Paint Night Party is as fun as ours was! The girls and their mothers had such a fun time together. Let me know if you try it and have success! It is fun to see goodness spreading around the internet. And, thanks for helping to make the world better, one lesson/activity at a time. Your service and efforts are meaningful and appreciated!
More posts you'll love:
Personalized Initial Letter Art