Primary Talk Templates for Come Follow Me Topics in August. These simple talks are written in an age-appropriate format and follow the Come Follow Me Primary content for each Sunday in August. We post new content each month, so you are prepared with talks for each week of the year!
The Come Follow Me Primary Lessons in August follow the words and experiences of the apostle Paul. Paul was such a brave and honorable convert. He was bold in missionary work and sure of his testimony of the Gospel. Paul is a great example of faith and enduring to the end! There are so many great lessons that are applicable in today's world.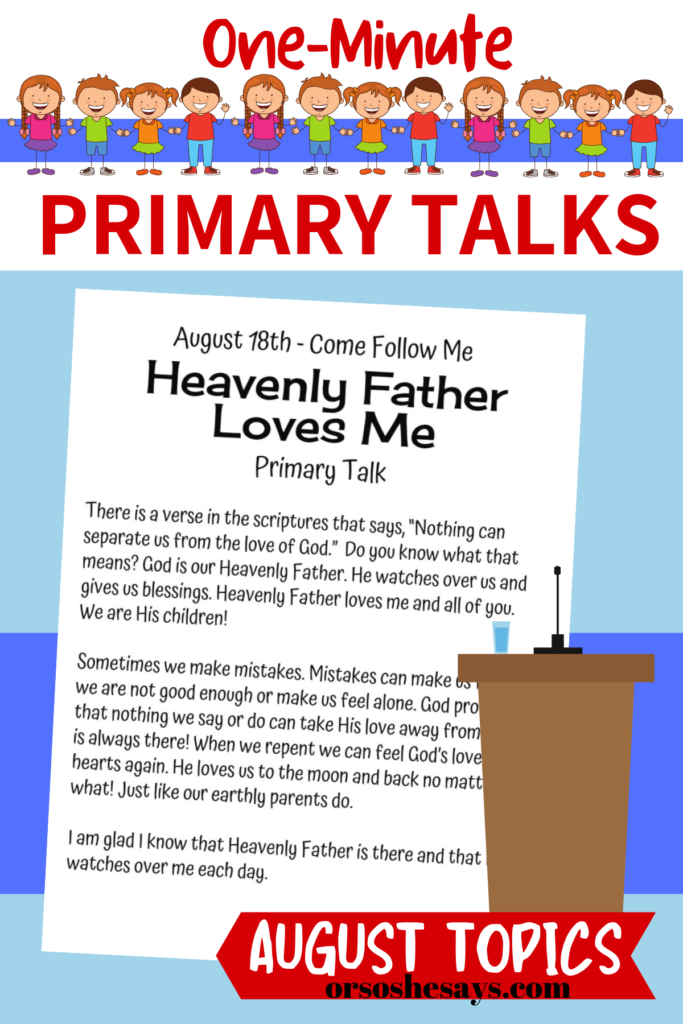 Four Unique Primary Talk Templates for August Come Follow Me Topics
There are four talk topics for you to choose from this month. Each talk has a message written for a specific weekly lesson in the Come Follow Me Primary manual. Direction from the General Church Leaders is that the primary talks given in opening exercises should be short (around 1 minute) and allow the children a time to express a thought and then a testimony. These templates fit that format perfectly!
I hope these Printable Come Follow Me Primary Talk Templates make speaking in church fun and stress-free for families and for church leaders. We have a lot of Primary leaders who print the talks and keep them handy for children who forget to bring a message of their own.
There are two easy format options for downloading and printing the templates.
Primary Leaders may want to download the compiled version that has all four talks for August on a single sheet of paper. You can print the compilation of talks and have it ready for use any time during the month of August!
If you are a parent looking for a talk for your child, you can easily download an individual talk template and print it out or just click on the image and read directly from your electronic device.
Be Of Good Cheer – August 4th
Jesus taught a lot of important things during His time on Earth. One commandment that he gave is to "be of good cheer!" That means Jesus wants us to be happy. Do you know the Primary song called Smiles? It says, "If you chance to meet a frown, do not let it stay. Quickly, turn it upside down and smile that frown away!" It is important to be happy.
We can help make other people smile by sharing, using kind words, giving hugs, serving, and more! I want to follow Jesus and be of good cheer.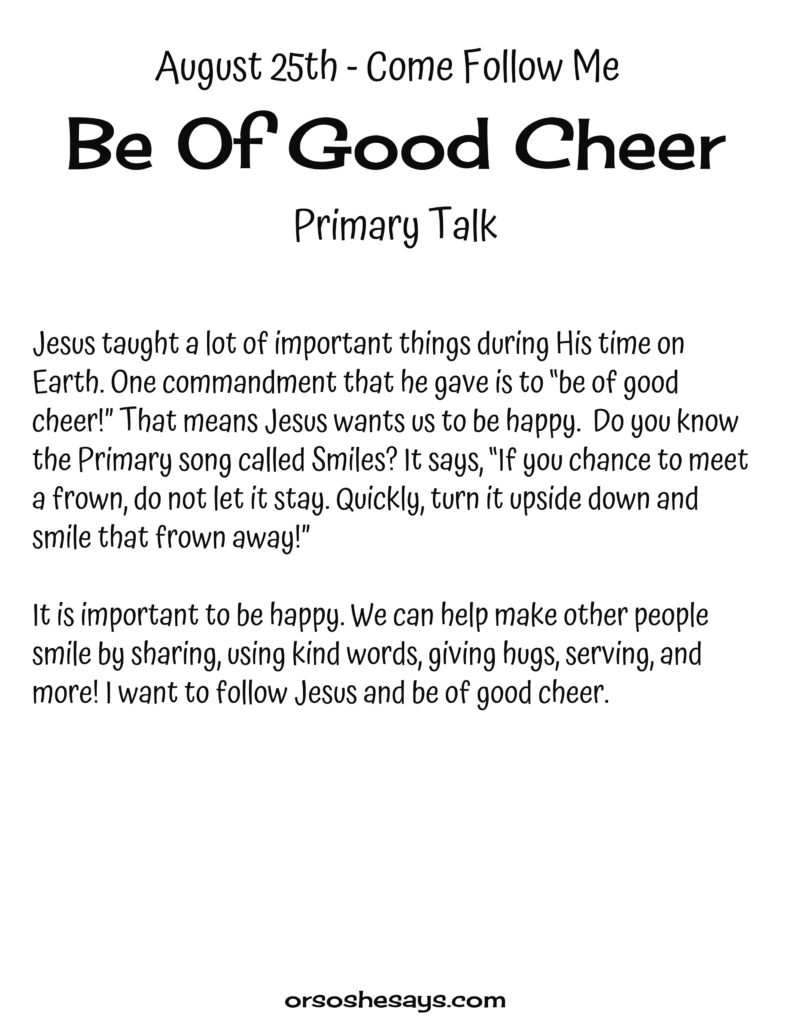 Faith in Jesus Christ – Primary Talk August 11th
The Articles of Faith help us to know what we believe as members of the Church of Jesus Christ of Latter day Saints. The Fourth Article of Faith says that the first principle of the Gospel is Faith in the Lord Jesus Christ. If it is first, it must be important!
Do you have faith in Jesus? I do! I believe that Jesus lived and then died for us. He made it possible for us to live with our families and Heavenly Father forever. Jesus loves me and knows me. We show faith in Jesus Christ by following His example. I want to follow the commandments so that I can be like Jesus!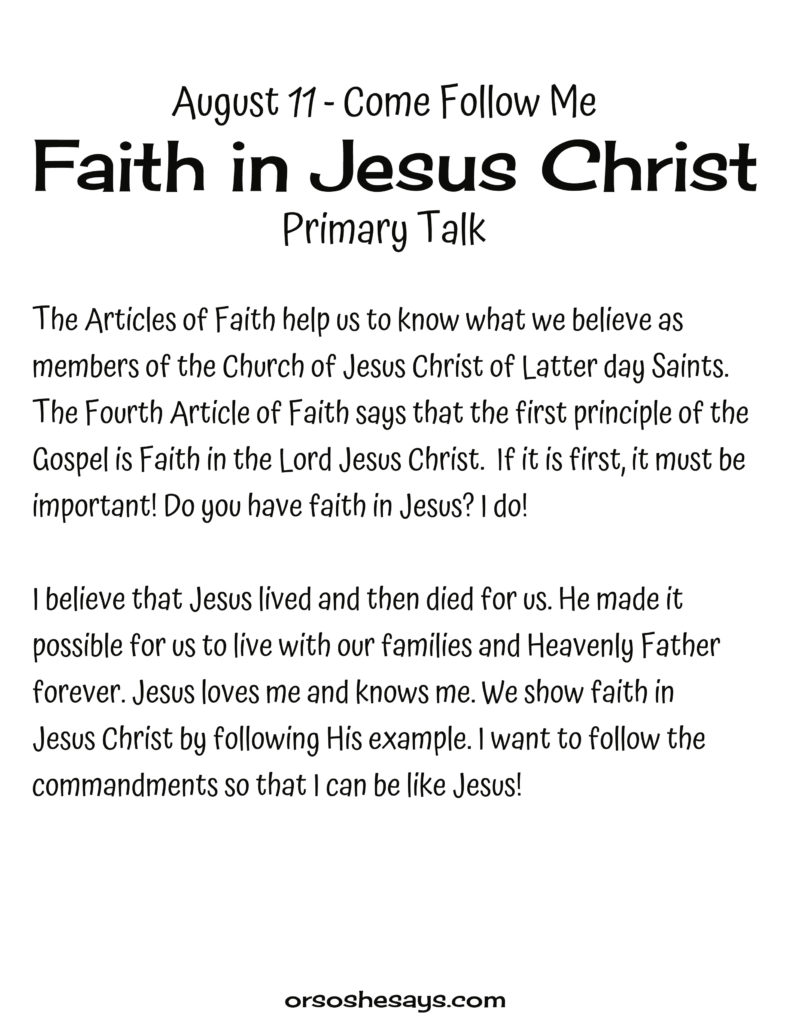 Heavenly Father Loves Me – August 18th
There is a verse in the scriptures that says, "Nothing can separate us from the love of God." Do you know what that means? God is our Heavenly Father. He watches over us and gives us blessings. Heavenly Father loves me and all of you. We are His children!
Sometimes we make mistakes. Mistakes can make us feel like we are not good enough or make us feel alone. God promised that nothing we say or do can take His love away from us. He is always there! When we repent we can feel God's love in our hearts again. He loves us to the moon and back no matter what! Just like our earthly parents do. I am glad I know that Heavenly Father is there and that He watches over me each day.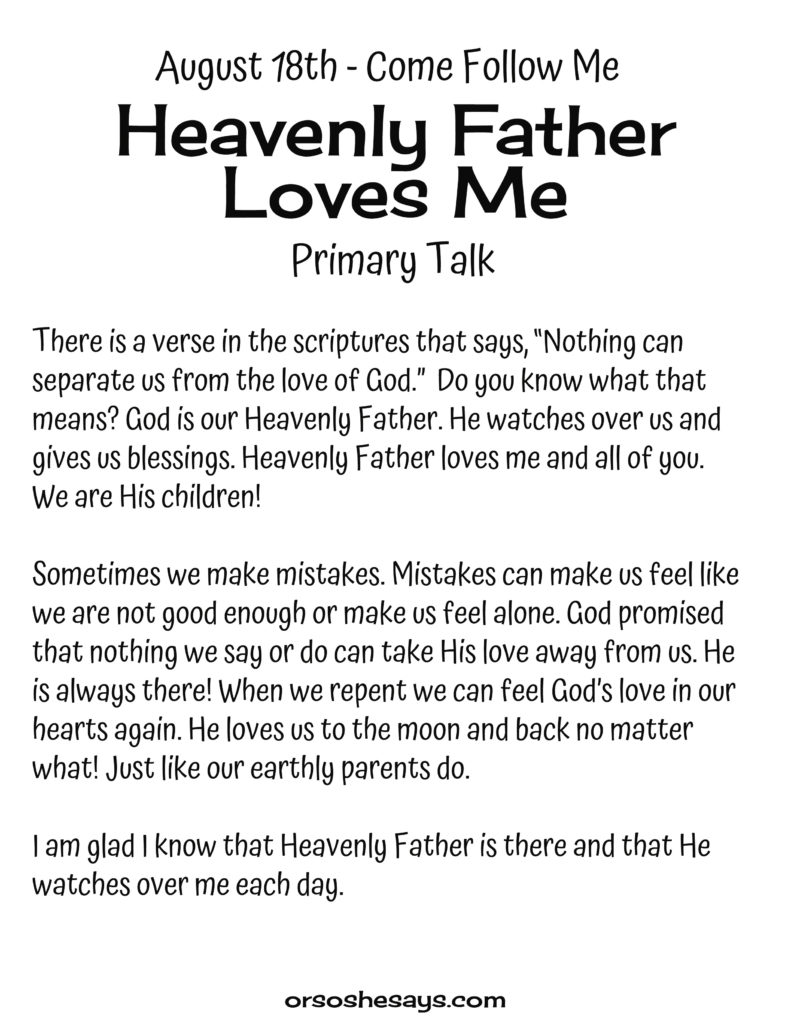 The Holy Ghost Teaches Us Truth – Primary Talk August 25th
There are a lot of ways to teach and learn. School teachers use books and smart boards to explain math and reading. YouTube has how-to videos to show how to make things like slime and cake pops. Board games come with instructions on how set up and play the game. Sports coaches run drills and exercises to teach skills to their teams. We learn in so many different ways.
When we want to know about heavenly things, we need the help of a special teacher. The Holy Ghost is given to us as a teacher so we can understand the Gospel. Paul taught that we can learn about God only through the Spirit of God, which is the Holy Ghost. When we listen to the Holy Ghost we can build strong testimonies! I am glad that I have the Spirit to teach and guide me. I know that when we listen to the Holy Ghost we can know the truth of all things.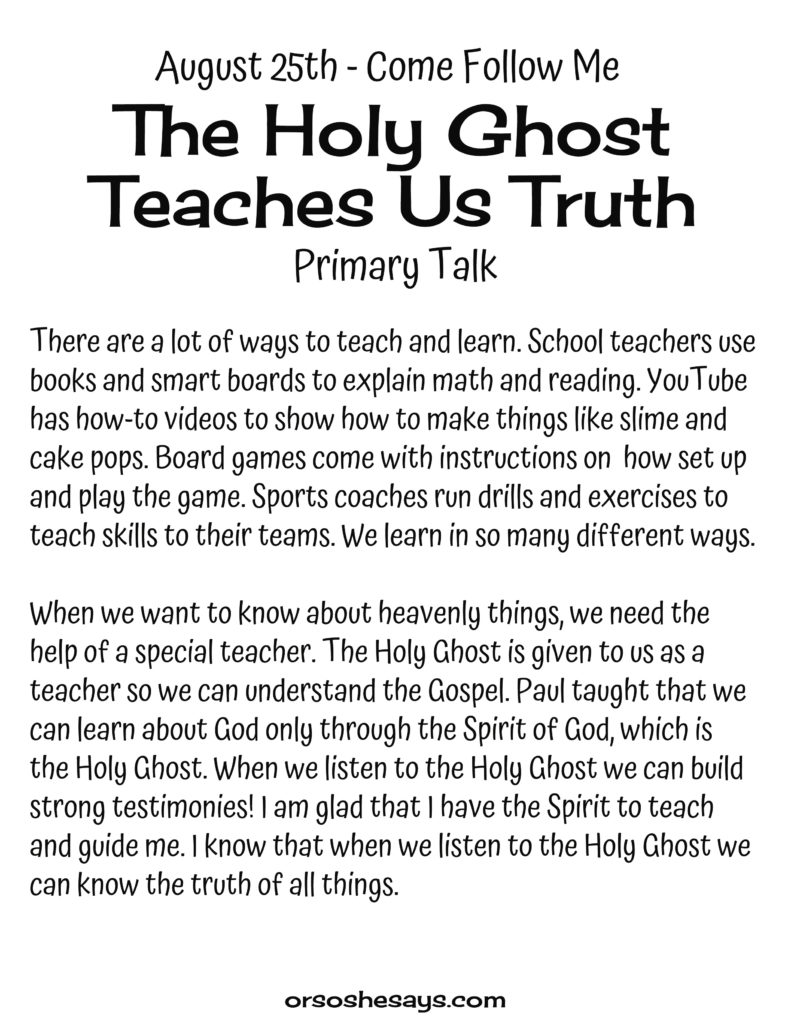 I hope you enjoy these simple primary messages. It is amazing to me that children can learn and understand all of the important principles of the Gospel. They teach and testify with faith and power! Make sure to check back each month for additional templates.
If you found a helpful Primary talk here, you may appreciate these posts:
Free Book of Mormon & Christ Watercolor Print
The Ultimate Collection of Faith Quotes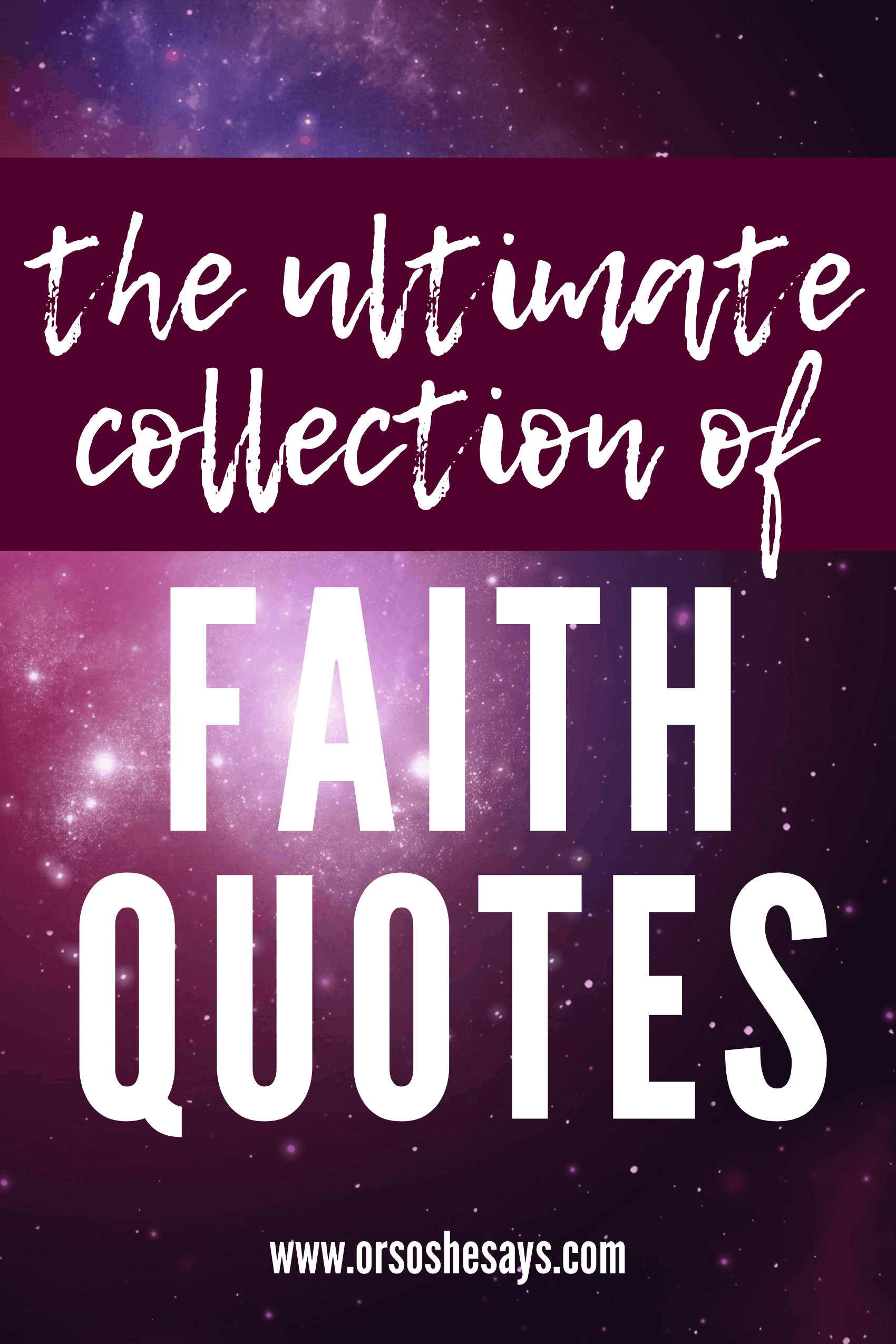 Printable Moral Playbook to Help Kids Resist Temptation