Download and Print these Primary Talks for Children. These five talks are written based on the weekly Come Follow Me for Primary talks for March 2020.
Has your child been asked to give a talk in Primary? These simple and age appropriate primary talks for children are available for you to use! Each month, I study the upcoming Come Follow Me Lessons for Primary Children. I have the opportunity to write a short message based on the knowledge and insights I learned from the reading. I am constantly surprised that the information is relevant in my life as an adult.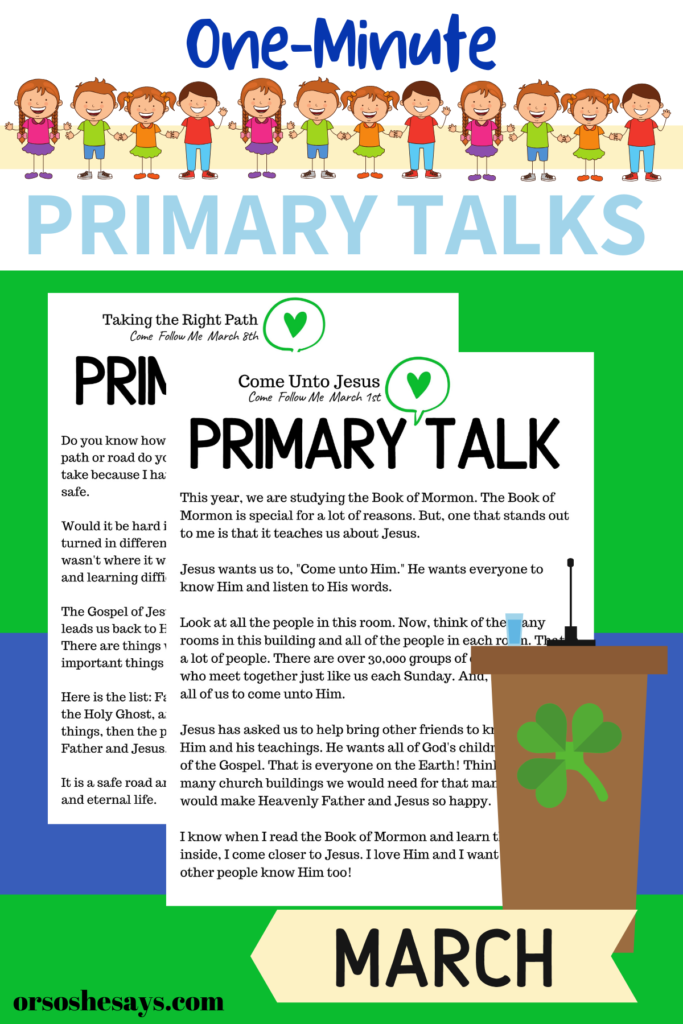 The children of the Church of Jesus Christ of Latter-day Saints are learning truths that will help them now and as they continue grow.
It is a blessing to have the word of God in our homes to bless and strengthen our families. I hope that these primary talks for children will benefit your child and make speaking in church a fun and rewarding experience. In addition to being used in Primary school, the primary talks can also be used as a supplemental resource for home and family Come Follow Me lessons.
Primary Talks for Children March 2020 Theme
If you are a Primary Leader and would like to print all five of the March talks out in one document, you can download the March Primary Talks for Children PDF here.
The individual talks are included in the content below. You can read the talk right from this article, or use the download link to print a PDF copy.
Printable Primary Talk: Come Unto Jesus – March 1st
This year, we are studying the Book of Mormon. The Book of Mormon is special for a lot of reasons. But, one that stands out to me is that it teaches us about Jesus. Jesus wants us to, "Come unto Him." He wants everyone to know Him and listen to His words.
Look at all the people in this room. Now, think of the many rooms in this building and all of the people in each room. That is a lot of people. There are over 30,000 groups of church members who meet together just like us each Sunday. And, Jesus wants all of us to come unto Him.
Jesus has asked us to help bring other friends to know about Him and his teachings. He wants all of God's children to be part of the Gospel. That is everyone on the Earth! Think of how many church buildings we would need for that many people. It would make Heavenly Father and Jesus so happy.
I know when I read the Book of Mormon and learn the stories inside, I come closer to Jesus. I love Him and I want to help other people know Him too!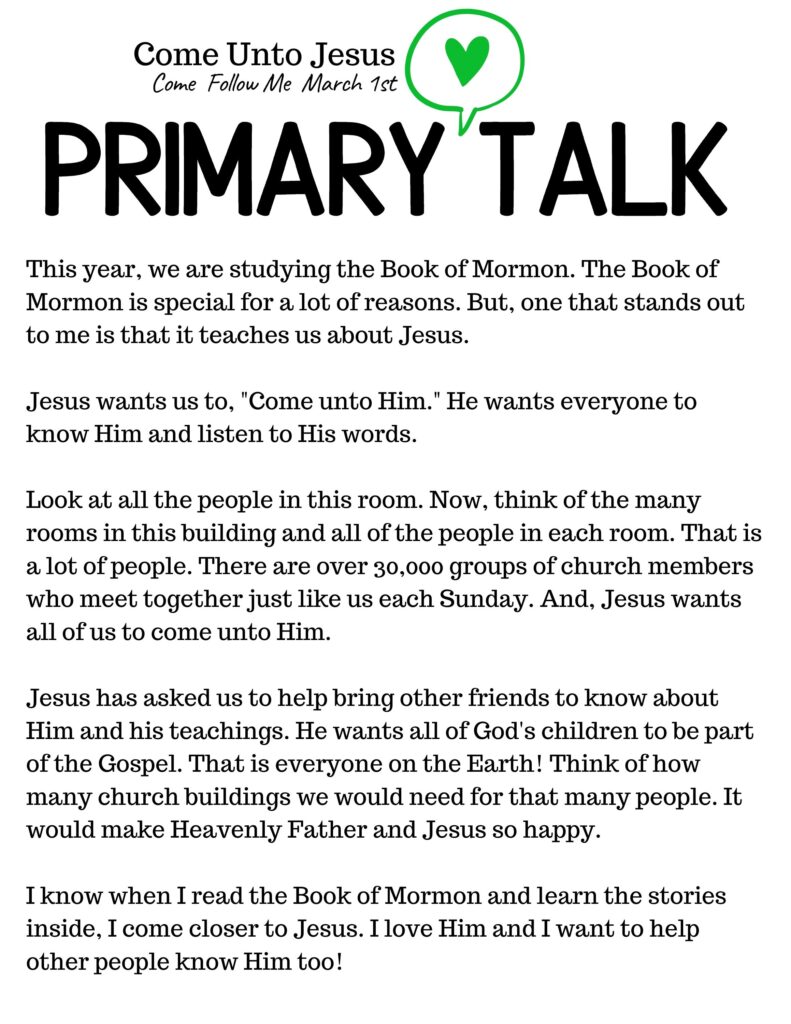 Primary Talk Template: Taking The Right Path – March 8th
Do you know how to get from your house to the school? What path or road do you take to get there? I know the right roads to take because I have been taught. Knowing the route keeps me safe.Would it be hard if the path changed and the roads curved and turned in different directions each day? What if the school wasn't where it was supposed to be? That would make travel and learning difficult.
The Gospel of Jesus Christ is laid out for us along a path that leads us back to Heavenly Father. The path never changes. There are things we must do to stay on the path. These important things are called the Doctrine of Jesus Christ.
Here is the list: Faith in Christ, repentance, baptism, the gift of the Holy Ghost, and enduring to the end. If we can do these five things, then the path we are on will always lead us to Heavenly Father and Jesus.
It is a safe road and the only road that will bring true happiness and eternal life.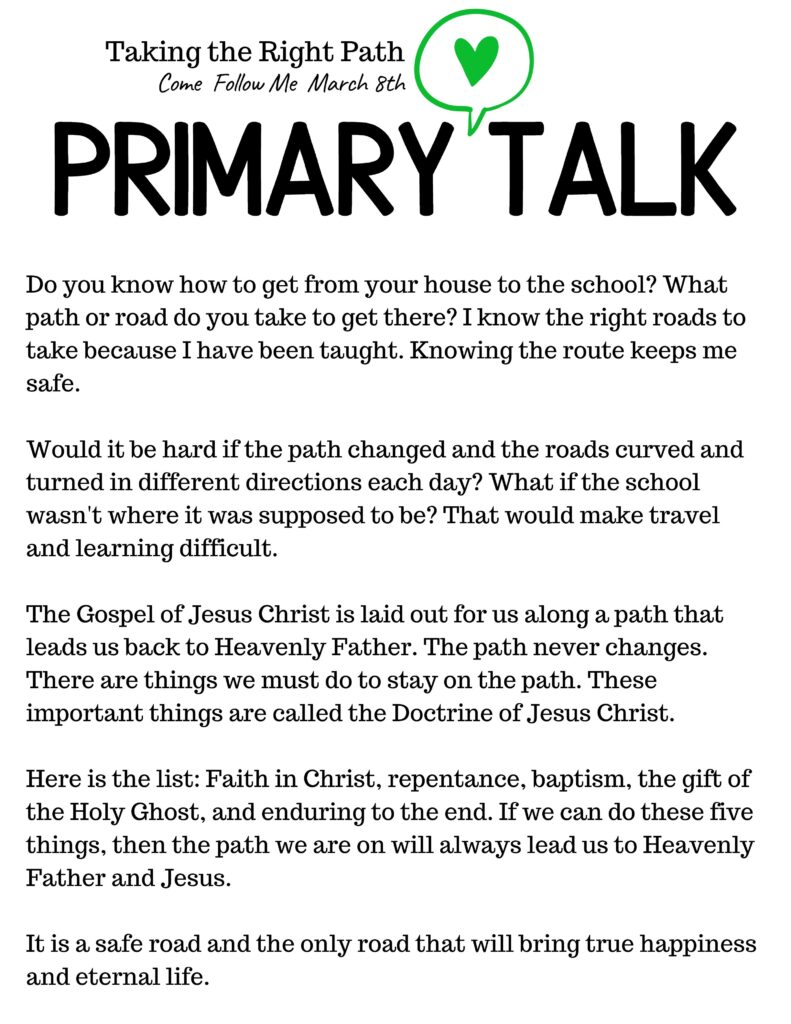 Primary Talk for Children: Who Leads Our Church? March 15th
Who is the leader of our Ward? It is the Bishop! The Bishop is a good man who loves each person here. He takes care of our Ward Family and works hard each week to serve us.
Who is the leader of our Church? That is a trick question! We have a leader on the Earth called The Prophet. Our current prophet is President Nelson. He gives the whole Church messages on how to live better and to stay safe from sin. He loves eveyone so much. The Prophet leads and guides us.
But, the person who is truly the leader of the Church is Jesus. Jesus Christ speaks to the Prophet. He directs us through other Church leaders. Jesus can also send promptings to us through the Holy Ghost. Jesus teaches us the way to return to Heavenly Father.
We should love and respect our church leaders. They are called of God. They help us to know Jesus. We are lucky to have leaders who love and care for us.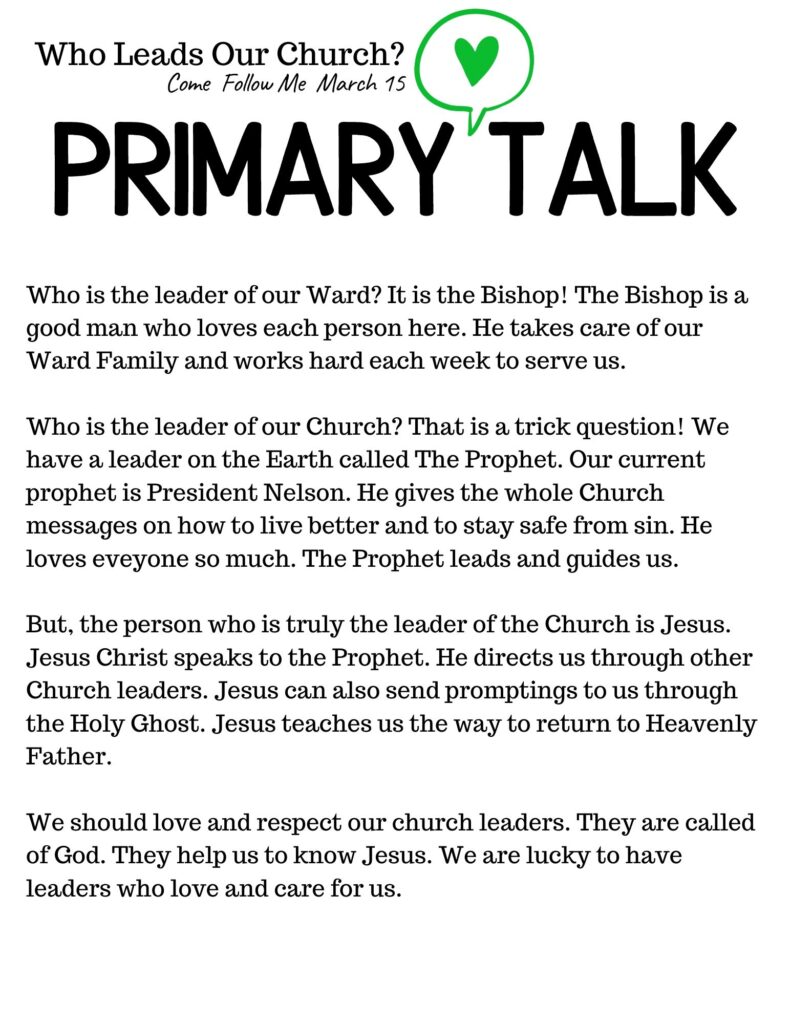 Come Follow Me Primary Talk: Missionaries Serve In Many Ways – March 22nd
We pray to Jesus and Heavenly Father for help when we need it. They love us so much and want to protect us and keep us safe. Sometimes, they rely on us to do their work because they are in Heaven and not on Earth.
One of the main reasons God calls missionaries is for service. There are over 65,000 missionaries serving across the world. The missionaries preach the Gospel of Jesus Christ. They also serve in other ways.
Missionaries help lift boxes and move furniture, give priesthood blessings, rake leaves, pull weeds, volunteer at hospitals, teach children how to read and do math, cook meals for the sick, and play soccer and basketball games with people who need a friend.
When people serve a mission, they are serving God and doing His work on the Earth. I hope that I can be a full time missionary someday! Until then, I can listen to the Spirit and do my best to serve my family and friends.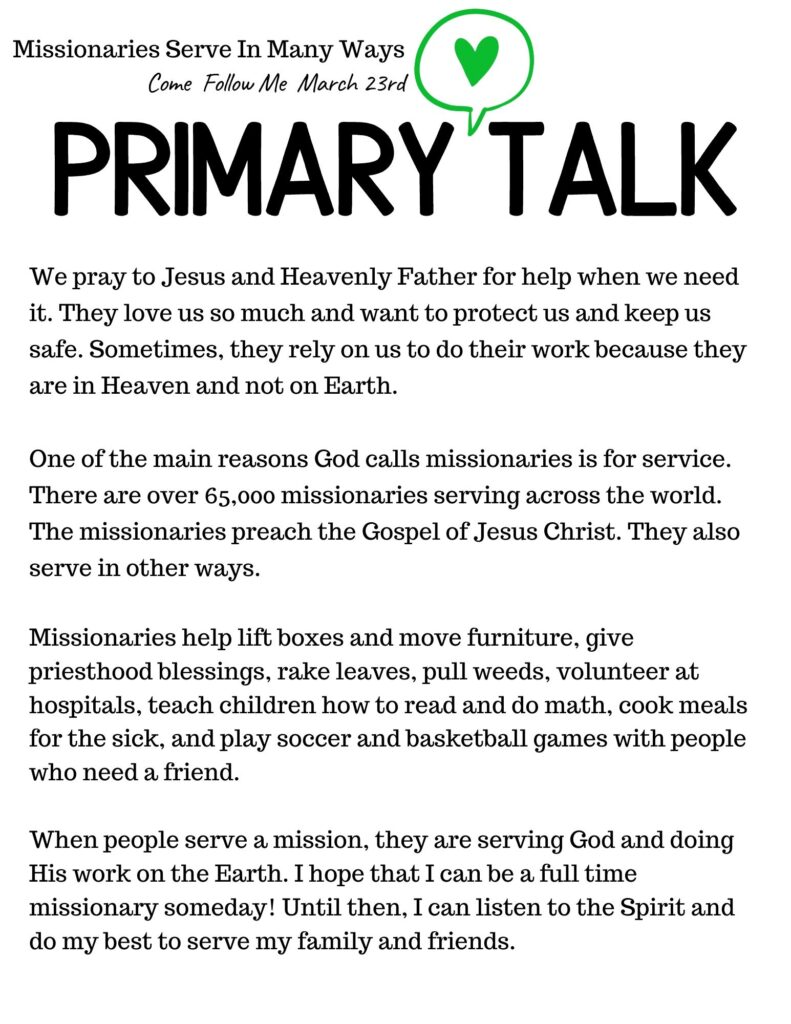 Children's Primary Talk: God Hears Our Prayers – March 29th
One of my favorite primary songs is called, A Child's Prayer. The words to this song teach me that Heavenly Father does hear and answer my prayers.
I like to imagine that God is like my Dad. My dad loves me very much. He is busy working hard and taking care of my family. But, he always takes time to listen when I need to talk. He makes me feel better when I am sad or hurt. My dad knows my favorite foods and he makes me laugh. I feel good when I am with him.
Heavenly Father is the same way! He knows each of us. He understands when we are feeling sad and knows how to best take care of our needs. When we talk to Him, through prayer, He listens. He answers our prayers in the best way possible. We need to have faith and trust Him.
I hope you feel close to Heaven when you pray. I am grateful for prayer and for the Holy Ghost who helps me to feel Heavenly Father's love.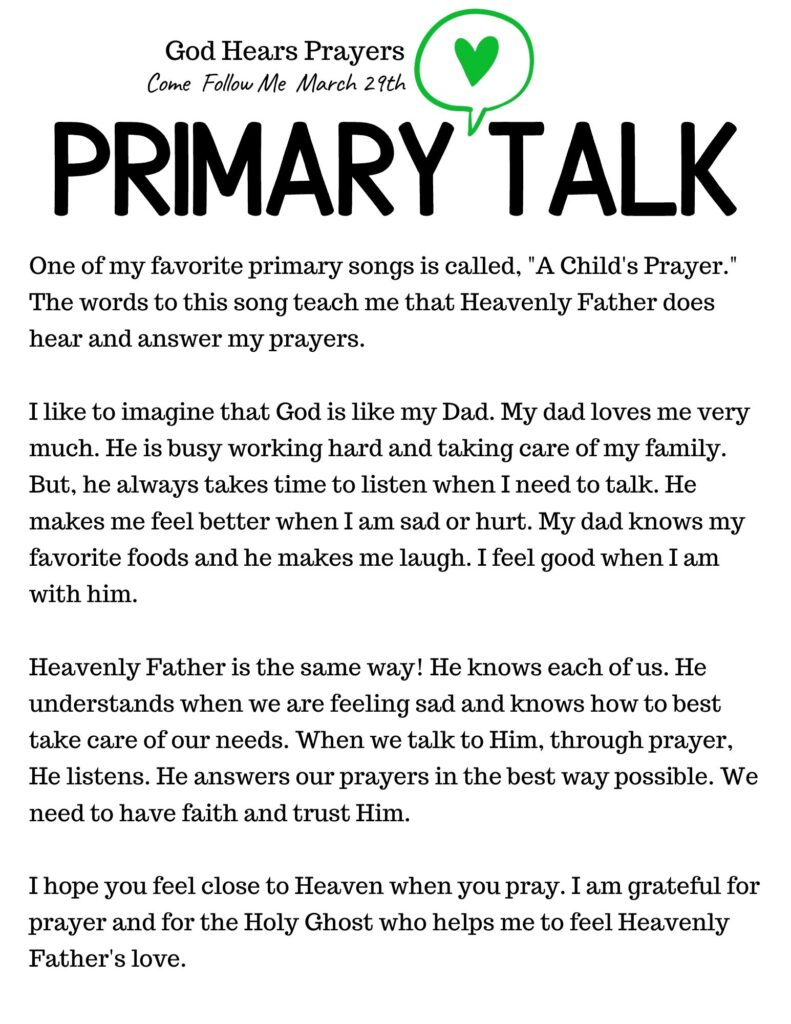 Be sure to come back each month for new Primary Talks for Children content and messages. Thanks!
If you loved these printable Primary talks for March 2020, check out:
Pin this image to save these Come Follow Me printable Primary talks: