The Youth Theme for the Church of Jesus Christ of Latter-day Saints this year is 'I Will Go and Do.' This handout for the 2020 youth theme is so perfect for the theme! The youth, whether they are in Primary, Young Men's or Young Women's will love it. This fun treat is a mini set of chocolate scriptures with the youth theme "Go And Do" printed on the pages.
1 Nephi 3:7 "And it came to pass that I, Nephi, said unto my father: I will go and do the things which the Lord hath commanded, for I know that the Lord giveth no commandments unto the children of men, save he shall prepare a way for them that they may accomplish the thing which he commandeth them."
I love the Church of Jesus Christ of Latter-day Saint's Youth Theme for the year! It is a scripture that every seminary student knows by heart! Nephi is one of my favorite Book of Mormon heroes. He is such a good example of living by faith and trusting in the Lord. His testimony is so sure and strong. I love reading about his trials and how he takes action to overcome them! He is such a great example of someone who is brave enough to "go and do." I hope this theme is something that all of the youth (and their parents!) will take to heart.
I Will Go and Do ~ Handout for 2020 Youth Theme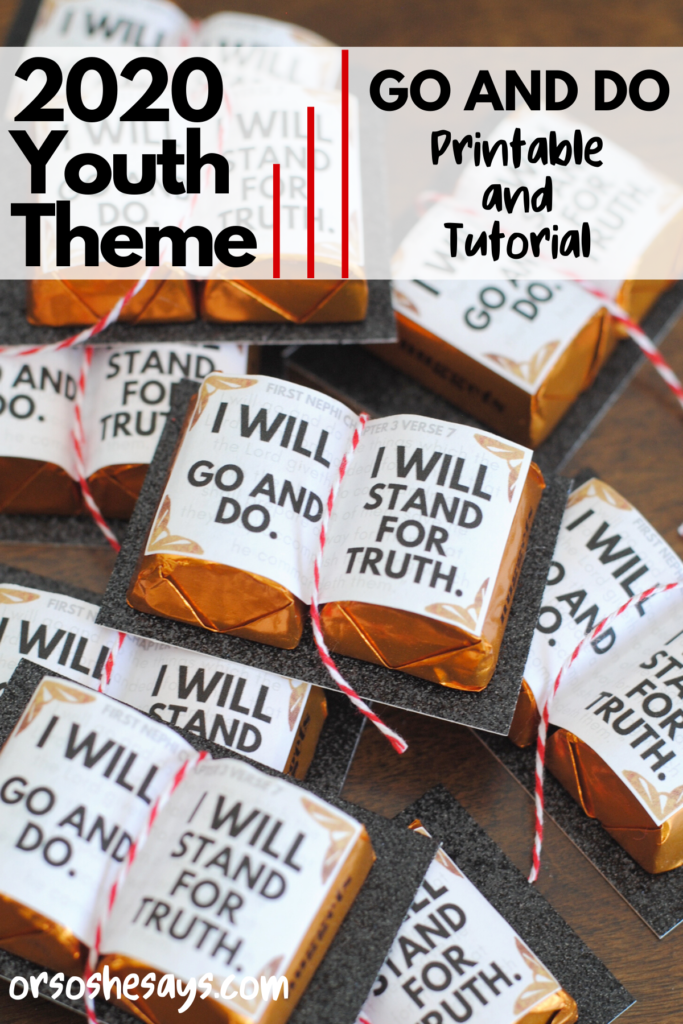 We need strong youth leaders who aren't afraid to stand up for what is right and who do something to make the world a better place. This cute little 2020 Youth Theme Scripture Handout is a fun way to send Nephi's message home with your class! Use little chocolate treasures and our Go and Do printable to make a fun treat everyone will love. As a bonus, it's super easy to make!!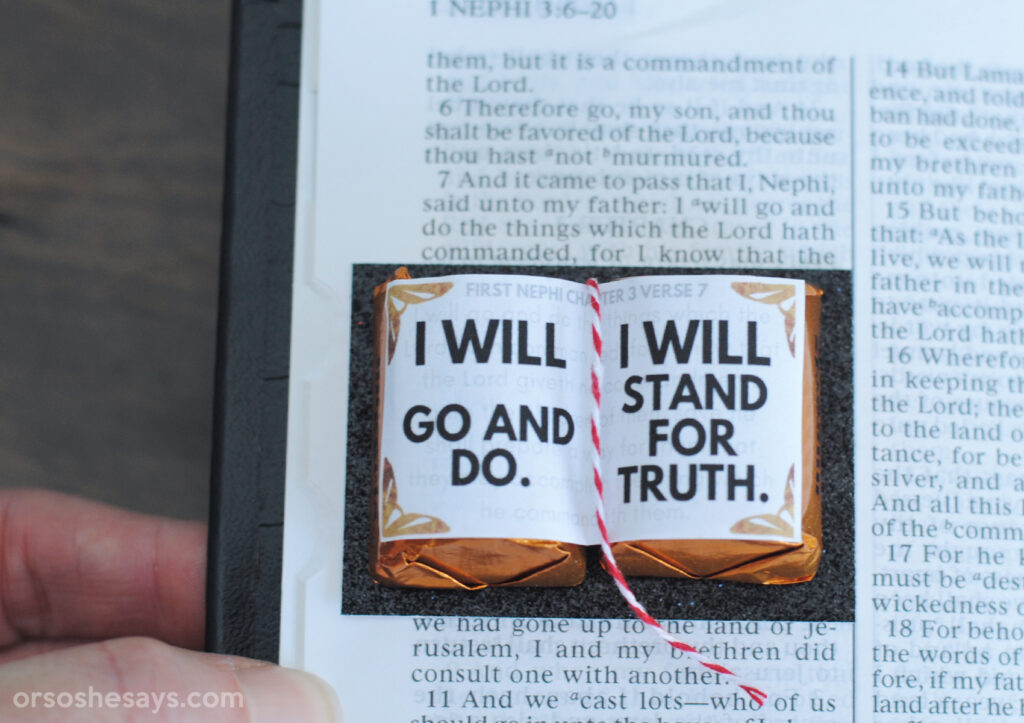 Supplies for the 'I Will Go and Do' Handout:
You will need a few supplies to get started:
Bag of Hershey's Nuggets Toffee and Almond chocolates,
One paper sheet of black sparkle cardstock
Go and Do printable
Red and white bakers twine
Scissors or a straight edge slicer
Tape
Hot glue
Glue stick.
Download the I Will Go and Do Printable
To start, download the free 2020 Youth Theme Scripture Handout 'I Will Go and Do' printable. It is a PDF file. When you select print options, do not scale it to fit. Just print the file as it is. That way, the size will be accurate! I used regular printer paper and color ink.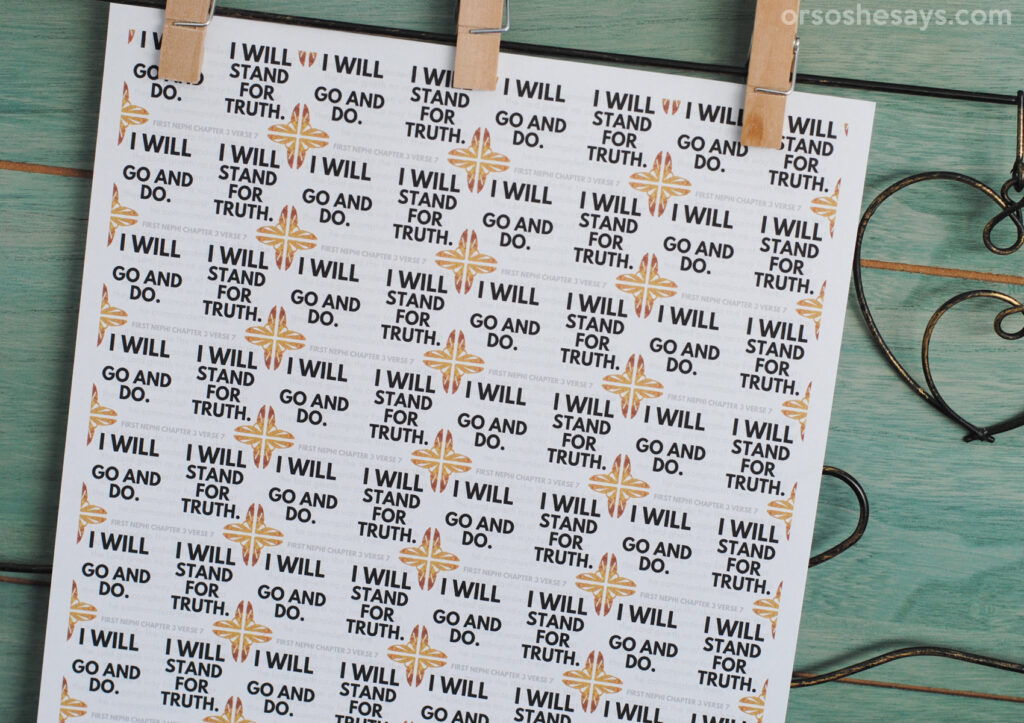 How to Put Together the I Will Go and Do Scripture Treat
Use a straight edge slicer to cut each individual tag out. There are four tags per line. You have to be pretty careful to keep the lines straight. But, its not too bad! I arranged the template so the tags were close together. This format requires the least amount of cuts possible! Yay!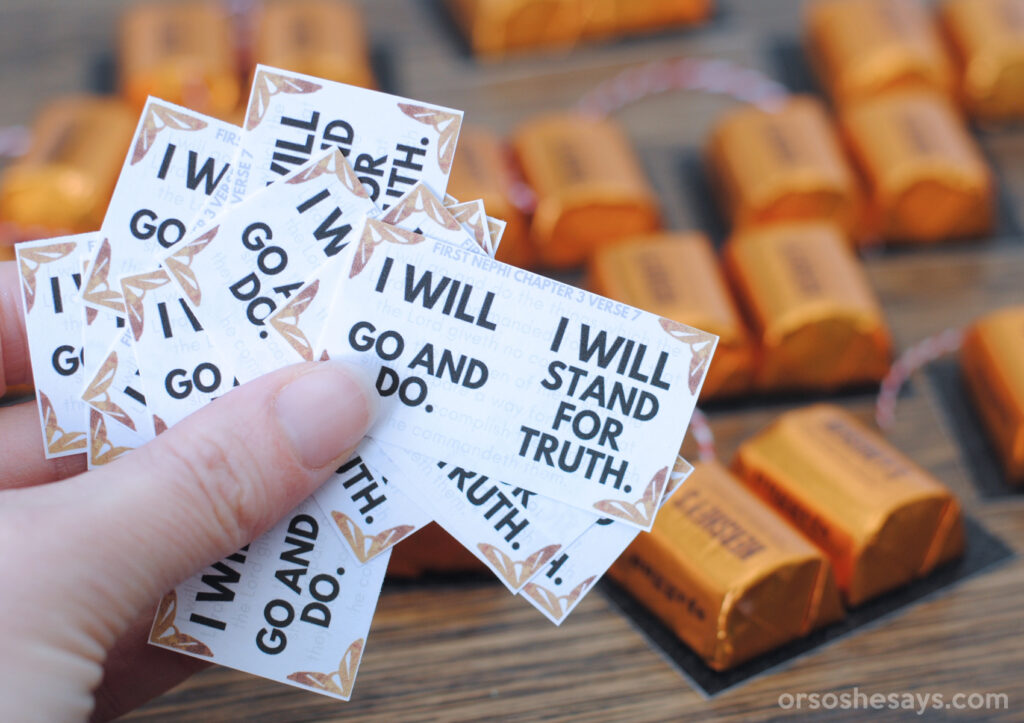 Then, cut out black rectangles. You need one rectangle per set of scriptures. The rectangles should measure to be 2.3 inches x 1.5 inches. The cardstock needs to be bigger than the size of two Hershey's Treasures sitting side by side.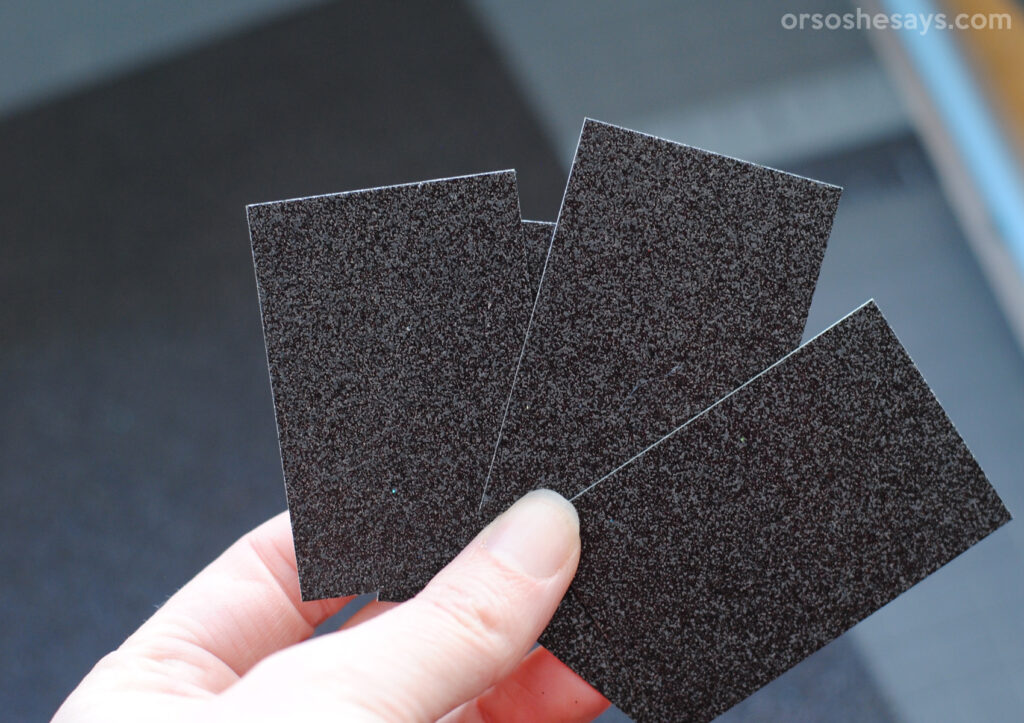 The final "prep" step is to cut lengths of red and white bakers twine. I didn't measure them out very carefully. The twine should be about 3 inches long. You could substitute thin red ribbon for this step if you don't have twine.
Now, it's time to start building! Open the bag of Hershey's Nuggets chocolate. I picked the Extra Creamy Milk Chocolate with Almonds and Toffee chips. The flavor happens to be my favorite! But, I actually picked this bag because the foil wrapping is the best color of gold for scriptures! It makes the 2020 Youth Theme Scripture handout look official.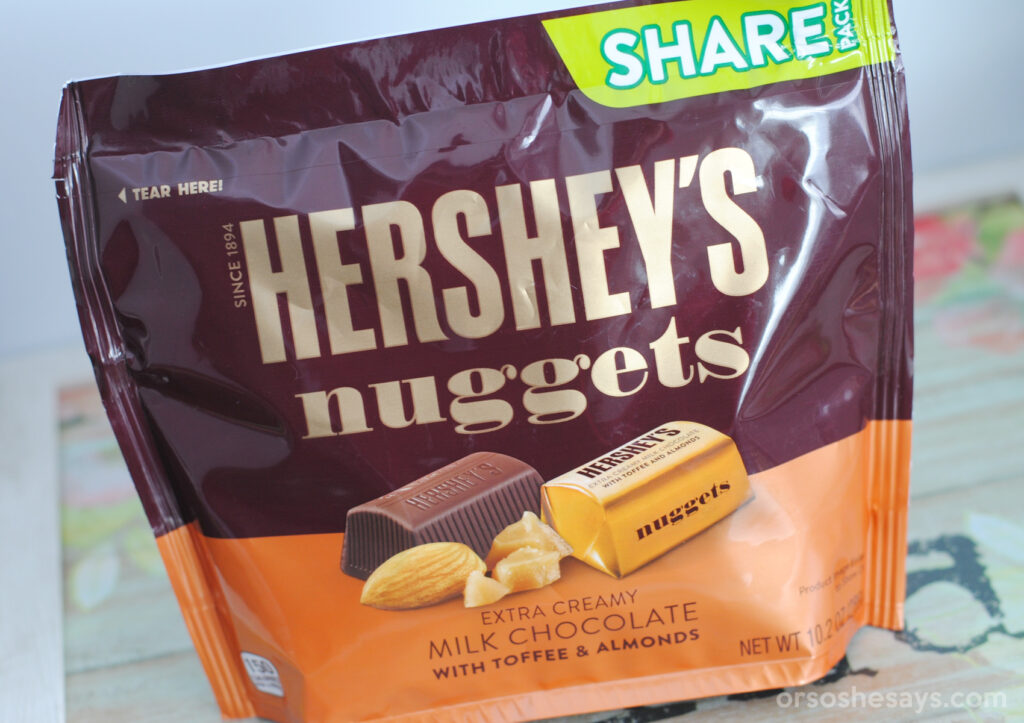 Tape a piece of string onto the center of the black cardstock. I used black sparkle tape because it is cute and I had some in my craft drawer. You can use regular scotch tape if you want.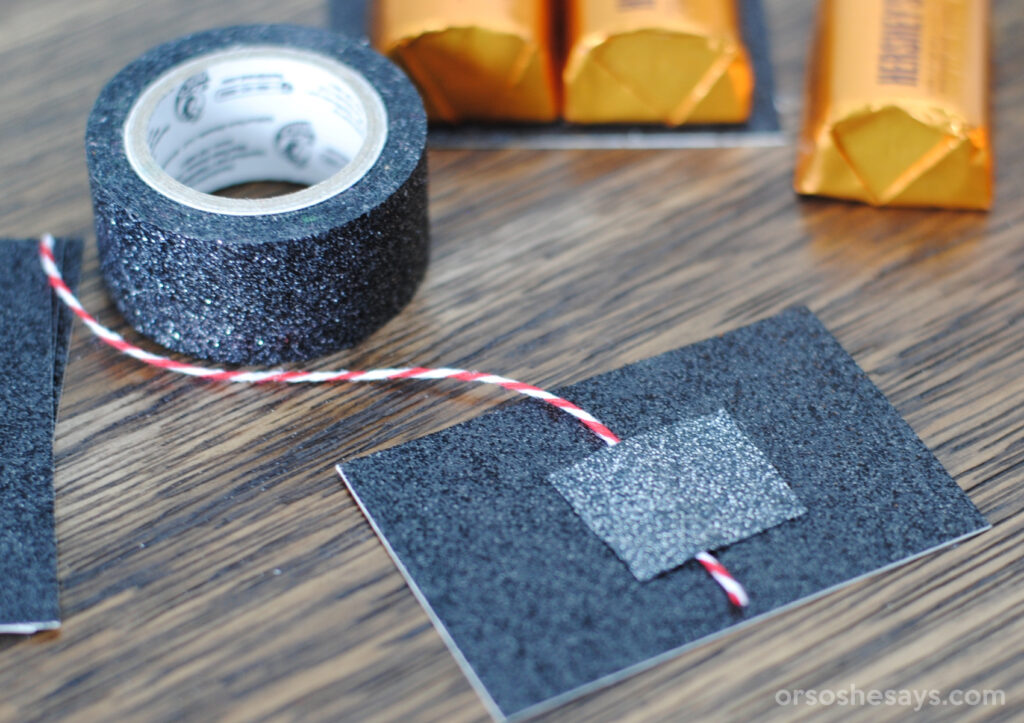 Next, squeeze a bit of hot glue to the bottom of the chocolate foil.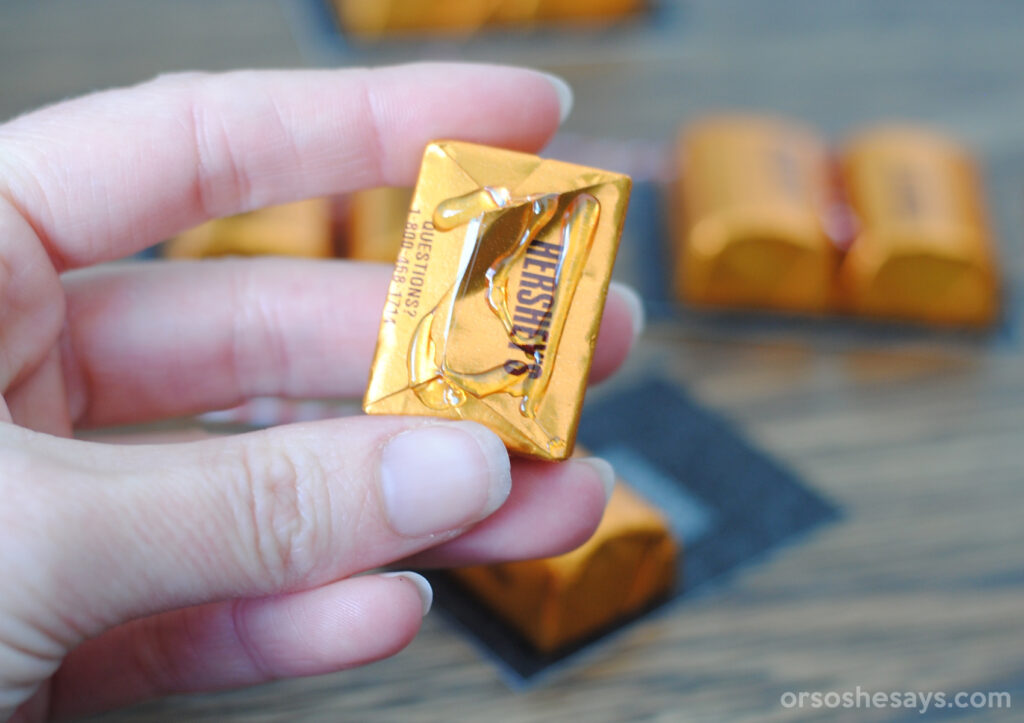 Then, place one nugget on the left side of the string and one nugget on the right side of the string. Press them into place so they firmly attach to the cardstock base.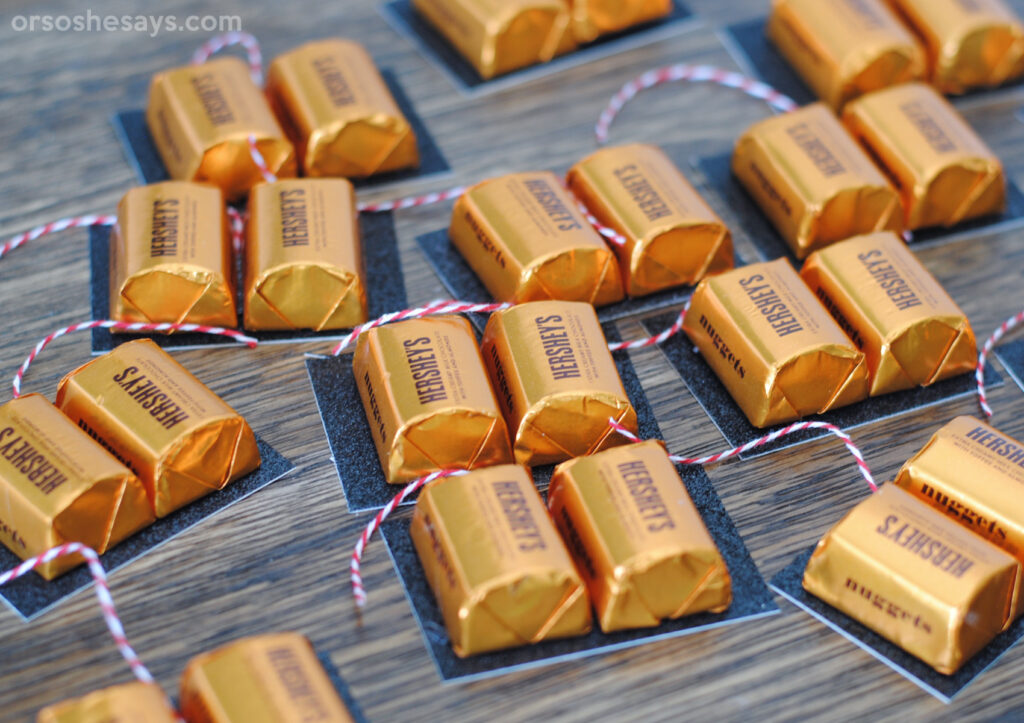 Then, fold the little Go and Do printable card in half so the words collapse in to face each other. Make a crease. Unfold the tag and cover the back of the paper with glue from a glue stick.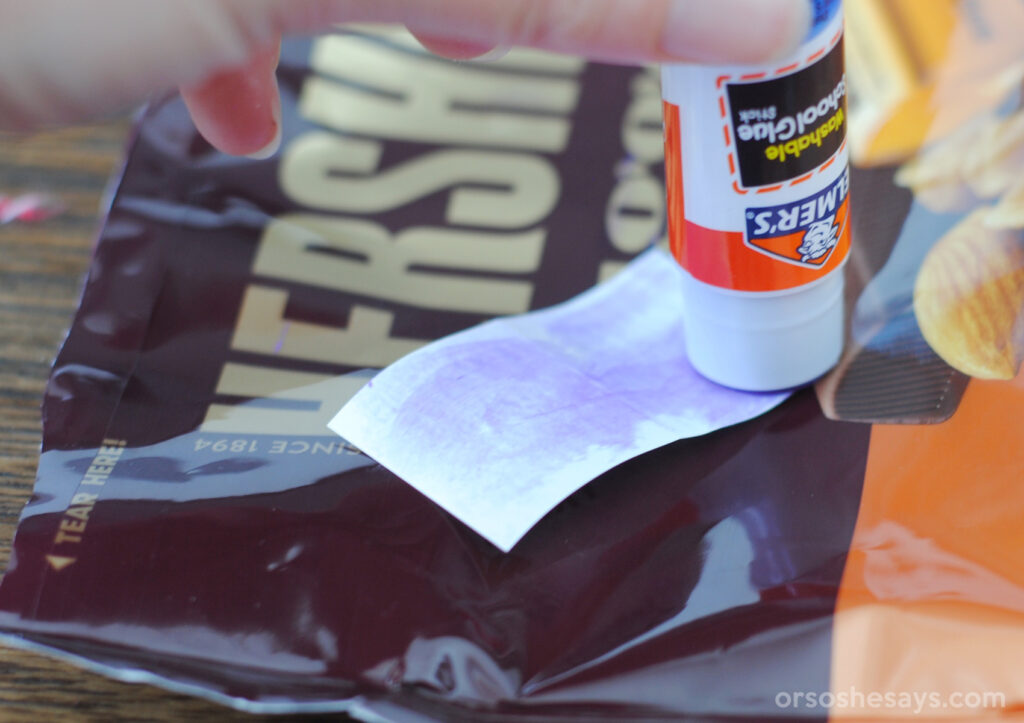 Slide the creased edge into the center of the two Hershey's Nuggets. Then, press the pages to stick to the chocolate. Work from the center to the outside edge. Make sure that the paper is attached smoothly to the chocolate.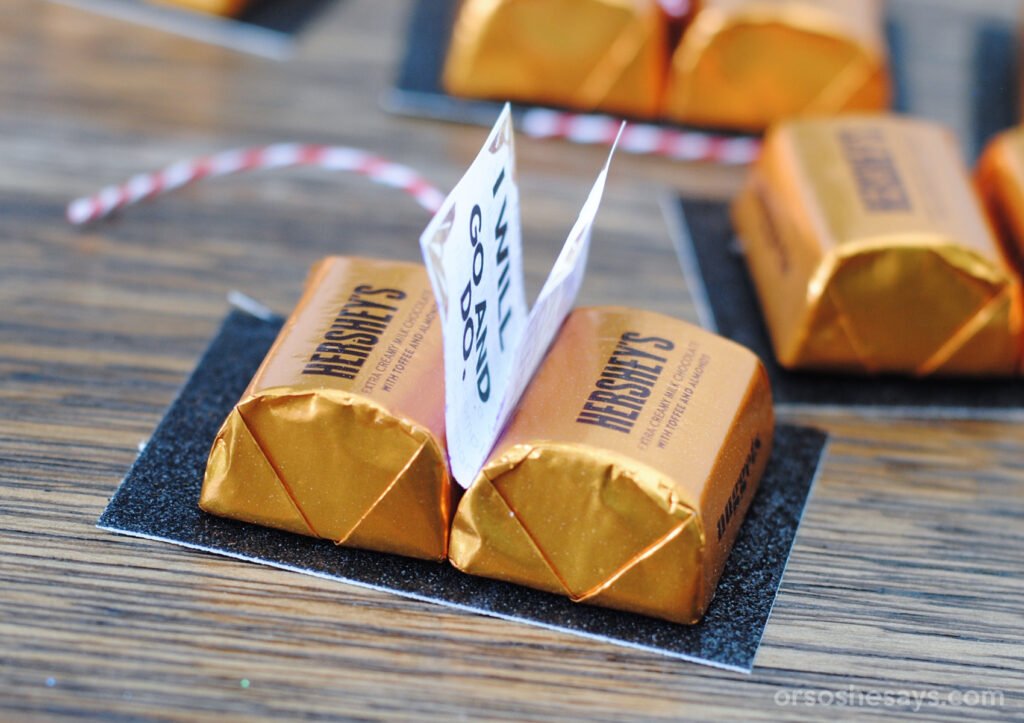 Pull the little string forward so it wraps down the front of the little scriptures like a bookmark. And just like that….your cute and tasty 2020 Youth Theme Scripture Handout is complete.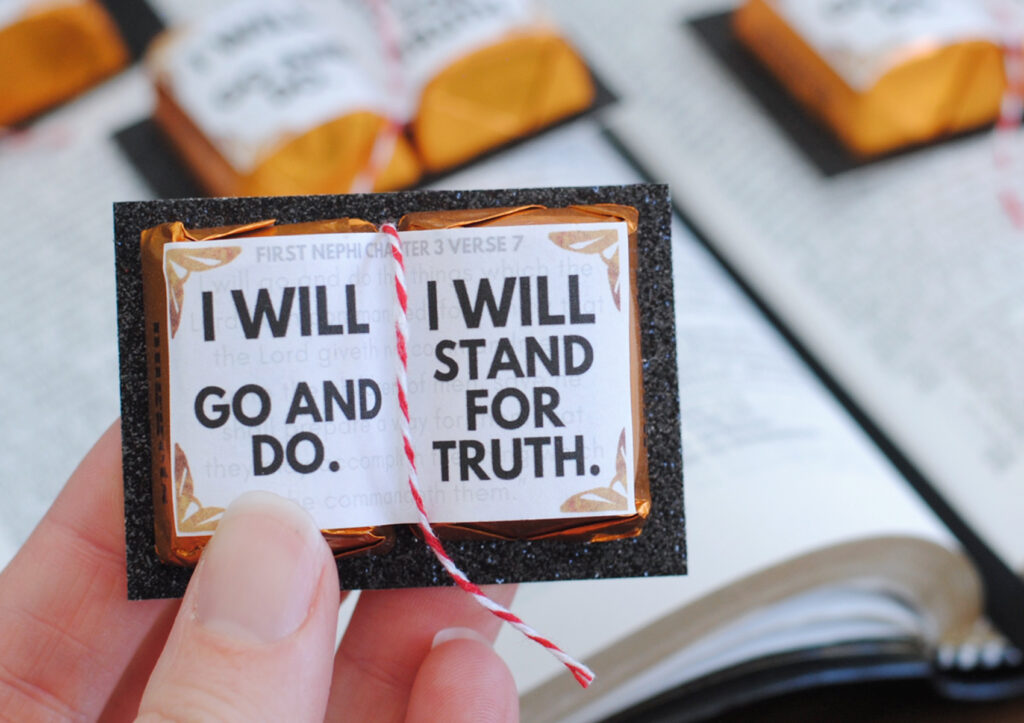 Isn't it cute? My kids came home from school and were so excited to find their own little scriptures waiting for them today. I told them they could eat the treat after they had read a chapter in the Book of Mormon. Do you want to guess how long it took them to crack open their books?! They chose to quickly Go and Do!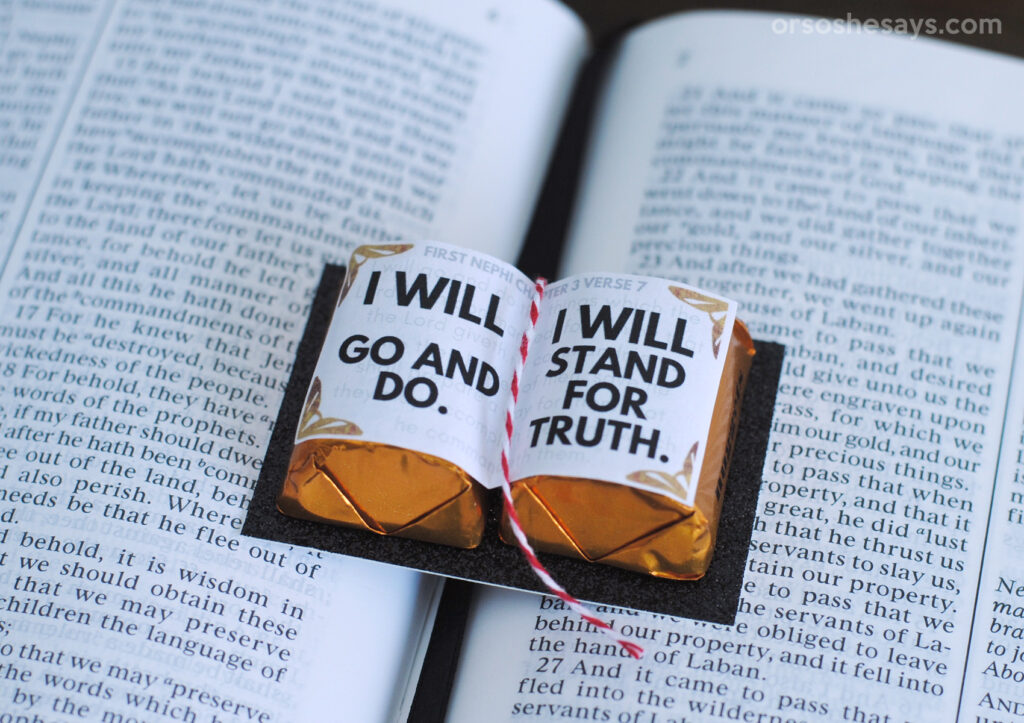 I hope that you enjoy studying the Book of Mormon this year as part of the Come Follow Me curriculum. There are so many great lessons and inspirational examples of people who learn the Lord's will and then do their best to follow the direction of the Spirit. Also! If you haven't heard the I Will Go and Do theme song, "Go and Do" from David Archuleta, take a listen to it here on YouTube. It is beautiful.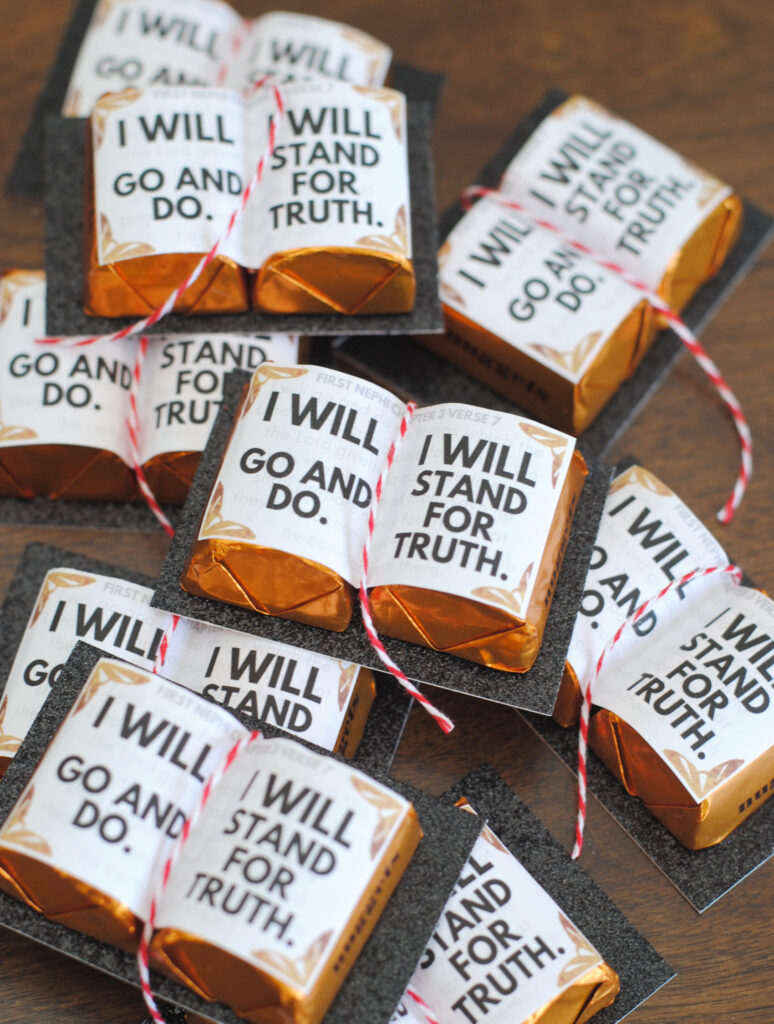 If You Liked This 2020 Youth Theme Handout, Check Out: