Hi again… it's Ruthie from Whats Cooking with Ruthie and I'm so glad to be here again to share another fabulous recipe with you!
I just started back to College last week- yes, I know that's pretty brave, but I love it so far and I'm really looking forward to starting Culinary School this fall 🙂
Anyways… with a hectic schedule comes the need for some good tasting Crock Pot meals that are ready when we all walk in the door….
Which brings us to this quick and easy Slow Cooker Ranch Pork Chops and Potatoes recipe.
It's perfect for those hectic days…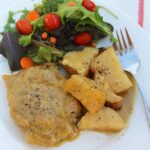 Slow Cooker Ranch Pork Chops and Potatoes
Here are a couple of other recipe you may also enjoy:
I love visiting to share recipes with you each month… thanks so much for having me!
I'd love to have you stop by to visit or connect with me on Facebook, Twitter, and Pinterest!
Happy Cooking!