Disneyland is always changing and there's always new magic to discover! Read Kimberly's updated list of things to do at Disneyland when it's PACKED!
Hey Everyone, it's Kimberly from Packed with Fun, the official blog for Get Away Today. I've lost count of how many Disney themed articles I've posted here on Or So She Says, and one of the most popular of all was Top 20 Things To Do at Disneyland When It's Crowded. But, that was in 2014. And things have changed SO MUCH since then. I'm excited today to share a new version with 20 Things to Do at Disneyland When it's Packed: Updated for 2016. Luckily, a few of my favorite things have stuck around, so you may see a few repeats. Keep in mind that Disneyland is ALWAYS changing, so just because something is offered now, doesn't mean it will always be around. Honestly, I think it's part of the fun and why I like to go to Disneyland so often. I never have the same vacation twice!
So, for anyone going to Disneyland in the near future, here is my top 20 CURRENT list of things to do at Disneyland when it's crowded: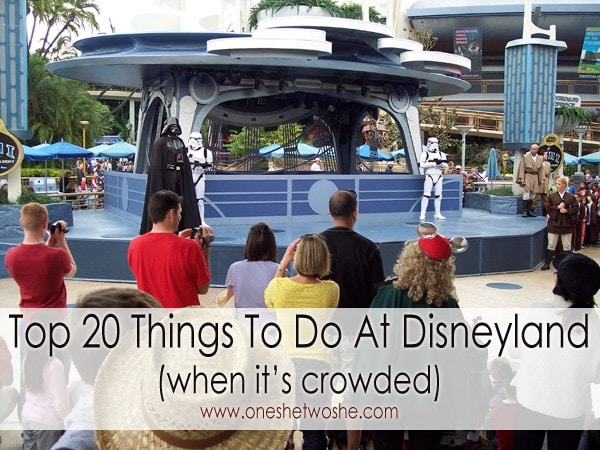 Get a Dole pineapple whip located just outside of the Tiki Room. If you're there during a busy time, the line for these tropical treats can get long. Instead of wrapping around into Adventureland, go into the waiting area for the Tiki Room and order from the counter on the inside. Then, when you've got your treat, head into the Tiki Room where you can eat it inside and enjoy the show.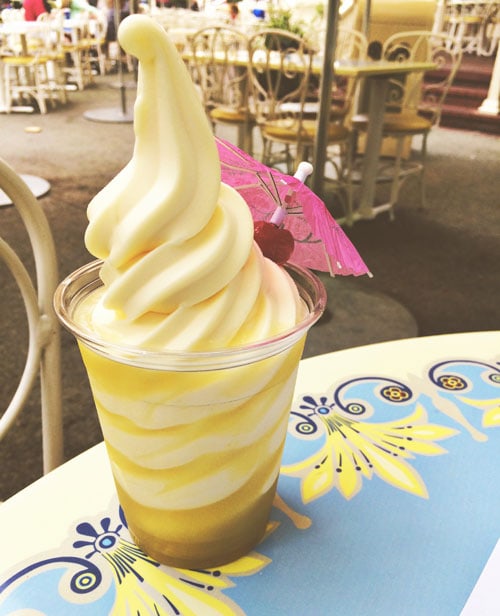 Race over to Cars Land first thing in the morning and grab a FASTPASS for Radiator Springs Racers. Since opening, Radiator Springs Racers has been one of the most popular attractions and FASTPASS tickets can run out by late morning. Lines later in the day can stretch into hours, so if you weren't able to grab a FASTPASS, you can also try out the Single Rider line.
Get a FASTPASS for Hyperspace Mountain. Over in Disneyland, one of the hottest FASTPASS attractions is currently Hyperspace Mountain, which is the Star Wars version of the classic attraction. It's part of the limited time Star Wars Season of the Force inside Tomorrowland. You'll want to get a FASTPASS first thing before they're gone. And speaking of gone, during HalloweenTime it transforms into Space Mountain: Ghost Galaxy, so you'll want to see it soon. Also, we don't know if this will return after HalloweenTime, but truthfully, each of the Space Mountain versions are pretty spectacular and deserve using a FASTPASS.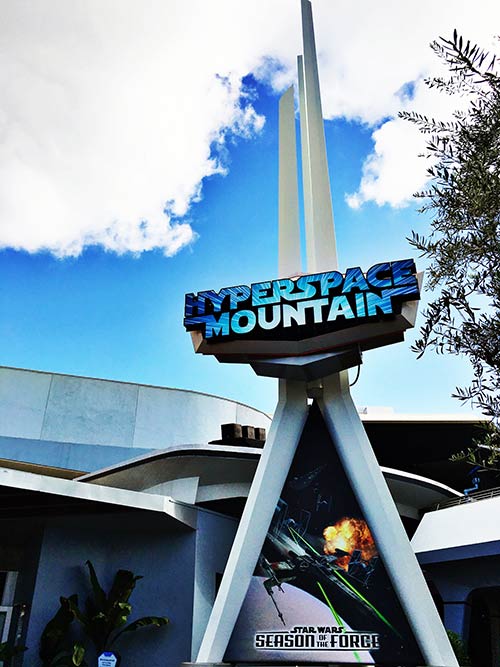 Frozen – LIVE at the Hyperion is replacing Aladdin which closed earlier this year. The show is opening May 27th, just in time for the busy season. Like its predecessor, this show will be a full Broadway caliber production. The theater holds almost 2,000 guests at a time, so you're likely to always get a seat; even when Disney California Adventure Park is packed. I can't wait to see it!
Take advantage of longer attractions (6-15 minutes long) with quickly moving lines. Some of my favorites include it's a small world, Pirates of the Caribbean, Haunted Mansion and Little Mermaid ~ Ariel's Undersea Adventure. This is a good idea with small kids (or impatient adults) whether it's busy or not!

Get there EARLY. I'm not normally a morning person, but I turn into one at Disneyland because it's the best way to beat the crowds. Each 3-day and longer ticket comes with one Magic Morning early entry good for Disneyland. Be sure to check the days it's available during your trip and use it. Also, get to the parks at least 30 minutes before they open each day. You can get into either Main Street U.S.A. or Buena Vista Street before the rest of each park opens and it's a great way to get a head start on your favorite attractions.
Book a Character Dining lunch. Disney Character Dining is the best way to see your favorite characters and not wait in any lines, because the characters come to you while you're eating. Many Character Dining options are available for breakfast only, but both Ariel's Grotto and Goofy's Kitchen offer meals a little later in the day. Because mornings are normally the least crowded times in the parks, you'll make the most out of your time by hitting rides in the morning and taking a Character break during mid-day. Goofy's Kitchen normally offers "brunch" with plenty of lunch options until around 2pm during busier times and Ariel's Grotto serves "lunch" until around 4pm, so you could even make it an early dinner. Reservations can be made up to 60 days in advance, and they do fill up, so I recommend making a reservation as soon as possible.
Get a Paint the Night Dining Package at the Blue Bayou – and request a table by the water. Located inside Pirates of the Caribbean, you'll extend your buccaneering experience by eating here. It's an experience in and of itself. Also, since people have been lining up hours before the Paint the Night Parade begins, you can reserve a coveted spot for the parade on Main Street U.S.A. without camping out all afternoon! You can make reservations for the Paint the Night dining package the Blue Bayou 60 days in advance, so book early to get the best times. Dining packages are $62 per adult and $25 per child ages 3-9, and include a delicious three course prix fixe menu. Once you've paid for your meal, you'll get a ticket with your time and location for the night's parade.
Watch the Jedi Training Academy: Trials of the Temple which takes place throughout the day in Tomorrowland. The busier the day, the more shows get added to the line up. Kids ages 4-12 can register each morning to participate as Jedi Knights in each show. These spots get filled early and are not available as part of the Magic Morning hour, so you'll want to head there right when the park opens if your padawan wants to participate.
I can't stress this enough… grab FASTPASSES as often as possible and use them! Some of the best rides for FASTPASS tickets are Radiator Springs Racers, Space Mountain, Splash Mountain, Soarin' Over California – which will soon be Soarin' Around the World, Indiana Jones and Tower of Terror. Also, pay close attention to your FASTPASS tickets. You can get your next FASTPASS ticket after your current FASTPASS is available to use, OR two hours after it was issued, whichever comes first. This is good news during busy times that have return times for hours later.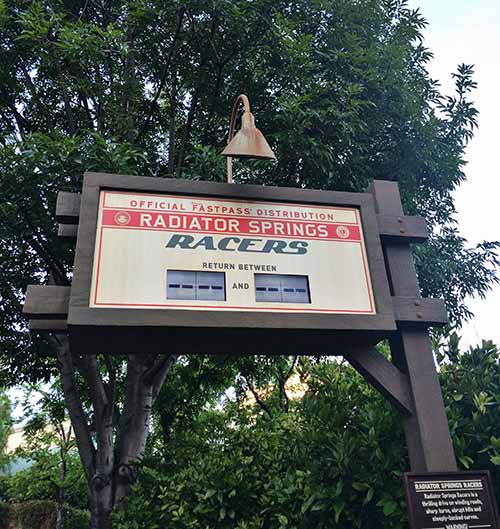 Head over to the It's Tough to Be a Bug theater in "a bug's land." It normally houses an eight minute long 3D show, but occasionally will have special extended previews of the latest Disney movies. It recently held special previews of the live Cinderella, Zootopia, and is currently showing an extended preview of the new live The Jungle Book that is coming out in a couple of weeks. The theater holds a lot of people, and it's a great place to get out of the summer heat.
Take in the ambiance and entertainment of Buena Vista Street. This bustling area of Disney California Adventure Park almost always has a show taking place. Grab a park schedule while you're there and be sure to watch the Five and Dime Performers and the Red Car Trolley News Boys.
Watch Path of the Jedi in the Tomorrowland Theater. This is a limited time compilation of the entire current Star Wars film saga that takes about 15 minutes. It's presented in 4D and a film that everyone from the Star Wars newbie to super fan will appreciate.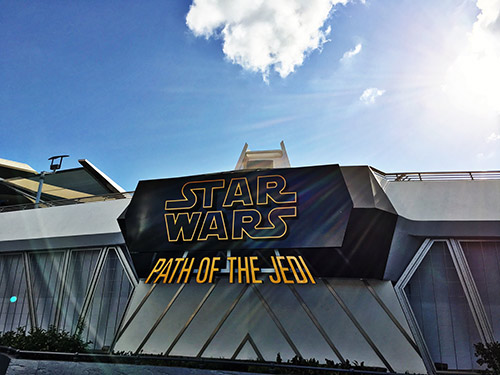 Explore the nooks and crannies of Main Street U.S.A., which is home to some incredible pieces of history including the park bench that Walt Disney sat on when he was inspired to build Disneyland.
World of Color is a must-see nighttime spectacular and you will need a ticket. If you visit during the Diamond Celebration, you'll get to see World of Color – Celebrate!, and if you visit during the holidays, you'll get to see World of Color – Winter Dreams. All of the versions of the show are incredible. During busy times there are up to three shows nightly and the ticket line gets really long, really quickly. Although free, tickets have been known to "sell out" by 10am. Instead of waiting in line, you can make a reservation for a World of Color lunch or dinner at the Wine and Country Trattoria or a dinner reservation at the Carthay Circle Restaurant or Ariel's Grotto. Special prix-fixe menus come with a premier viewing ticket for the show. Then, get to your assigned section as early as possible. Another option to watch the show with an actual seat (all other viewing is standing room only) is the new dessert package. Because it's the most premium viewing experience, packages are approximately $80 per person.
Watch Mickey and the Magical Map. If your kids are dying to see Mickey, this is a great way to get up close in this outdoor theater tucked away in Fantasyland. The show lasts about 30 minutes and is full of exciting singing, dancing and Disney magic.
Visit the Disney Animation building. You can spend some serious time here, and a lot of people tend to pass by this amazing area without realizing what's inside. Here you'll find interactive areas in the Sorcerer's Workshop including the Beast's Library, Ursula's Grotto and the Magic Mirror Realm. You can take a drawing workshop from an actual Disney animator. Keep your masterpiece as a free souvenir! There's also a royal meet – n – greet with Anna and Elsa. You can get a FASTPASS for the experience during busier travel times.
Although located inside the Disney Animation building, Turtle Talk with Crush is worth mentioning on its own. This 10-12 minute interactive show is based on audience participation and is never the same twice. Normally not too crowded, this is definitely worth a visit during your Disney vacation.
Search for hidden Mickeys; they are everywhere! Imagineers regularly hide the likeness of Mickey throughout the parks. Your family can turn spotting these hidden images into a game.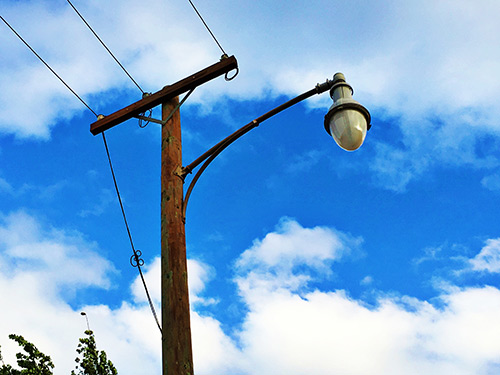 Hang out in Cars Land. This is my favorite land because it is completely immersive and you really feel like you're in Radiator Springs. Flo's V8 Cafe serves delicious food, plays fun music from the 50s, and has great views of the red rocks. It's the best. You can stick around Cars Land at dusk each night and there is an unofficial lighting ceremony of the neon lights. It's not advertised and there's no set time, so as long as you're in the area when night falls, you'll catch the show.
Watch Paint the Night and the following Disneyland Forever fireworks from another point of view. If you want to watch the parade again (and you probably will), hang out towards "it's a small world" around showtime. You'll have a different, and more importantly, less crowded perspective without the long wait. Plus, Disneyland Forever uses projections which change slightly depending on where you're watching them.
Most of all, I hope you remember to soak in the magic and enjoy making memories with your family. You are at the Happiest Place on Earth after all! Some other things that I recommend are staying as long as possible so you don't feel like you have to cram everything into a couple of days and staying at a Disneyland Resort Hotel if it will fit in your budget. If you stay at a Disney hotel, you get extra perks like early entry into Disneyland or Disney California Adventure Park each day of your stay, an exclusive entrance into Disney California Adventure Park, and so much more. Plus, if you are traveling with kids who need to nap, it is so nice to be close enough to walk back during the heat of the day without taking too much time. It is so worth it!
Let Get Away Today know when you are ready to book your Disneyland vacation; we'd love to help! You can use promo code: OSSS10 and save an extra $10 off any 2-night or longer package when you book online at getawaytoday.com or call 855-GET-AWAY.
For more Disney fun, check out these posts:
What to Pack and What NOT to Pack for Your Disneyland Vacation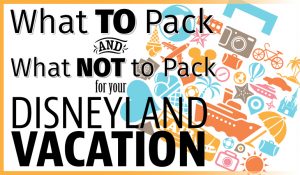 10 Reasons to Book Your Disneyland Vacation with a Travel Agent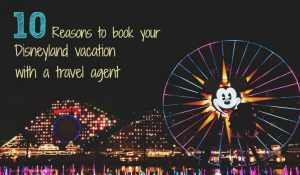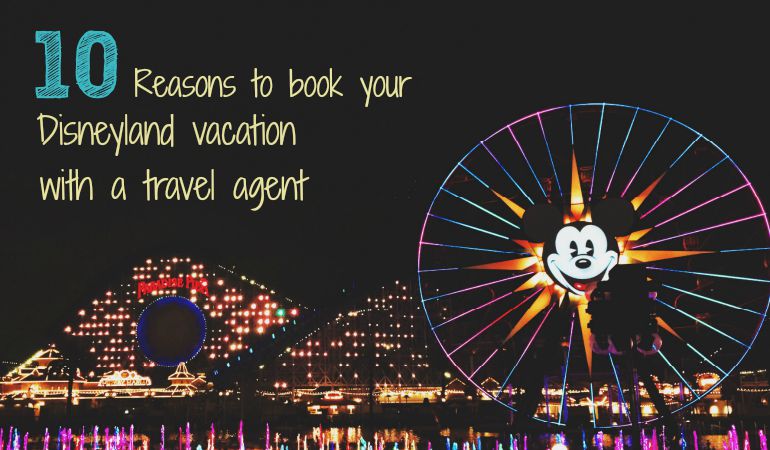 Mickey Mouse Ice Cream Bars – Make Your Own!