Hey Everyone, it's Kimberly from Packed With Fun, the official blog for Get Away Today. Right now we are in the midst of my favorite time of year to visit the Disneyland Resort: Halloween Time. Which is actually kind of funny, because Halloween is totally not my favorite holiday. But, Halloween Time at the Disneyland Resort is so festive and such a celebration of fall that I can't resist. One of the questions all of our employees at Get Away Today are regularly asked is when is the "best" time to go to Disneyland. The answer is it completely depends on what you want out of your Disneyland vacation. So, to make things a little bit easier, I put together When to Go to Disneyland: A Month by Month Guide. I hope it helps with your Disneyland vacation planning!
P.S. These are real Get Away Today guests with their vacation photos from throughout the calendar – maybe you'll recognize someone!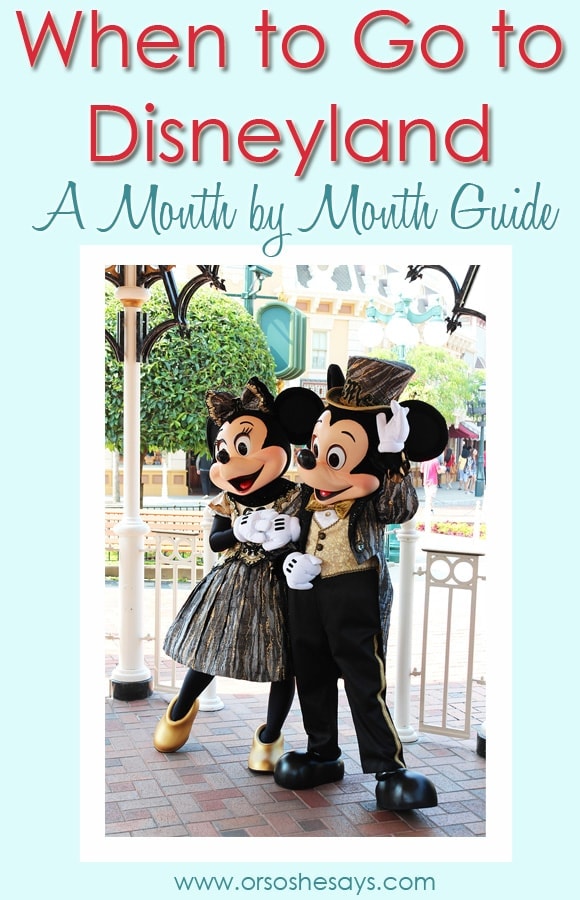 When to Go to Disneyland:
January: This is a great time to visit the Disneyland Resort if you want to avoid crowds and prefer cooler weather. As an added bonus, if you travel during the first week of the month, you'll get to experience the last week of Holidays at the Disneyland Resort. (More on this later.) It can really help with the post-holiday blues. Another huge plus to visiting in January is it is considered non-peak travel time, which means lots of good travel deals. As an FYI, there is a big convention that is normally scheduled for the 3rd or 4th week in January that you may want to plan around to avoid crowds.
February: Like January, February is a little bit cooler, is not peak season (vacation deals!) and has fewer crowds. Plus, there are small celebrations for Valentine's Day and Mardi Gras which make it even more fun. There are a couple of smaller holiday weekends, but the crowds still stay pretty low for travel.
March: Spring breaks begin for many school districts in March, which can mean a few more crowds. However, this way you don't have to take your kids out of school and Disneyland extends their hours based on occupancy levels, so you have more time to enjoy all that there is to offer. Another advantage to traveling in March is that although some Spring Breaks are taking place, many area hotels don't consider it peak season. That means if you book early, you can still find great deals for your hotel, like our 3rd, 4th or 5th night free specials.
April: Spring breaks continue through April, so you're looking at larger crowds, but longer park hours. If you travel over Easter weekend, there are normally small celebrations and a special Easter Dinner is available at both Goofy's Kitchen and Napa Rose. The dinners sell out quickly, so you'll want to make your reservation 60 days in advance.
May: With kids hitting the books before school ends, May is a great time to visit Disneyland if you have kids who aren't in school or if you don't have any kids at all! The weather is warming up, but is still very comfortable and crowd levels are typically low. Memorial Day weekend is normally a little busier, but not too bad. There's also a small celebration for Cinco de Mayo if you're traveling over the 5th.
June: Summer begins and vacation season officially kicks off! If you're able to get away during the first week of June, you may find yourself beating the crowds as many schools get out in early to mid-June. By mid month you can expect longer hours (both morning and night), warmer weather, additional showtimes and extra entertainment. There is always a summer celebration with extra events. 2015 is Disneyland's 60th Anniversary, so expect big things for the Diamond Anniversary Celebration! Also, just as a general FYI, don't let crowds scare you away. By using the FASTPASS system and following our 15 tips on how to avoid wait times, you may not even notice the extra folks! Or, check out our previous article here: 20 Things to Do at Disneyland When It's Busy
July: By July summer is in full swing and it is tons of fun! World of Color plays up to three shows nightly (depending on crowds), Fantasmic! plays up to twice per night, and fireworks light up the summer skies throughout the month of July. When you travel during other months, the Fireworks and Fanstasmic! normally only play on the weekends, so this is a big deal. Also, expect a special patriotic fireworks show if you're visiting over the 4th – and make a reservation for the Big Thunder Ranch Barbecue for a festive celebratory meal.
August: Many school districts begin the school year in mid-to-late August, so generally, the later in the month you visit, the less crowds you'll experience. If you're lucky, you'll still the extended hours and summer celebrations, but with fewer crowds. Plus, there is something about getting one last vacation in before summer ends and fall begins!
September: This is a great time to visit because it can feel like a summer vacation (depending on weather), but without summer crowds. Or, it can feel like a total fall break because Halloween Time officially begins mid-September with all of the festive decor and spooky surprises. In fact, if you are going to go to Halloween Time, September is my personal favorite time to experience it! Oh, and it's not considered peak season, so you're bound to get a great deal on your hotel and tickets – just book early!
October: Yeah, I may have mentioned this, but seriously, Halloween Time at the Disneyland Resort is the reason to visit during the month of October. Haunted Mansion Holiday, Space Mountain: Ghost Galaxy, the Pumpkin Festival on Main Street U.S.A., and so many other spooky surprises await. October also offers many opportunities to attend Mickey's Halloween Party (separate admission required) for a night in Disneyland Park, complete with trick-or-treating with the Disney Characters, access to the attractions with limited lines, and an exclusive viewing of Halloween Screams, the Halloween fireworks spectacular. Just be aware, Disneyland does close early on the nights of Mickey's Halloween Party, but California Adventure and Downtown Disney stay open a little bit later. Also, the event is very limited and sells out quickly, so if you want a ticket, you'll want to book as soon as they are available. Another bonus about going in October, most schools offer a fall break, so you don't have to pull the kids out of school.
November: Generally a slower month at the Disneyland Resort, November is a great time to visit the Resort. Holidays at the Disneyland Resort begin mid-month, which is a perfect way to get in the holiday spirit. Crowds tend to begin around Thanksgiving as travelers enjoy time with their families at the Merriest Place on Earth. Many area restaurants host special Thanksgiving feasts, but the most popular are the Thanksgiving dinners held at the Hotels of the Disneyland Resort, including the Grand Ballroom at the Disneyland Hotel, Goofy's Kitchen and more. If you're traveling earlier in the month, you'll also find some great hotel deals – sometimes even over Veterans Day if you book early!
December: There is nothing more magical than Holidays at the Disneyland Resort and no better way to celebrate the season. Sleeping Beauty's Winter Castle, Winter Dreams – World of Color (hosted by Olaf) "it's a small world holiday," A Christmas Fantasy Parade, and the "Believe… in Holiday Magic" fireworks spectacular with a magical snowfall over Main Street U.S.A. are just some of the highlights of visiting the Disneyland Resort in December. Many families choose to celebrate Christmas at the parks, so if you're planning on heading to the parks on Christmas Day (or just before or after), go early, as they have been known to reach capacity by late morning/early afternoon some years. If you want to experience the Holidays at the Disneyland Resort and avoid the holiday madness, early December is your best bet.
Photo credit: DisFanReview
So, that's my version of Disneyland month-by-month in a nutshell. What's YOUR favorite time of year to visit?
No matter when you decide to go, Get Away Today will always help you find the best deal and provide our expert tips and famous customer service. Be sure to use promo code: OSSS10 and you'll save an extra $10 on any 2-night or longer Disneyland vacation.
* Need more tips and tricks for your Disney vacation?? Be sure to check out the Disney Everything page, where we save ALL the great Disney and family vacation related blog posts, just like this one!