Primary Talks for March based on the weekly Come Follow Me Topics in the Primary Manual. These four talks are written for children to read and understand. Each talk highlights a short gospel message in a simple and relatable way. I hope these Primary Talks are a helpful resource for your family and Primary organizations!
Leaders are welcome to download the March Bundle with all four weekly talks here as a single PDF file.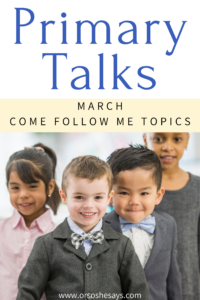 March 6th Primary Talk: Love Makes Service Easy
Do you ever complain when your mom or dad asks you do to a job? Sometimes I don't want to clean my room or put away the dishes. It feels like a burden to help out.
In the Bible, we learn about a man named Jacob. He knew the secret to making service easier. The secret is love! Jacob loved a woman named Rachel. He had to serve for 7 years before he could marry her. He did it with love!
When we find a way to love who we are serving it makes the work easier. Clean your room because you love making your mom happy! Do your homework because you love your teacher. Follow the commandments because you love God. Love makes service easy.
Download PDF: Love Makes Service Easy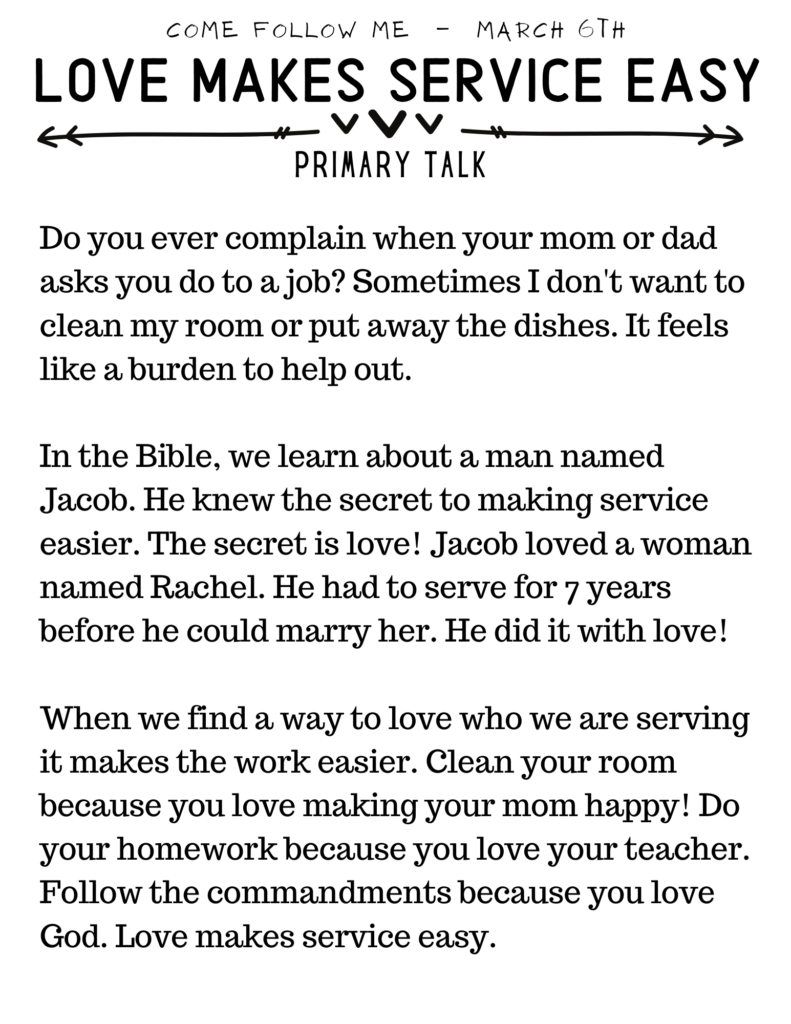 March 13th Come Follow Me Child's Talk: God Warns Us Of Danger
Listen to this list of common warnings:
Look for cars before you cross the street!
Don't burn your hand on the hot stove!
Don't eat a whole bag of spicy Takis!
Watch out for snakes on the trail.
Wear your life jacket on the boat.
Have you heard any of those sayings before? We have warnings to keep us safe. If we listen, it makes life easier.
Did you know that God also gives us warnings? They help us stay spiritually and physically safe. God can give warnings through the scriptures, the Holy Ghost, the words of living prophets, and even in dreams. If we listen to the warnings, we will be protected. God loves us and wants us to listen to his warnings.
Download PDF: God Warns Us Of Danger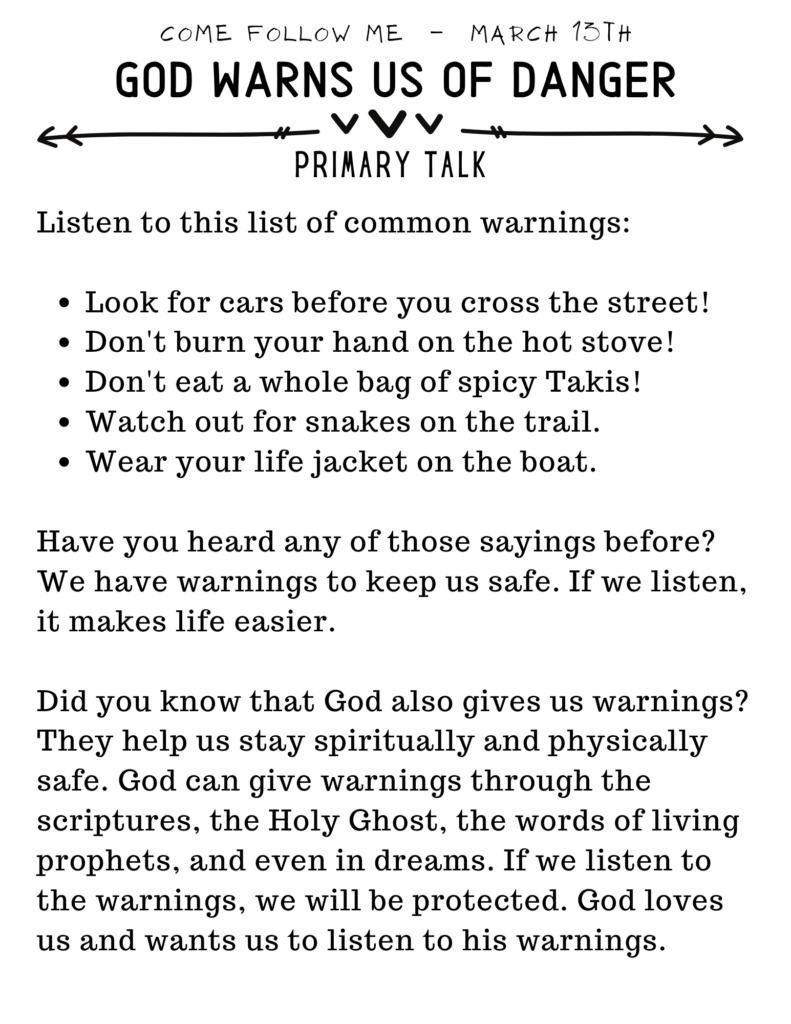 March 20 Primary Talk: I Can Show Love To My Family
We know that families can be together forever. Forever is a really long time. It never ends. Because families are eternal, it is important to show love and friendship to each other.
It is not always easy to get along and not fight. Am I right? We can learn how to show love and care for our families from the example of Joseph in the Bible.
Joseph's brothers were mean to him. They tried to kill him and sold him as a slave. That is pretty bad. But, Joseph forgave them, prayed for them, and wanted them to be his friends. He asked them to come and be with him. He knew that family was important.
Let's try to be like Joseph and put family first!
Download PDF: I Can Show Love To My Family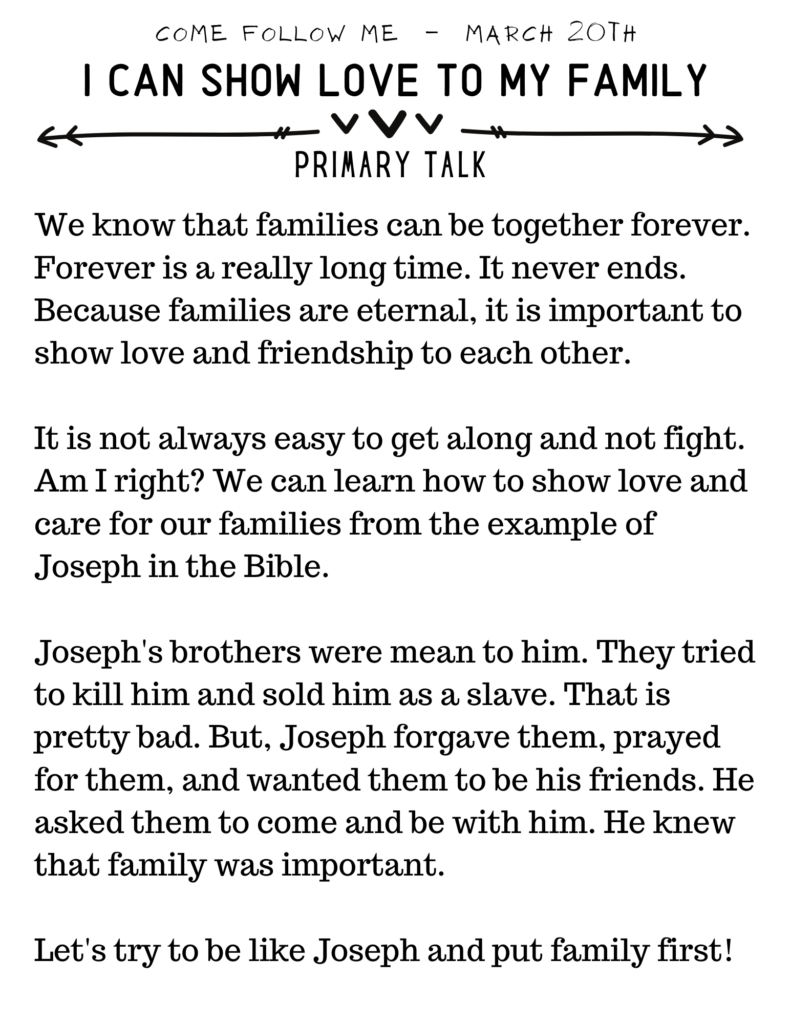 March 27 Primary Talk: God Loves Children
One thing that is cool about Primary is that we are all kids! Being a kid is fun. Did you know that Jesus and Heavenly Father love children?
Jesus said, "Suffer the little children to come unto me." He wanted to be with the children.
There is a story in the Bible about a baby named Moses. Moses was too little to take care of himself, so God sent three kind women to care for him. God protected Moses. As he grew, Moses became a leader and a great prophet.
God watches out for all of his children, including you and me! He loves us and wants us to be safe and protected, just like the baby Moses.
Download PDF: God Loves Children