These Primary Talks are for children to use when speaking in their opening exercises at church. There are four talks for the month of November. Each talk is written based on the Come Follow Me lesson for Primary.
Primary Talk Resource for Kids and Parents ~ November 2022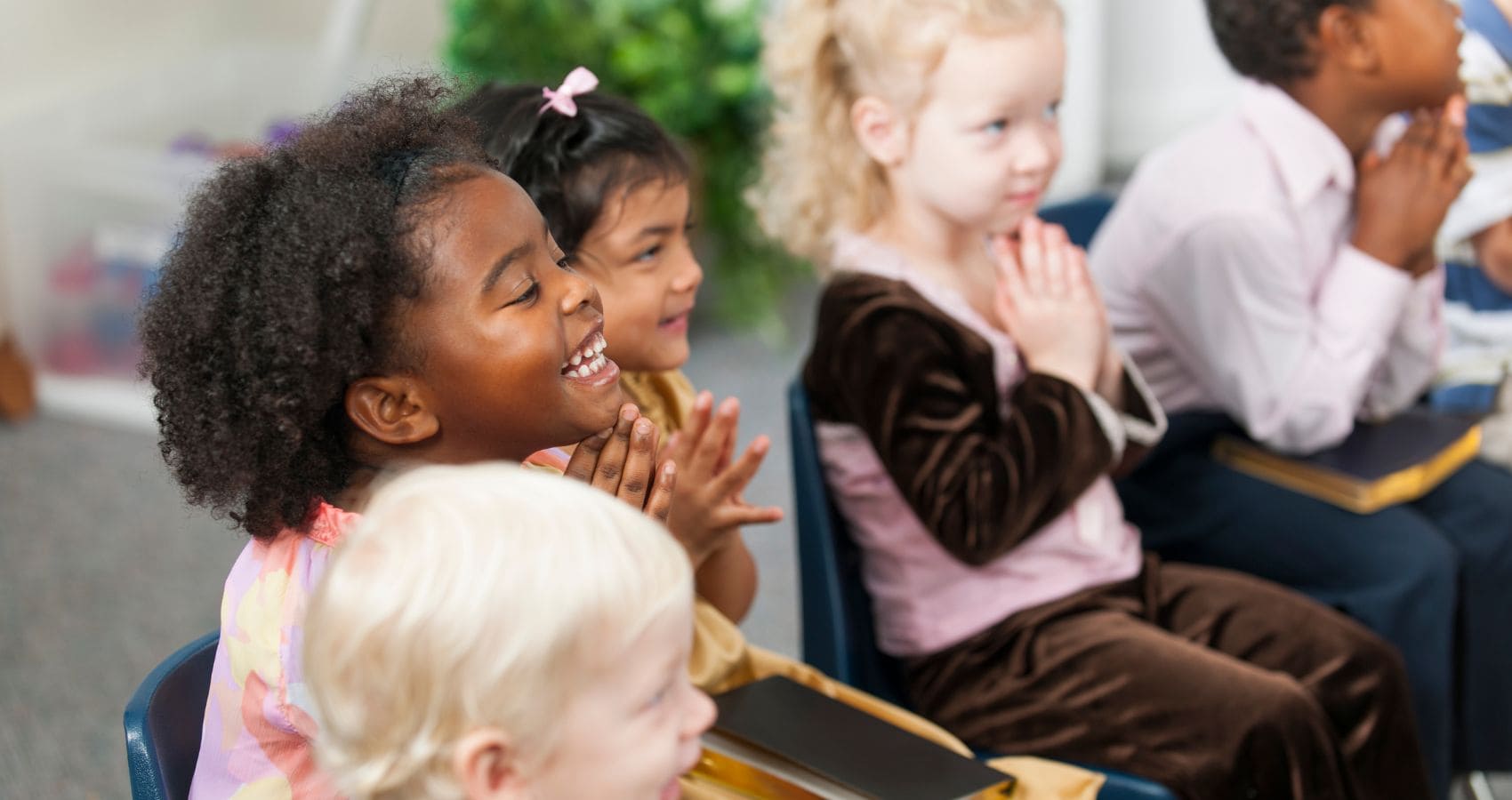 These are a great resource for Primary Presidency members to use to make opening exercises easy and consistent. To download all four primary talks in a single PDF file, click on this link: Primary Talks November.
Talk for Church: Word Of Wisdom
When we came to earth, God blessed us with our bodies. They are special. Our bodies are like a temple. They hold our spirits.
We can take care of our bodies by following the Word of Wisdom. It teaches us to:
Eat healthy foods like fruits and vegetables
Use our bodies to serve and do good works
Avoid drugs and alcohol
Get enough sleep
Avoid foods and drinks that are addictive
When we love and respect our bodies we are able to have the Spirit with us. We have the ability to serve others! The Word of Wisdom helps us to be the best we can be.
Download: Word of Wisdom Primary Talk PDF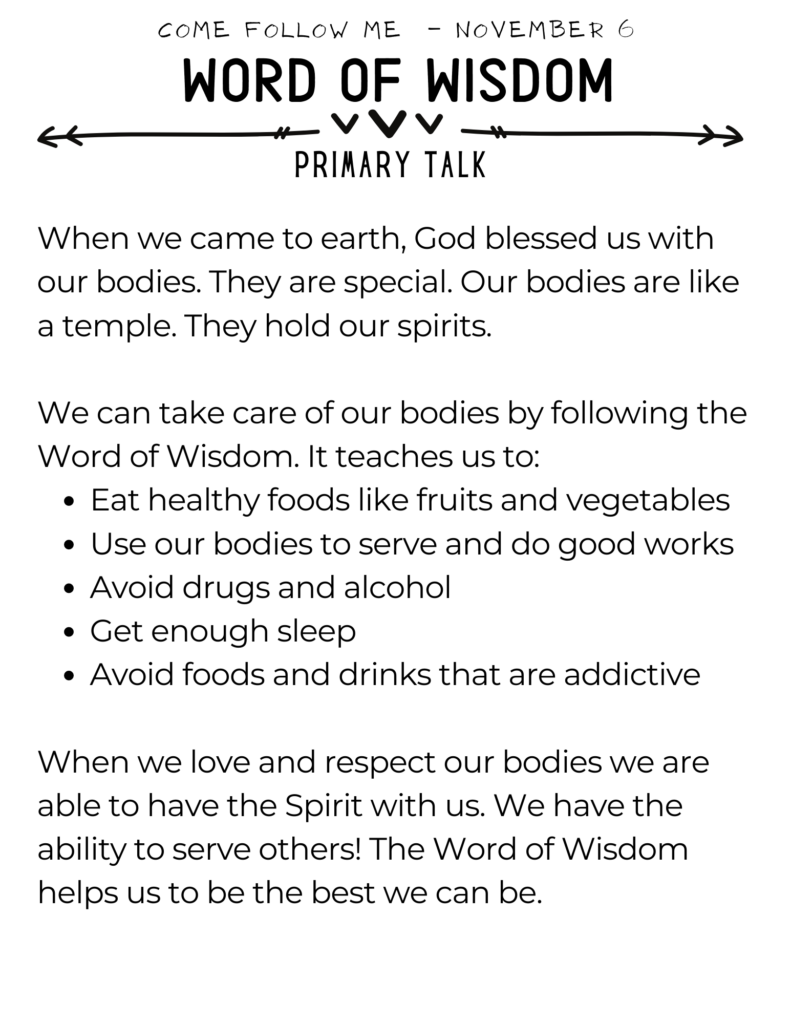 Primary Talk: We Should Seek The Lord
If you lost your favorite toy, would you look for it? YES! You would miss the toy and want to get it back.
Jesus wants us to seek for Him. In the scriptures we are asked to always look for the Lord in our lives. We love Jesus and want his Spirit to be with us.
We can seek the Lord by saying our prayers, coming to church, walking in his footsteps, and by reading about him in the scriptures.
When we seek the Lord, he will be there. Jesus will always be waiting for us to find him.
Download: Primary Talk We Should Seek The Lord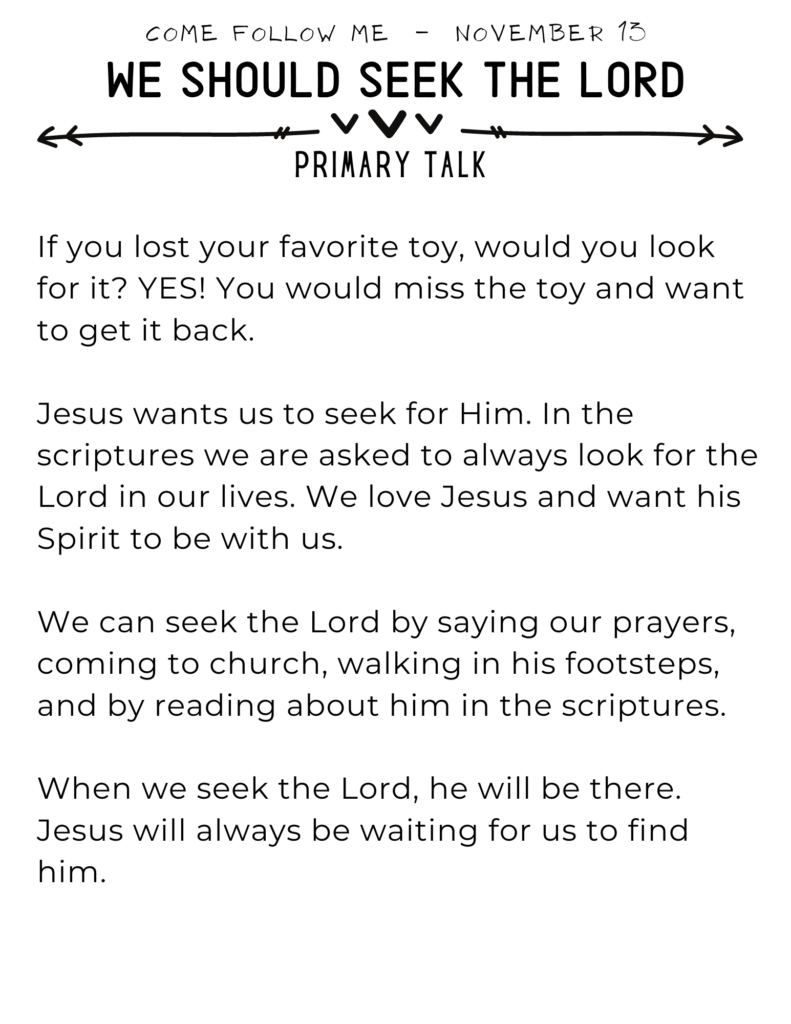 Talk for Children: Messenger for Jesus
We are so lucky to have a prophet to lead our Church. Our current prophet is President Nelson. He loves us so much.
When the prophet speaks, he is a messenger for Jesus. That means, he brings us the message that Jesus wants us to hear! So, it is like we are listening to Jesus.
It is important for us to listen to what the prophet says. We should listen and obey. When we do, we will always be on the right path that leads us back to Heavenly Father.
Download PDF: Primary Talk Messenger for Jesus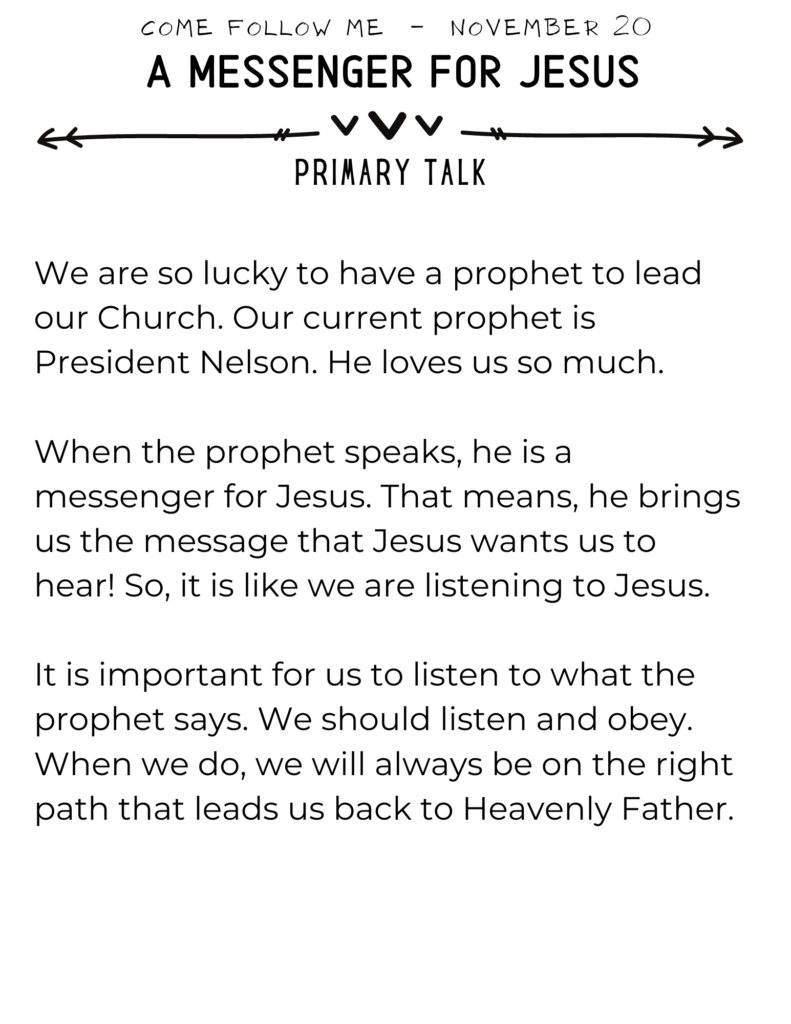 Primary Talk: Quickly Obey
There is a story in the Bible about a man called Jonah. The Lord asked Jonah to go and preach the gospel to a group of people. Jonah did not want to go. They were his enemies!
Jonah tried to run away on a ship. There was a big storm and Jonah knew the Lord was angry with him. So, he jumped into the water to save the other people on the boat. He was swallowed by a giant fish. Jonah asked to be forgiven and the fish spit him onto dry land.
Jonah then quickly went to do what the Lord wanted him to do and preached to his enemies. He was blessed for obeying.
We should learn from Jonah and quickly obey the Lord. When we do, our lives are blessed for the good.
Download PDF: Primary Talk Quickly Obey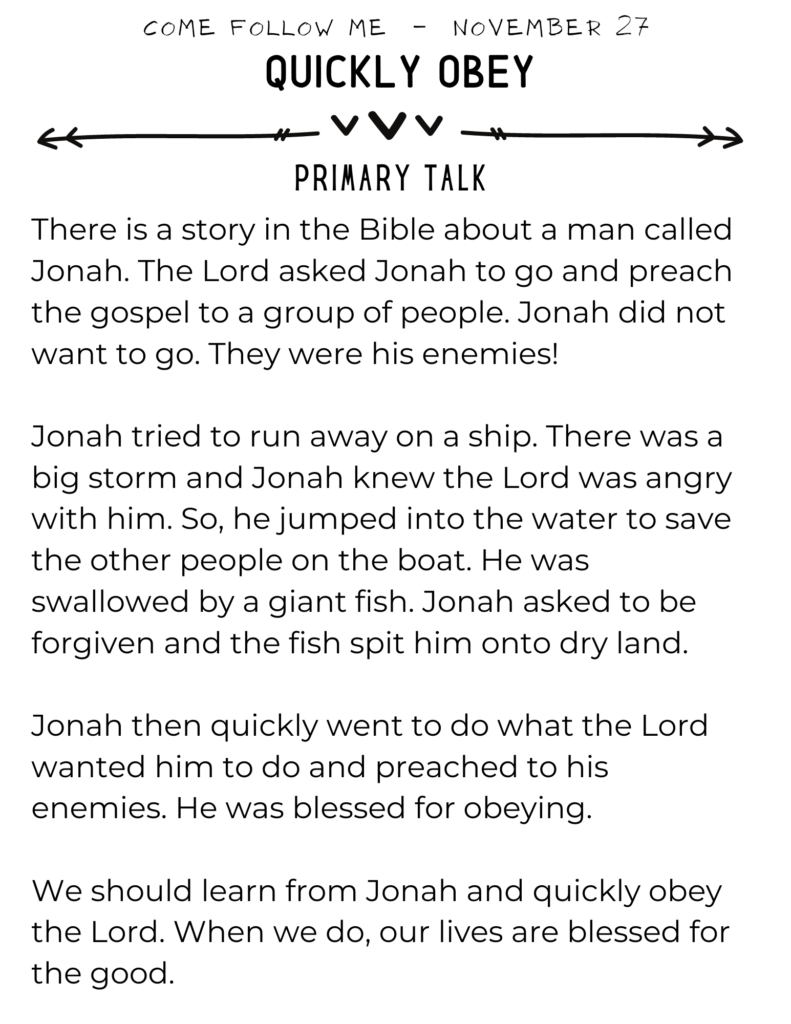 Do you love these Primary talks?? Check out:
Save and share this post, by pinning this image: