Didn't you love General Conference? So many great lessons were taught and the Spirit was so strong. It kind of reminded me of….PRIMARY! Enjoy the talks for October!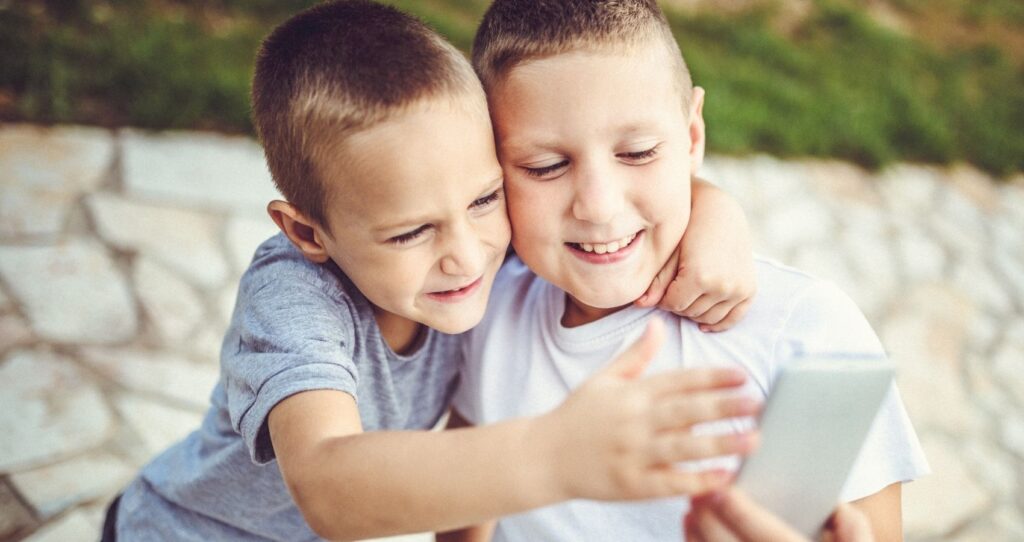 October 2021 Primary Talks ~ Come Follow Me
All Four Primary Talks for October PDF
October 10th Primary Talk – The Gospel is a Treasure
If you had a map that would lead you to a pile of buried treasure, would you follow it? Would you want to do whatever you could to find the gold and jewels hiding under the sand? I would!
The Gospel of Jesus Christ is a form of treasure. Our Gospel covenants make it possible for us to live with Heavenly Father in Heaven.
Because we are so lucky to have the Gospel in our lives, we should remember to value it like treasure. How? By being grateful for the things we know and learn, by sharing it with others, and by giving thanks to Heavenly Father for the gift of His Church.
There is a treasure map we can follow that will lead us to eternal life. It is the Gospel path.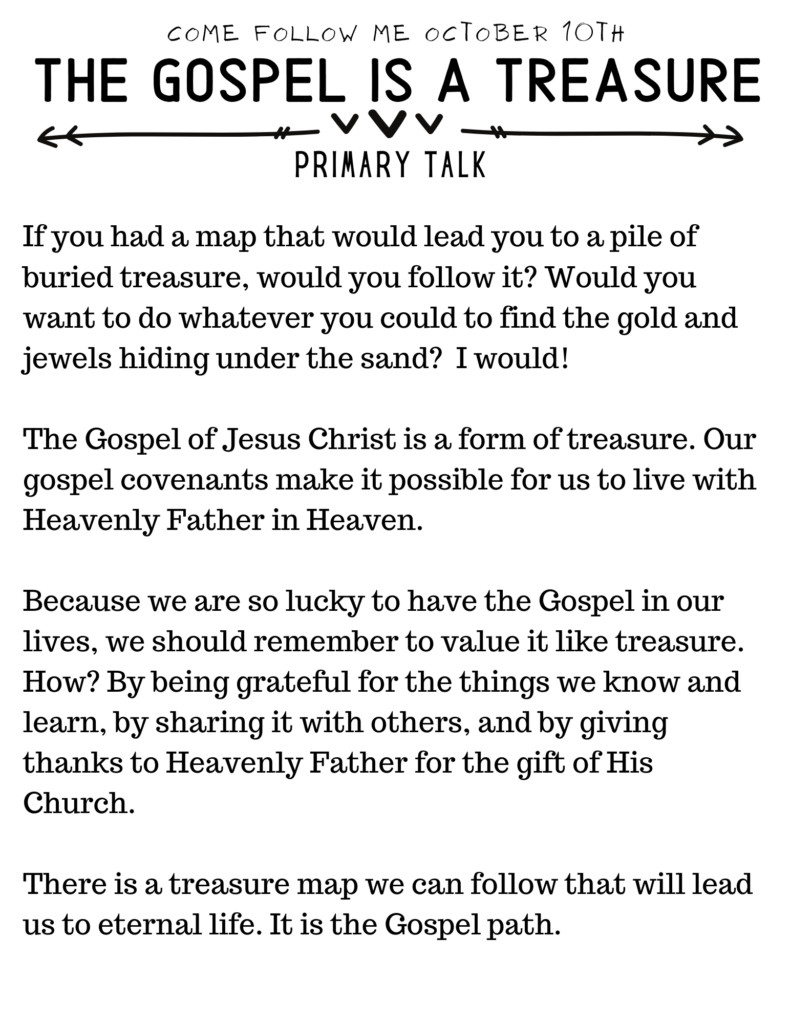 October 17th Primary Talk – The Name of the Church
Recently, our prophet has asked us as members of the Church of Jesus Christ of Latter-day Saints to use the whole name of the church when we talk about it. It is a long name! Can you say it?
One of the reasons the name of the church is so important is because it tells everyone that this church belongs to Jesus! He is in charge of our church. Listen to this quote from President Nelson:
"Thus, the name of the Church is not negotiable. When the Savior clearly states what the name of His Church should be, and even precedes His declaration with 'Thus shall my church be called,' He is serious. And if we allow nicknames to be used and adopt or even sponsor those nicknames ourselves, He is offended."
I am proud to belong to the Church of Jesus Christ of Latter-day Saints! I know you are too! Let's do our best to use the full name when we talk about our church.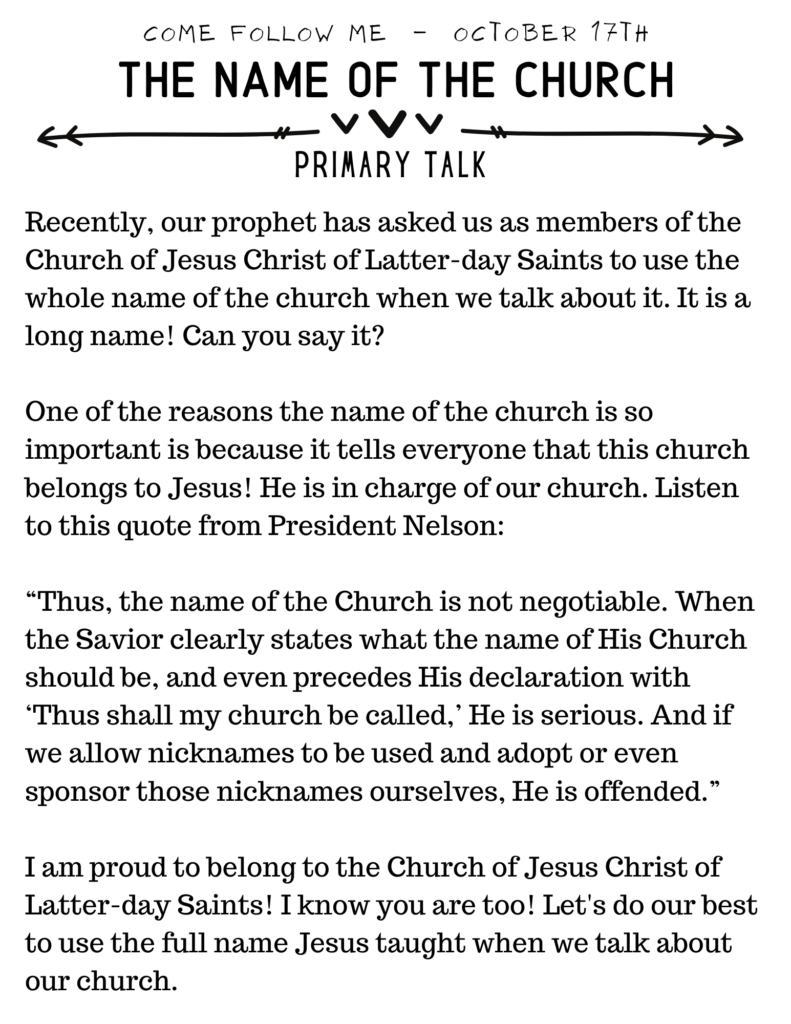 October 24th Primary Talk- God Is Watching Over Us
Have you ever felt like you were having a hard time in your life? Maybe you have been sick or felt worried about something at school. When you are sad or hurting, Jesus is there for you.
When Joseph Smith was captured and put in jail by evil men, he felt sad. He felt like God wasn't there for him. Joseph said a prayer and asked Heavenly Father why he was suffering.
God answered by telling Joseph that he could feel peace. He told him that his trials were going to make his a strong person and that in the end everything would work out.
We have the same promise. Our hard days will make us strong. God is always looking out for us and taking care of us, no matter what!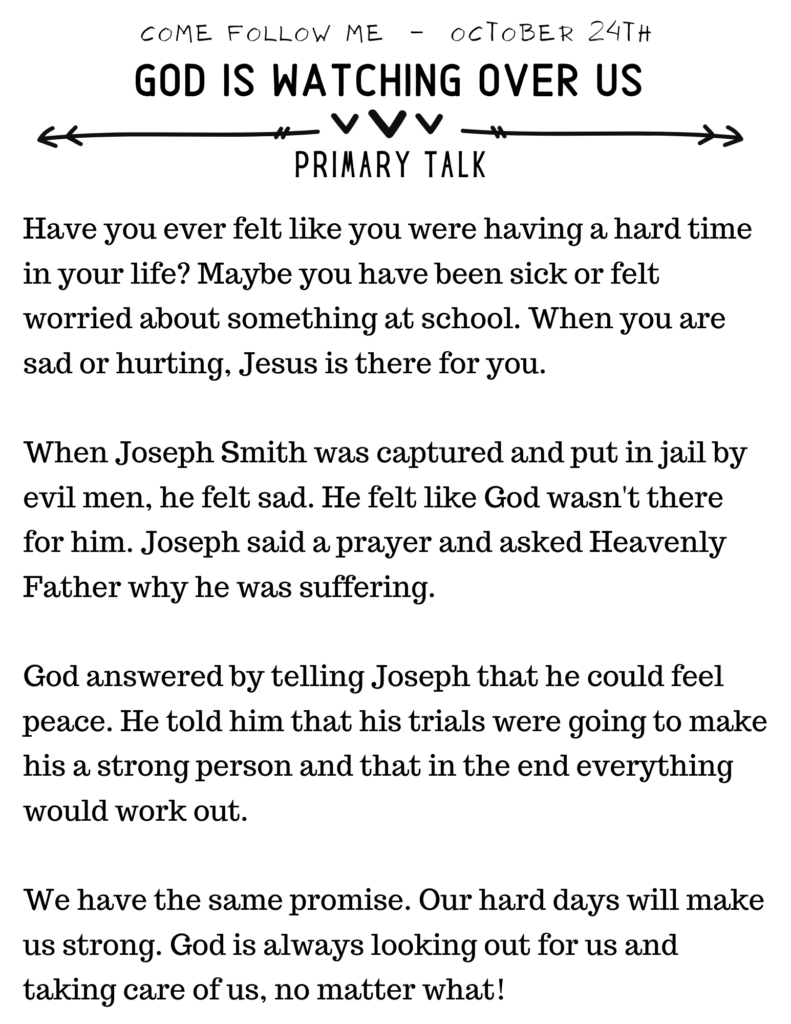 October 31st Primary Talk – Have I Done Any Good?
Have you heard the song that starts with the questions, "Have I done any good in the world today? Have I helped anyone in need? Have I cheered up the sad or made someone feel glad? If not, I have failed indeed!"
This song is a reminder that we have been commanded to do good things. The scriptures teach that Jesus is happy when we try to do good.
Here are a few ways to do good in the world today:
Invite new friends to play with you at recess
Share your dessert from your lunch with a buddy
Ask your neighbor to come to a church activity
Pray to find out how to help someone who is sad
Send a letter to missionary's who are serving in your ward.
Let's make Jesus happy by doing good things!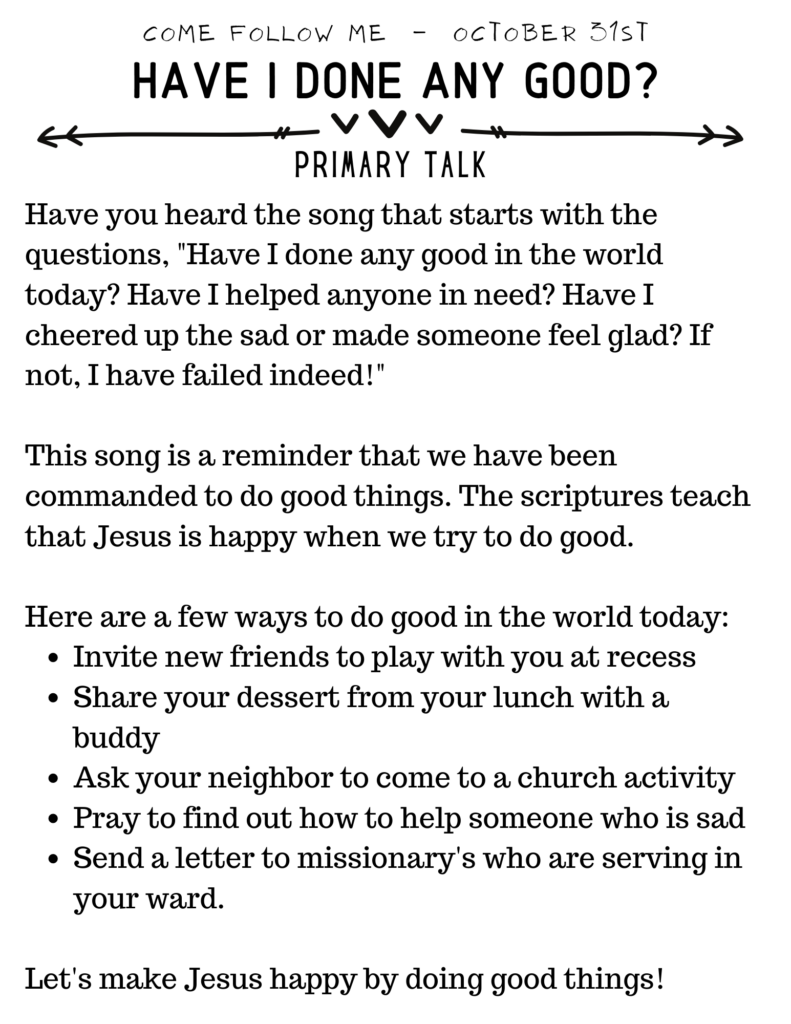 Pin this image to save and share Latter-day Saint Primary talks: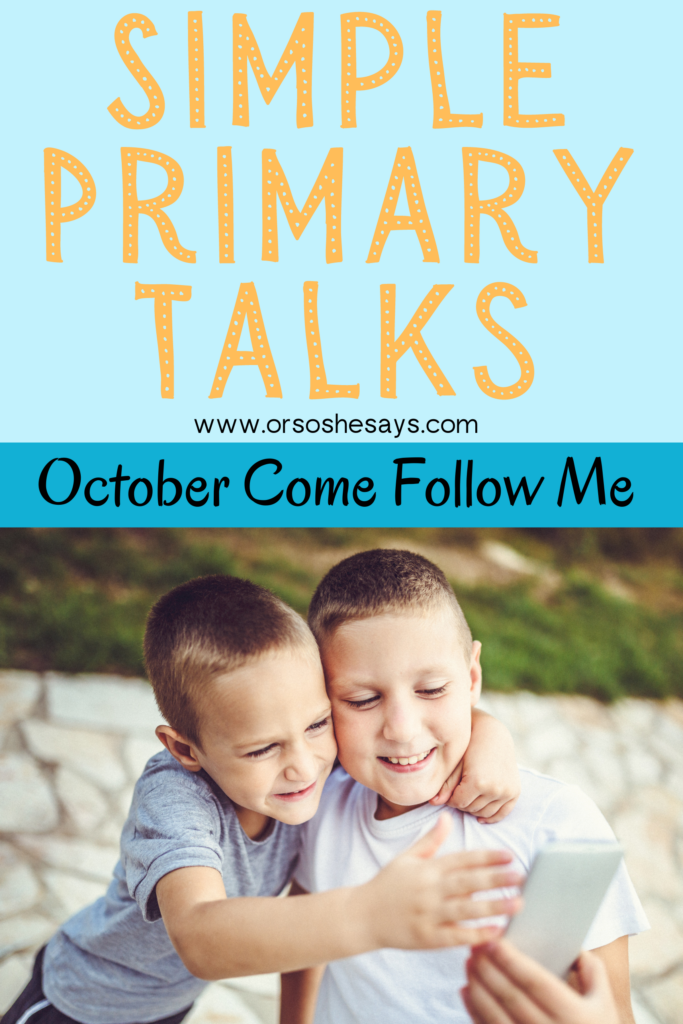 If you liked this post, check out: