Primary Talks February 2022 Topics. Use these four primary talks to make speaking in Primary easy and fun. Each talk is written based on the Come Follow Me topic for the week. You can download and print the talk as a PDF, or use your electronic device and read directly from this blog post.
Primary leaders are welcome to download all four February Primary Talks here and have them on hand for children who may forget to come prepared for his or her speaking assignment.
Primary Talk Printables for February 2022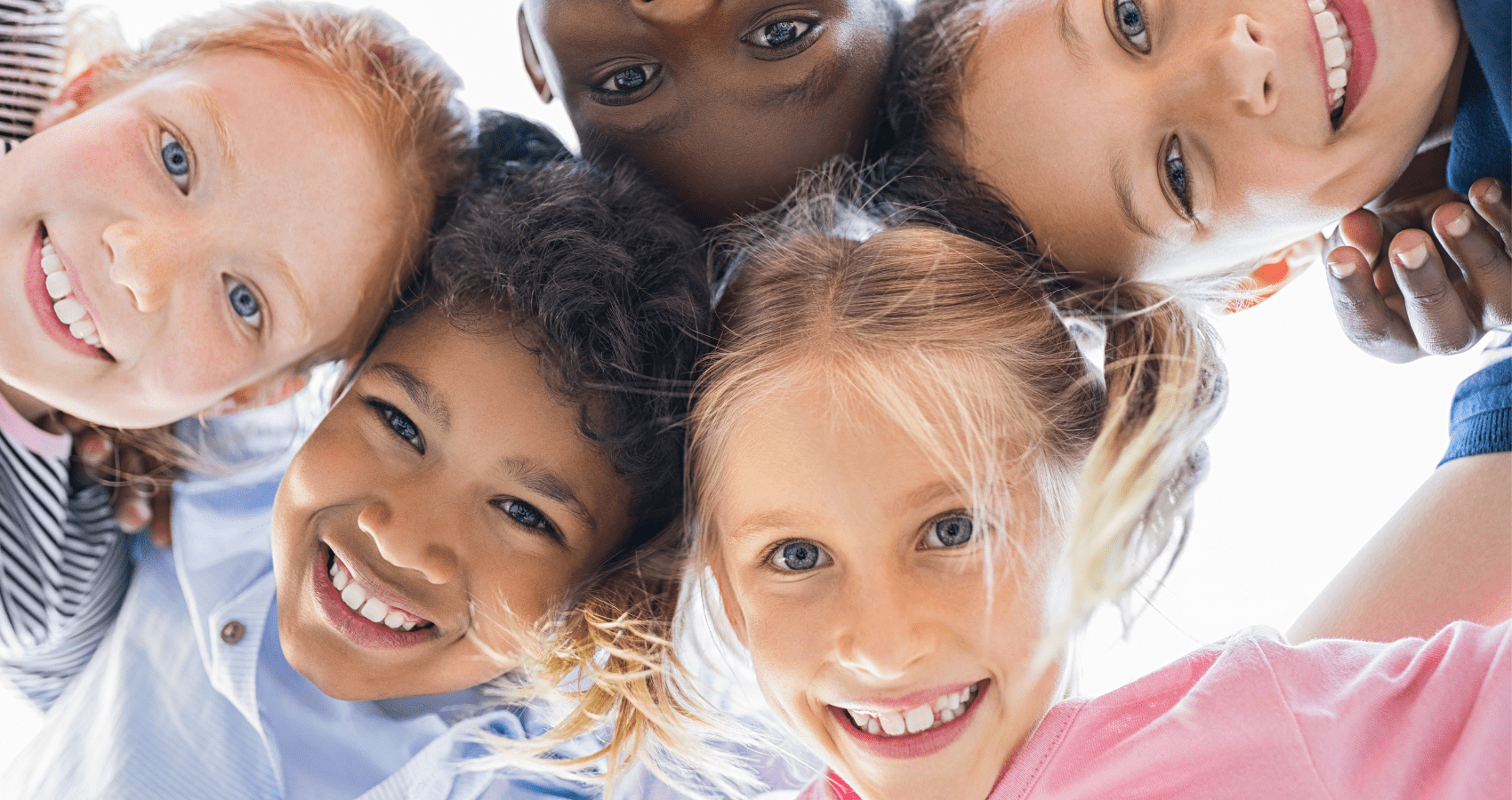 February 6th Primary Talk: Act On Faith
Do you know what kind of lights Noah put on the ark? Flood lights!
A long time ago, there was a prophet named Noah. He lived on the Earth when people were very wicked. God commanded Noah to build a boat. Noah had to have a lot of faith to listen to God and obey. When the rain and floods came, Noah and his family were safe on the ark. He was blessed for his faith.
We do not always know why God asks us to obey. We can be saved like Noah when we act in faith.
Download PDF: Act On Faith Primary Talk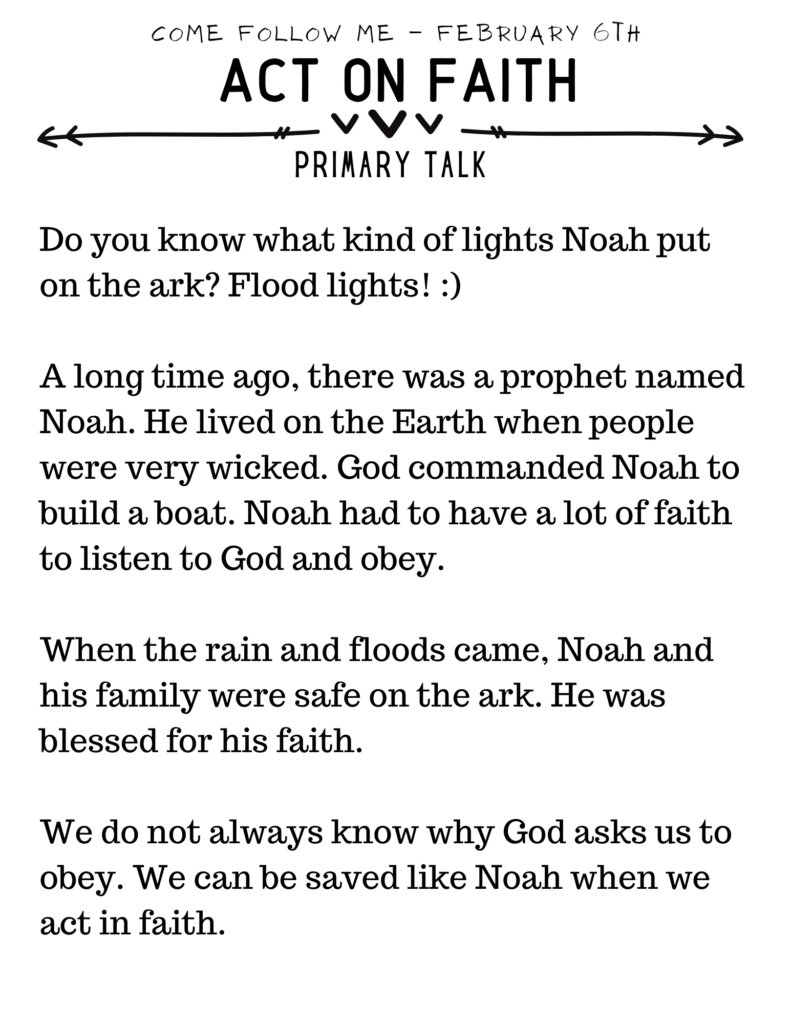 February 13th Come Follow Me Talk for Primary: I Can Be A Peacemaker
Jesus has a lot of special names. One of them is The Prince of Peace. When we know and trust Jesus, we can have peace in our hearts. Peace is a feeling of calm and rest. There is no worry or fear inside. One of the ways we can become more like Jesus is to be a peacemaker. Here are a few simple ways to bring peace like Jesus:
Share
Speak Kind Words
Be A Friend
Don't Fight
Stand Up For What Is Right
When we are a peacemaker we bring more light into the world. We become like Jesus.
Download PDF: I Can Be A Peacemaker Primary Talk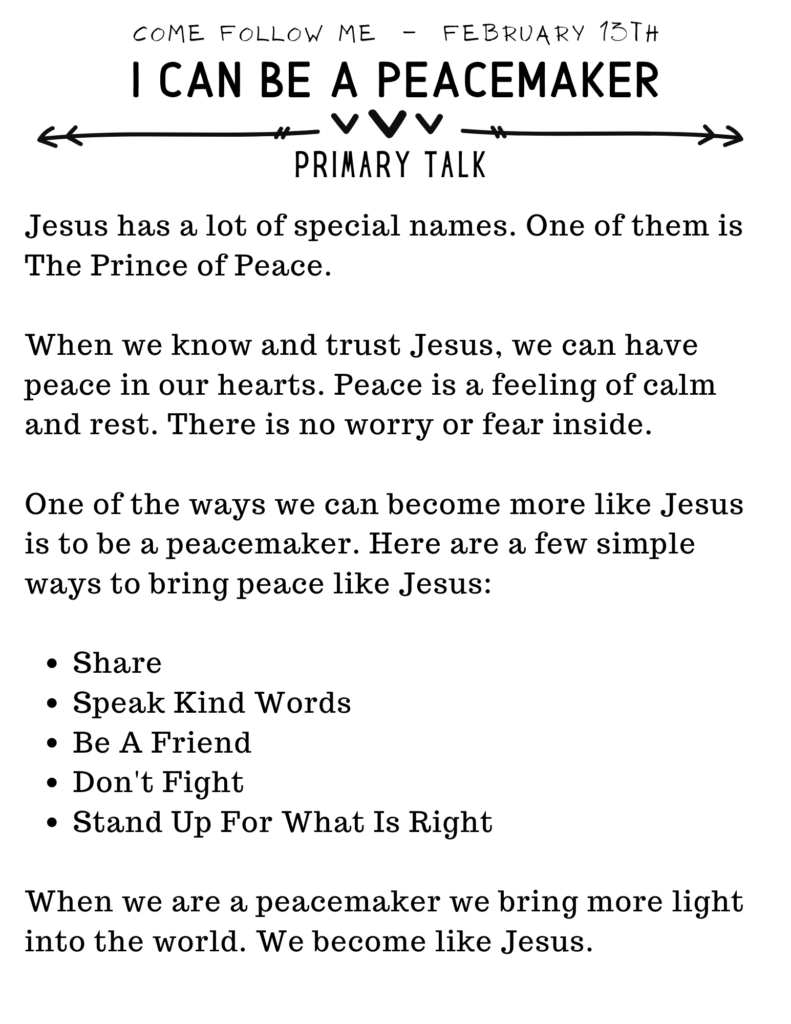 February 20th Primary Talk For Children: God Keeps His Promises
There is a scripture in the Bible that says, "Trust in the Lord with all thy heart." It is a commandment to trust Heavenly Father and Jesus. Why do you think we should trust them?
God is our father. He loves us more than anything else in the world. He wants us to be happy and to live with Him again someday. His only goal is to help us succeed. God always keeps His promises. We can trust Him to keep us safe and happy. When we obey His commandments and follow the prophet we are blessed! God will always take care of us. No matter what!
Download PDF: Primary Talk God Keeps His Promises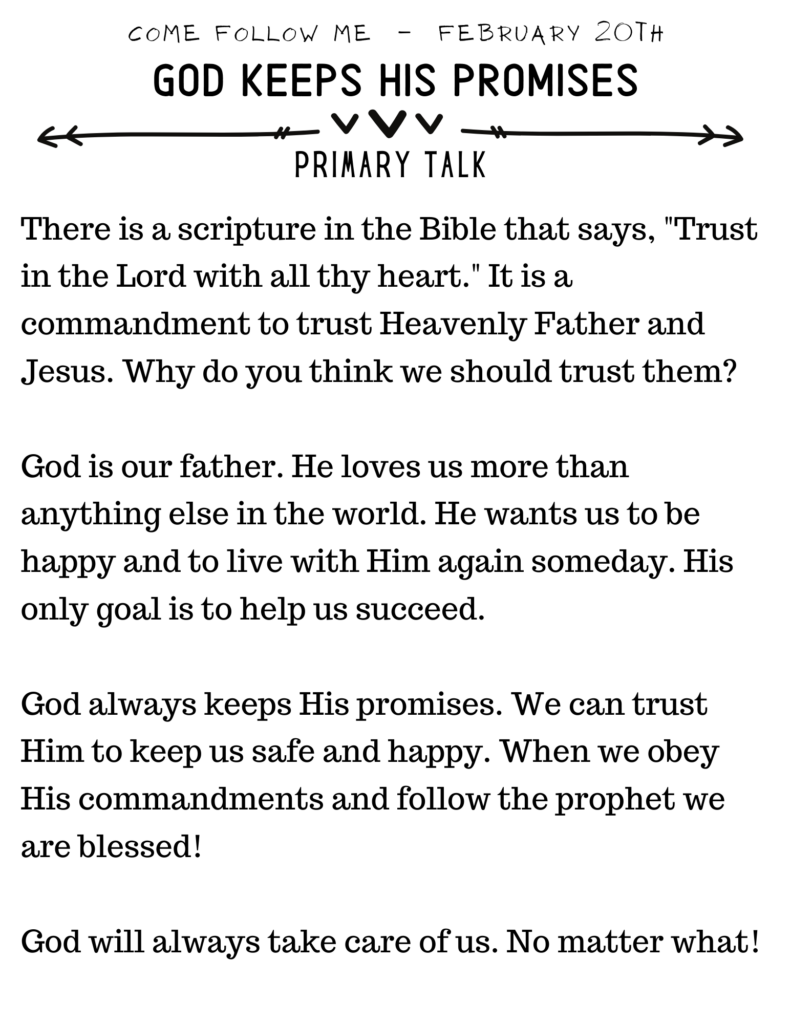 Primary Talk February 27th: Kindness Matters
Did you know that February 17th is the National Random Acts of Kindness Day? Did you have a chance to do something nice for someone? The goal of the special day is to make the world a little brighter and better through little and simple kind gestures, words and actions.
Jesus taught us the importance of being kind when he walked on the Earth. We can read about people in the scriptures who were blessed for being kind, like Rebekah. Let's make the world a better place by showing love and kindness to the people around us. Be kind every day, not just once a year!
Download PDF: Kindness Matter Primary Talk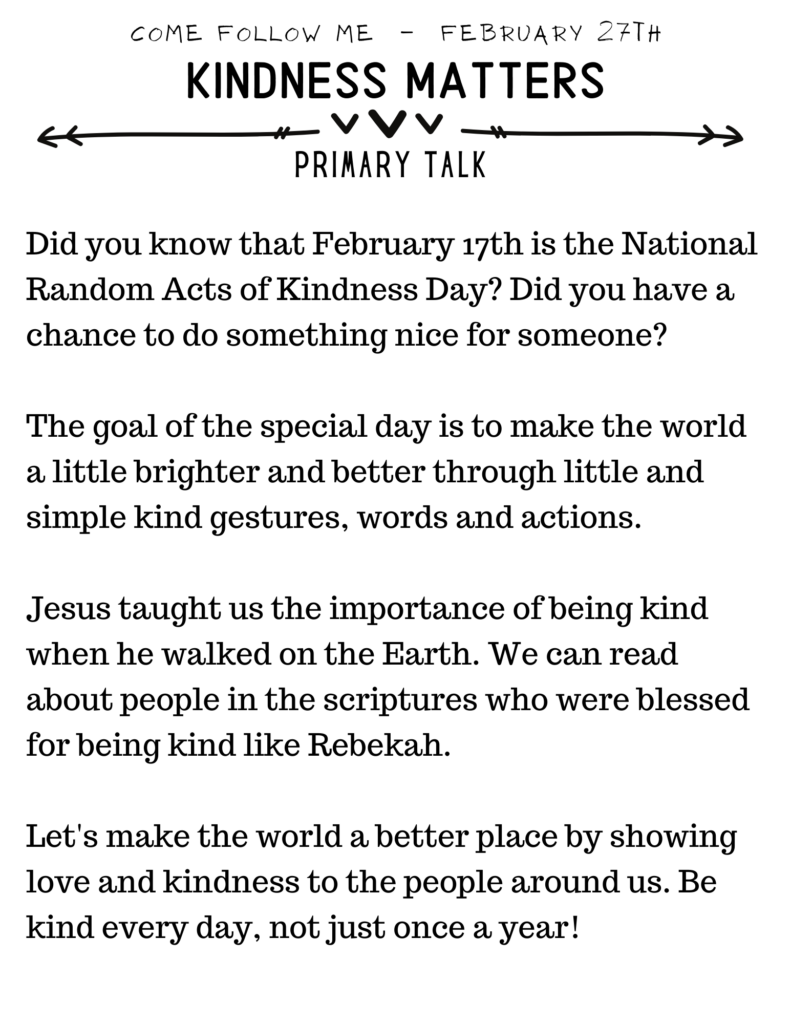 If you like Latter-day Saint blog posts, check out:
Pin this image to save and share talks: