These printable Primary Talks are written based on the Come Follow Me Topics for the month of July. Each talk is written so it is easy to read and understand, making them perfect for primary children! You can download and print the PDF version the talk by clicking the link in each section, or if you want things to be really simple, read the digital version of the talk on any electronic device.
BUT FIRST…
Have you found these talks helpful?? Would you mind helping me out with something?
Please share the following missionary post on Pinterest or any of your social media accounts.
Let's get The Book of Mormon flooding the world! —> Free Book of Mormon Without Missionaries Offer.
Thank you so much!!
Printable Primary Talks for July 2022
There is something incredibly special about having children bear testimony of these simple gospel truths. I love that the Church of Jesus Christ has a place where children can be the focus of the meeting, where they learn how to speak publicly, and where they share their testimony out loud in front of their peers.
When Jesus was on the Earth, he called the little children to come unto Him. I feel that same call today when I visit the Primary room. I have felt His spirit in Primary countless times. I hope these printable primary talks make it easy for your child to participate!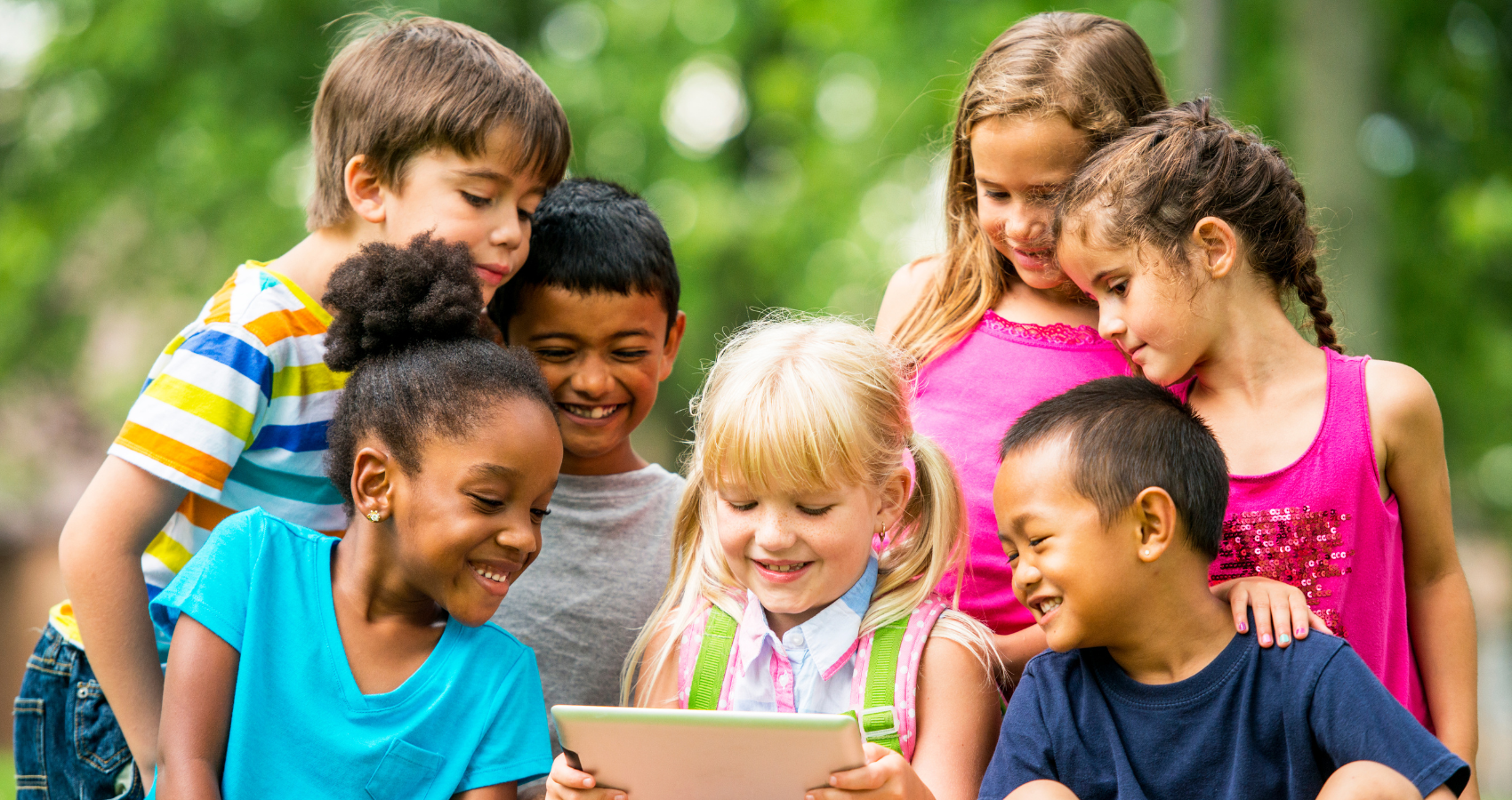 Download all five July Printable Primary Talks in PDF Form Here
July 3rd Printable Primary Talk: Follow Jesus
The prophet Elijah said, "If the Lord be God, follow Him." We can do as Elijah said and follow Jesus because He is the Son of God.
There are a lot of ways to follow Jesus. Here are a few examples:
Pray to our Father In Heaven
Be Kind To Everyone, Even Those Who Are Different
Keep The Commandments
Make and Keep Sacred Covenants
Love One Another
The prophets have taught that when we follow in Jesus footsteps, we are on the path back to our Heavenly Father. I want to stay on the path so I can live with Him and my family forever.
Download Printable Primary Talk PDF: Follow Jesus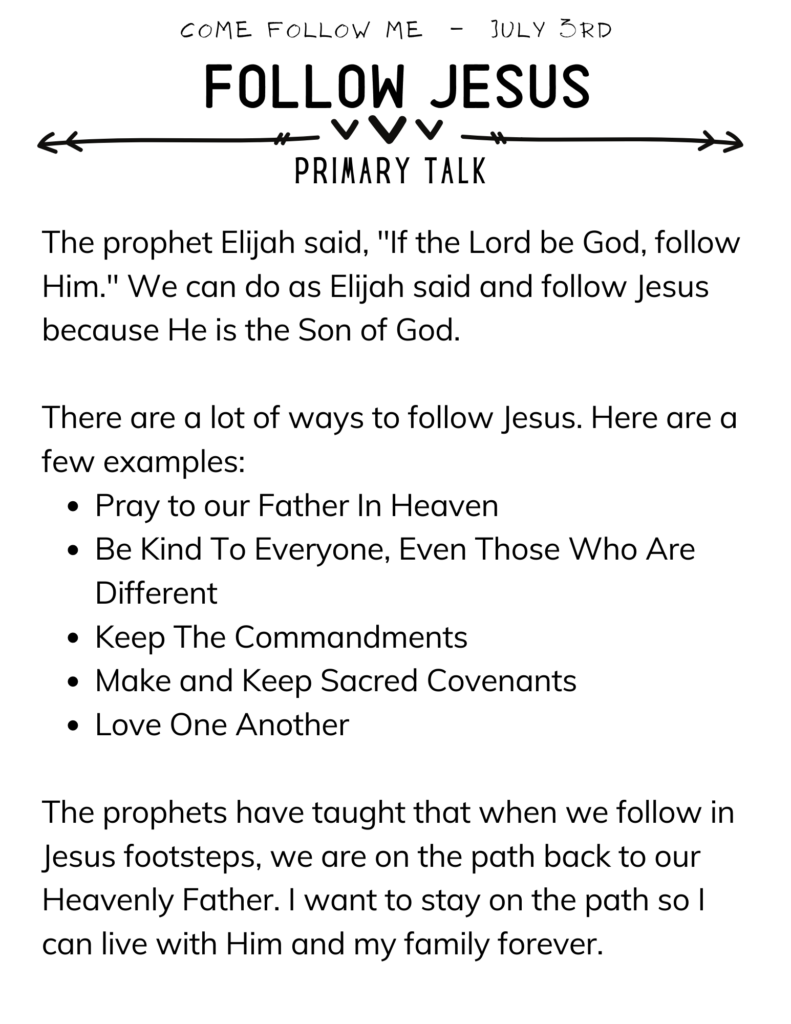 July 10th Primary Talk for Kids: Miracles
When you think about miracles what comes to mind? Is is something big like Moses parting the Red Sea or Jesus bringing Lazarus back to life? Those were miracles!
There are other kinds of miracles as well. They happen in small and simple ways. For example, when a friend gives you a hug on a bad day or when your mom makes your favorite dinner when you need to feel some extra love.
The Lord can use His power to do great things to help us. Little moments of love are miracles. I hope that we can all help make miracles happen for someone this week. Find a way to show God's love through your words or actions and be a miracle in their life.
Download Simple Primary Talk: Miracles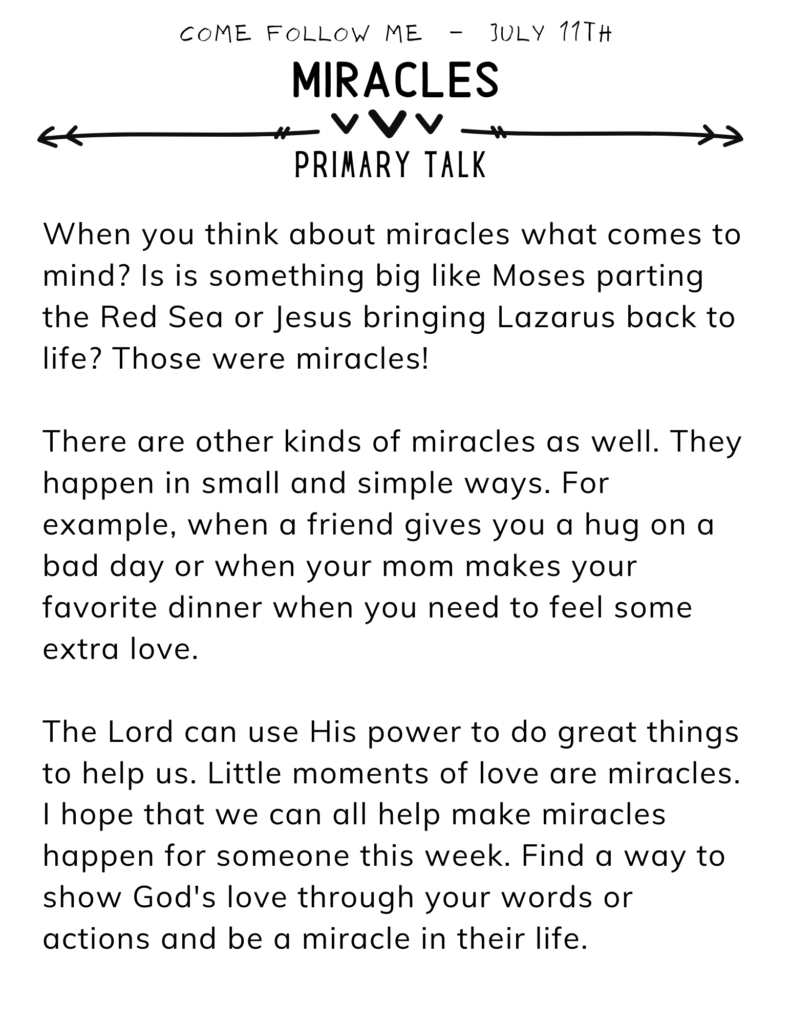 July 17th Talk for Primary Children: I Can Trust God
One of the best things about having a Father in Heaven is that He is always watching over us. He knows what we are doing and sends help when we need it most.
We can trust Heavenly Father and His plan. He is perfect in His love for us!
When we trust God, we feel safe. We can feel peace because we know that He is there. I am grateful that I know that I am a child of God.
A scripture in the Bible says, "Trust in the Lord with all thine heart." When we trust the Lord we are blessed and we have peace.
Download PDF Primary Talk: I Can Trust God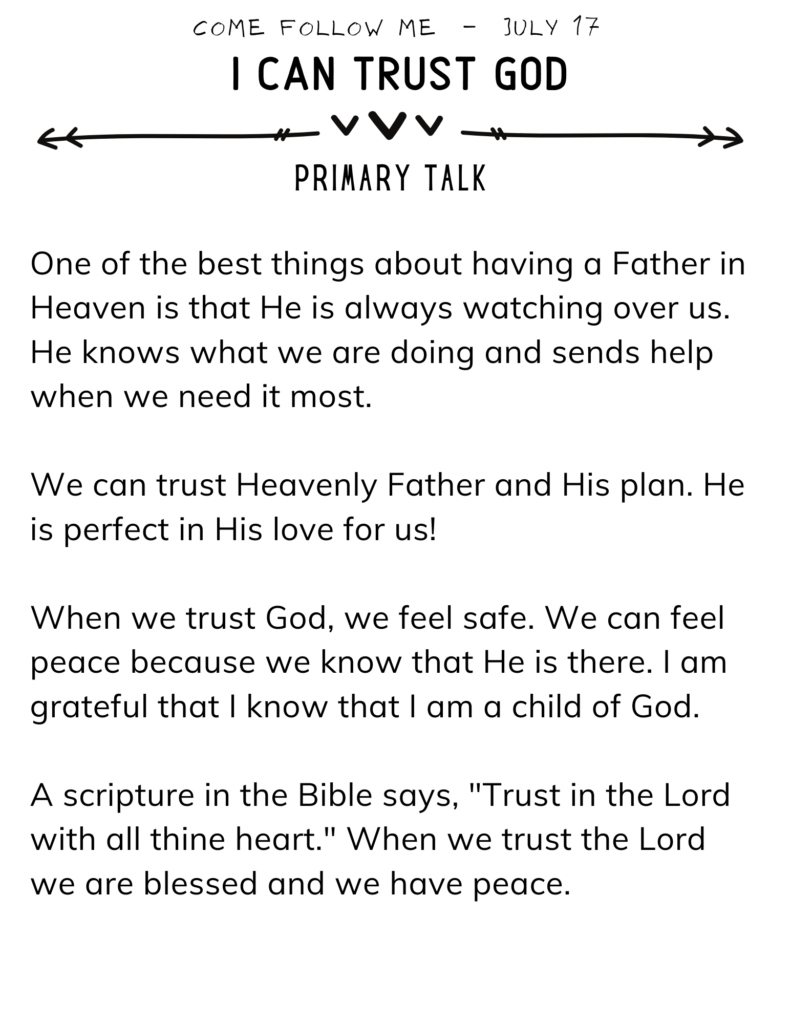 July 24th Printable Primary Talk: The Temple Brings Me Joy
In the Bible, we can read about when the Jews built their temple. They were so excited! When they started working on the temple, they shouted for joy! It made them feel so happy.
Have you ever seen a temple? Have you walked around it on the temple grounds? Did you feel something warm inside when you were there?
The temple is a special place. It is the Lord's house. The covenants we make inside the temple make it possible to be with our family forever. That brings me joy! Like the Jews, we should be so happy when we see a temple because we know that the blessings of the temple are the best that God can give!
Primary Talk PDF: The Temple Brings Me Joy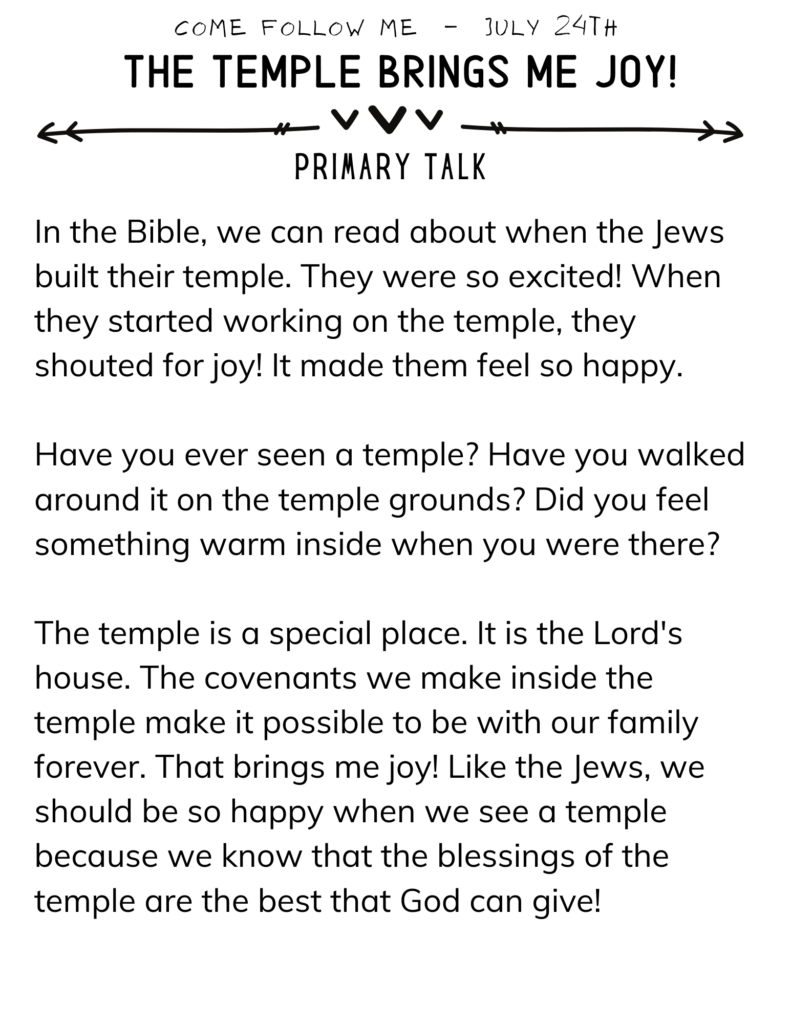 July 31st Come Follow Me Talk for Kids: I Can Be Brave
It is not always easy to be brave! Do you ever get scared? Sometimes I am scared when it is dark or when I am going somewhere new for the first time.
The Lord wants us to be brave and stand up for what is right! Being brave means doing what is right even when you are afraid.
There are a lot of people in the Bible who were brave. Peter was brave when he walked on the water. David was brave when he fought Goliath. Daniel was brave when he was in the lion's den. Esther was brave when she talked to the King to save her people.
We can follow their examples and have the courage to do what is right, not matter what!
Printable Primary Talk PDF: I Can Be Brave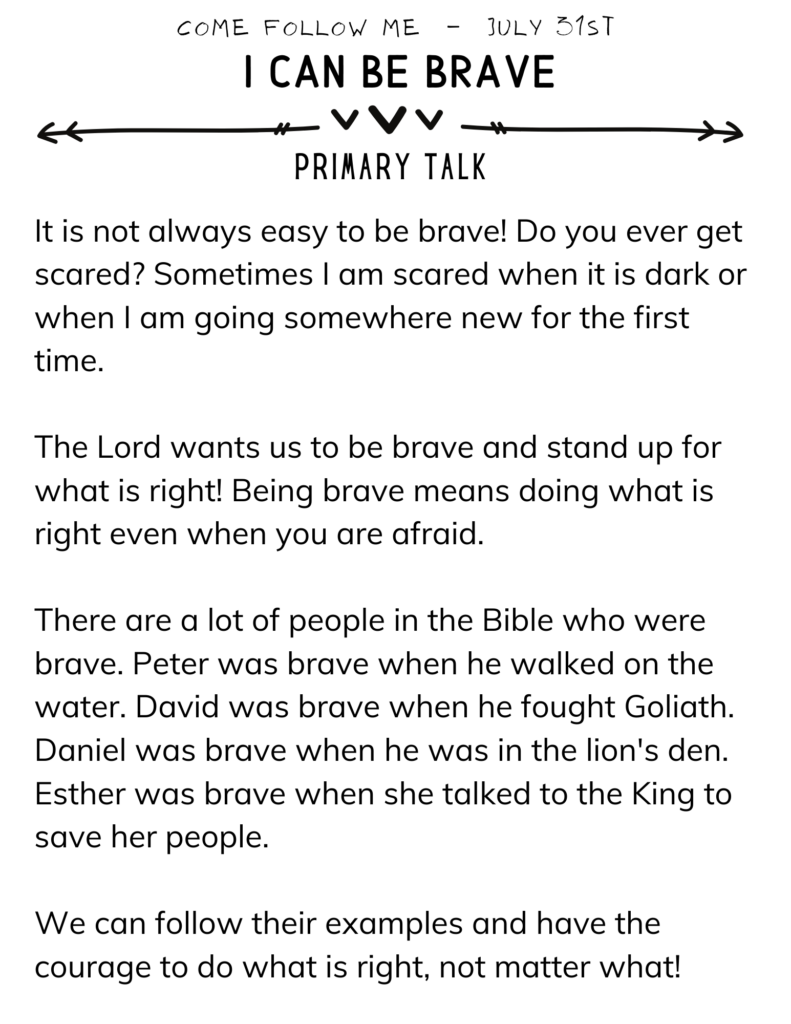 Do you love Latter-day Saint family ideas?? Check out:
Pin this image to save or share Primary talks: