Hello! My name is Summer and I blog over at MallowandCo.blogspot.com! Yes, I have a blog dedicated solely to rice krispy treats. I am a sugar-aholic and not afraid to say it 🙂 I am super excited to do a guest post here at Or So She Says, one of my favorite blogs! Today I want to share my recipe for coconut rice krispy treats.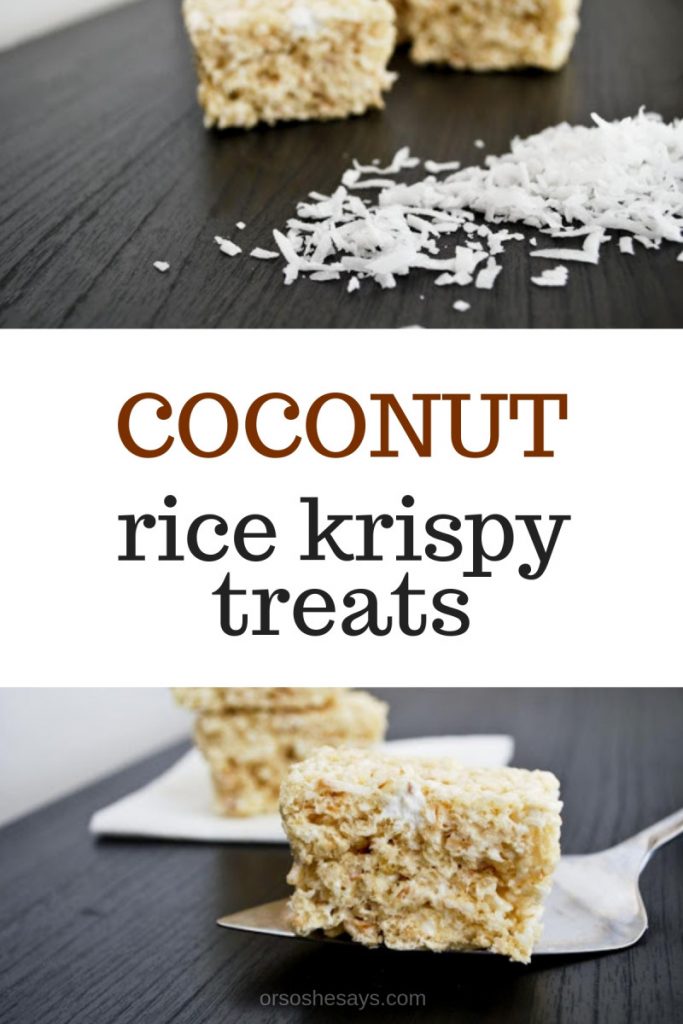 But first, a little about me: I used to work as an online marketing specialist, but am now a stay at home mom to my almost 1 year old girl. My husband and I have been married about 4 years and I have recently promoted him to Chief
Rice Krispy
Taste Tester. I
love
cooking, I pretend to be good at crafts, I love reading, and doing anything outdoors! And of course, I love
rice krispy treats
. Some of my favorites include
Cookies N' Cream
,
Reeses Peanut Butter
,
Mickey Treats
,…and these
Sweet Heart rice krispy treats
. But today I am bringing you one of my new favorites: Coconut Rice Krispy Treats.
Mmmm… these coconut rice krispy treats are winners. The toasted coconut adds that awesome nutty flavor as well as pumps up the soft chewiness of these treats. Then, because one can never have enough coconut, I used coconut extract to really pump up the flavor. Oh my. I don't care if you don't even like coconut, you are going to love these. My mouth is watering right now thinking about them. If only we hadn't already finished off the pan. So sit back, put on some shades, and pretend it's summertime and you are in Hawaii, eating your coconut rice krispy treats 🙂
Coconut Rice Krispy Treats
Notes: If you want to go really crazy
coconutty
you could use
coconut oil
in place of the butter for these. Only if you're crazy though. You sane people just stick to the butter.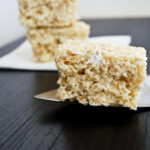 Coconut Rice Krispy Treats
Ingredients
4

Tbsp

butter

6

cups

marshmallows

1 1/2

tsp

coconut extract

1 1/2

cups

toasted coconut

I toasted mine for a few minutes on the stove top on medium heat

5

cups

rice krispies
Instructions
Pour the rice krispies and toasted coconut in a large mixing bowl and set aside.

Melt the butter in a saucepan over low heat. Once melted add in the marshmallows. Stir until they are mostly all melted (this will take a few minutes--low and slow is key for perfect texture) then stir in the coconut extract.

Once fully melted, take them off heat and pour over the rice krispies.

Stir lightly to combine, then dump into a greased 9x9 pan.

Allow to cool 5 minutes, then press lightly into pan with greased hands.

Allow to fully set (about 20-30 min) and enjoy!
USE THESE ITEMS TO MAKE YOUR COCONUT RICE KRISPY TREATS:
Jet-Puffed Jumbo Marshmallows, 24 Ounce Bag
Jet-Puffed Jumbo Marshmallows, 24 Ounce Bag (Pack of 8)
Kraft Jet Puffed Mini Marshmallows, 10 oz (Pack of 3)
Pure Coconut Extract, 8 Ounce
Viva Naturals Organic Extra Virgin Coconut Oil, 16 Ounce
Coconut Flakes Toasted / 9 oz Toasted Coconut
Kellogg's Rice Krispies Breakfast Cereal, Original, Fat-Free, Family Size, 24 oz Box
Nature's Path Organic Gluten-Free Cereal, Crispy Rice, Whole Grain Brown Rice, 10 Ounce Box (Pack of 6)
Pyrex Easy Grab Glass Bakeware and Food Storage Set (8-Piece, BPA-free)
Pyrex 1107101 Basics Clear Oblong Glass Baking Dishes, 2 Piece Value Plus Pack Set
Constructive Eating Construction Plate with Construction Utensil Set for Toddlers, Babies, Infants and Kids – Flatware Toys are Made in the USA with FDA Approved Materials for Safe and Fun Eating
Constructive Eating Garden Fairy Utensil Set with Garden Plate for Toddlers, Infants, Babies and Kids – Flatware Toys are Made with FDA Approved Materials for Safe and Fun Eating
~ Summer
It's 1962 in the small town of Granite Flats, CO where everything is normal. Almost.