I had no idea how easy it was to make homemade applesauce. My goodness!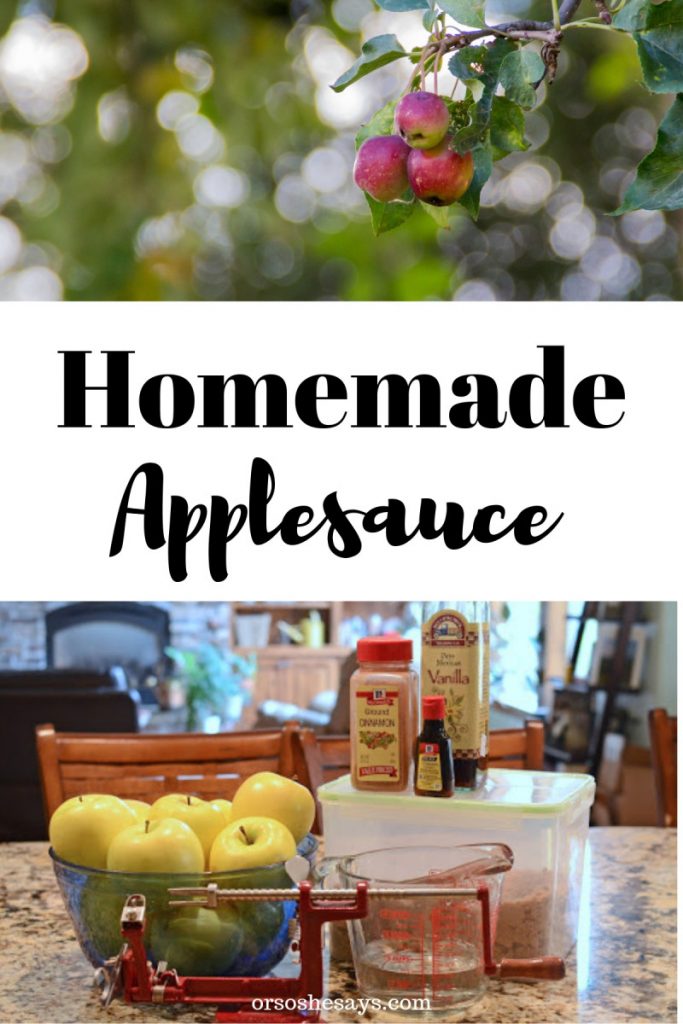 Homemade Applesauce
There are basically just two things you need for homemade applesauce; everything else is optional. Here it is, get ready… apples and water. Seriously! That's it! Then you can choose to add sugar (white or brown), cinnamon, vanilla, almond extract, or whateva. And, even the directions are flexible. You can do it on your stove in a large pot, or you can use the crock pot. I used the crock pot since it's a great way to keep everything contained, and minimize the heat I'm putting into my kitchen.
Getting Started with Homemade Applesauce:
Cut up 10 fairly large apples. Choose any variety you like. I used Golden Delicious. They are naturally pretty sweet. Next time I might either use half Golden Delicious and half Granny Smith or omit the sugar. It turned out delicious, but I also thought it would be just as tasty without the sugar and even healthier. However, if I used an apple that wasn't as sweet, I would probably add the sugar, besides it's only 1/2 a cup.
After you peel your apples and chop them into pieces, dump them in the crock pot. (If you don't have a Back to Basics Apple Peeler, you should highly consider getting one…they make peeling apples SO fast.) Pour 1 1/2 cups water in the crock pot. If your adding sugar, add 1/2 cup. If you just want the sweetness, use white sugar. If you want a little caramel-ish-ness then use brown sugar. Cook on high for about 3 1/2 hours. Mash the apples with a potato masher, and you're done! If you want any additions like vanilla, almond extract, cinnamon, etc. just stir them in.
Let your homemade applesauce cool, and refrigerate until chilled.
Homemade Applesauce Recipe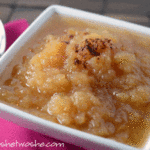 Homemade Applesauce ~ So Simple to Make!
Ingredients
10

med/large apples

your choice of variety

1 1/2

cups

water

1/2

cup

sugar

Optional: brown sugar instead of white

no sugar, vanilla extract, almond extract, cinnamon, etc.
Instructions
Peel your apples, chop them into chunks and place them in the crockpot.

Pour in water and sugar.

Cook on high for about 3 1/2 hours.

Mash and stir apples.

Let cool and serve when chilled through.
Recipe Notes
Optional Stove-Top Directions: In a large pot, combine the apples, water, and sugar. Cover and cook over medium heat for 20 - 30 minutes, or until apples are soft and mashable. Let cool and serve when chilled through.
Other posts you'll love:
Our picks for homemade applesauce:
Back To Basics A505 Apple And Potato Peeler (Discontinued by Manufacturer)
Crock-Pot SCCPVL610-R-A, 6 Qt, Red
Elite Platinum MST-900D Maxi-Matic 8.5 Quart Digital Programmable Slow Cooker with Timer, Stainless Steel
CONCORD 8.5 QT Copper Non Stick Stock Pot Casserole Coppe-Ramic Series Cookware (Induction Compatible)
T-fal B36262 Specialty Total Nonstick Dishwasher Safe Oven Safe Stockpot Cookware, 12-Quart, Black
OXO Good Grips Stainless Steel Potato Masher with Cushioned Handle