These simple One-Minute Primary Talks make speaking in church a breeze. Let your child pick the theme that best fits their speaking assignment.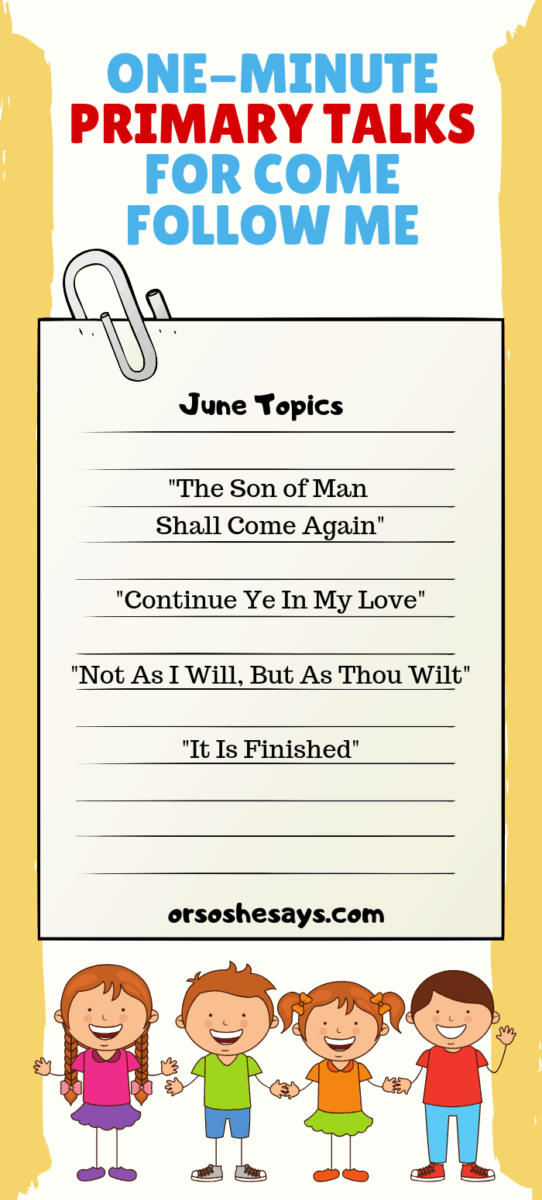 Our One-Minute Primary Talks are based on the Come Follow Me Primary Manual. They cover topics from each weekly lesson. With the new 2-hour church format, Primary leaders have asked that the talks in opening exercises be nice and short with a thought and a testimony. Our talks are written to coincide with the suggested requirements.
One-Minute Primary Talks for Children: Great resource for parents and church leaders.
We hope that your child feels the truth of the messages presented here and that he or she can feel confident speaking in Primary! We think that Church should be something that brings joy. If this resource is a joy for leaders, children, or parents – then we are happy!
There are five Sunday lessons for the month of June. Choose the talk that is most appropriate for your child's speaking assignment. You can save the image and print it out on paper, or just read the talk directly from our website on an electronic device.
One-Minute Primary Talk June 2nd: The Son Of Man Shall Come Again
Jesus came to earth a long time ago as a little baby in a manger. He was surrounded by animals and hay. We celebrate His humble birth at Christmas time! Did you know that Jesus is going to come to earth a second time? He is! But, he is not going to arrive quietly as a baby. He will be a man. The scriptures say he will come in glory! Everyone will know that Jesus is back. It is going to be exciting. When Jesus comes again, he will know us and love us. We will want to be with Him. I want to choose the right so that I can be ready to stand with Jesus.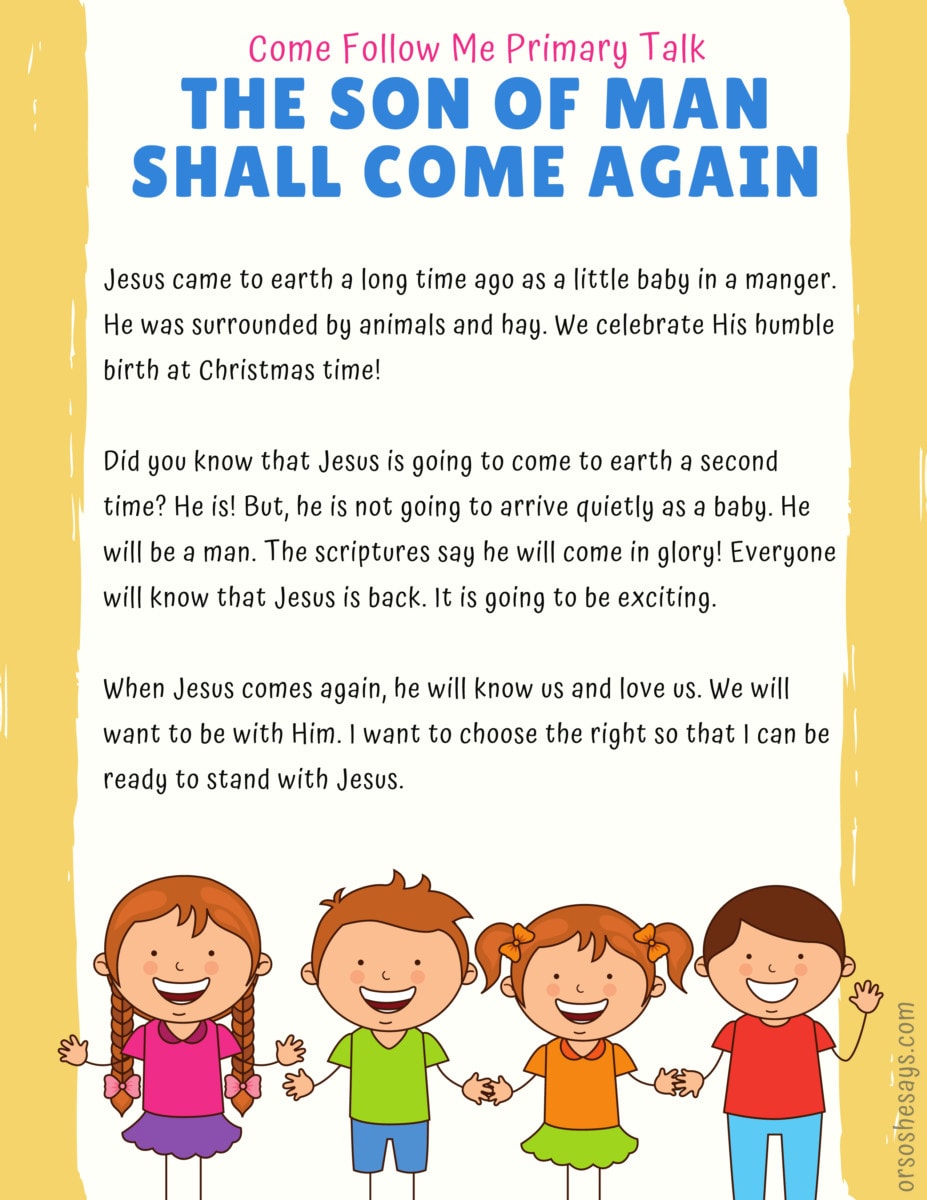 One-Minute Primary Talk June 9th: Continue Ye in My Love
I love Jesus. I bet you do too! He is part of our family. I want Him to know that I love him. When you show love to your family, what do you do? I give my parents hugs and help them with chores. I say, "Thank you!" Jesus isn't here on Earth, but we can still show him our love. He said, "If you love me, keep my commandments." When we go to church and are honest we are showing Jesus love! When I say prayers before bed and listen to my parents, it is just like I am giving Jesus a big hug! Keeping the commandments is important because it helps us to have the Spirit. The commandments keep us safe from harm. Jesus asked us to choose the right because he wants us to be happy! He loves us. I am so glad that I know Jesus and I hope that I can always try to be like him.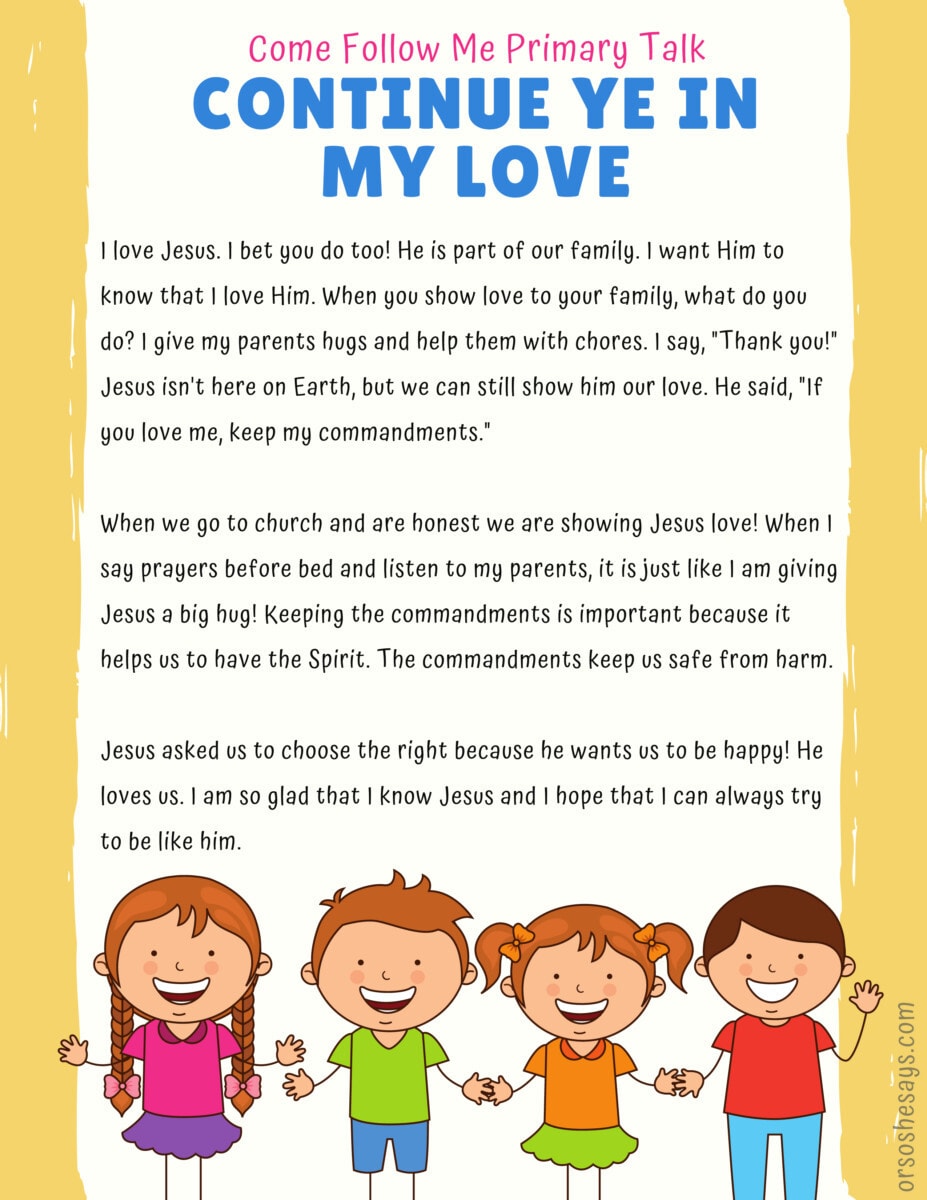 One-Minute Primary Talk June 16th: Not as I Will, but as Thou Wilt
I like the primary song that says, "I feel my Savior's love, in all the world around me. His Spirit warms my soul, through everything I see." I can feel Christ's love for me when I see the beautiful world. I feel his Spirit when I go to church and talk about scripture stories with my family. Jesus lived and then died for us because He loves us. When we are in sacrament meeting, we can feel our Savior's love if we think about Him when we eat the bread and drink the water. The sacrament is a special time to remember Jesus. I challenge you all to close your eyes and think about one thing that you love about Jesus. It could be that He is kind to little children, He healed the sick, or that He can walk on water. When we think about these things, it is like we are saying, "Thank you!" for the sacrifice He made for us. The Savior sends his love freely with feelings of peace, happiness, and warmth. I hope we can all remember Jesus next time we take the sacrament.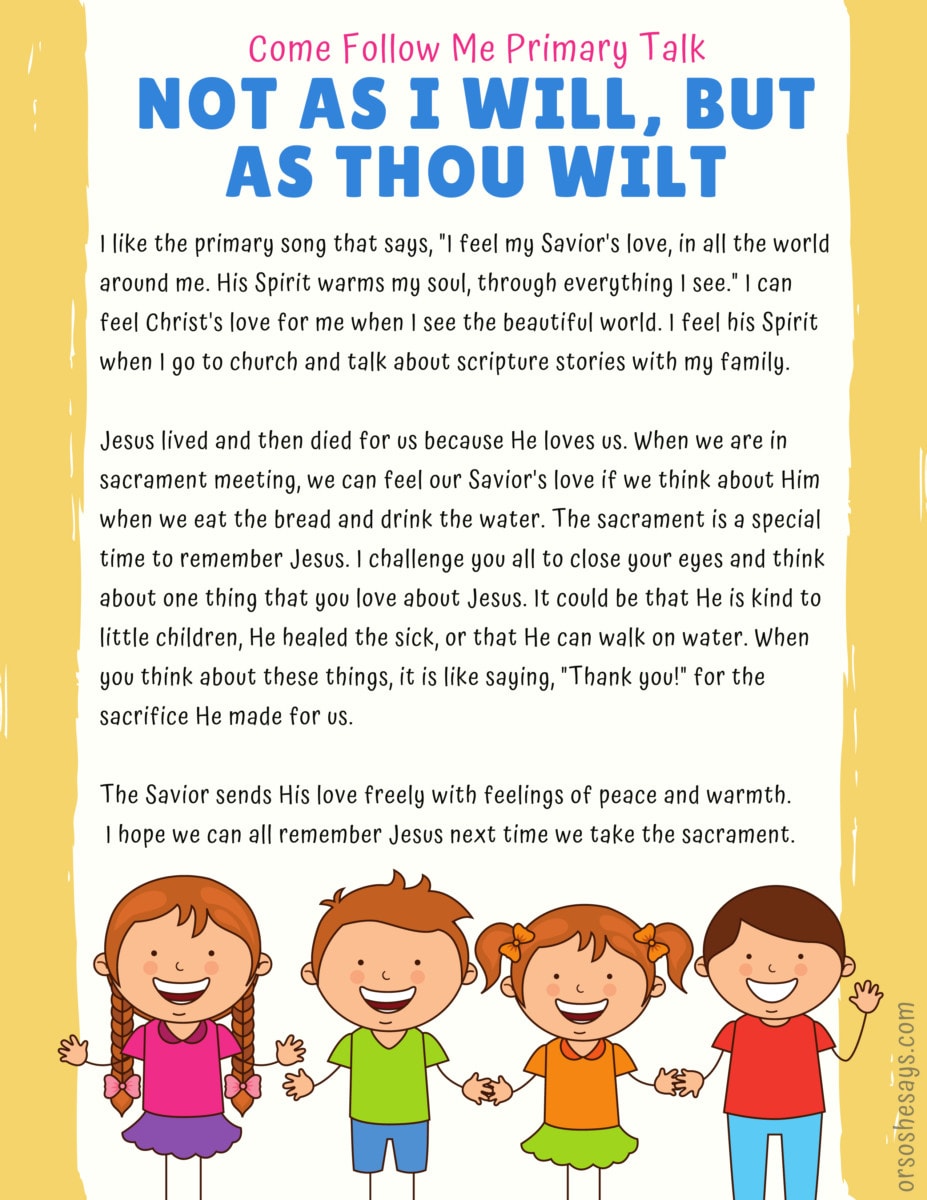 One-Minute Primary Talk June 23rd: It Is Finished
At Christmas time we talk about when Jesus was born. He came as a baby. It is a happy story with angles, shepherds, and a new star! Jesus spent his life teaching and serving. Then, He suffered and died for us. This part of the story can feel sad. But, Jesus died for us because he loves me and you and He knew it was the only way to save us. Luckily, the story does not end with his death. Jesus came back to life. It is called being resurrected. His spirit and body came together again. Isn't that amazing? We get to be resurrected one day too. Knowing that we can all be resurrected makes me feel happy. It is a gift that Jesus gave to us. I know that we can all live together in heaven with Heavenly Father and Jesus Christ.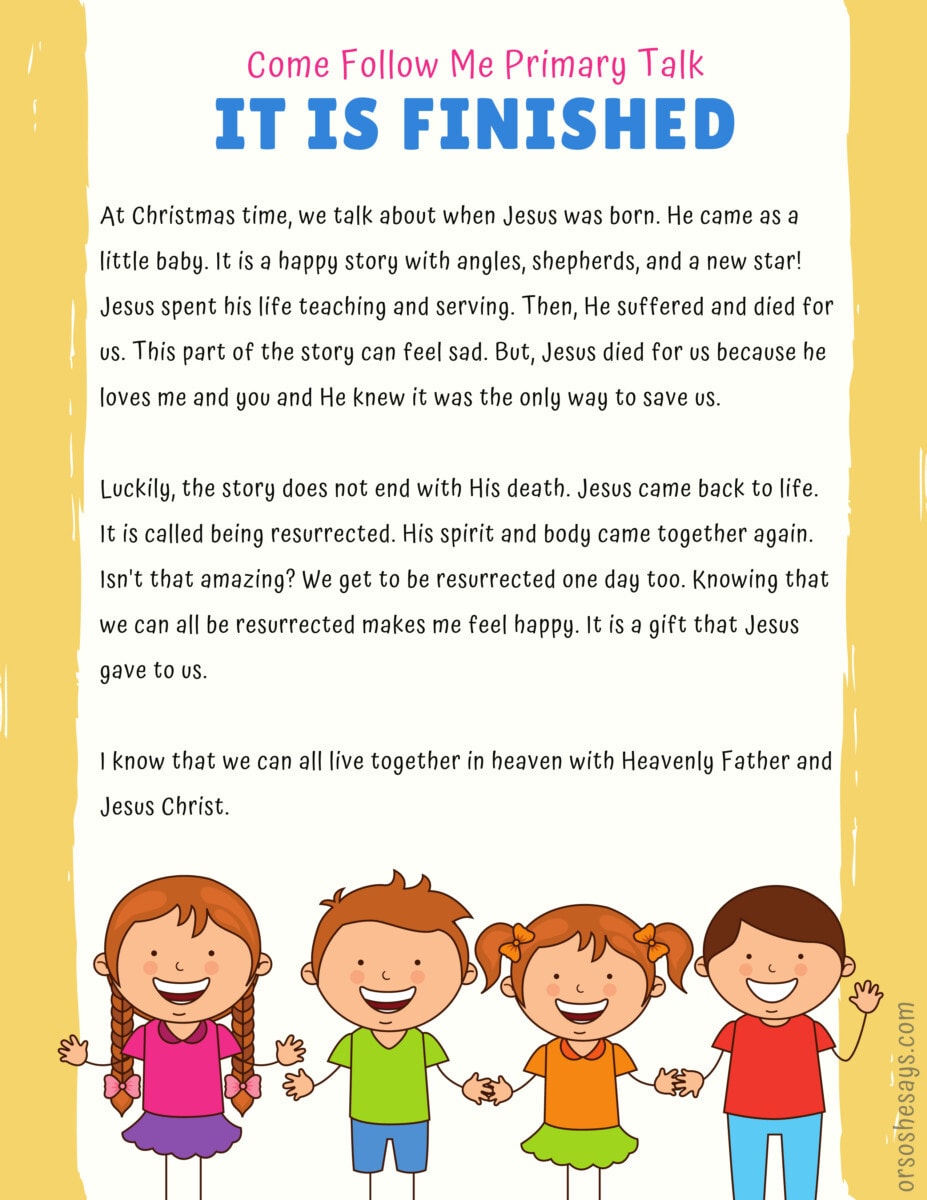 One-Minute Primary Talk June 30th: He is Risen
A lot of things have happened since the world was created. People discovered new lands…like Columbus found America! Inventors created electricity, bicycles, Nerf guns, slime, and YouTube! Sports teams have won championships and man even walked on the moon! But, what do you think is the very most important thing that has happened in all of history? It is that Jesus suffered and died for all of us then He rose again and came back to life! The atonement and the resurrection are the biggest most important events of all time! Why? Because, they made it so life can continue on forever. We have the gift of eternal life and can live with our families and God in Heaven! What an awesome gift.
We show gratitude for all that Jesus did for us by keeping the commandments and by remembering Him when we take the sacrament. When we do these things, it makes us feel close to the Spirit and to Heavenly Father. I am grateful that Jesus was brave enough to save us. He is my hero.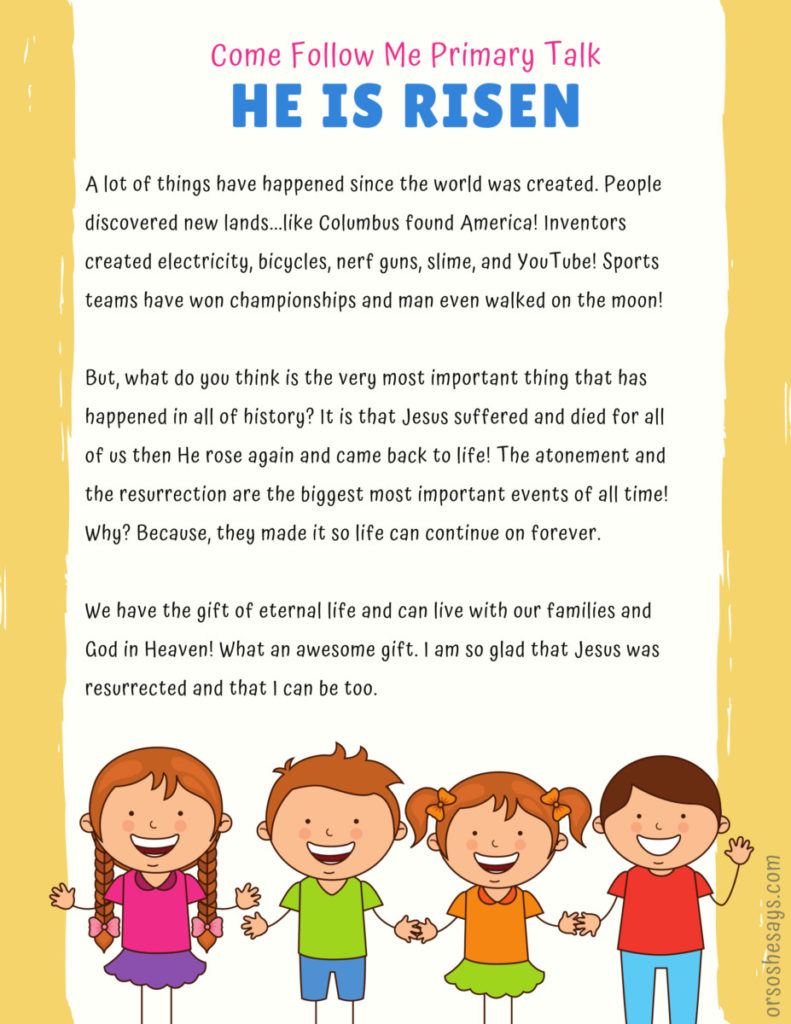 Check back each month for new primary talks! We follow the Come Follow Me topics all year long.
More posts on the blog you'll love:
Family Word of the Year – Family Night Idea
Fun With Popcorn – Popcorn Games and Treats
9 Ways to Make Everyday Chores Fun for Kids