After shopping for everyone in your own household and you're completely drained, it dawns on you that you should probably get something for the neighbors. Sound about right? I love my neighbors, and I love the chance to do a little something for them. But, I must admit… with so much going on with my kids and family in December, it can be a little overwhelming to get something fun put together and delivered to the neighbors. However, if it's something quick and easy, I can usually pull it off and I'm always glad when I do. So, this list of 27 cute Christmas gift ideas for neighbors is not only for you, but for me too. One of the hardest parts is just figuring out WHAT to give them, so now we have that covered. Here's lots of ideas! Let's give our neighbors some love!!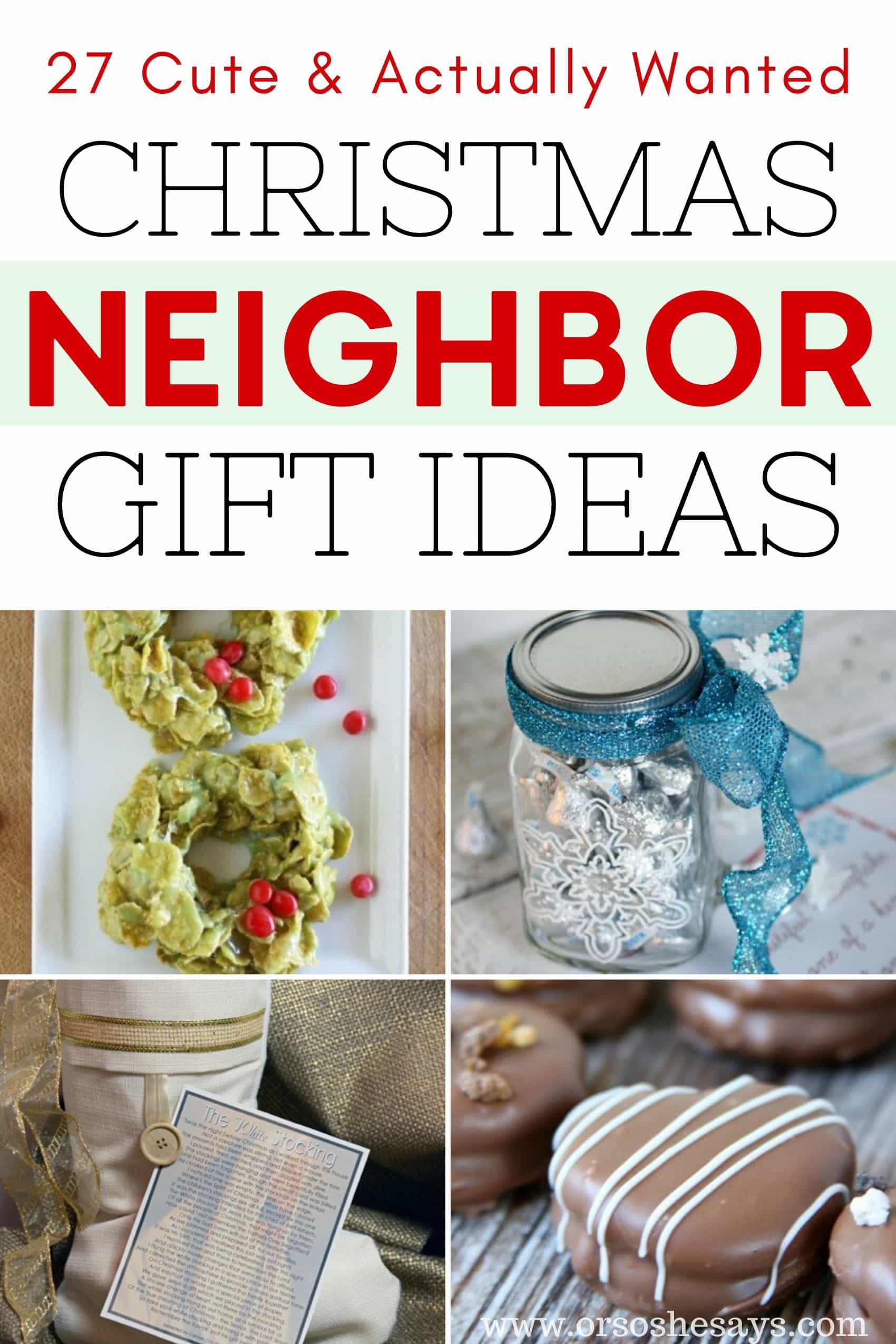 27 Cute Christmas Gift Ideas for Neighbors
This is a simple, religious gift that would fun to give to neighbors and friends for Christmas… because after all, there is an actual reason for the season, right? All you need is a simple white stocking and to print the poem that explains the tradition. Optional: fill the stocking with candy!
If I'm going to take the time to make a treat for neighbors, I want it to be something super yummy, but easy to make. This recipe is exactly that. And, you'll want to make sure you taste-test them, every couple minutes or so…. because you know, you wouldn't want to give out anything that wasn't perfect to the amazing folks in your neighborhood. 😉
I love this list of Christmas movies because there are several that I haven't seen or even heard of before… but, they get great reviews. I think it would be a great gift to give the neighbor a Christmas movie that you think they may not have seen, bundled with some caramel popcorn, cookies, or even just a bag of unpopped popcorn and/or Martinelli's Sparkling Cider.
You can get FOUR of these snowball makers for under $20 bucks! That's 4 neighbors taken care of, right there… unless you want to give two to each one. But, attach a little tag that says something like, 'THROW a party! There's SNOW neighbor quite as amazing as you!' They will love you for it.

Said to be one of the most ADDICTING snacks ever! Go ahead and share the love of this heavenly goodness with the neighbors you love the most. It's easily changed to suit your tastes and quickly devoured, so be sure to set some aside for yourself!
One of my favorite things I've received as a neighbor gift is a Christmas children's book. I have a whole collection of them that I pull out every year during the Christmas season. My kids love going through them, as they haven't seen them in a year, and it's fun to cuddle up and read to them. Of course, you can bundle it with some cookies or some sort of treat. Attach a tag that says "Seasons Readings!"
These could also be done with Rice Krispies, as Rice Krispie Treats! The kids would love to help make these too. You could either give several small wreaths on a plate, with some Hershey Kisses sprinkled around, or you could do one extra big wreath that could be sliced up into pieces.
Every time I go to Walmart, I stock up on the Yankee Candles. They have them for such a great price and I love burning them in my home. The smell… mmmm… The Balsam Cedar Yankee Candle would be a great choice for the Christmas season, and it comes in a smaller size jar that is under $10 bucks. You could attach a tag that says, "Thanks for adding a little LIGHT to our lives! We're so glad you're our neighbor!"
Okay, folks… THIS, right here, is the neighbor gift I hope my friend, Kara, will bring me ever year. So far, she has, and I love her EXTRA for it. It's so buttery, crunchy, sweet. Honestly, it's my favorite English Toffee, and I've tried plenty expensive toffees out there! I've never attempted to make this myself, because I just hope for Kara to ring my doorbell, but it seems pretty doable. The minute she hands me my plate, I instantly go hide it in the highest cupboard, away from my undeserving kids. 😉
Silk screening is so much easier than I ever realized! I was able to put this adorable snowflake design on gobs of jars, in no time flat. Once they were done, I simply filled the jars with Hershey kisses, tied a bow around it, and attached the printable snowflake poem. So easy and super cute!!
Small & Cheap Family Game Gift Ideas
One of the best things about Christmas is the reminder of how important family is. Of course, we always know that, but Christmas seems to reinforce our feelings, right? One of the best things for a family is to spend time together, having fun. So, who wouldn't want a gift that encourages that?? There are several top-rated games that are right around ten dollars or less. Some of the favorites in my family are LCR, Spot-It, Pit, and our newest favorite, Pass the Pigs. Attach a little tag that says, "Have lots of FUN this Christmas!"

Fudge the Calories Gift Idea ~ Lolly Jane
This made me laugh… because so many of us are stressing about the calories we are taking in during the holiday season. This gift is giving you permission to "fudge" them on these fudge covered Oreos. Here's the bonus for you… if you don't want to make your own fudge dipped Oreos, you can just buy them already made! All you need to do is bag them and stick the tag on. Oh, guess what else? This would work with actual fudge too!
Snow Cone Christmas Neighbor Gift ~ The Idea Room
I actually seriously love this idea. My kids were telling me recently, how some kid at their school brought a bottle of flavored snow cone syrup out to recess, and they were flavoring the snow outside, and eating it! Hello, this kid does recess RIGHT. Get all the details on this cute neighbor Christmas gift idea over on the post.
If it involves powdered donuts, it can snow on me all day! If you don't have a lot of time to deliver treats around the neighborhood, this is a great idea… just hang the neighbor gift on the door, and go! And, really… picking up a bunch of powdered donuts is pretty darn quick too.
Wishing You Warm & Cozy Toes All Winter ~ Our Best Bites
Nail polish, socks, and a little treat… your neighbors will love you! Well, at least the lady of the house will, and that's always a good thing. 🙂 This also makes a great friend gift or gift for your teen girls to give to their friends.
Soda-Lighted You're My Neighbor ~ I Heart Naptime
I'm guessing that your local grocery store is somewhat similar to mine, in that it offers at least a handful of fun sodas. Grab a few, slap a sticker on them, and. you're good to go! If you think it's easier, or if your store doesn't have the glass bottles, just grab ANY soda bottle. It can even be a 2 liter. Anything works with the "soda-lighted" play on words.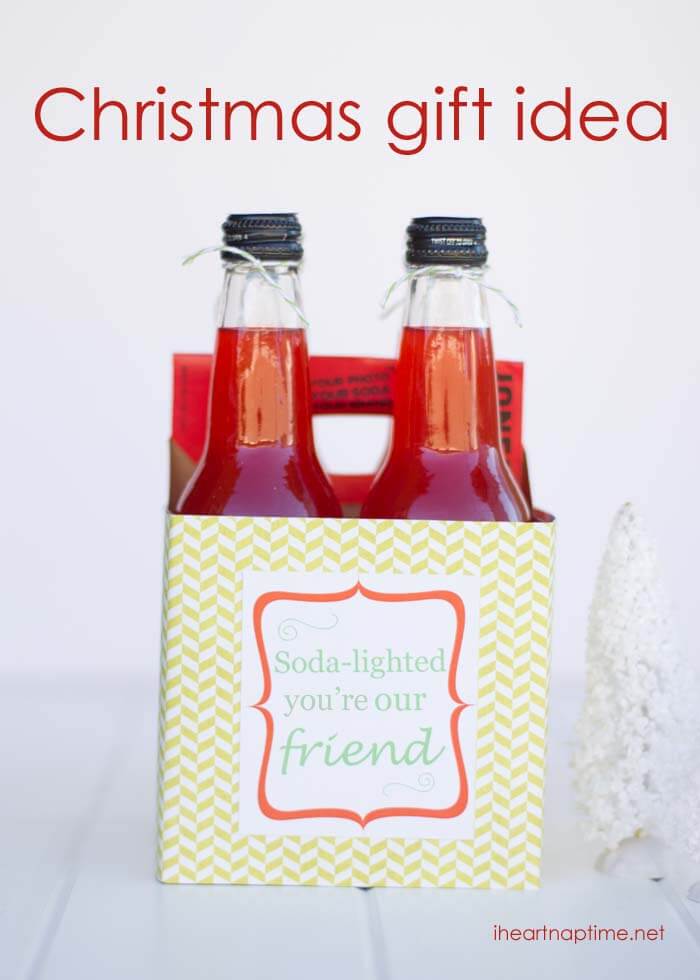 I'm Dreaming of Some White Laundry ~ Doodle Craft
I'm pretty confident that if you give this as a neighbor gift for Christmas, it will be a first for your neighbors. I think its a great idea! So practical. If you included the recipe for them to be able to make more homemade laundry detergent, even better.
Cinnamon Honey Butter ~ Tidy Mom
Warm, soft rolls with honey butter is one of the best things ever. I love the idea of making jars of honey butter and giving them with a bag of frozen dinner rolls. It's kind of a nice change from all of the overly sweet treats that are swarming homes this time of year.
Best gift ever! Doing the dishes is the worst and with the Christmas season in full swing, there are often lots of guests at the home. Paper plates come in so handy, at such a busy time! Your neighbors will love (and use!) this gift, for sure.
M&M Christmas Poem ~ U Create
As mentioned before, I love a Christ-centered gift and this simple, cute neighbor gift is just that. You could have this ready to deliver in minutes.
How creative and simple is this?! These peppermint snowflakes can be sprinkled on ice cream, sugar cookies, scooped into hot chocolate, etc. It's such a pretty gift too!
There's something about live plants that seem to cheer people up. What is it, I wonder? I'm not totally sure… but, it's true. They're beautiful and a simple detail that can bring warmth and life to a home. I love the idea of giving neighbors a plant for Christmas… something beyond the poinsettia… something that can *hopefully* live for years and years. I love this succulent idea with the gift tag!
Stovetop Holiday Potpourri ~ Tidbits
I've never actually simmered potpourri in my house, but it sounds wonderful. The smell of all the best Christmas scents filling the home? Yes, please. If I made this for the neighbors, I would definitely have to save myself some!
Cinnamon Rolls Neighbor Gift ~ Fun Squared
"Just rolling by to say Merry Christmas"… how cute is that!? And, definitely easy. This could also be attached to a bag of frozen dinner rolls or frozen orange/cinnamon rolls.
This wrapping paper gift idea is super practical for this time of year! You know that pretty much everyone needs to buy some, so why not help them out? To keep things on the cheap end, you could just do the roll of paper. Or, if you want to take it up a notch, you could add the tape and/or bows. Even gift tags! No matter how much you bundle in this neighbor gift, it will be appreciated.
What's a list of cute Christmas gift ideas for neighbors if it doesn't include something with hot chocolate… or, I mean Snowman Soup! I could drink a cup of Snowman Soup all day long…
Salsa is one of those things that is always needed in my house! I can't tell you h0w much of it I go through. And, I love trying out salsa recipes… still trying to find the best one. This one would be fun to try and I love the little gift tag included too! Your neighbors will be all over this gift! If you want to bundle it, include a bag of tortilla chips too.
If you loved this post, check out: