Hi everyone, it's Adelle with Packed with Fun, here to show you how to make a simple and easy treat. If you love Monsters Inc. as much as I do, then this treat will make you "scream" for ice cream! Keep reading to find out how to make this delicious Monsters, Inc. Ice Cream Treat for your little monsters.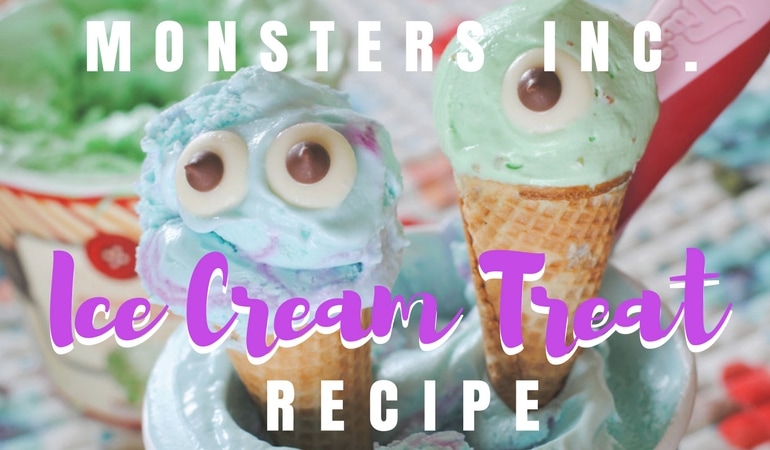 Even though Mike and Sulley are monsters, they are still so lovable. I'm sure we could all name a few other monsters who are just as loveable, right? One of my very favorite attractions at the Disneyland Resort is "Monsters, Inc. Mike and Sulley to the Rescue!" at Disney California Adventure. This ride lets you travel through Monstropolis as Mike and Sulley go on an adventure to rescue Boo. This ride will make you smile and laugh before it will make you scream, which is why it's one of my favorite attractions for both kids and adults.
However if you aren't making a trip to Monstropolis anytime soon, you can easily make this inspired Monsters Inc. Ice Cream Treat at home.
Plus, it's simple enough that your kids will love making this with you as well!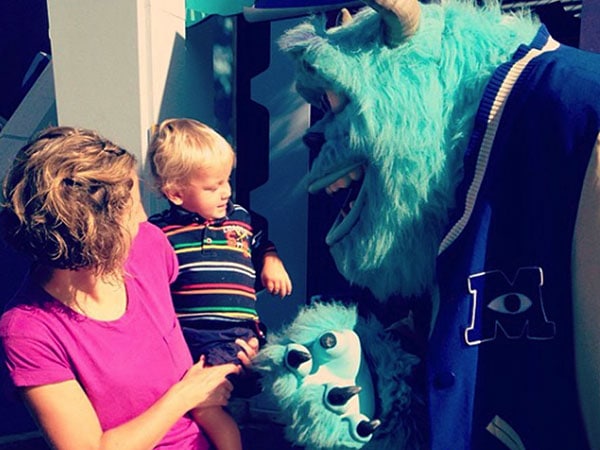 What you'll need to make a Monsters Inc ice cream treat:
White Chocolate Melting Chips (Large)
Milk Chocolate Chips (Regular)
Piece of Parchment Paper
Sugar Ice Cream Cones
Green Colored Ice Cream (Lime Sherbet, Mint Chocolate Chip or Pistachio)
Blue Colored Ice Cream (Play Dough or Cotton Candy)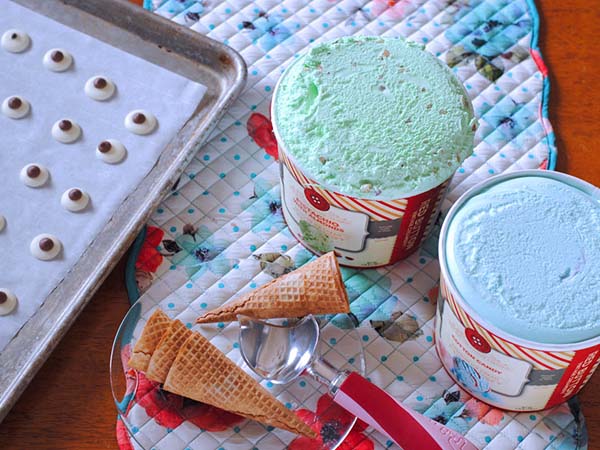 For the first step, you'll want to pre-heat your oven to 350 degrees.
While the oven is preheating, start making the chocolate chip monster eyes. Not only is this treat tasty, but it's adorable too! To create your monster eyes, place a piece of parchment paper onto a baking pan. After this, you can place the large white chocolate melting chips onto the parchment paper.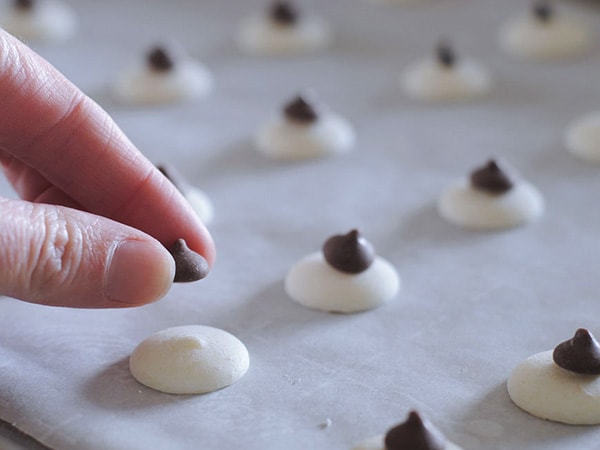 In the middle of the large white chocolate chips, you'll want to place one milk chocolate chip in the center. They don't have to be center, however, they might end up looking like silly eyes if you don't. Who's to say that's a bad thing for a Monsters Inc treat?!
Once you have finished making the monster eyes, place them in the pre-heated oven. Luckily, these don't need to cook for very long. You'll want to have the two chocolate chips melt together for about 5 minutes. However, be careful not to leave them in for very long. If you do, the chocolate chips can get brown and start to dry out.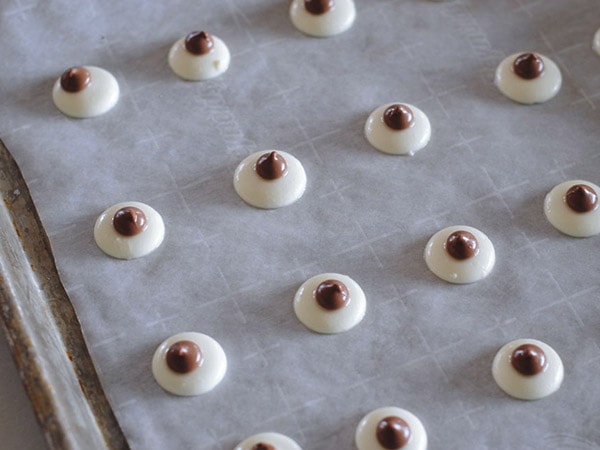 When you take the chocolate chips out of the oven, they will be melty and soft. Once you do take them out, place them in the refrigerator immediately. If it's still cold where you are right now, you can always place them outside! You'll want to leave the chocolate chips in the refrigerator for about 10 minutes. This will allow the chocolate to reset to the room temperature. Once it's completely cooled down, you'll easily be able to pop off the monster eyes off the parchment paper.
While you don't have to get one of the ice cream flavors I mentioned above, you'll just want to make sure you get colors that resemble Mike and Sulley from Monsters, Inc. However if you want to create other monsters too, you totally can! Since I wanted to represent Mike and Sulley, I chose ice cream that was blue and green. If you want to do other Monsters Inc characters, like Randall (purple), or Boo (pink nightdress), definitely get colors to match!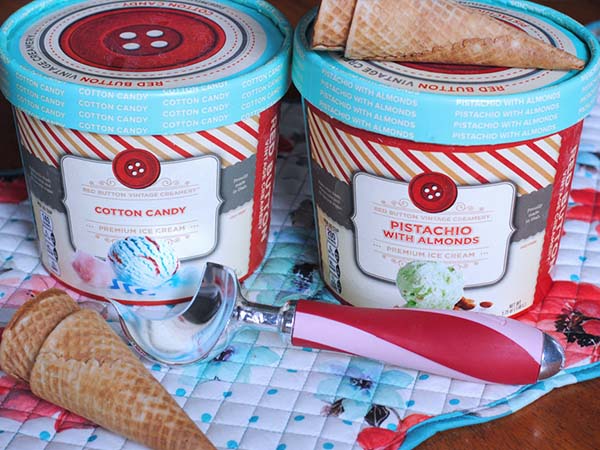 Once you find the perfect ice cream flavor and color, you'll want to scoop the ice cream into the sugar cone. After you have the desired amount of ice cream in your cone, you'll want to add one, two, or even four monster eyes to the ice cream. You can create whatever adorable monster you want!
After this, your Monsters Inc. Ice Cream Treat is ready to eat! Make sure to let us know what flavors you used and what monsters you created in the comments below.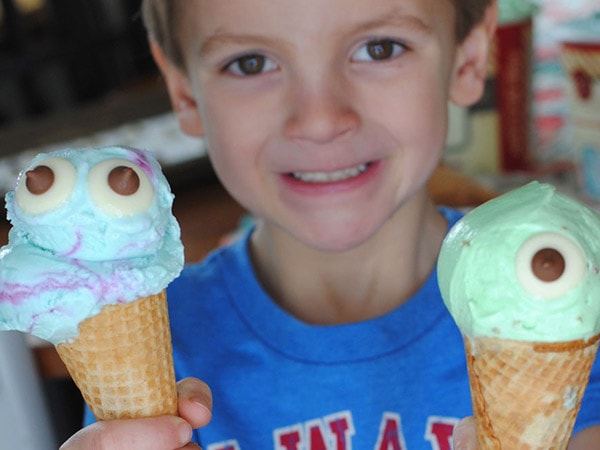 In addition to the Monsters Inc. Ice Cream Treat, make sure you ride "Monsters, Inc. Mike and Sulley to the Rescue!" the next time you visit the Disneyland Resort. If you're planning on visiting Disneyland anytime soon, make sure you book with Get Away Today. They offer discount Disneyland tickets and hotel specials to make your Disneyland vacation less scary and more fun! To book, visit getawaytoday.com or call 855-GET-AWAY. Plus, you can save even more when you use promo code OSSS2015 on your next vacation package. Let them know that Or So She Says sent you!

See some of our other great Disney inspired treats on the blog:
Mickey Treats – Perfect for Spring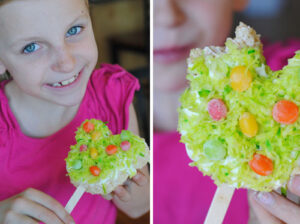 Disneyland's Bengal Barbecue Recipe Round-Up