If you haven't heard of Black Tap's CrazyShakes, where have you been? These unique milkshakes are truly one of a kind. Luckily, the award-winning restaurant is headed to Downtown Disney this upcoming year. With treats this delicious, The Happiest Place on Earth just got happier!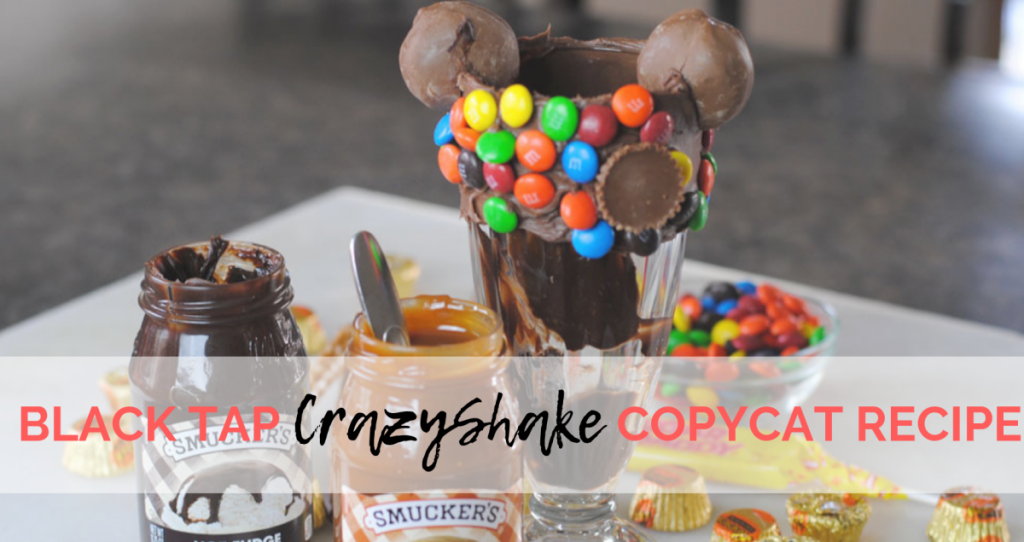 Black Tap Craft Burgers and Beer is based in New York City and is known for their CrazyShake milkshakes and delicious hamburgers. Almost everything you eat here is insta-worthy, so get ready to take lots of pictures once it opens in Downtown Disney! Your family and friends are going to be jealous of these mouth-watering menu items.
Luckily, you don't need to wait until it opens to experience their signature milkshakes. With our Black Tap CrazyShake copycat recipe, you'll be able to induldge in the deliciousness right from home! But, be sure to bring a friend. The CrazyShake is so big you'll want to share it!

Black Tap CrazyShake Copycat Recipe
To make our Black Tap CrazyShake copycat recipe, you'll need:
Vanilla Ice Cream
Hot Fudge
Caramel Sauce
M&M Candies
Chocolate Frosting
Whipped Cream
Sugar Daddy Sucker
Pretzel Rods
Reece's Peanut Butter Cups
Fancy or Decorative Straw
Milk or Cream
Milkshake Glass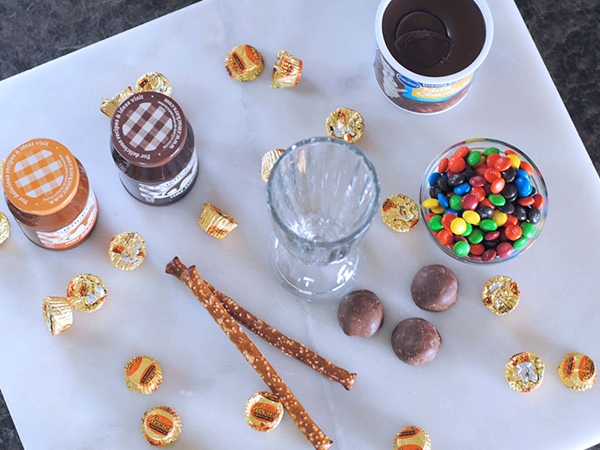 First, you'll want to start by frosting the rim of the milkshake glass with chocolate frosting. You can choose how much you want to put on. However, I covered mine about two inches down from the top of the glass.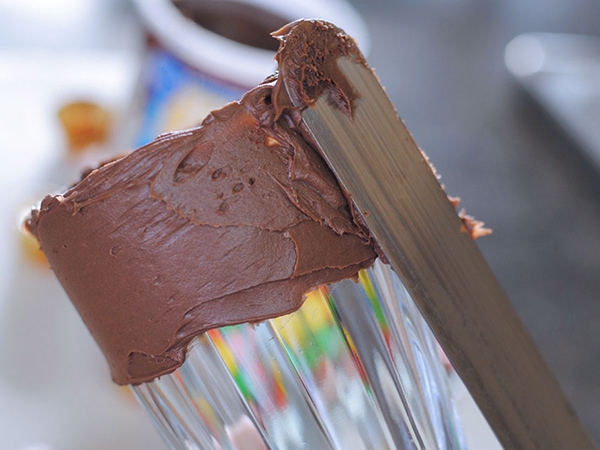 After this, you'll want to place the M&M's candy on top of the frosting. I've found the easiest way to do this is to roll the glass in M&M's. But, you can choose how you'd like your CrazyShake to look.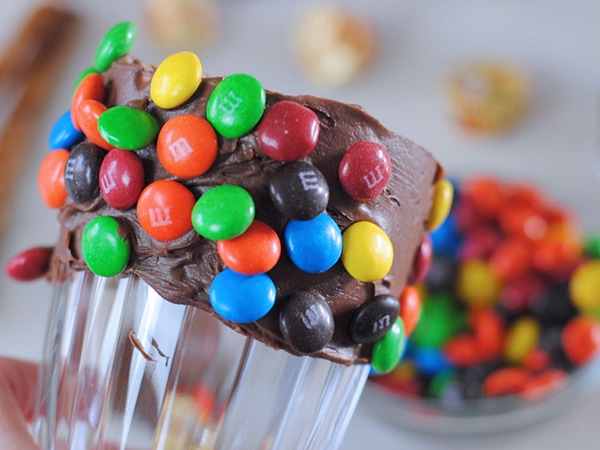 Since Black Tap Burgers and Beer is coming to Downtown Disney, I thought I would add a hidden Mickey to my milkshake. To do this, I created ears from chocolate caramel peanut clusters. All I did was take a triangular slice from two of them and slid them on the glass. You'll have instant Mickey ears!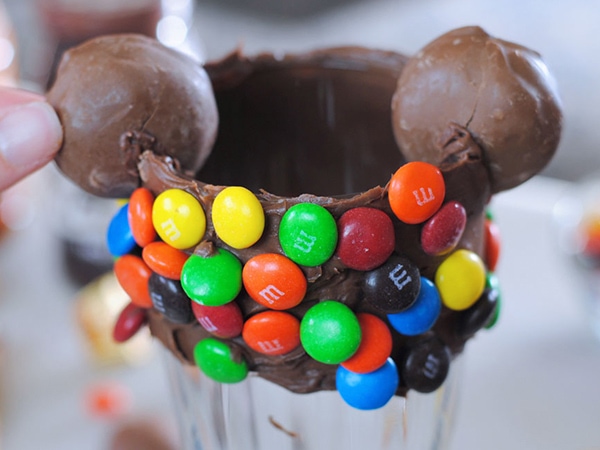 You can add candy to the outside of the glass by putting additional frosting on the backside and sticking it on. The more treats you put on, the more authentic it will be!
When you are satisfied with how it looks, it's time to start with the actual milkshake! First, you'll want to warm up about 1/8 cup of hot fudge and drizzle it along the walls of the glass. If you'd like, you can also do a layer of caramel too.
I decided to make a basic milkshake out of vanilla ice cream and whole milk. To do this, put about four giant scoops of ice cream in your blender. Then, add about 2 tablespoons of milk and blend it. To create a great milkshake, you'll want to make sure it's nice and soft. The better the ice cream, the better the milkshake. So, make sure to choose your favorite, high-quality brand.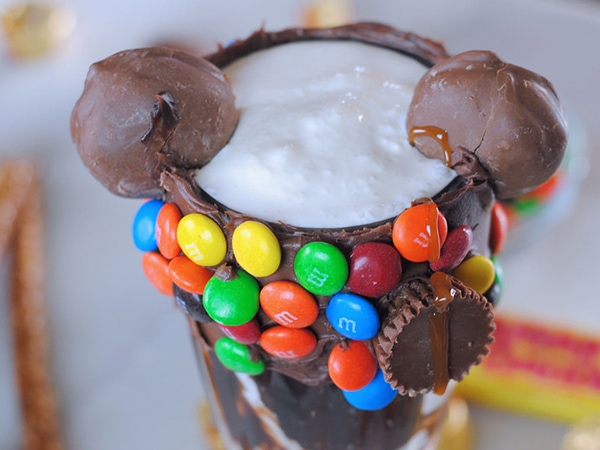 Once the milkshake is ready, you need to pour the milkshake into the glass. After, put on a nice whip cream mountain on top of the ice cream. Then, you'll want to drizzle it with more caramel and hot fudge sauce. To top it all off, stick in some pretzel rods and place the Sugar Daddy sucker on top.
Doesn't this CrazyShake look Disney worthy? I think so!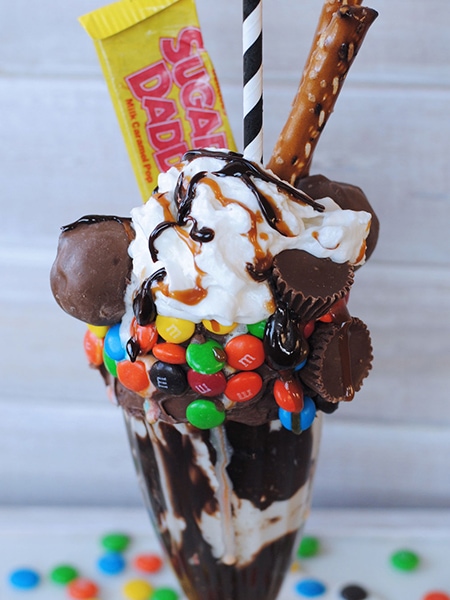 You can either eat the chocolate CrazyShake with a spoon or with a straw. However you do it, this CrazyShake is sure to be a hit with your kids, family and friends!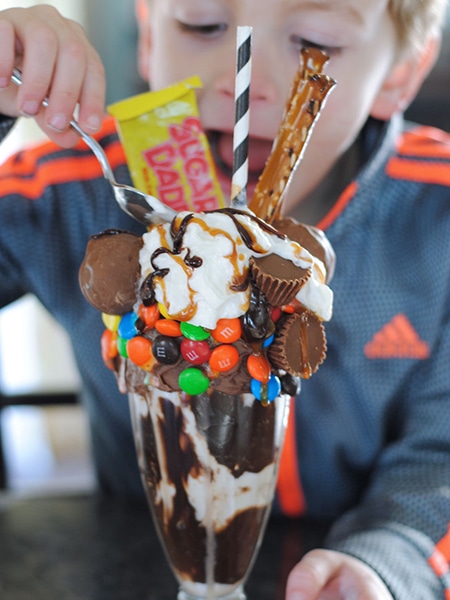 I hope you have fun with this Black Tap CrazyShake copycat recipe. Of course, if you want to try one in real life, be sure to book your Disneyland vacation with Get Away Today. With discount Disneyland tickets, hotel specials and a flexible Layaway Plan, planning a Disneyland vacation has never been easier.
Plus, if you travel from January 7 – May 23, 2019*, you can save up to $86 per ticket! With so much to see and do at the Disneyland Resort this spring, you won't want to miss out on any of the fun. To book, visit getawaytoday.com or call 855-GET-AWAY to speak to a travel expert directly. Don't forget to mention promo code OSSS10 for an additional $10 off your vacation package.
*Actual savings vary per ticket and are calculated based on annual park pricing. Largest savings are available during travel value dates January 7 – May 23, 2019, excluding blackout dates of April 14-22, 2019.
More Disney posts you'll love:
Disney Mobile Ordering – Tips for Mobile Ordering at Disneyland
When to Save BIG at Disneyland in 2019
Best Disneyland Vacation Surprise Ideas
Our top Disney picks:
The Disney Princess Cookbook
Brothers-ALL-Natural Mickey Mouse Apple Crisps, 0.35-Ounce Pouches (2 Packs of 12 bags each)
Bumkins Disney Minnie Mouse Suction Silicone Baby Feeding Set, Bowl, Lid, Spoon, BPA-Free, First Feeding, Baby Led Weaning
A Merry Christmas Cookbook
Glad Zipper Food Storage Bags – Sandwich Bag and Snack Bag Variety Pack – Disney Pack – 40 Count – 3 pack
Anchor Hocking Soda Glass, Set of 12
Set of 12-11 oz Glass Bottles with Lids, Vintage 11 oz Glass Milk Bottles with Lids, Vintage Breakfast Shake Container, Vintage Drinking Bottles for Party, Glass Bottle with Straw and Lid for Kids
Zak Designs MMPC-1592 Disney Coffee Mugs, Sculpted, Mickey Mouse
YIHONG Set of 8 Stainless Steel Straws Ultra Long 10.5 Inch Drinking Metal Straws For Tumblers Rumblers Cold Beverage (4 Straight|4 Bent|2 Brushes)
REGULAR SIZE Silicone Straws for 30 oz Tumbler & Stainless Steel Straws Bundle – 6 Silicone Straws for Yeti/Rtic / Ozark + 3 Brushes + 2 Metal Straws – Reusable Straws Extra Long + 1 Storage Pouch
REESE'S Holiday Chocolate Candy, Peanut Butter Cusp, 1.5 Ounce (Pack of 36)
Utz Old Fashioned Pretzel Rods, 27 oz Barrel
CHARMS SUGAR DADDY POPS 48ct(22.3oz)
M&M'S Milk Chocolate Candy Party Size 42-Ounce Bag
Ghirardelli Caramel Flavored Sauce 17 oz. Squeeze Bottle (Pack of 2)
Sanders Hot Fudge (Milk Chocolate Hot Fudge Topping, 20 oz)
Smucker's Hot Fudge Topping, 11.75-Ounce (Pack of 6)